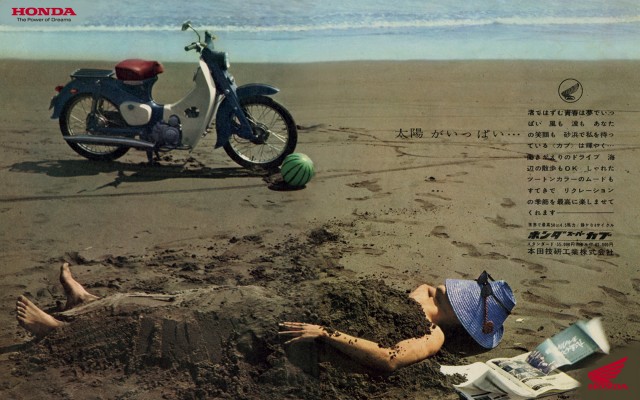 We talk a lot about cars here, but really, the most Japanese form of transportation is the motorcycle. From pimped scooters to crotch rockets the variety and performance spectrum of Nihon's bikes is just as great as that of their cars. Therefore, we ask you:
What is the greatest Japanese nostalgic motorcycle?
With 55 years of continuous manufacture and over 60 million units sold, we agree with James May that the Honda Super Cub is perhaps the greatest machine ever built by human hands. And, as the primary mode of transport in third world countries across the globe, the Super Cub, it's probably granted more humans the gift of mobility than any invention since the wheel itself.
What say you, dear reader? As always, the most entertaining or inspiring comment by next Monday will receive a toy. Click through to see the winner from last week's question, "What's the most environmentally friendly JNC?" 
This week's winner is James, who nominated the first generation Honda Civic CVCC.
My pick is the First Generation Honda Civic CVCC.

A car, built throughout most of the 70s, was revolutionary in engine design. The Compound Vortex Controlled Combustion Engine (CVCC) was debuted in 1975, using modern technology eliminating harmful emissions which almost all other cars were emitting. When the American government decided to stop these emissions in all cars by forcing manufacturers to fit catalytic converters and use unleaded petrol, the Civic's CVCC design produced so little emissions that it was exempt. It also used under 6l/100km of petrol. Today, this is still an impressive figure for fuel economy.

It was a car far further ahead of its time than any other American car made with it in the 70′s that created a firm base for Honda to build on for the next 40 years.
Omedetou! Your comment has earned you a rare Hot Wheels Super Speeders mystery pack Mazda RX-7!