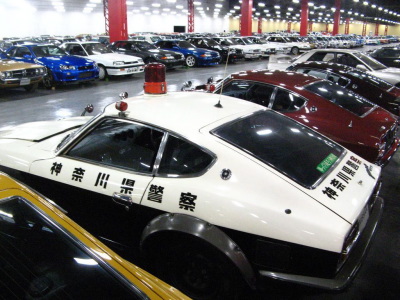 Remember those 90s Nissan commercials starring Mr. K as a magical Willy Wonka-like figure holding the golden ticket to an automotive wonderland? For young car nuts like us, those ads expressed, in full cinematic color, the entirety of what was going on in the section of our adolescent minds not devoted to girls or producing acne. The one that always had us gawking at the rapidly panning images (this was long before the days of Tivo) was the one where a boy stumbles upon a hidden lair called the "Dream Garage" stocked full of vintage and racing Nissans.
Well, it's been long known that Nissan has a real life Dream Garage stashed away in a giant warehouse in Japan, and one lucky boy at twinturbo.net has indeed stumbled upon it, taking bunches of photos right before the oompa-loompas escorted him out. Located in Zama, just southwest of Tokyo, the Nissan Heritage Collection has over 250 classic, concept, racing, and emergency cars & trucks tucked away – everything from a 1933 Datsun 12 Phaeton to a 641-hp R390 GT-1 Le Mans homologated road car. Unfortunately, this is not open to the public, but the public can view the collection in the handy-dandy Heritage Collection database. Lastly, we are forever indebted to Stickerman for posting this in our forum. Thank you!
UPDATE: We just surfed over grandJDM to catch up, and discovered that they used the same photo and Willy Wonka reference in their post about the Zama garage. Great minds, mates, great minds.