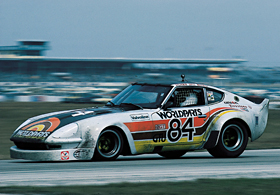 To coincide with the launch of the 370Z, Nissan of Japan has launched a new minisite chronicling the racing history of the Fairlady Z on four continents.
Straight out of the box in April 1970, the Z was sent off to war at Japan's Nippon 6hrs, which it won. But this was no ordinary Z – it was the Fairlady Z432, a JDM version with the straight six from a hakosuka Skyline GT-R hidden under the hood.
In North America, Nissan took the 1975 IMSA GTU championship with the car pictured above. In Africa, it won the Safari Rally while in Europe, Nissan 350Zs competed in the Nürburgring 24hrs.
And as you may recall from our older post, it also makes a mean drag racer. Is there any form of motorsports the Z isn't capable of succeeding in?