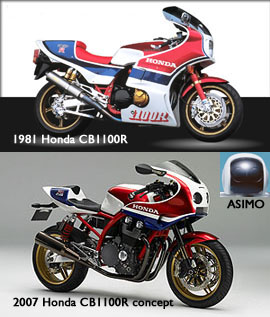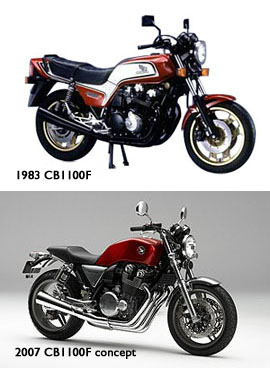 By the time you read this, the Tokyo Motor Show will be in full swing, with concepts revealed by the minute. Unfortunately, our Cressida can't drive on water (yet?) so we'll have to admire the festivities from afar.
That said, we are both happy and sad to report on this next pair of concepts. Happy, because they are retro-styled. Sad, because they are not cars. Like the Yamaha XS-V1 Sakura, Honda is unveiling two nostalgic bikes for the ToMoShow, the CB1100F and CB1100R.
With a face reminiscent of Asimo's saucer-eyed mug, the CB1100R concept is a tribute to the 1981 bike of the same name. While the design is all retro, including the red tubular frame, classic Honda racing colors, and gold painted five-spoke wheels, the mechanicals are all modern, with an inverted fork, radial mount calipers, and an air cooled engine that appears to be a stressed member of the frame.
The CB1100F, likewise based on the 1983 high-powered standard of its namesake, has a broader appeal, with a cushy seat for long haulin' and styling reminiscent of the CBs from the early 80s. The F uses the same engine as the R, although if they make it to production, they'll most likely exist in slightly different stages of tune.
While these bike are labeled as concepts for now, they seem pretty much ready for production, at least more so than the show's automotive concepts. For those counting, retro bikes: 3; retro cars: goose egg.
[Images: Honda, Bulldock-MC]