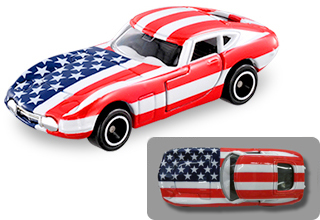 Happy July 4th from JNC! Each year, the Aichi Prefecture-based supermarket chain APiTA teams up with Japanese toy car manufacturer Tomica for a series of limited edition cars.
Similar to when Hot Wheels teams up with say, Kroger, these cars come with exclusive colors and themes. Past themes have included nostalgic police cars and classic race cars. For 2013, the entire series will consist of one model, the Toyota 2000GT, decked out in various national flags.
The first in the series is Ol' Glory, the stars and stripes, which has just been released and is on the market now. Next comes Brazil. So if you've ever wanted to own the most American 2000GT ever made, here's your chance. Happy Independence Day, JNCers!