Twenty-five years ago, the Nissan March debuted at the 1981 Tokyo Motor Show with the rather inauspicious name of NX.018. The car was a salvo into the hotly-contested compact hatchback segment against the Honda City and Subaru Justy. Nissan opened up the naming of the car to the public, and for some reason the public chose to call it the March.
It went on the market in October, 1982 and soon became one of Nissan's best sellers, equipped with a 1000cc engine and front wheel drive. The FF layout was still considered new and exciting at the time; Toyota's entrant into the segment, the Starlet, moved via the rear wheels and wouldn't adopt the newfangled FF until its next generation.
The K10 platform lasted on the market for a whopping 10 years, spawning numerous limited editions, a couple of turbocharged versions, a one-make cup series, and the famously sought-after boutique cars. There were even tie-ins with clothing companies, which gave the car color options like Cosmo Green, Shell Pink, and Crepe Yellow.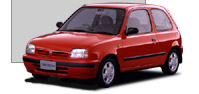 The next generation, the K11, also stayed on the market for a decade, and had the honor of winning simultaneously the Japanese Car of the Year and European Car of the Year awards in its debut year, 1992. Another one-make race series and ever more limited editions, like the black and red-paneled Juke and tartan-upholstered Polka, followed.
In 2002, the K12 debuted, departing from its traditional hatchback shape to a bizarrely-styled cute-fest that could only come from Japan. Having actually had the pleasure of driving one, we can safely say that it's an excellent small car that far exceeds its economical roots. A Skyline GT-R it ain't, but it performs well on highways and superbly in the city. Even after being on the market for five years, it still looks fresh, turns heads, and could easily be anthropomorphed into some kind of adorable cartoon corporate mascot. And if that wasn't reason enough for us to want to bring it home, the color of our car was called, officially, Beans.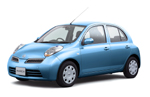 To celebrate the remarkable achievement of spanning a quarter century with just two redesigns, the March is doing what it does best – another limited edition, bright colors, and putting it to a vote. The 25th anniversary March will be available only through the internet, with 500 painted in each of three colors split evenly among two trim levels, one of which is AWD. The hues, voted on by customers, are revived colors from Marches past: Chocolat, Paprika Orange, and the winner, Aqua Blue.
[Source: Nissan]