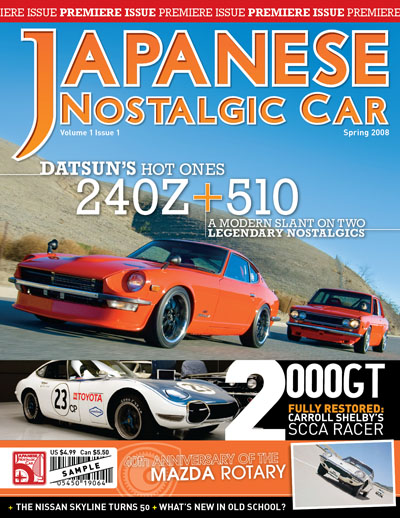 It's official, Japanese Nostalgic Car magazine subscriptions are now open! You may have noticed some strange activity on the website over the weekend as we prepared for the launch, and here it is, with a pic of the cover to preview what's in store for the first issue.
Some of our lightning quick readers parted with 9.99 hard-earned dollars as soon as the subscription was added to the Shop section. That's awesome! We simply cannot thank you enough for your support, but we'll try – Thank you, thank you, THANK YOU!!
We have one last favor to ask, though – please help us spread the word. We wouldn't be here without you, and niche magazines like this sink or swim by the hands of its readers. If you think the world might be even the slightest bit better with a magazine about vintage Japanese cars in it, tell your friends, tell your family, post it in your favorite car forum, spraypaint it on your neighbor's dog, or shout it into a megaphone in crowded places. Anything to get the party started. Arigato!
Now just sit back, relax, and wait for page after glossy page of achingly cool classic machines to arrive at your doorstep.
To our friends overseas, we haven't forgotten about you. We've received your inquires, and we'll open up international orders as soon as we get a quote from the printers, who are mailing straight from the press since they have access to bulk mailing rates. Otherwise, shipping can get expensive real fast. Sorry for the wait, but it'll be worth it, we promise!