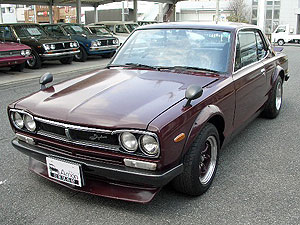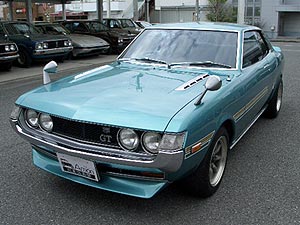 Long before there was japanesenostalgiccar.com, there was just plain nostalgiccar.com, a Japanese site that, as far as we can tell, is a dealer called Amon and trades in minty fresh vintage J-rides. Clearly by being, in fact, Japanese, they didn't feel the need to qualify their name with the actual word "Japanese," which worked out well when it came time for us to get our domain name.
To see the good stuff, go to their main page and click on the squares on the right, but make sure you're sitting down and not in the vicinity of any sharp corners. The first one with the date on it takes you to an events page that, while infrequently updated, has galleries from classic car shows that will drop your jaw straight into your lap. The square below it, the one with the pink sakuras, takes you to a list of cars they have for sale. Marvel at the immaculate condition of these old school treasures. Each and every one is cleaner than your dentist's hands. I mean just look at them! Be sure to click on all 46 pages linked at the bottom. You're welcome.
Images courtesy of Amon Nostalgic Car.