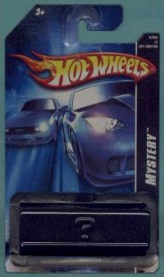 Since we're celebrating the birth of our great nation today, we thought we'd mention one of the most American things around: Hot Wheels. It's probably safe to say that any red-blooded American who didn't grow up playing with these small metal cars is likely some kind of terrorist. Since their debut in 1968, they've fueled the dreams of many a car nut, and this year is their 40th anniversary.
We had hundreds of them – still do – so we're happy to bring you some news that made us all feel like little kids again. And that is, in 2009 some kind of vintage import is entering the Hot Wheels lineup.
Which one, we don't know. A couple of years ago at SEMA we met some of the designers, including Jun Imai, who broke the news. Jun has been an active proponent of getting more nostalgics, such as the Datsun 240Z and Toyota AE86 Corolla, into Mattel's mix of diecast toys. But as with everything, the number one criteria is that it has to sell. That means it's something that must've had mass appeal in the US. When we talked with Jun we pitched ideas like the Datsun 510 and A20 Celica, but right now your guess is as good as ours.
Happy Fourth of July, everyone! Hope it's filled with hot dogs, home-brew, Hot Wheels, and hana-bi.