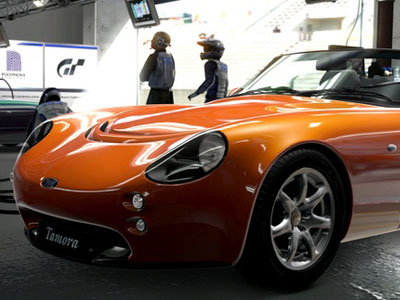 Our favorite car game of all time has to be Grand Turismo 4. Naturally, the gorgeous graphics and enormous variety of cars and tracks are as fantastic as anything we've come to expect from the franchise, but the best part of all was its inclusion of some old school nostalgics – first gen Celicas, 240ZGs, 70s Mitsus, Isuzu Bellets, Bluebird 510s, Prince Skylines, and even tiny kei cars like the Honda S800 and Subaru 360. GT4 made it possible to create our dream garage virtually.
So of course, we were anticipating its sequel, GT5 with mouthwatering giddiness. The new Playstation 3 graphics engines are so hi-res that whereas it took one day to model a car in GT1 – GT2 and one month in GT3 – GT4, GT5 takes an epic six months. That's why publisher Polyphony is releasing just a teaser in Gran Turismo 5 Prologue as its massive supercomputer rendering farm churns away.
Unfortunately, none of the classics have found their way into GT5. Here's a list of cars, thanks to our resident game expert Madflava. We'll just have to keep our fingers crossed for the final version. Those graphics sure are purrdy though. Compare the '79 Civic in GT4 with the orange TVR Tamora in GT5 Prologue.
Check out our virtual Gran Turismo 4 Show & Shine in the forums.
[Image: Kotaku]