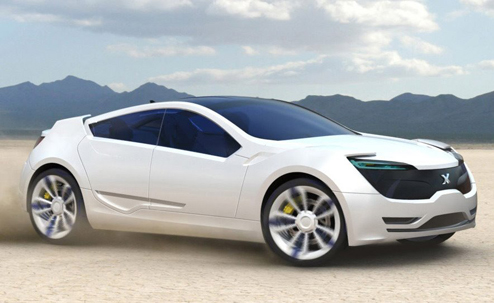 Automakers are always testing the marketplace waters with new concept cars that never hit the market, and Nissan is no exception. However, the thing that leapt off the page when we came across this otherwise typically futuristic dream car is the name, the Datsun X-Link. That's right, not Nissan. Datsun.
Nissan designer Benjamin Nawka has conjured this idea with the intention of resurrecting Datsun as Nissan's "lifestyle brand" much like Toyota's Scion or BMW's Mini.
Forgive us, but we think there are many things wrong with this scenario, not the least of which is the fact that the Datsun name is steeped in tradition and shouldn't be funkified to appeal to 18-year-olds who've never heard of the marque. Yeah, we know we sound like old fogies, but come on. Does this concept remotely resemble anything that might leap into your head when the word "Datsun" is mentioned? The Nissan Pure could, but not this.
While the X-Link did emerge from one of Nissan's international design studios, this is just one designer's vision, and we think it'll be a very, very long shot before it's approved and/or the Datsun nameplate is revived.
Also, get off our lawn.
[CarBodyDesign via Jalopnik]