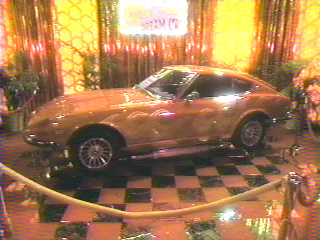 Sorry, Zedheads. This is in fact the second horribly customized Datsun Z-car we're bringing you in as many days. It's not like we're trying to find hideous nostalgic cars, they just have a habit of popping up, but at least yesterday's X-wing Z was virtual. Today's, however, is much too real.
It was sent in by JNCer Crazy Backyard Builder, who alerted us to the fact that the 1978 movie Corvette Summer didn't just destroy a perfectly good Corvette Stingray and Firebird, but a Datsun as well.
And here it is. If the glitter of a 1970s Las Vegas casino doesn't blind you, the gleam coming off its metal flake paint and chrome mirrors certainly will. Its ability to practically blend itself into such an environment like a chameleon doesn't exactly say "tasteful mods." Well, at least most of the original lines have been kept and, unlike that poor Corvette, there does not appear to be a anything on it modeled after an Aztec headdress. So there's that.