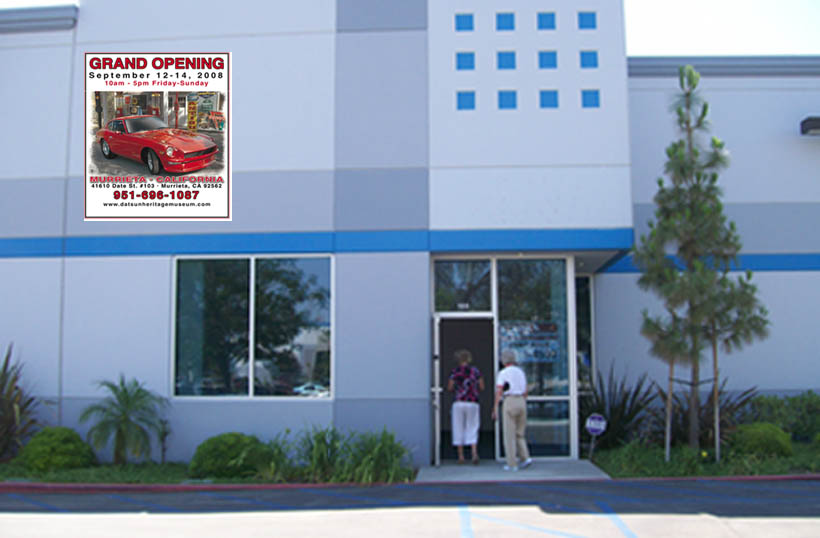 This is the news we've been waiting for and we couldn't be happier to report it. The Datsun Heritage Museum will officially hold its grand opening on September 12-14 in Murrieta, CA! Excuse us as we jump for joy, do some cartwheels and pop open a bottle of champagne. Finally, a museum that honors a nostalgic marque, right here on US soil!
Yeah, we know, there are other collections. Toyota, Honda and Mazda have a bunch of classics, but they're just sitting on them, occasionally taking them out to a car show or two. To be clear though, this is not an official Nissan USA project. Ever since Mr. Bean uprooted the company's US headquarters from Torrance to Tennessee to save a few measly bucks, SoCal has relied on enthusiasts to fill the void.
In fact, the DHM is the pet project of Fred Jordan, a true Datsun devotee and one of the nicest guys you will ever meet. He was a sales manager at one of the first Datsun dealers in the US and founder of the Z-Car Club of Inland Valley (2008 show coverage), and this is a dream of his that's been brewing for many years.
It's mission, as stated on its website, is to "Promote a full understanding of and appreciation for the history, values and traditions associated with the Datsun marque in the USA; encourage the preservation, restoration and enjoyment of these fine automobiles for generations to come; and encourage the study of 'lessons learned' by the people responsible for the market success of the Datsun brand in the USA."
The museum will also rely on the support of enthusiasts like you, so please lend them a hand, and if you can attend the grand opening this weekend, starting at 10am. The Datsun Heritage Museum is located at 41610 Date Street, Suite 103, Murrieta, CA 92562.