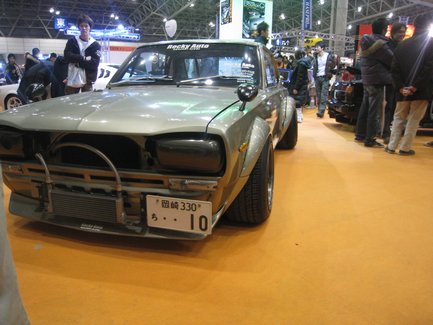 It's January, and that means while Americans party hearty at Detroit Auto Show amongst Lexus roadsters, alien-shaped Mazda race cars, and the occasional pile of actual steaming bullshit, Japan is humming along to the sounds of the Tokyo Auto Salon. Why, oh why, do two of the most spectacular, uh, spectacles in autodom have to happen at the same time? Well, at least we have grandJDM and Auto Otaku's terrific photos from the event to ogle. Although the Auto Salon focuses mostly on blinged-out minivans and drift machines, there were a few choice old school cuts in the mix, like Rocky Auto's hakosuka (pictured), Star Road's S30 Z, Top Secret's RA25 Celica, a Mazda Carol hot rod, and Mooneyes' 1JZ Crown.
Then there was the small issue of this hi-riser X70 Mark II Wagon donk thingy, which we are sooo doing with our own Cressida longbox. Thanks, Kev, for posting the image that will serve as our inspiration!
For our coverage of 2007's Tokyo Auto Salon, click here.
[Image: grandJDM]
P.S. We are not doing that with our Cressida.