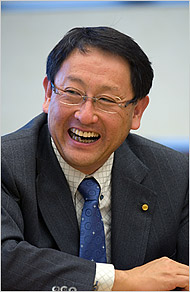 There's more than a few Toyotaku who come to JNC because, let's face it, most of the exciting machines in the automaker's portfolio are in its past – RWD Celicas, Supras, Sports 800s, MR2s, twin-cam Corollas and the glorious 2000GT. But ever since the Celica and MR2 Spyder were given the axe in 2005, the wealthiest car company in the world has been missing some excitement in its lineup. Some say that the drought began a full decade ago, with the discontinuation of the 1998 JZA80 Supra. Regardless of the exact date, nowadays the Big T is known more for sensible but bland people movers than pulse-quickening sports cars.
However, according to the New York Times, this could all change if Akio Toyoda, grandson of founder Kiichiro Toyoda, becomes president of the company.
Current prez Katsuaki Watanabe, age 66, will retire soon, and when that happens Akio is widely expected to take the helm. The 51-year-old exec is no suit. Described as a true petrol-blooded auto enthusiast, he's raced a Lexus IS 300 at the 24 hours of Nürburgring and taken a prototype V10 Lexus LF-A supercar for a spin around Fuji Speedway.
Says the article:
Instead of simply selling more cars, Mr. Toyoda said the company needed to spend more time making its existing customers happy.

Mr. Toyoda is fond of a story about three dentists. One advertised he was the best dentist in the world. The second dentist claimed to be the best in France, and the third dentist said only that he was the best dentist in town.

Said Mr. Toyoda: "Everyone says Toyota is the best company in the world, but the customer doesn't care about the world. They care if we are the best in town, or not. That's what I want to be."
Even though he's Toyoda royalty, that doesn't mean the job is automatically his. When he joined the company in 1984, he had to start at the bottom, as a management trainee, just like any other Toyota exec. Toyota didn't become the industrial juggernaut that it is via nepotism, and if Akio Toyoda gets the job, you can bet he deserves it. Which is good, because it's what the marque deserves too. With his surname on the all the stationery, let's hope that he will have a vested interest in bringing the company back to its sporting heritage.
Thanks to RoadsterViking for the tip!