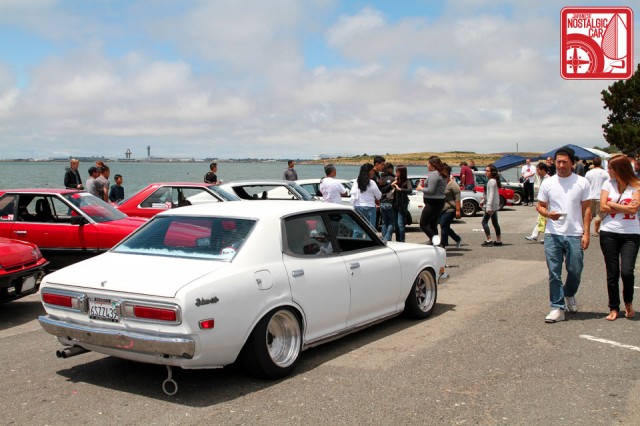 Our final installment of the Bayline Gathering kicks off with one of the Bay Area's infamous Bluebirds that are not 510s. Remember the Appliance-shod 710 from Part 03?  This tsurikawa strappin' Datsun 610 is his partner in crime. Despite the mismatched Longchamps and MKIs it exudes shakotan cool.
Both of these stunning rotaries belong to the same lucky owner. I've long for a first-gen Mazda RX-7 on Advan 3-spokes, so this one pushes all my buttons except for one thing — I was distracted by the stunning silvery blue RX-2 sedan next to it with classic Auto Bahns polished to a blinding gleam.
Meanwhile, Ben was on the other side of the lot drooling uncontrollably. Not only is the daruma one of his all time favorites, he loves cars that subscribe to the Three Ss — simple, shiro, and shakotan. In this case add steelies, painted red to match the factory ST stripe, and you have nothing suplerfluous, just pure uncut Celica extract.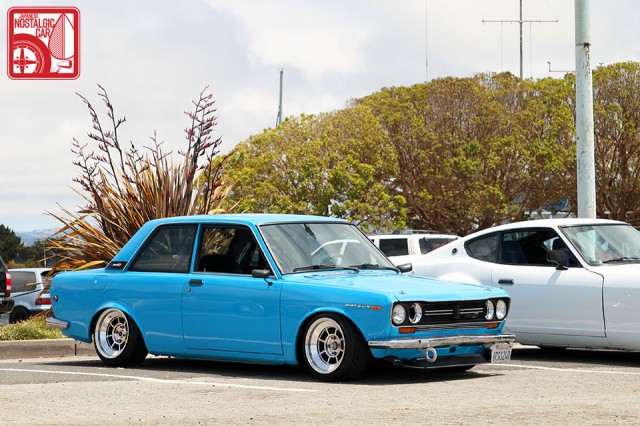 If John wasn't stuck in Texas, he'd likely be closely examining this wicked Datsun 510. Its roll bar, race mirrors and headlight intake indicate something monstrous beneath the hood, and its cambered squat give it the look of a puma waiting to pounce. Everything else is as smooth as a dolphin's belly, perfect for taking down unsuspecting rivals.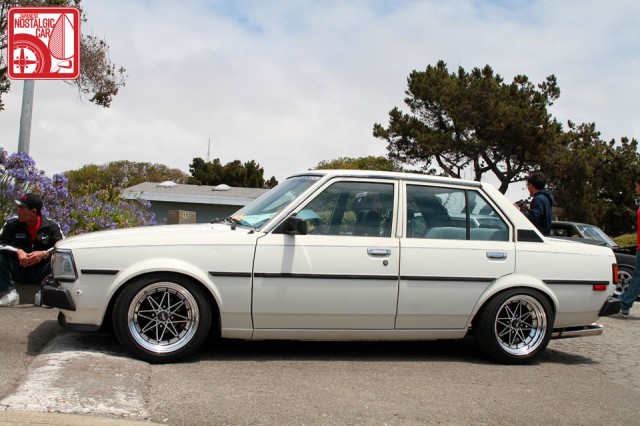 One of these days we really must hold an official JNC 510 vs E70 Battle Royale to see who's the king of three-box sedans. This TE72 Corolla on Work Equip 03s is the daily driver of Joey from Performance Options, which means it could probably give the 510 above a run for the money. But we won't know for sure until the both enter the Thunderdome!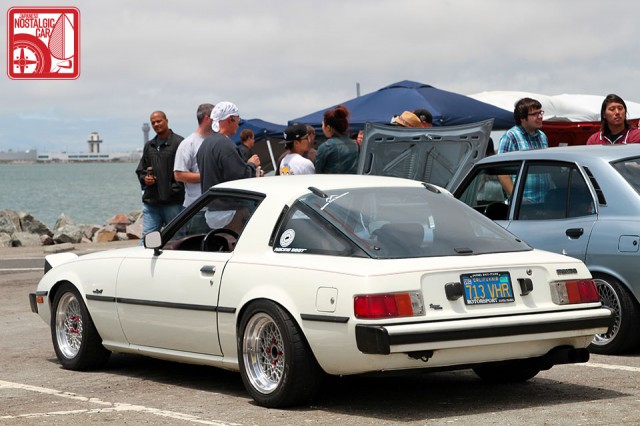 More Mazda love. This clean-as-a-cottonball early steel-bumpered RX-7 on SSR meshies is righteous 70s sexiness. Matchbox should make a 1:64 scale model of this to complement our latest IMSA-bodied Hot Wheels version.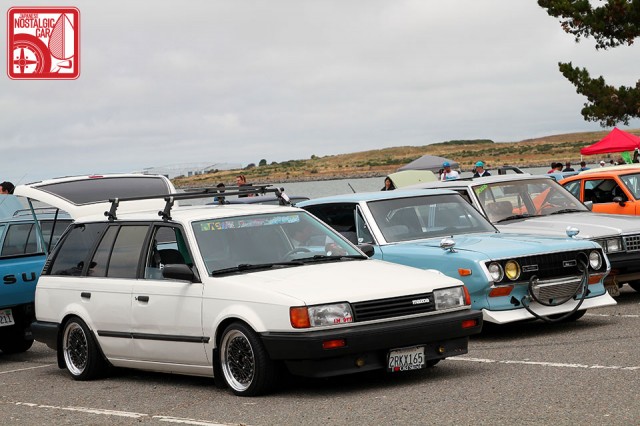 There's few things we love more than someone taking a completely unloved old Japanese car and making it their own. The Mazda 323 wagon, popular in Europe and Asia, is all but forgotten here in the States. It brings us great joy to see someone rocking it proudly. 10,000 bonus points for wagoning!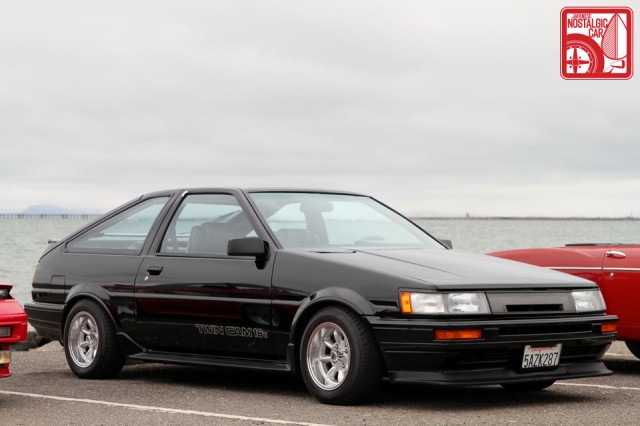 James, the latest addition to the JNC Team, might appreciate this AE86 because he's originally from one of those islands left of Europe and this hachiroku oozes Ireland style. Toyota gave us Americans the Trueno flip-ups, while sending all the fixed-headlight Levins to the UK and Republic of Ireland. You'll see cars just like this whizzing about the Emerald Isle, with their slightly different "Twin Cam 16V" decals and 13-inch Superlites.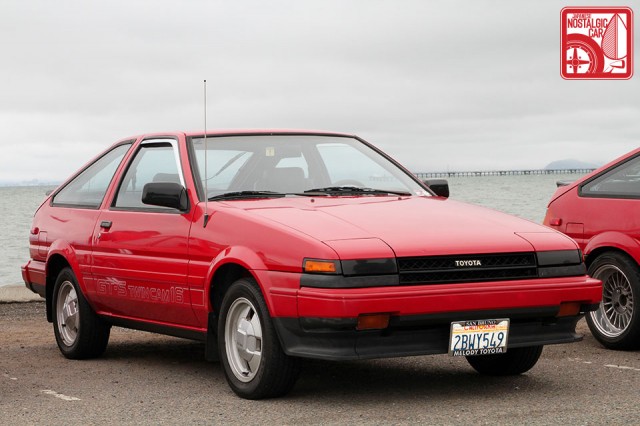 For the purists crying out for mercy thusfar, fear not. We have a slew of pristine, stock kyuusha to show you, starting with this zenki '85 Corolla GT-S. In the early days of drifting Ryan Bigan used to run with Alex Pfeiffer and Hiro Fujita, the Bay Area's pioneers of drift. He's owned 18 AE86s since then, but instead of sliding them around cones he now chooses to keep them bone stock.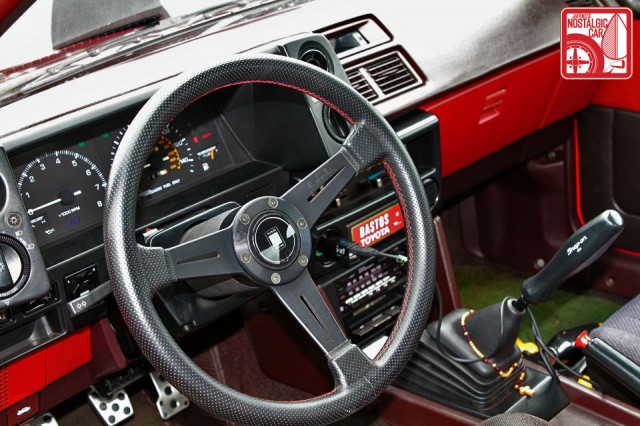 It even has the rare two-tone red and burgundy interior. Except for the Nardi wheel, pedals and shift knob, this thing could easily pass for showroom fresh circa 1985. How many original Corolla GT-Ss these are left in the world?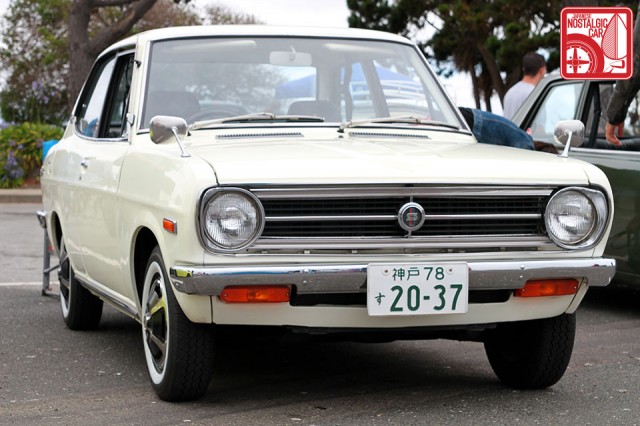 Mark Duncan's RHD B110 Sunny two-door sedan is all original aside from the whitewall tires. But perhaps even more amazingly, Mark drove the car eight hours from San Diego to attend the Historic Japanese Car Gathering.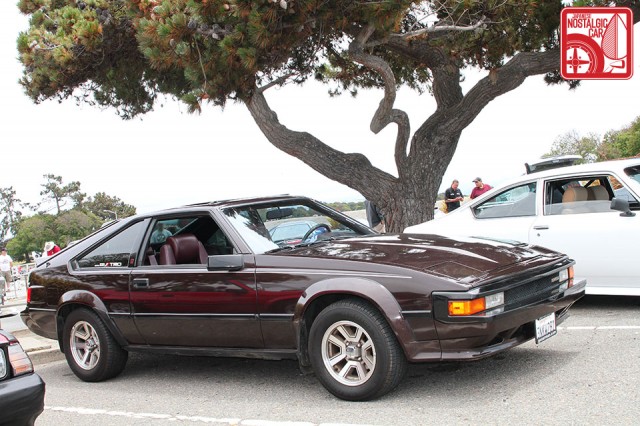 For those who prefer their A60 Supras without 7M or JZ power, here's an all-original, single owner car in all its 379 Maroon Metallic glory.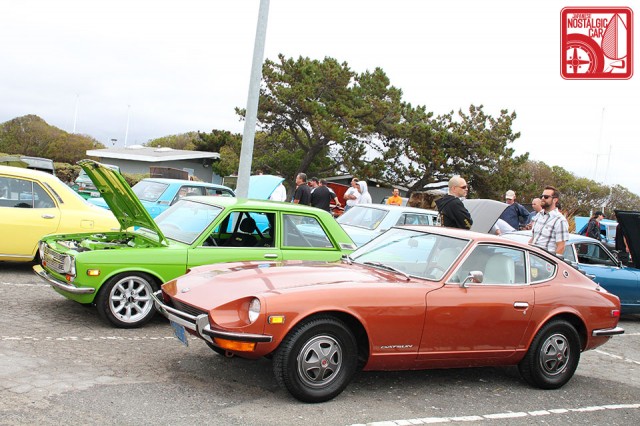 Likewise, we salute the owner of this Datsun 240Z's Ghandi-like willpower to keep his S30 stock. It even has a complete set of original hubcaps!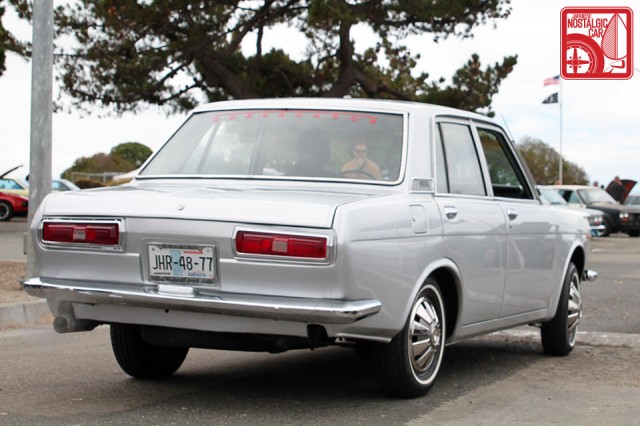 The owner of this beautifully restored Datsun 510 barely uttered any English, but his love for the car spoke volumes. Note the awesome Jalisco, Mexico license plate. It's a rare solid axle MDM 510 — Mexico domestico mercado!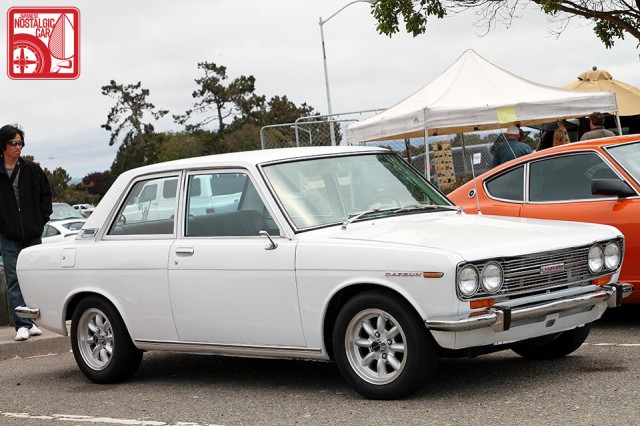 To the non-Datsunfreak this Datsun 510 two-door sedan may look like just another Bluebird on Panasports. But in fact, it's a rare 1968 first-year model, which means it's managed to remain unscathed by hordes of Peter Brock wannabes longer almost than any other 510!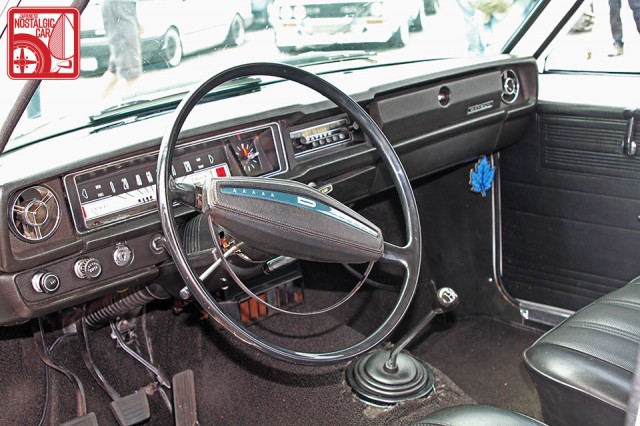 We were able to get a closer look at its dashboard to show you the early horizontal speedometers. Note the delicate elegance of its original steering wheel.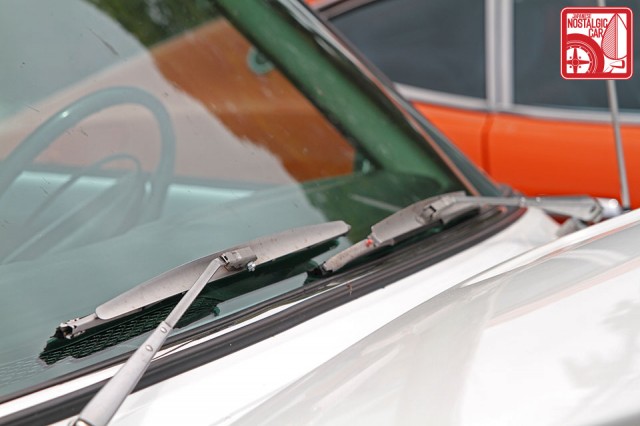 The slide rule speedo lasted until 1969, but opposing wipers were available only on 1968 models. A true early 'bird.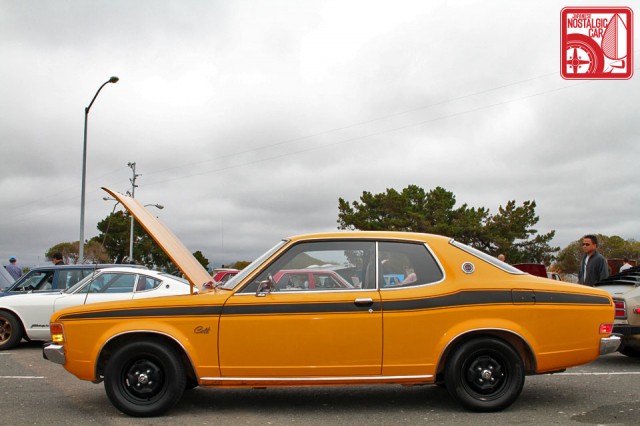 Despite the presence of a flock of JDM Skylines, the show's rarest beast of all was this 1974 Dodge Colt GT. Even a base version of this Chrysler-badged Mitsubishi Galant would be rarer than hen's teeth, but this is the GT — the sportiest trim level — denoted by a muscley factory black stripe.
As Indiana Jones would say, "It belongs in a museum!" because even Mitsubishi lacks this chassis in their own gallery in Japan.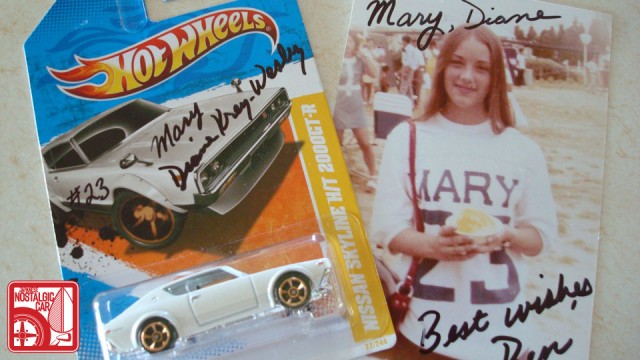 And lastly, before we bid sayonara we must flaunt the immensely cool souvenirs we received from our venture to NorCal. As we mentioned, Diane Krey-Wesley, the actress who played Mary in the kenmeri Skyline ads, was at the show.
Lovely lady that she is, Diane brought her own stack of photos, reprinted from one of her commercial shoots in Japan, and signed them all day long. Naturally, we also asked for her signature on one of the Hot Wheels kenmeris designed by Jun Imai as well. She numbered each one that she autographed, and guess which number we got?
As you may have heard, both Diane and Jun will be at the JCCS on September 15, so bring your Hot Wheels for them to sign!
More photos from the Bayline Gathering can be found in the gallery below, and in case you missed it, here are Parts 01, 02 and 03.
Photos by Ben Hsu. Special thanks to Ricky Silverio.