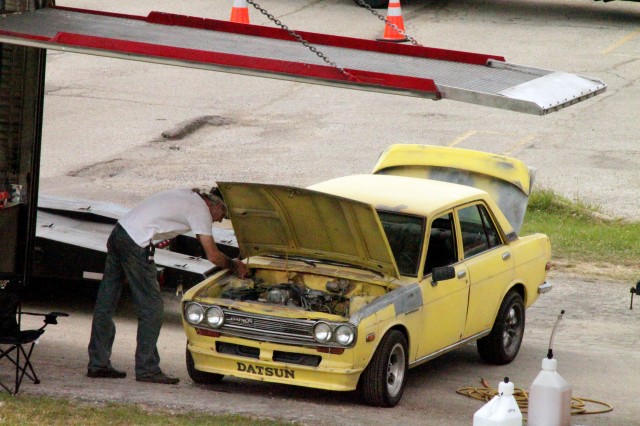 Last year a Datsun 510 sedan with twin black racing stripes and a "Bee-yotch" air freshener was spotted filming in Milwaukee for Transformers 3: Dark of the Moon. Immediately, speculation began that one of the star robots, Bumblebee, had disguised himself as a Bluebird. We just got out of an advance screening of the movie and we have answers. Warning: spoilers ahead.
Firstly, the Datsun is not Bumblebee. It's not an Autobot. It's just a regular car that does not transform into 10,000 randomly twitching pieces.
As the film opens, Sam Witwicky (Shia LaBeouf) has graduated from college and is looking for a job. The benevolent Autobots are jetting around the world on various missions for the US government, leaving Sam on his own. We are supposed to find this sad.
With Bumblebee away, Sam's only mode of transportation is the aforementioned Datsun 510, a project car that Sam clearly loves. Sam continuously refers to it as "a collector's item," much to the chagrin of his parents (who call it a piece of shit) and a hot girl who is not Megan Fox.
The running gag is that the Datsun, with patches of rust and primer, mismatched slot mags and Rotas, never starts.
There's a rich jerk who seems to be horning in on Not Megan Fox, and he collects super expensive cars like Bugattis and Delahayes. Sam feels emasculated because he has a Datsun that doesn't start.
Sam learns some important news about the evil Decepticons, and he must break into the top secret Autobot hangar with his Datto. The soldiers at the entrance don't know Sam, think he's just a nutty kid, and stop him. One of them slaps the Datsun, inciting Sam to yell "This is a collector's item!" once again.
As Sam tries to force his way into the hanger, a set of stanchions pops up from the ground and puts the ass end of the 510 sky high. That is the last we see of the car, except for a millisecond of it back in Sam's garage later in the movie. But it's never used in any scene again. This is about one quarter of the way through the movie.
Then a bunch of computer-generated robots blow stuff up, the corniest dialogue this side of Cybertron is uttered, major characters you're supposed to care about die in slow motion with dramatic music swelling even though you fail to care at all, robots throw each other through plot holes so big you could drive Optimus Prime through 'em and glamorous set pieces held together by the thinnest strands of story, NASCAR-themed robots speaking in Aussie and Scottish accents show up for no reason, and the good guys save the day, The End.
So at first we thought, "Hey, that's great! They're calling the 510 a collector's item!" But as the movie dragged on, it became clear that they were playing up Sam's devotion to his car — and the idea it could be considered a collector's item — for laughs.
But perhaps we were being a bit too sensitive. So I asked my date, a non-enthusiast third party observer, how she thought they represented Sam's car. To which she replied, "A piece of shit." Coincidentally, those were exactly my thoughts about the movie itself.