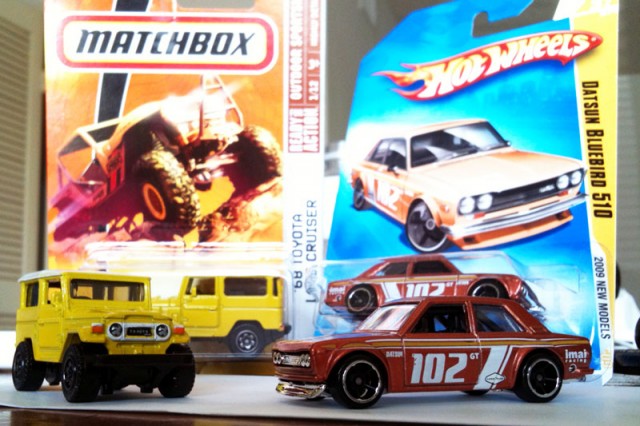 When even mainstream media sources like USA Today are talking about nostalgics, you know our beloved J-tin is finally getting some props. Here's another barometer: diecast cars.
For ages, if you wanted vintage Japanese steel rendered in small scale, you'd have to get your hands on a Tomica. But even Hot Wheels, the long-held bastion of miniature street rods and muscle cars, has added a little nostalgic flavor with their recent Datsun Bluebird 510. Complete with BRE spook spoiler, the latest metallic bronze color is the best yet. They've also introduced a Datsun 240Z and Toyota Corolla AE86.
Matchbox is the other brand most of us grew up with, and they've just come out with a 1968 Toyota Land Cruiser FJ40. It's got all the correct details as well – white roof, leaf spring suspension, and exposed hinges. The rumor mill says they'll be following it up with a 1980s 4Runner.
Are kids really clamoring for old school Japanese cars, or are these concessions for adult collectors? Either way, the classic status of the cars we love is being cemented and we're okay with that.