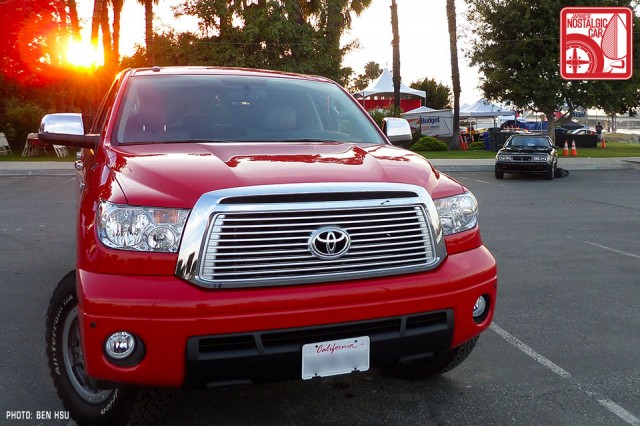 Oh, the machinery we would put in the JNC dream garage. You cannot even imagine. The rarest twin-cam Toyotas, ex-works Nissan racers, immaculate rotaries, obscure kei cars. It would be downright pornographic, I tell you.
No matter what though, our fantasy fleet always has a BHT. A big, honkin' truck that can drag the rustiest barn find back to HQ, haul a motor or three without flinching, and handle any terrain a recovery mission might throw at us. It would have enough driving lights to outshine the grid from Close Encounters, a bed crane, and say "JNC Search & Rescue" on the side. And for one week, we lived the dream.
Being the Toyotaku that I am, my dream BHT was always a second-gen Tundra, the one that brought Toyota into the same full-size league as the Big Three. It would be metallic blue, the hero color that graced both the dystopian future-sourced FTX concept and the 350Z-benchmarked Tacoma X-Runner.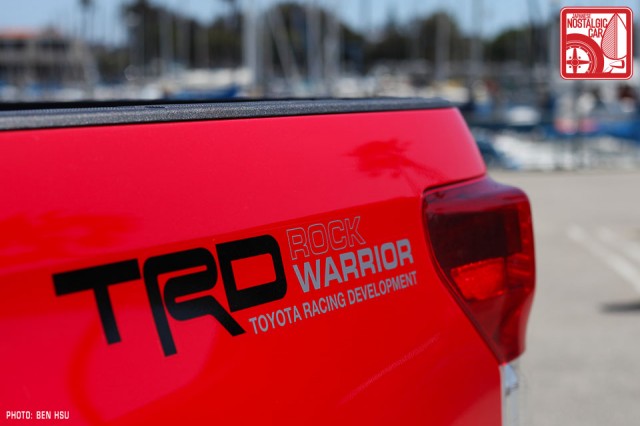 That color's been out of production since 2010, so I knew not to get my hopes up when our friends at Toyota USA tossed us a set of Tundra keys from "the fleet." Something in graphite gray, perhaps? I'm not one to floss. I drive a 27-year-old station wagon ferchrissakes. When we got to the parking lot, staring us in the face was a Crewmax 5.7 TRD Rock Warrior Edition in the brightest effing red you've ever seen.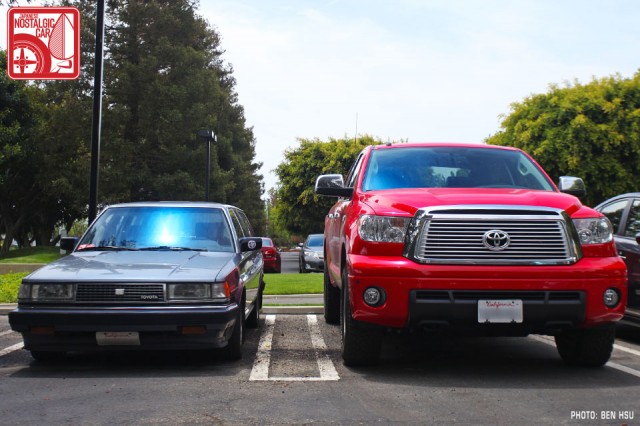 I mean, this thing was redder than Pamela Anderson's swimsuit. Towering like Olympus Mons over surrounding cars, it knocked us back a good two steps like Kramer's Chicken Roasters sign. Worse, the ludicrously named Rock Warrior package had bro-ed it out with Bilstein shocks and knobby BF Goodrich All Terrains on gunmetal TRD 17s. This had to be some kind of joke, right? "Let's put the JNC guys in the loudest, most obnoxious truck we have, hardee-har!"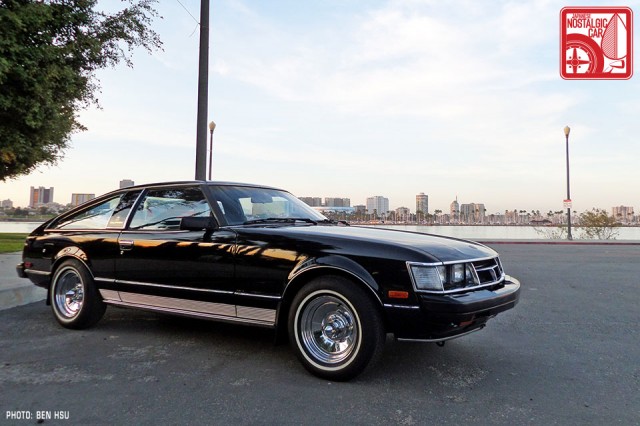 The whole point of this exercise was to tow anything, anywhere, anytime. My 1980 Toyota Supra was headed to Toyotafest, but the tow-er isn't supposed to catch more attention than the tow-ee.
At 2,855 pounds, the Supra was a porker in 1980s Toyota terms. Add a two-axle trailer and Big Red would be yanking 5,065 pounds to Long Beach. Luckily that's barely half of its 9,000 pound towing capacity. Regular Cab Tundras can tug a whopping 10,400 pounds, a class-demolishing stat when it debuted in 2007. It's what cemented the Tundra's spot in my dream garage.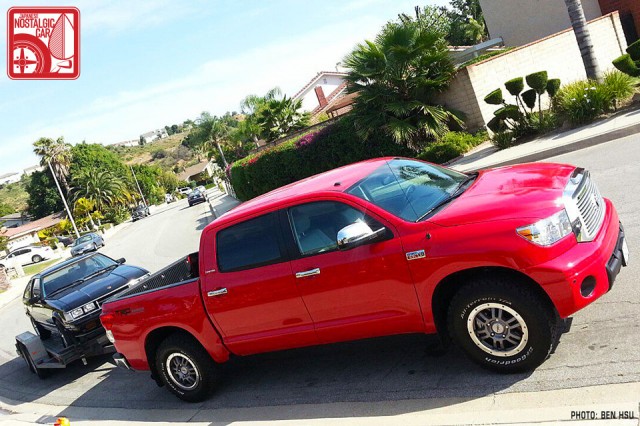 Throughout most of the last two decades, Toyota had been eager to capture a slice of the lucrative US pickup market. For some reason though, they kept releasing trucks like the T100 (not to be confused with a Terminator robot) and the first-gen Tundra (yes, do confuse it with a Terminator robot!) that had the Big Three chuckling about Toyota's 4/5 scale pickups.
So Toyota focus-grouped the ever living crap out of the next generation and built it in a new factory in San Antonio, smack dab in the heart of truck country. Everything about the new pickup was Texas big. I'm an average sized guy, 5-foot-10, but after pole vaulting into the cabin I felt like a kid in an adult sized world.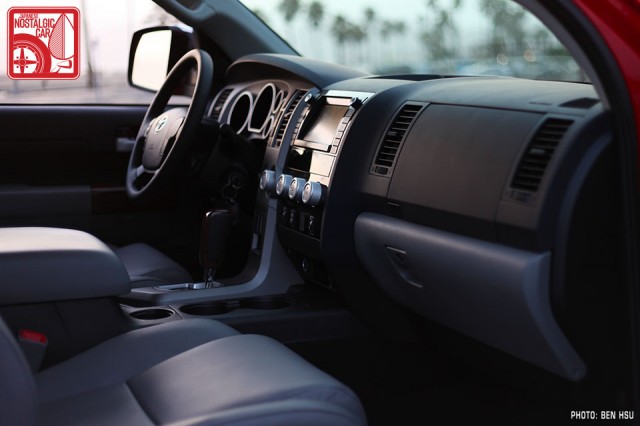 I had to lean and stretch to access dials and switches, all of them super-sized for ease of use while wearing work gloves. At one point I lost my cellphone for a good ten minutes in the plethora of storage spaces, some big enough to swallow a laptop, or a library of hanging file folders. And the rear legroom! Even 6-foot-4 Dan could stretch his legs out like a yakuza kingpin in a chauffeured Toyota Century.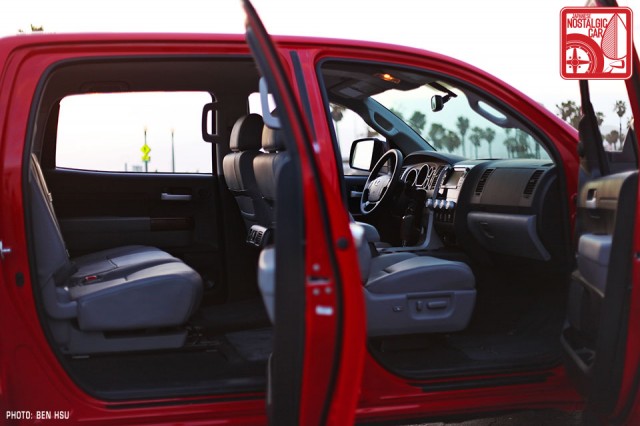 Clifford, which is what we decided to name it, didn't even break a sweat getting the Supra, three adults, and all our booth gear to Toyotafest. Stuff that jammed an FJ Cruiser to the headliner fit easily and laid flat in the cargo hold.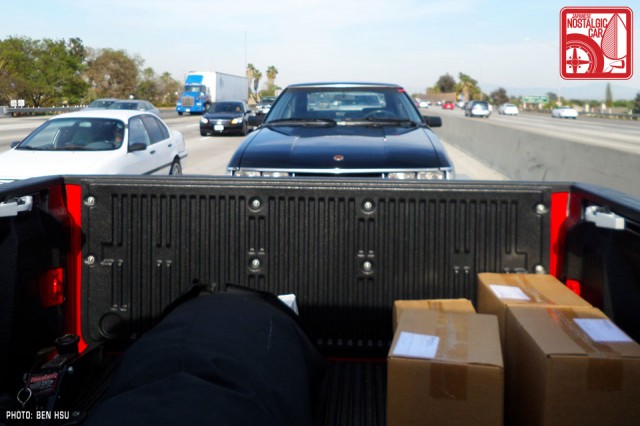 And once the show was over, screw packing it neatly into a station wagon! It felt uber manly to cold throw our gear into a pickup bed. We might as well have been loading bales of hay in slow motion while dramatic music swelled, just like on the teevee. Grrr!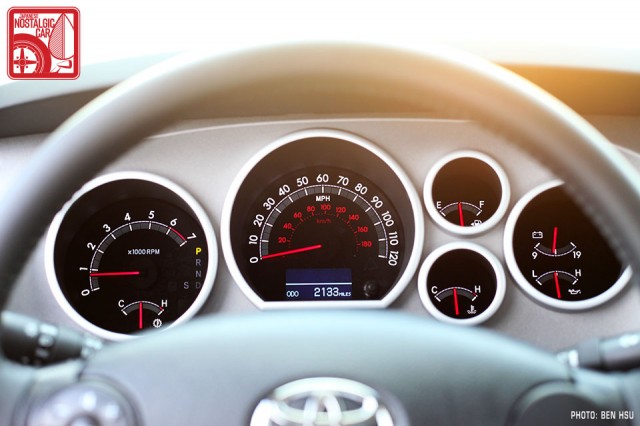 Our newfound testosterone surge wasn't over yet. Once the Supra was safely back home Clifford came unleashed. Now that we weren't towing or hauling, we were just dudes with a BHT as red as the set of a Saw movie. Merely looking at it infused us with the urge to chest bump each other and get Monster Energy Drink logos tattooed on our necks.
SoCal's natural home of the lifted bro truck is the Inland Empire, a swath of paved desert between LA County and Palm Springs. We could feel the siren call of the backwards-hatted calling us. "Braaaaaah… come watch this sick UFC match with us, braaaaah." That's why we headed in the exact opposite direction, to Los Angeles proper.
On Mulholland Drive we found Clifford, despite his size, easier to drive and more confidence inspiring on curves than the car-based Infiniti JX we drove down the PCH. The Bilstein suspension is firm, but it still eats bumps like they're bon-bons.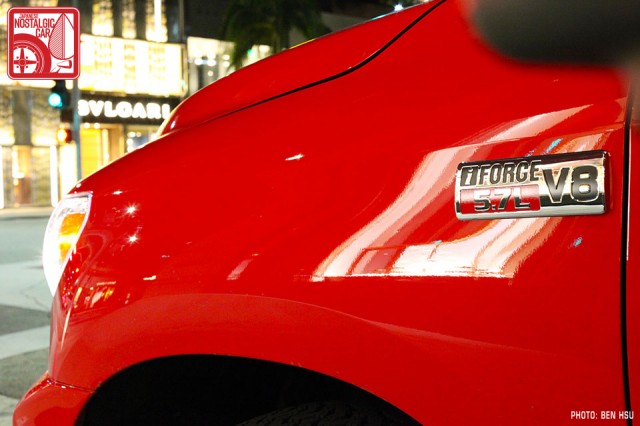 We soon learned that no matter where you are, this truck just wants to bring out your inner redneck. Roll down all the windows, including the trick rear one, and listen to that monstrous 5.7-liter V8 sing the song of our people. Good god, it's infectious.
Forget Lexus 1UZ swaps. This is the V8 you want. Four cams, 32 valves, 381 horses and 401 glorious pound-feet of frame twisting torque. Even inside this giant red brick, it can hit 60 from a standstill in something like six and a half seconds. Imagine what it could do in your hooptie Cressida.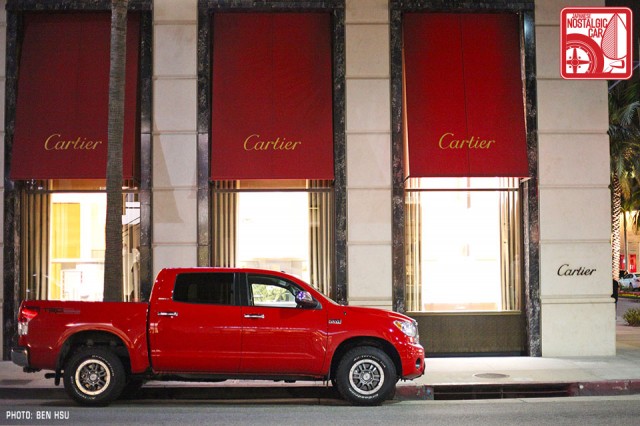 We weren't the only ridiculously powerful V8 on Rodeo Drive, but we were the only pickup. When look-at-me Rolls Royces and Ferraris are a dime a dozen, this is how you stand out. The only thing we were missing was a pair of diamond-encrusted truck nuts.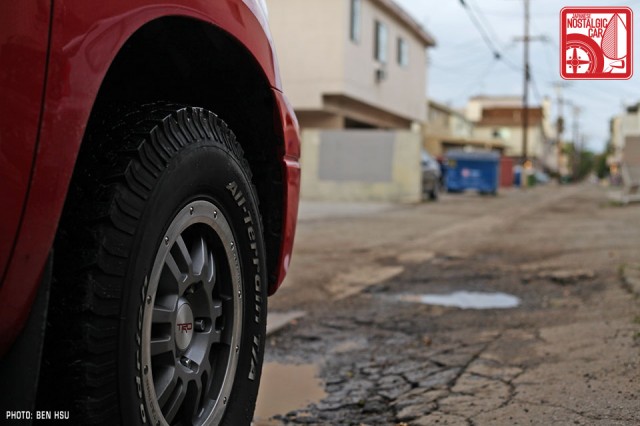 In real life we'd soon grow tired of $80 fill-up bills or the fact that it can be impossible to find parallel parking for a 19-foot freight train. On the other hand, there's an alley near my apartment that is indistinguishable from a bombed out road in Afghanistan and it wreaks havoc on my lowered Cressida's suspension. In Clifford, I could plow over its chasms with impunity.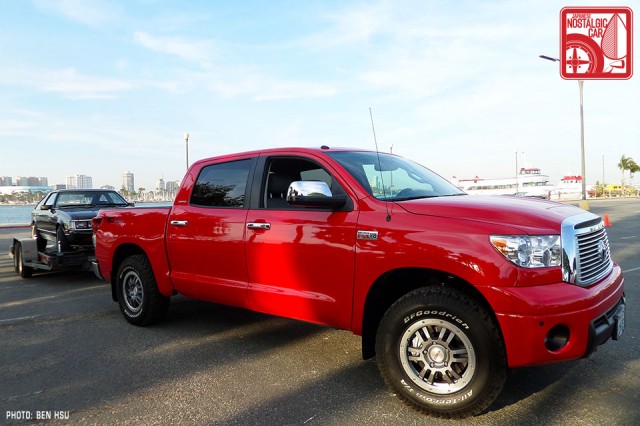 Sadly, our time with him soon came to an end, when Toyota said they needed the truck back. Something about taking over a small European village singlehandedly. I want a Crewmax Tundra in my dream garage more than ever, but only if I win the lotto, cause I'll be dragging Craigslist finds home every weekend. I've still got my heart set on blue, though. Maybe I'll name it Babe.