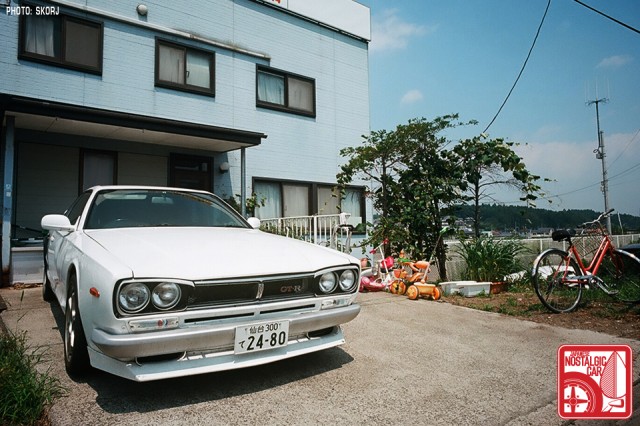 Today marks the fifth anniversary of the twin disasters — a magnitude 9.0 earthquake and devastating tsunami — that struck Japan off the coast of Tohoku in 2011. In remembrance, we are re-running a series of stories that relate to the event's aftermath. This article was originally published on October 17, 2012.
For the last year or more, most of our visits to Tohoku have been single minded – helping with the recovery efforts. This trip was a chance to relax, tour the glorious countryside, meet people and, of course, capture some glimpses of nostalgic cars in the wild. For this we traveled northward from Tokyo as far as possible, all the way to the Aomori coast on the northernmost tip of Honshu.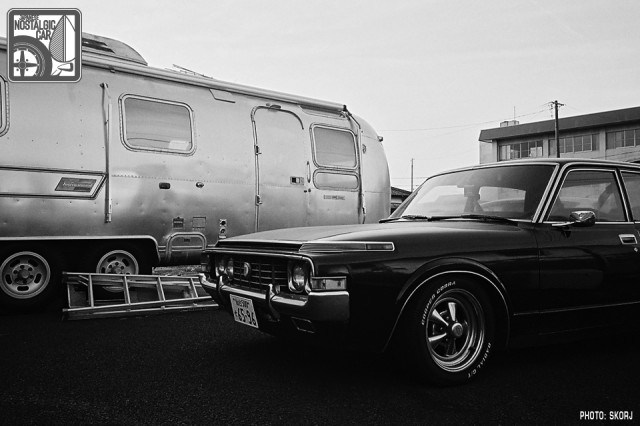 Miyagi Prefecture faces the Pacific and was hit particularly badly a year and a half ago by the magnitude 9.0 Tohoku earthquake and tsunami. In some areas the waves washed many kilometers inland, swallowing everything in their path. On our first trip to Miyagi after the disaster, we had stopped for dinner in Sendai at a biker café, outside of which the owner had parked his stylish kujira Crown. On this trip we were happy to see it still there, and the café open.
Towns that had been damaged but not destroyed, like those we had worked in previously, are slowly returning to life. In areas mostly leveled, the debris has largely been cleaned up. Few buildings remain, however, and are likely never to be rebuilt.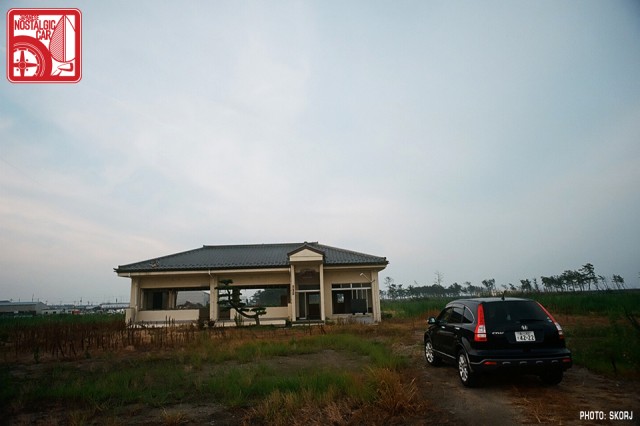 In Maewaka, a small village close to the sea, only the community hall still stands. Outside they've erected a memorial to the lives lost from their town on March 11. In the background, you can still see the twisted trees from the tsunami as it came ashore. Nearby, the Sendai Castle walls that had withstood 300 years of shogun battles, earthquakes, and World War II bombings, were also damaged in the tsunami, but substantial reconstruction works underway across the whole castle grounds.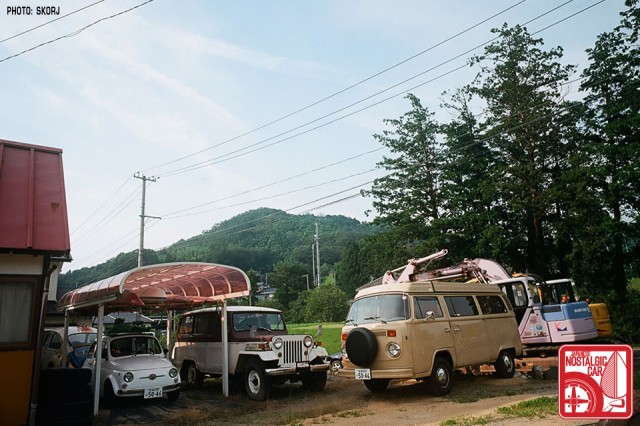 On the rear approach to Sendai Castle we came across an eclectic collection of cars — a Westfalia VW Kombi, Fiat 500, and what was to curiously be the first of several long-wheelbased Mitsubishi Jeep wagons. This one appeared to be in operable condition and was painted in a two-tone dark red and white.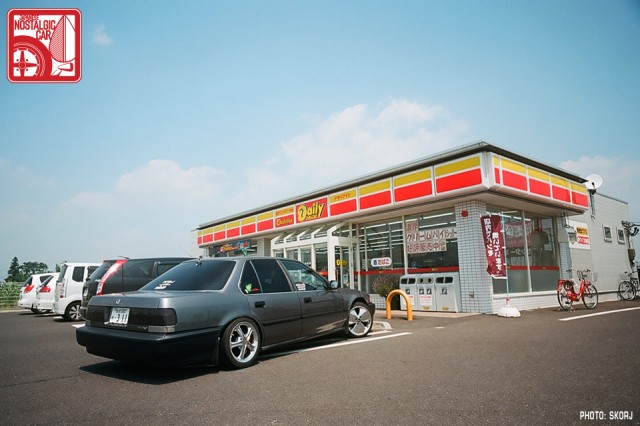 In transit to our next destination somewhere in Iwate Prefecture, we stopped for some frozen lemon-water at a Daily Yamazaki convenience store and could not resist snapping a photograph of a local's curiously wheeled Honda Accord, which he left running as he dashed into the konbini for cigarettes.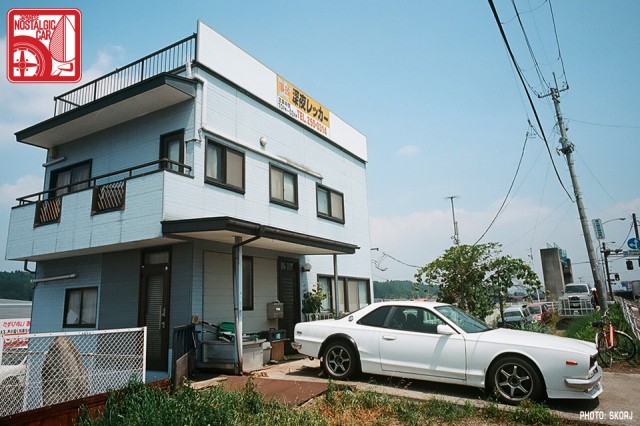 Of more interest though was a 1999-ish hakosuka GT-R, built on what we assume was an R34 chassis with reasonable facsimiles of C10 Skyline parts, including front and rear clips, lamps, side swage-lines, C-pillar garnish, and vaguely suitable wheels.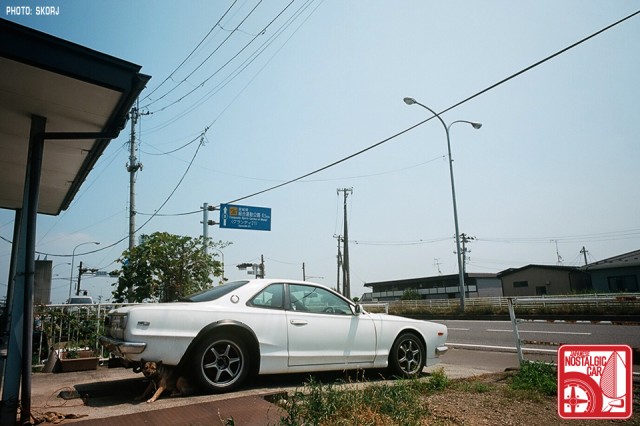 Curiously proportioned but obviously crafted with care, it lacked the usual tacked together look of similar contraptions. Apart from its slightly too-narrow-for-its-body-length proportions, the whole car — rear flares and all — kind of worked. The hako-lover in us thought so anyway. Pity the owner's dog kept us at a distance, as more photographs would have been of further interest.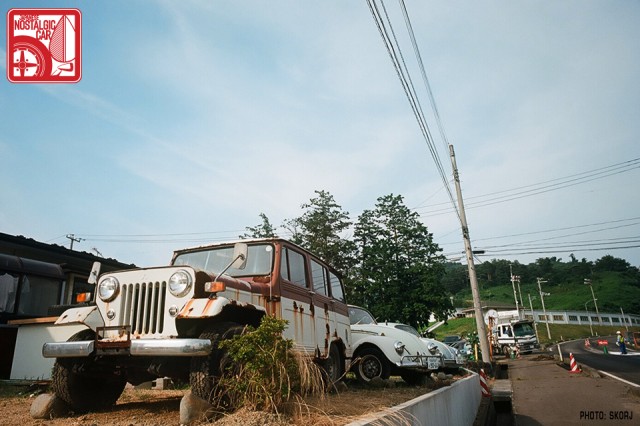 Before long we stumbled across another of the many eclectic car collections we would encounter on this trip. The bounty consisted of a set of VWs accompanied by another Mitsubishi Jeep wagon, curiously painted in the same colors as the first, but one that had obviously seen better days.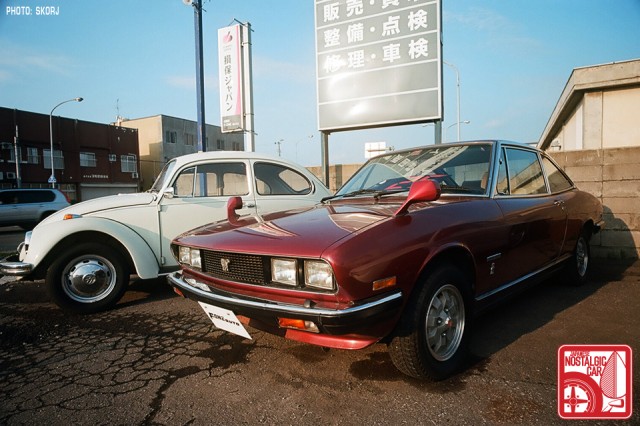 Further north into Aomori Prefecture, we spied a collection set of VWs and late model Benzes. No big deal, we thought, but cruising past we noticed a set of prominent, body-colored wing mirrors and the unmistakable shape of an Isuzu 117 Coupe. Though we prefer the round-eyed versions for their more classic interpretation of the Giugiaro style, this example impressed simply because of its near showroom condition.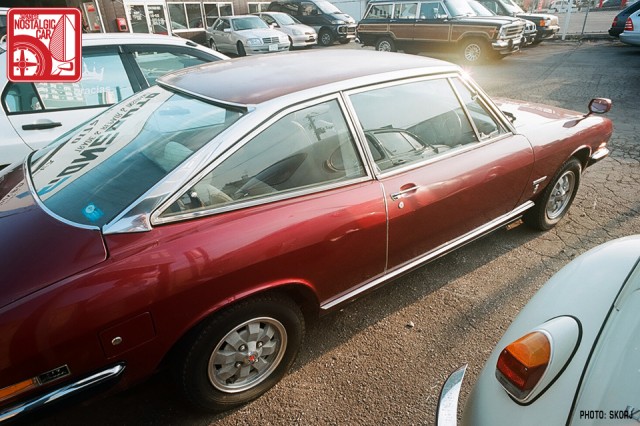 The period velour interior was unmarked, all external bright-work sparkled, and its owner-added trailing-edge door protectors advertised that it was a well-cared-for machine. Though all the cars were unlocked, with many keeping their keys in the ignition, the shop owner was nowhere to be seen. As it was perhaps 38°C (100°F) in the sun on the lot, we imagined him flaked-out, tucked away in air-conditioned comfort at the back of his office.
That night we stayed in a local ryokan (Japanese for a bed-and-breakfast inn) and dined on a feast of near-Biblical proportions.
We set out the next day to explore the many Taisho- and Meiji-era buildings in the area. The Aomori Bank Memorial Hall was the first national bank in Japan, established in 1879. In 2012, it's a museum. Admission only $2.00!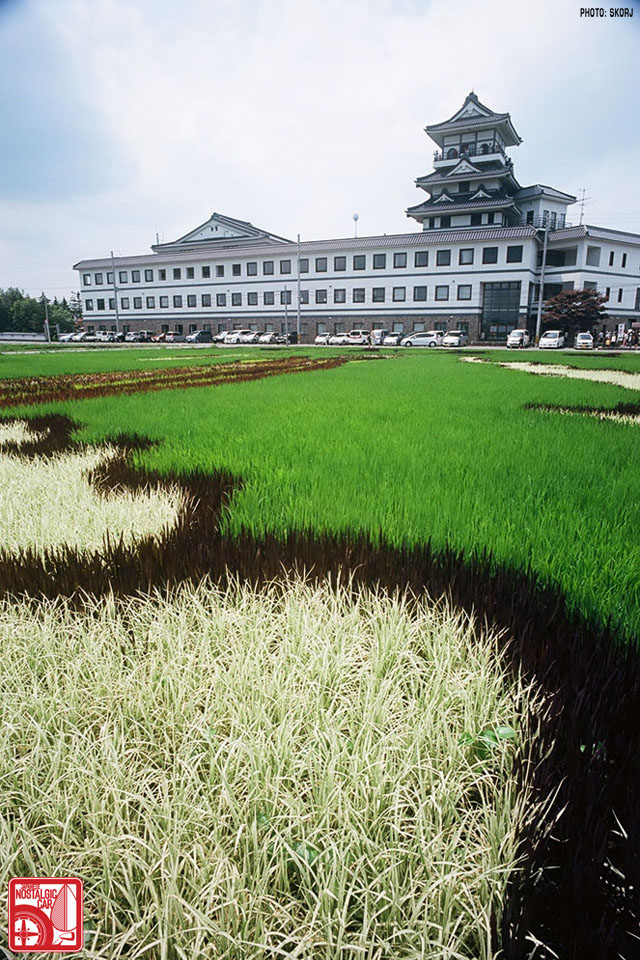 Our morning destination was the tanbo art of Inakadate. We had arrived at the peak rice planting week and were able to witness the full color effect of the luscious gohan in full bloom.
This is the view when from atop the "castle" facade built over the town hall. The region has been farming rice for over 2,000 years, and they're having a little fun with it. On the way out, we purchased a bag of rice from the previous season's harvest and have since enjoyed it as a rather tasty gomoku blend.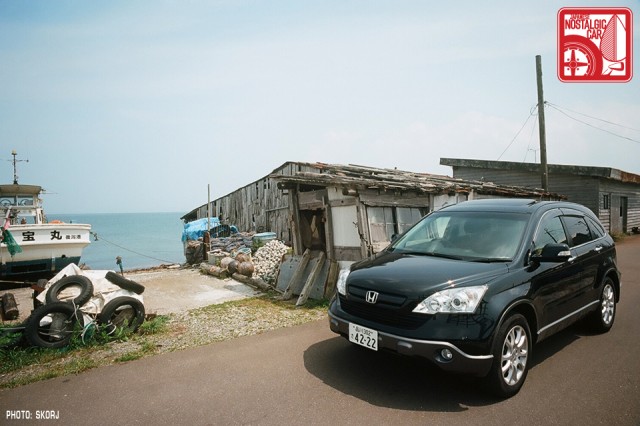 Leaving Inakadate, we took a slow road up Route 280 along the coast of Mutsu Bay and enjoyed a meander through the local fishing ports. Fishermen's houses were built right on the shore next to their boats for many kilometers up the coast.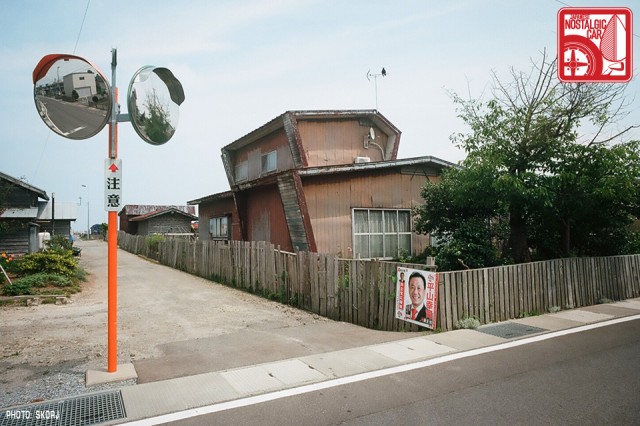 The local architecture in Yomogita was an interesting blend of 1970s prosperity mixed with rural Japan village-scapes. Remote though it was, the area was obviously still relatively affluent, with modern street furniture lining the roads, and lots of well-kept houses, some very large.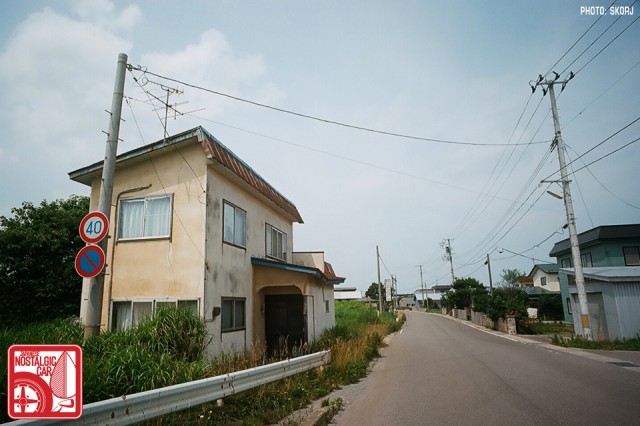 Other sections of Yomogita appeared a bit more dreary. Nevertheless, we pressed on in search of real Japan and its hidden troves of Nihon steel. In Part 02 of our grand Tohoku tour we trace the edge of Mutsu Bay and happen upon even greater collections of nostalgic cars. To be continued…
Photos by Skorj. You can see more of his work at Filmwasters.