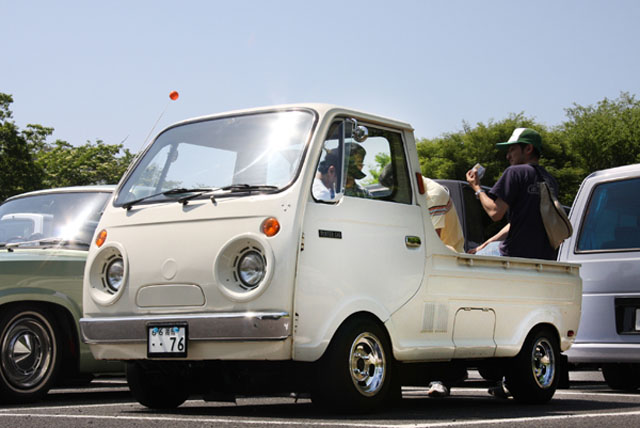 Every couple of months our friends at Mooneyes holds an informal gathering near their HQ in Yokohama called the Mania Cruise. The great part about these shows is that you get to see oddball machines that tend to get crowded out at, say, the New Year Meeting. Case in point: the totally adorbs 1976 Mazda Porter Cab pickup. Two-stroke, 360cc, all style. Click on through to see some of our favorites.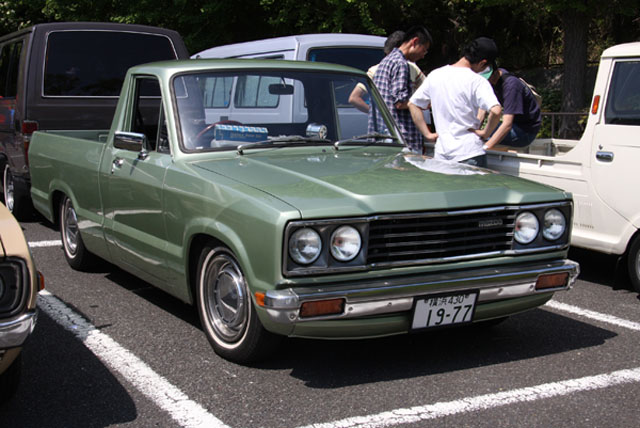 Americans may be more familiar with the Mazda B1800 pickup of the same era. We love the nostalgic green-gray color. It's also proof that you don't need tires stretched over deep barrels to have a cool stance.

Although, it never hurts either, like in the case of this sanitora. The high-contrast two-tone and Longchamps sure make it look racy.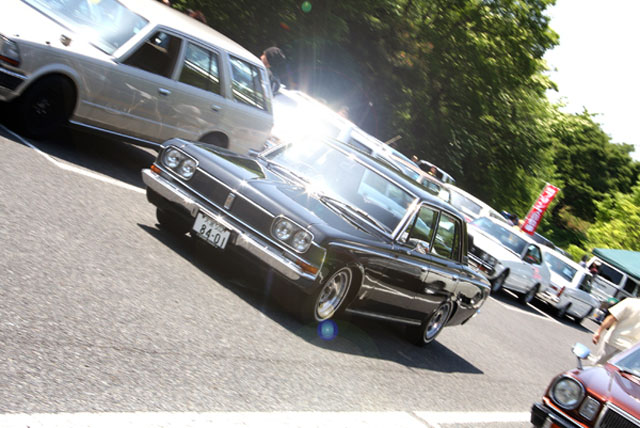 Blinded by the light and beauty of this S50 Crown.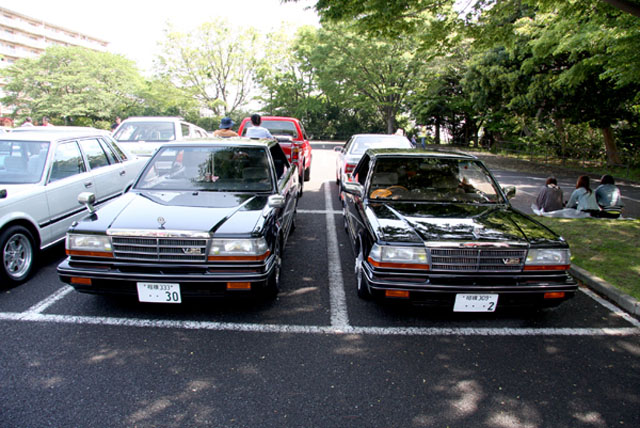 Y30 Cedrics and Glorias are truly old school VIP. If you stepped out of Narita airport in 1987 the pickup area at the terminal would be packed with these things.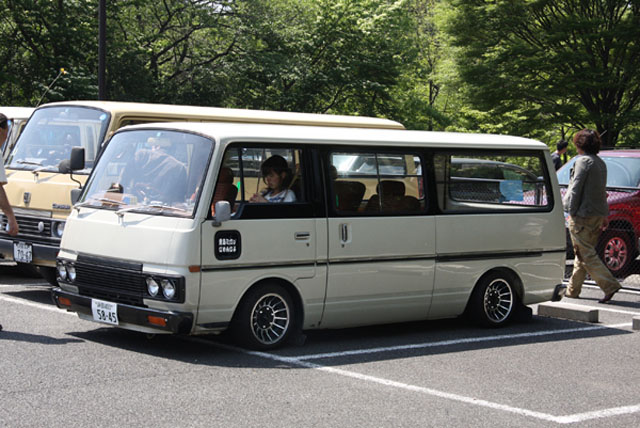 Aside from trucks, another popular type of vehicle is custom one-box vans like this big honkin' LWB Nissan Caravan, made popular by the tuning shop Barracuda.

Toyota HiAce Limousine lowered on Racing Hart Superfins. Eighties one-box madness!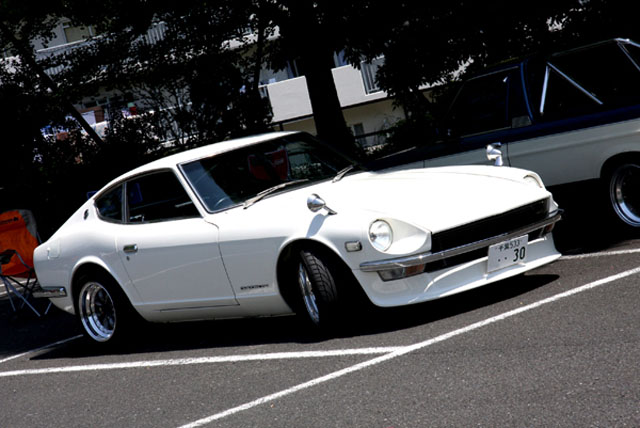 Of course, one can also find cars you'd see at JCCS too, like this gleaming white S30 Z.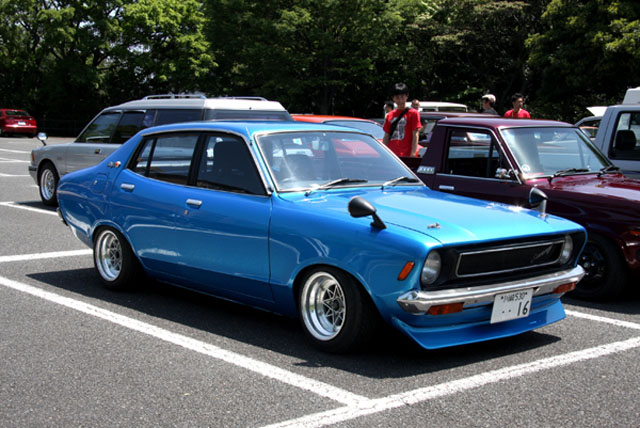 There are also cars done in the clean and simple traditional Japanese vintage style — light RWD car on deep-barrel racing wheels — like this B210 Sunny sedan on Star Sharks.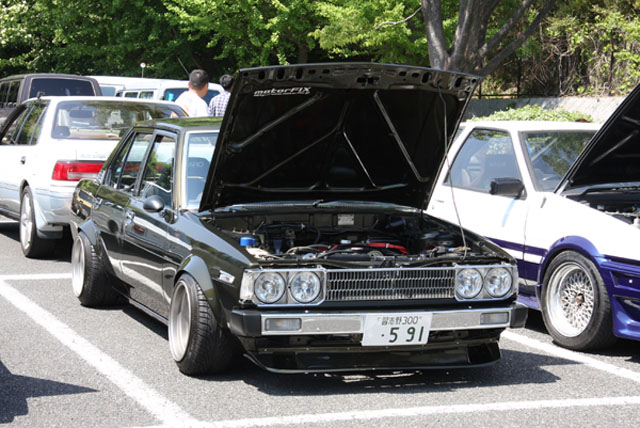 This E71 Corolla goes more extreme with a modern flair, which includes flares and barrels so deep you could smoke a pig in them. Side note: interesting color combo on that AE86 next to it. Ming vase panda?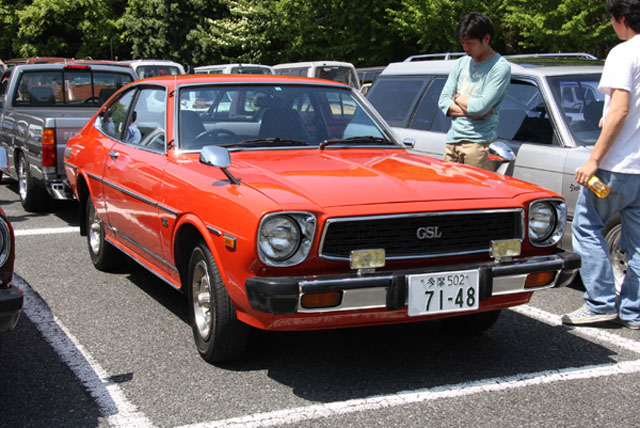 And then there is the bone stock classic. We envy greatly the cleanliness of this time-warp TE51 Corolla.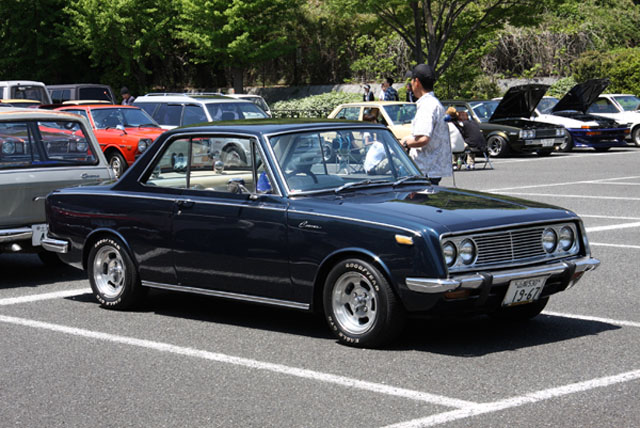 For some reason we see a lot of white, ivory and light blue shovelnose Coronas in the States. Maybe a red one if it's a coupe. But wow, it looks fantastic in black! Or is that a deep blue? Either way, the beige interior really sets it off. You could pull up to a hotel in Monaco driving this and still feel classy.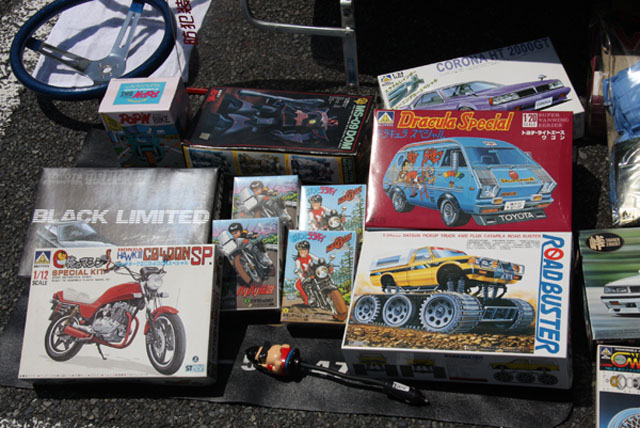 And of course, there are plenty of model kits and toys for sale. We want that Datsun Roadbuster tank but in real life. Check out Mooneyes for many more photos of the May Mania Cruise.
Bonus: Video of the cruise!

[Images: Mooneyes]