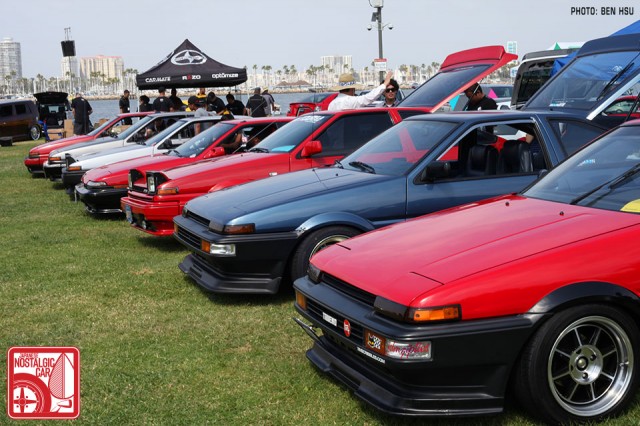 Though just the size of California, by the 1980s Japan had become the world's premier industrial giant. With unprecedented growth and technology advancements, Nihon's cars of this Bubble Economy, especially Toyotas, established a unique design philosophy that was on full display at the 18th Annual All-Toyotafest.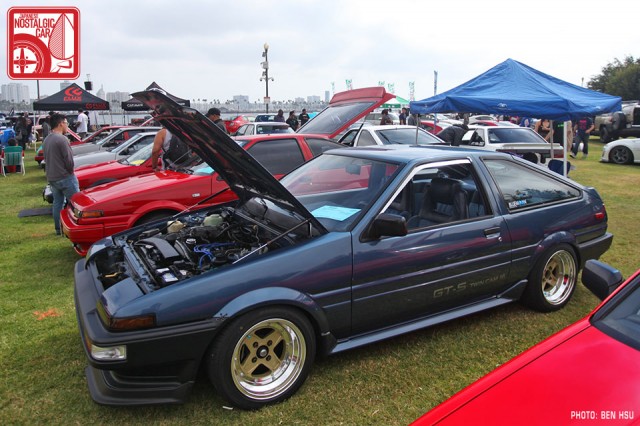 Look at any Toyota catalog from 1980 through the end of the Showa Era and you'll see a distinct lack of one thing: curves. It was as if suddenly, everything but the rulers vanished from ToMoCo design studios.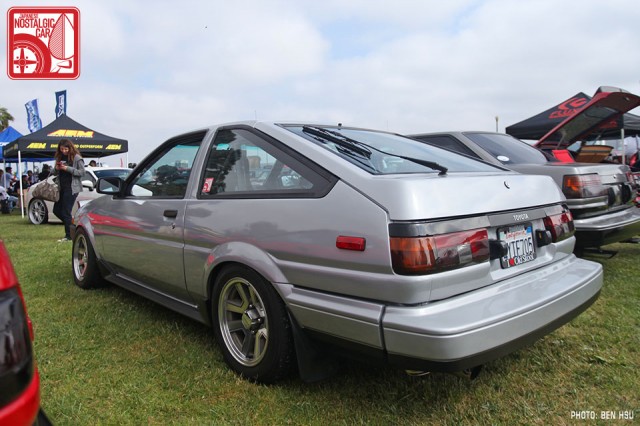 Even elements within taillights were all rectangles and right-angles, and when they couldn't make square wheels, they made the spokes as blocky as possible. But that's not to say this angular design was a bad thing. On the contrary! Supra alloys are probably one of the best factory wheels Toyota has ever produced.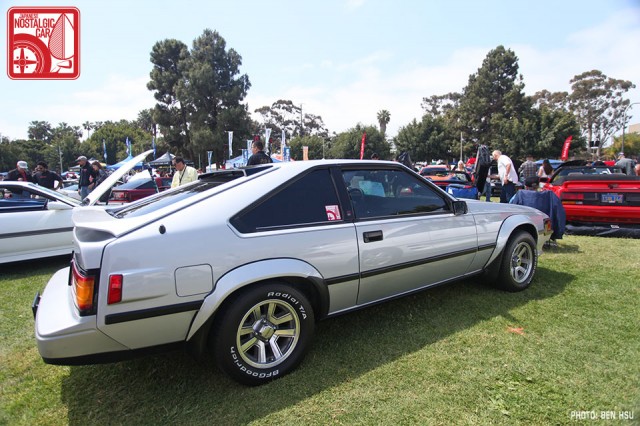 Everything from the lowly Corolla to the flagship Supra was built on this theme, and it had the bonus effect of brand cohesion. The P-Type Supra actually looks like the big, six-cylinder brother of the scrappy AE86.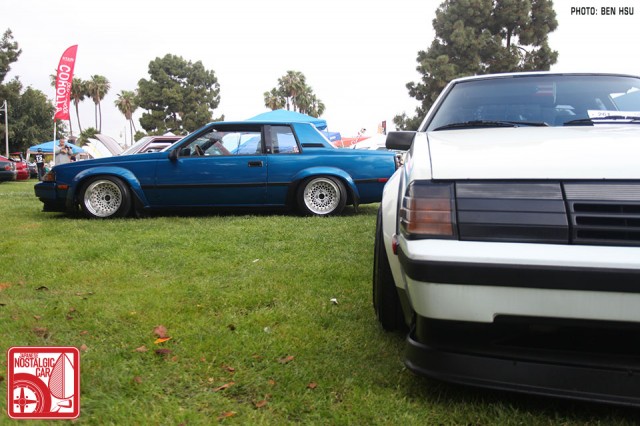 And check out the gorgeous techno-box lines on the Supra's actual little bro, the A60 Celica. When we last saw Jesse Ortiz's blue 1JZ RA64 it was rolling on black barrels but white 15-inch Epsilon meshies are a great choice too.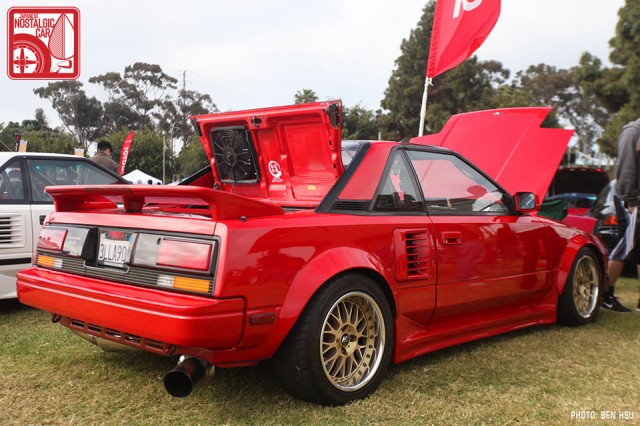 And check out the uber-geometric lines of the AW11 MR2. Though the Work VS-XX is more of a modern tuner wheel, it works with this epitome of angularity. The askew muffler is almost necessary to break up the symmetry.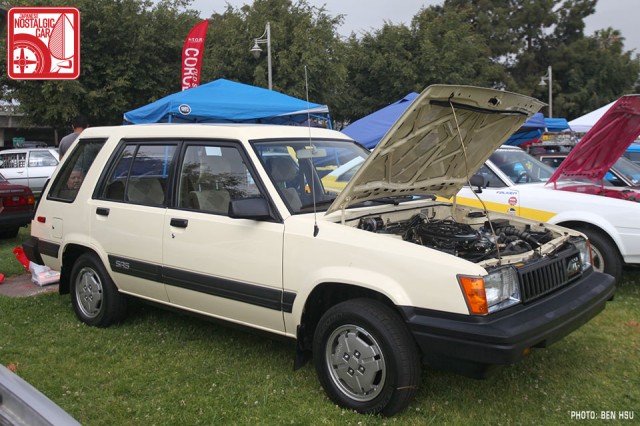 We were stoked to see Angel Monico's all-original Tercel SR5 4WD at the show. This thing was a cream puff (or at least a cream parallelogram), so props to Angel for being custodian to the normally unloved. The original 1.5L 3A engine has 95,000 original miles, which for an 80s Toyota, means it's just broken in.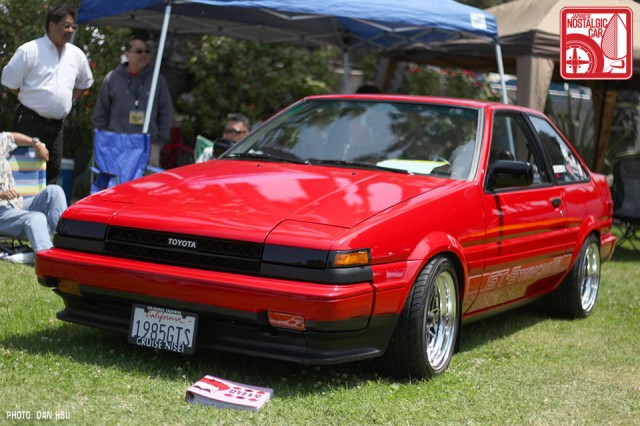 You all know Janet Fujimoto and Duane Segawa's hachiroku coupe. It's a down-to-the-shell restoration, and since Janet works for Toyota USA she was able to source a ton or OEM parts. It's probably the cleanest resto of a proper USDM Corolla GT-S in the country right now.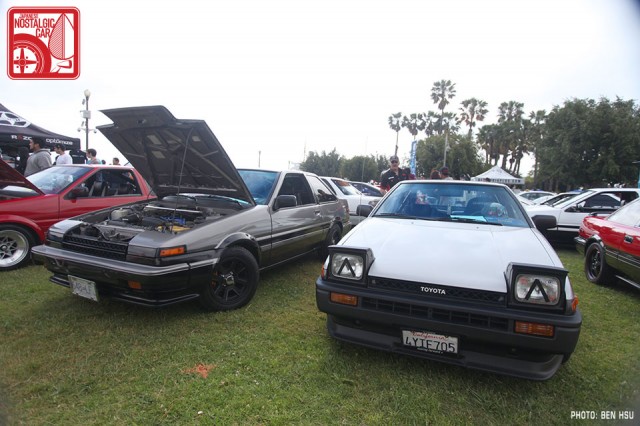 Larry Sheridan originally bought his gray two-tone coupe so he could install the motor in his other project, a Nash Metropolitan. But once he got a hold of the hachiroku, he was put under its spell and was unable to gut it. Larry received the Long Distance Award, having driven his AE86 from somewhere in British Columbia 500 miles north of Vancouver.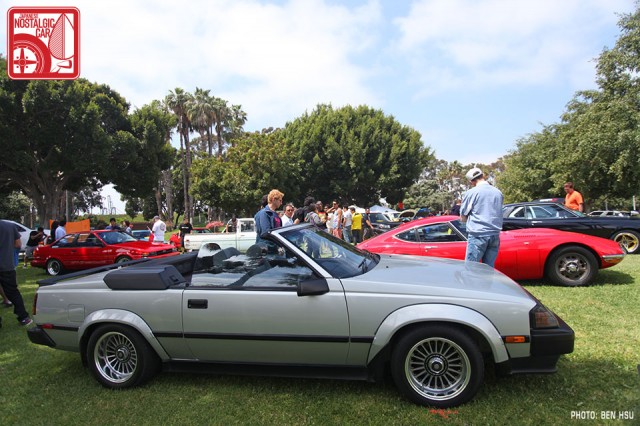 This Toyota Celica GT-S on SSR EX-C fins convertible belongs to Joel Luz of Toysport. Though sold officially by Toyota, droptop A60s were shipped to America as coupes and converted by American Sunroof Corp. But that's what the 80s were all about — cruising, top down with palm trees floating by above you in a coachbuilt car with flip-up headlights.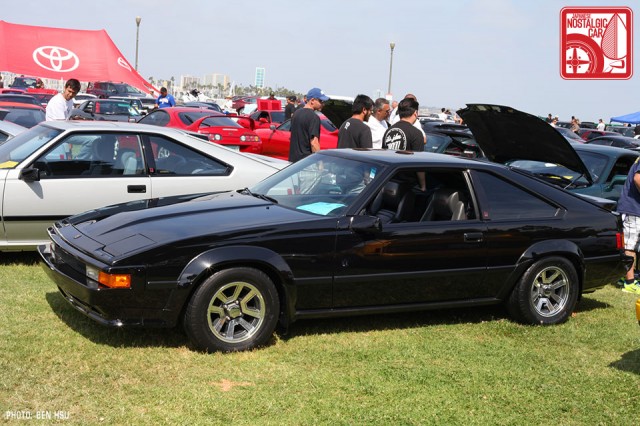 The MkII Supra was a home run for Toyota. Upon its debut, it immediately won Motor Trend's Import Car of the Year and was on Car & Driver's 10 Best list for '83 and '84. Freddy Chavez's 1985 Supra was absolutely gorgeous, museum-worthy example of the award-winner.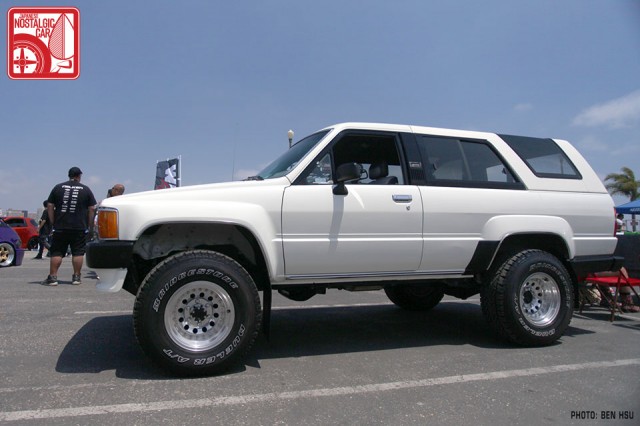 Remember the days when a 4Runner was just a Hilux with a detachable canopy? Classic trucks are hot in the collectors' market right now. and though the 4Runner may be overshadowed by the FJ40 as far as Toyotas are concerned, but examples like Marcelo Montoya's lifted '86 are quickly catching up, and they've already made a Matchbox toy of it.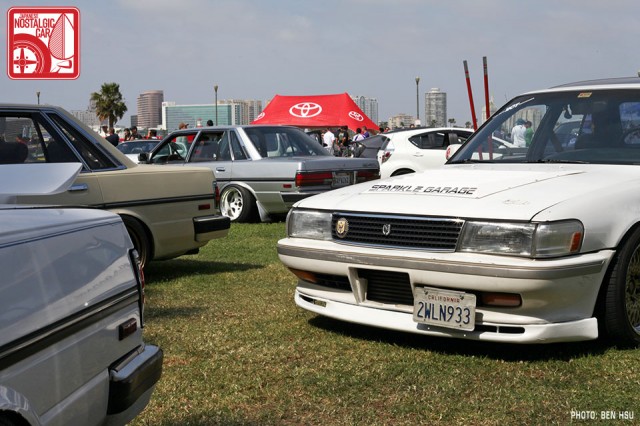 If there's one style of car that exemplifies the Bubble Economy it's the luxury four-door sedan. In Japan, aspiring Very Important Persons had Crowns, Crestas, Chasers and Mark IIs to choose from, but in the States all their hopes and dreams would fall on one model — the Cressida.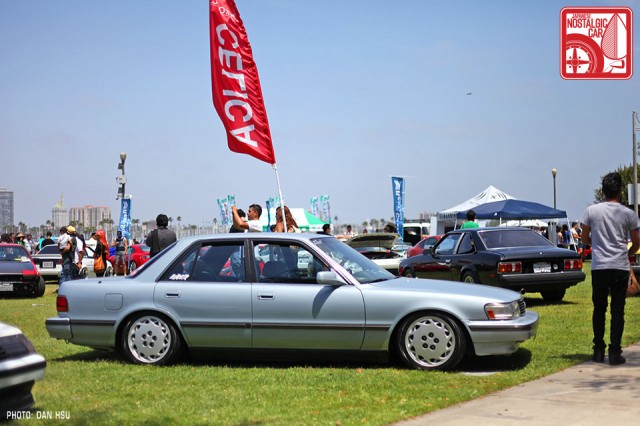 In recent years the ur-Lexus sedan has experienced quite the renaissance, and for good reason. When new, they were mostly purchased by responsible family-having types, so many survived the years in good condition, but under the business suit they're basically four-door Supras. Adrian Almazan's MX83 proves how slick they can look with just a simple drop on MA71 Supra wheels.
They're also prime candidates for 5-speed and engine swaps with bits from the rest of the ToMoCo family. The show had everything from stockers to 1UZ V8s to cars like Josh Demuro's 2JZ-powered sled on display.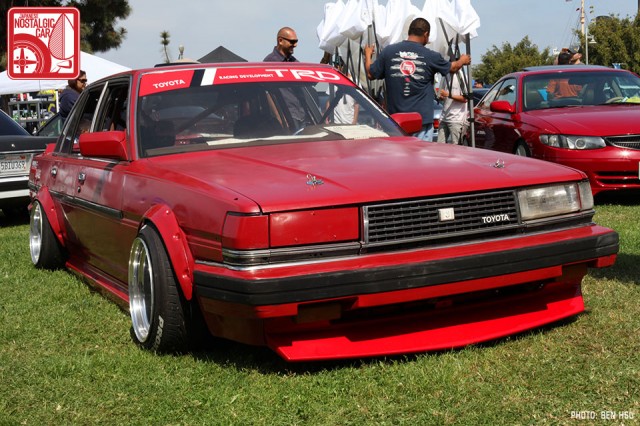 Remember Lloyd Letherman's 2JZ X30? This is his other car. Lloyd's latest project is a bright red bosozoku sled, slammed and flared and ready to do the shakotan boogie.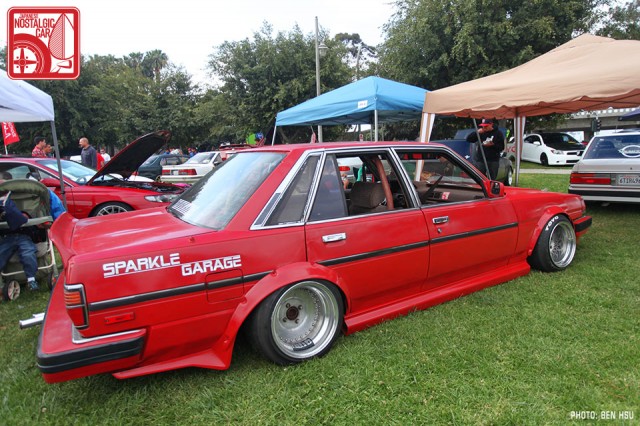 Naturally, this is a Sparkle Garage production. It may not be everyone's cup of matcha, but we think you'll look back on this in five years and think these guys were ahead of their time.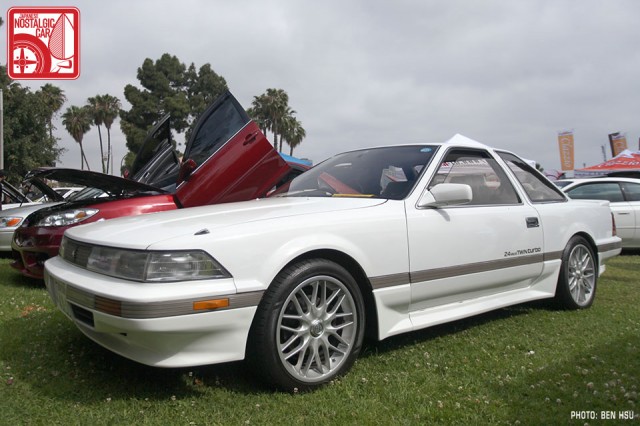 However, if having four doors was too much practicality, high society types could opt for the Toyota Soarer. Matt Harada's JDM-only predecessor to the Lexus SC was the height of Bubble Economy luxury. The personal luxo-GT also had double wishbone suspension at all four wheels and, had it been offered for sale in the US, its sleek styling that would have looked like it came from the future.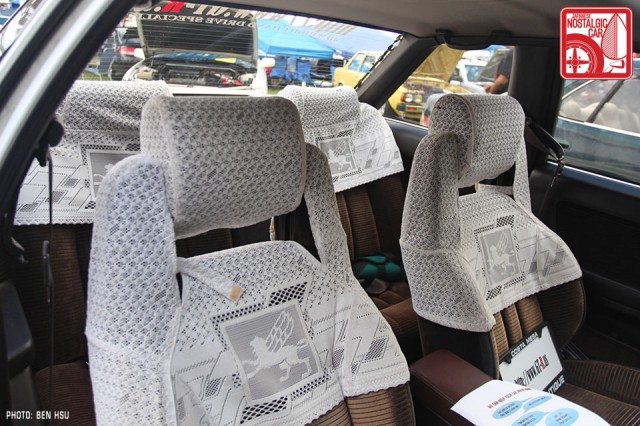 Sure, highly bolstered bucket seats are nice, but what Bubble Era interior would be complete without bespoke doily seat covers woven with the Soarer gryphon logo. Fancy!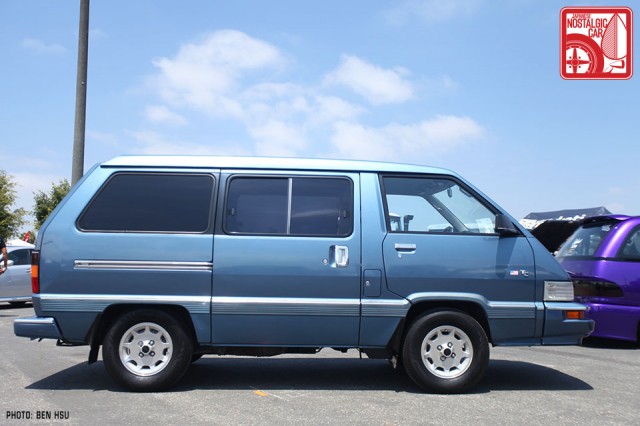 Yes, the 80s were the apex of boxy design, but the pinnacle of pinnacles came in the form of the one-box van. Toyota's YR39 was so vanny that they simply called it the Van. No model name needed.
The cabin is a cubist work of art. Everyone either owned or knows someone who owned one of these bread boxes, and that's why of all the cars out there we featured it on our Made in the 80s / Loved by the Ladies shirt.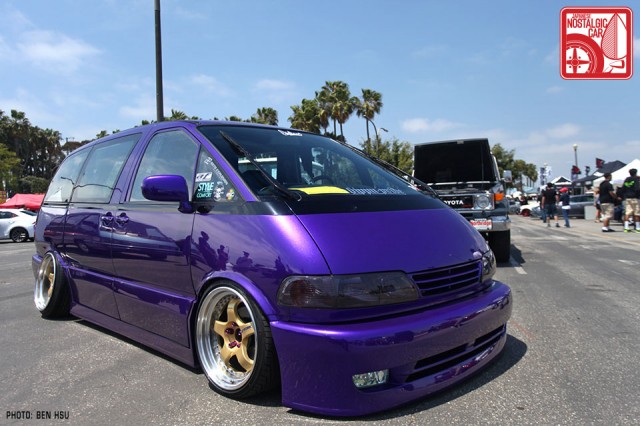 By the end of the Showa Era in 1989, the knife-edged styling was on its way out. The next decade would bring rounded, organic shapes embodied by the egg-shaped Previa. Japanese automakers began to design their cars for maximum palatability in many different countries. We'll probably never go back to origami-inspired design, but that's what makes us nostalgic for the 80s.
That concludes our 2013 Toyotafest coverage, but in case you missed it here's Part 01 — the Very Old and Very New, Part 02 — The Seventies, and Part 03 — Late 70s Luxe.