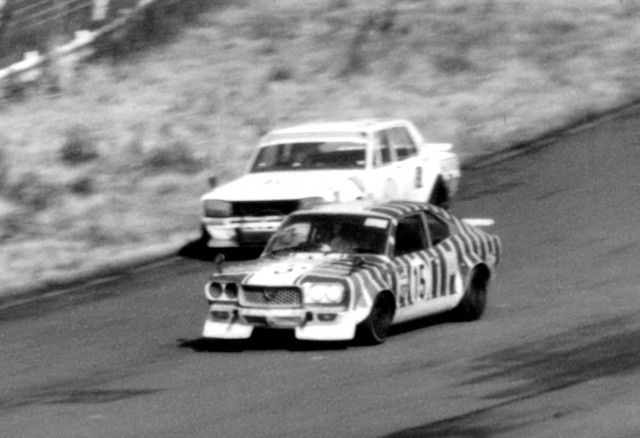 From greatest engine to most luxurious to most beautiful to proudest marque, Mazdas have consistently been winners in our QotW series. And since it's also SevenStock/Mazdafest week, we thought we'd devote the next question to this one very special marque.
What is the greatest Mazda of all time?
There have been many great Mazdas, but in the annals of Japanese motoring history it was perhaps the Savanna RX-3 that left the most indelible mark. It was the zebra-striped rotary that prevented Nissan's then-dominant Skyline GT-R from snatching a 50th touring car win, a public trouncing watched by nearly everyone in Japan because Nissan themselves had publicized the "Victory 50″ event so highly.
What say you, dear reader? As always, the most entertaining or inspiring comment by next Monday will receive a random toy. Click through to see the winner from last week's question,"What made you fall in love with Japanese nostalgic cars?" 
The responses to last week's questions were both plentiful and deeply touching. It's gives us hope for humankind to read stories of old cars that became family heirlooms, helped you out of a jam, or launched you into a lifetime of enthusiasm. We wish we had enough toy cars for all of you, but in the end there could be only one winner, and it was John M.
Growing up I was interested in the occasional muscle car, but never thought much about Japanese cars. In high school, I got a Honda Accord hatchback because it was the only vehicle on the used car lot that I could afford. After high school, I joined the military and got stationed in northern Japan. I picked up a Subaru because it had 4WD, but still wasn't very interested in Japanese cars. Then, I got reassigned to Okinawa and met someone who would take me out for a night that would change my life.

It was late on a Sunday night and we got into my friend's R31 and headed to a remote stretch of road. We got a couple cans of coffee and climbed up on the seawall next to the road. Two by two they lined up in front of us. Lights flickered and the symphony began. The rotaries brapped like trumpets. The low compression engines of the turbos drummed an ominous beat. The wastegates ranged from oboes to flutes to fingers running down a harp. The tires hissed. Some were long draws of the bow across the strings. Others, like the new Skyline R32, were just plucks of the strings as they changed gears and faded into the distance. Just when the symphony was reaching a crescendo, a new conductor arrived with his baton by his side and the show was over.

I can still smell the salt air, the coffee, the burning rubber, and the exhaust. I can still feel the cool mist of the night ocean air. But for me, it was the sound of a symphony that I had never heard before that first made me fall in love with Japanese nostalgic cars.
Omedetou! Your prize from the JNC gashapon is a Tomica 30th Anniversary Nissan Skyline R32 GT-R.
[Images courtesy of Mazda, Nissan]