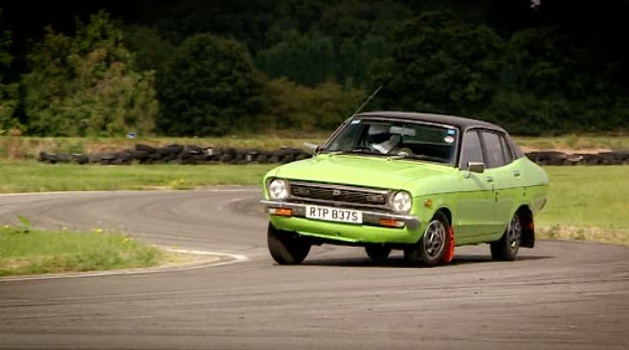 On the latest episode of BBC Top Gear, Jezza, the Hamster and Captain Slow celebrate the 40th anniversary of British Leyland in one of their famous cheap car challenges. Armed with 1200 pounds sterling, each of them is sent to buy the best BL manufactured car they can find, and then subject it to a barrage of challenges to test speed, durability, and humiliation.
Most embarrassingly of all, the Queen's honor was put up against a 69hp lime green Datsun 120Y (aka B210, Sunny), complete with honeycomb hubcaps, piloted by The Stig. According to the lads, this model was the car that showed Britain automobiles could be reliable and expected to start on the first try.
The following are the presenters and their weapons of choice:
(May) Let it never be said that Fairlady is a silly, girly name for a car when the English have named a car the Austin Princess despite their first language being, in fact, English.
(Hammond) Or the Dolly Sprint. Well, to be fair, the real name is the Triumph Dolomite Sprint, which sounds like some kind of Olympic track and field event involving blaxploitation but is actually a pretty cool little car. DO-LO-MIIITE!
(Clarkson) The Rover SD1 was equipped with a 3.5L V8 and looks like a Clark Kent version of the Renault Alpine A310. Does it have what it takes to school a 1.2L Japanese four-cylinder of the same era?
We won't spoil the ending for you, but it's good to see a country that can joke about its own auto industry, and in the immortal words of James May, "Brown is a seventies color. This is a 1978 car. It's very interesting." So without further ado, here are the clips courtesy of YouTube: parts 1, 2, 3 and 4. Thanks to MadFlava for the tip!