Hi guys, I started to do some bodywork restoration on my celica starting March of 2008 and completed it by September of last year.
I bought my celica in 2001, this is my first car, so took some time to really finish her up. I'm not into the show and shine kind of car restoration, so it's very much like race car for the road motivated rebuild, the car rebuild brief is as follows:
1. Tuned engine (I want a race engine) but at least fast road engine should do, with cams, bigger carbs, bigger valves, high compression piston, head ported and polished, tubular extractors, throw out the air cond compressor, electric fan. Making it a very responsive engine.
2. Suspensions and braking system to suit canyon carving, additional fitting of rear anti roll bar, and track days, I love to drive through the back roads to my parents house, highway is a big no no for me.
3. Bodywork to be rust free, and to have some period correct bodykit and also the wheels to be something old skool looking. Replacement of all the window, door rubbers and weatherseals, from the back of the trunk all the way to the end of the hood.
4. Refreshed wiring and electrical systems, brighter lights, period correct switches, and restoring the original gauges and meters, replacement of tail lights and indicator light.
5. Interior to be race car simulated as possible, racing harness, full bucket racing seats, throw out the rear passenger seat, no radio, no air cond, no power window, no floor insulation tars, no carpet, refurbishing the cracked dash top, of course having a roll cage is my ultimate aim, but in Malaysia the Road Transport Authority makes having a roll cage in a road car a pain in the S, so not at the moment.
6. Refurbishing all the chrome parts, garnish, grille, and badges. Still looking for some badges.
7. All the underbody rubbers and bushes to be replaced with polyurethane ones.
So that was roughly what i had in mind when I started my celica project and soon i'll post the pics how this brief became a reality. So keep and eye on my thread.
Here is a picture of my car back when I bought it in 2001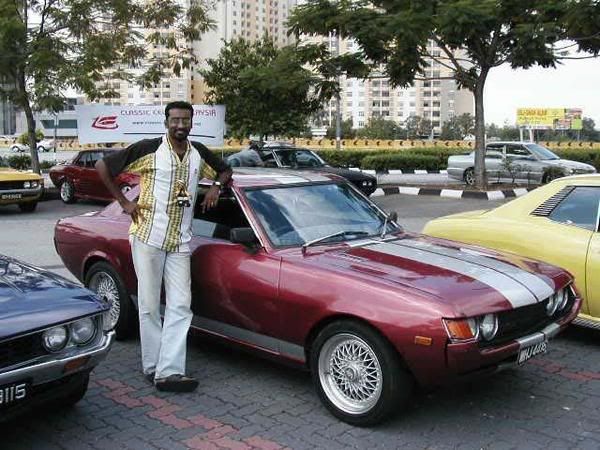 Regards
Raj