I'm a bit late with this update.
1st. Front suspension bushes.
Aaron graciously gave me a set of barely used swaybar bushes (where the swaybar bolts to the front of the car via two U shaped shackle brackets). So all I needed were the control arm bushes fitted. I'd already found earlier that the idler arm bushes had already been replaced with Nolathane (or Pedders) ones by Ian, the former owner.
So this is where I left off:
balljoints in, pivot bushes in, ready to bolt up and ready for the sway bar end bushes.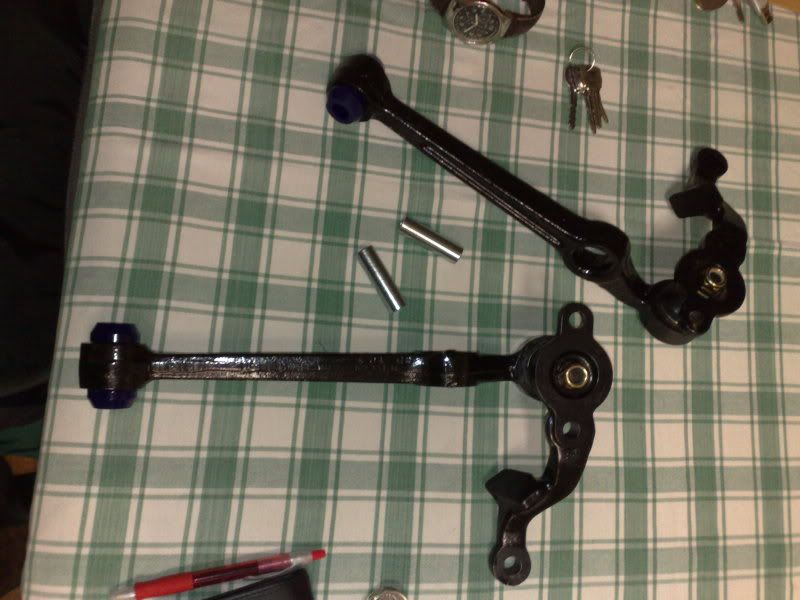 I laid everything out, ready to swap out the old bits and swap in the new bits.
Previously I had seen that the swaybar end bushes, which sit in the control arm where the swaybar bolts through it, had been replaced. What I didn't expect was for them to still be in good condition.
They actually also seem like a better shape than the Superpro ones as they are less "blocky" or "square" in their design. The big round back is also shaped to fit the big washers that are slightly concaved to fit snug up to the bush.
Snug:
Ever so slightly not so snug: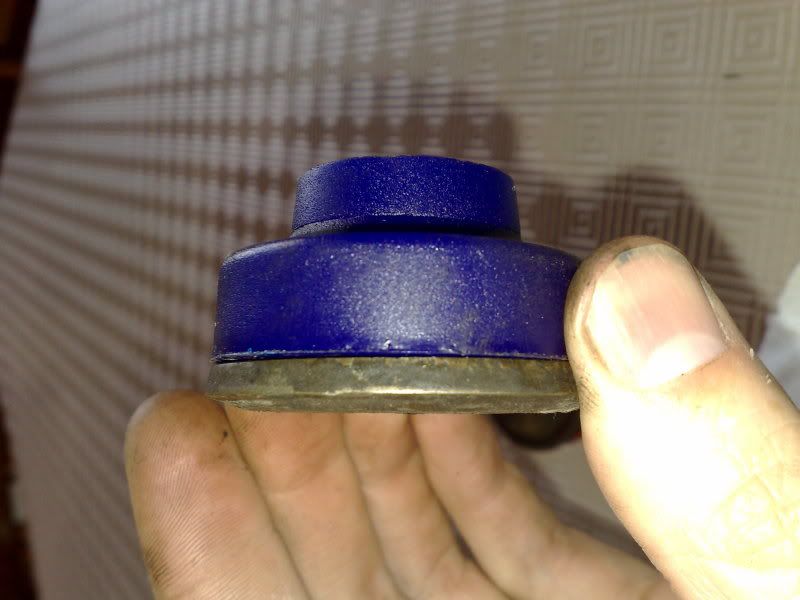 Stuff like this I find interesting (yes I am a bit dull), but also infuriating. Do I keep the old red bushes or do I use the new Superpro ones?
You can also see that there is a tiny gap around the back inner hole as the bush is square, whereas the washer is curved. (I tried a few times to get a good picture of this)
In the end I decided that the new Superpro bush will probably take "shape" after it has been fitted and placed under the stress of being a part of the suspension.
I'm interested in what other people think. If I was building a perfect, limitless budget, I'd probably get new rubber bushes made or I'd do a bit of testing over a period of months between the red bush and the blue Superpro bush.
I cleaned up the best washers that I had (one still had a dab of yellow inspection paint on it so I kept it on)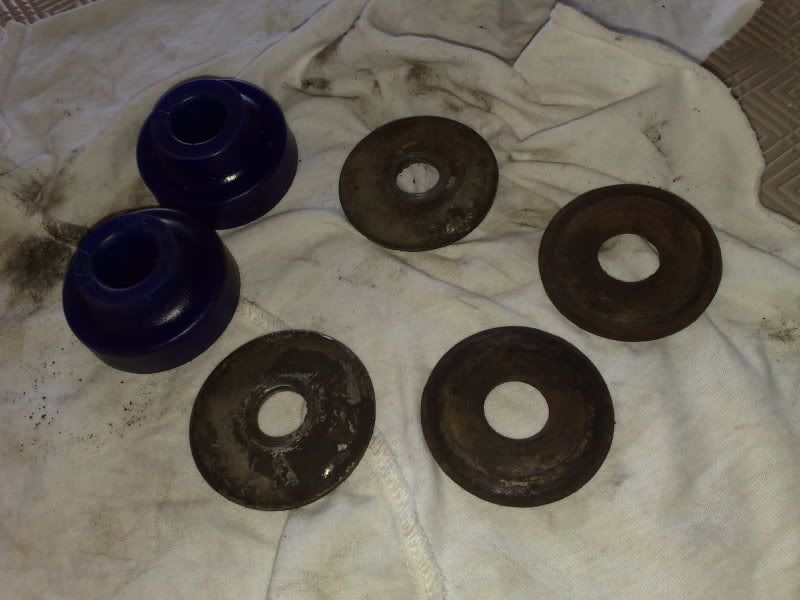 If I wasn't a little bit pressed for time I'd get them Cad plated.
Best washers - what do you mean? Well...
When I was going through some parts Aaron had given me, plus parts off the green wagon, plus parts off my old yellow parts wagon, I found a few of the washers were bent straight or distorted like this: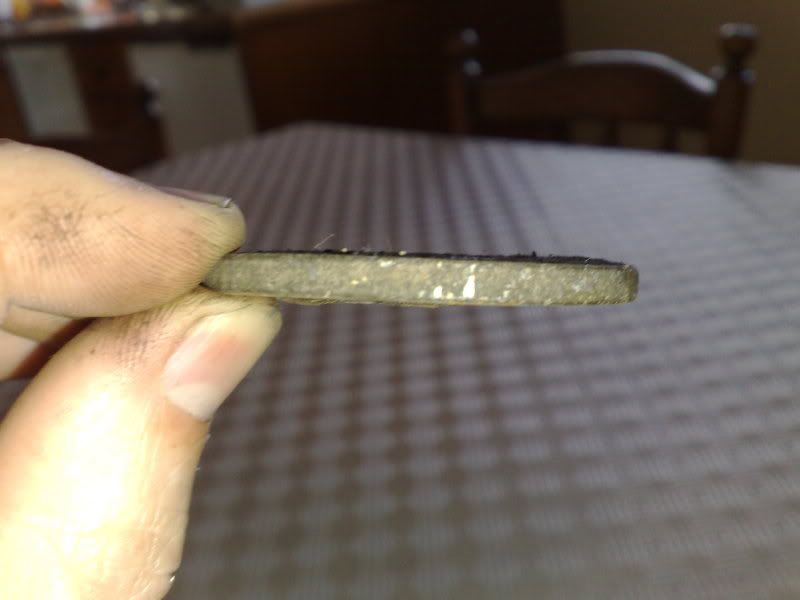 Or: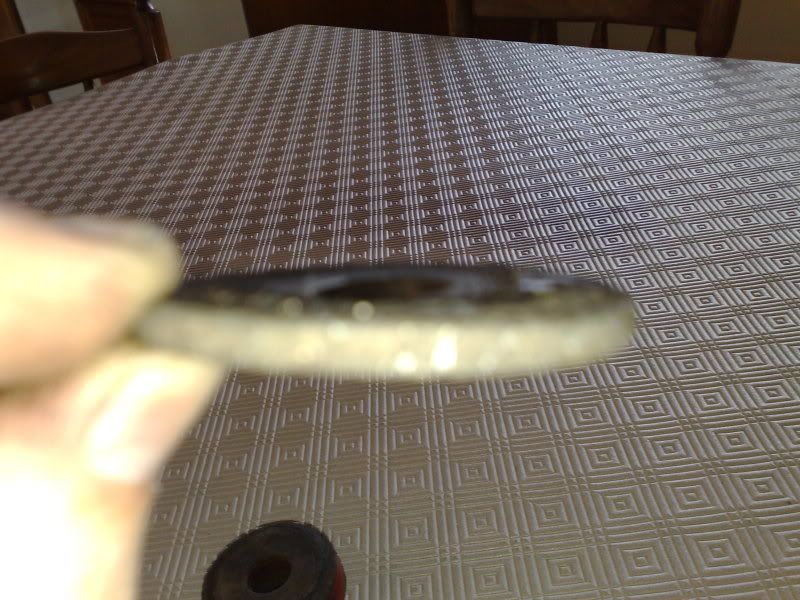 Bit worrying...
Next step. I greased up the bushes for the pivot part of the control arm after Aaron pressed in the crush tubes.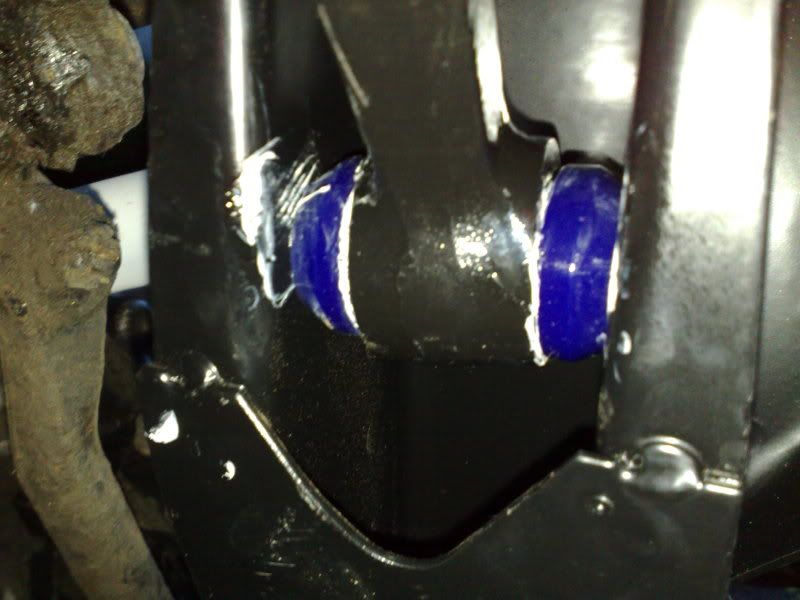 In they went
We then loosely bolted up the swaybar, slid it through the bushes on the control arm and noticed something was a bit amiss;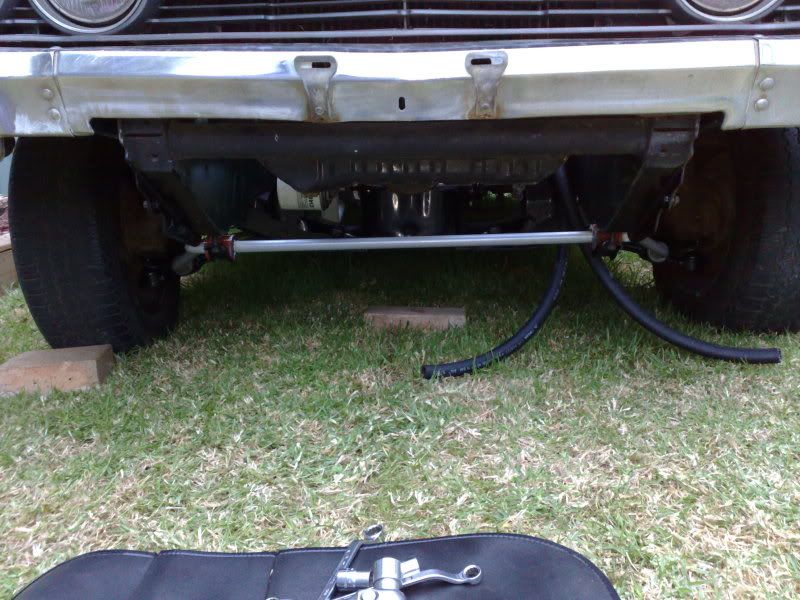 The swaybar bushes didn't want to sit evenly. Much jacking the car up, down, sideways, looking with hands on hips, etc etc.
By this stage, it'd been a whole day and it was nearly dark so we left it as is and called it a day.
That night I had an idea.
What if the swaybar was upside down....?
Got home from work, took everything out, turned the swaybar around and bingo. Slid home perfectly, everything bolted up nicely. Whoops!
This is just before I tightened up the nuts that go on the end of the swaybar. Notice how the swaybar drops down to meet the control arm? We had had it backwards... Right Aaron?
So after that, bushes were in, I've just got to get the tie rod ends ready to go, I'll be rebuilding another pair of struts to replace those ones you can see in the photos above and some other bits and peices need doing and hopefully I can get other people in to do things like the exhaust and headlining.