Hope this partsbook might help even though they might not have parts:
http://www.cmsnl.com/honda-ttn-series-mini-trucks_model14937/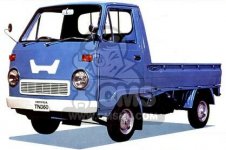 Otherwise there's a Honda N360/600 shopmanual you can find here that should share many common features/parts.
http://www.honda600coupe.com/Manuals,_bulletins,_advertisements.html

sorry for not spotting the request earlier.
_________________
www.cardomain.com/id/79cord
'79 Accord, '89 CR-X SiR, '81 Prelude, '74 Z360 H/T, '71 Z360, '64 S600, '75 Lancia Beta.