Haven't updated this in an age, so here's a potted history.
The Bilbos were a tad too small really, so I've stashed them away and exchanged them for these 14x7 Work Equips off my Charmant (which is being restored to standard for now). Amazingly there's still loads of room in the rear arches, might try and get some 8s or even 9s for it. But for now it'll do. The springs hadn't quite settled in that pic so it doesn't look quite that high now, though it is a bit nose-up - pondering dropping it a bit at the front just so it sits right.
Changed the steering wheel for this Nardi I had lying around, I like the stock one but the vinyl has gone all sticky. Seriously considering getting the stock one re-trimmed as I like it - the low spec models have a really 1970s-ish wheel compared to the high spec ones, more chintzy feeling. But this is nice for now.
Then MOT time came around, so I decided to take it off the road for an overhaul, the rear strut tops were attacked with a screwdriver and new metal welded in.
Then started repainting any rusty areas, luckily it was all just surface rust, even on the arches. Not quite finished yet as you can see, need to paint the insides of the arches too to keep rust out.
Then as a bit of a styling modification, repainted the doorframes and B-Pillars matt black. Took surprisingly many hours to mask up the rubbers properly but it paid off, I think it looks great!
All it needs to return to the road now is an exhaust (scored a NOS one cheap off eBay) and a few other little items, then I can run it in for an MOT and see how it goes.
Any future plans? Well, with a bit of luck I'm getting a stock 2.0 NA and 5-speed box from an earlier Sigma Wagon soon, which will be a nice upgrade and shouldn't be too much trouble.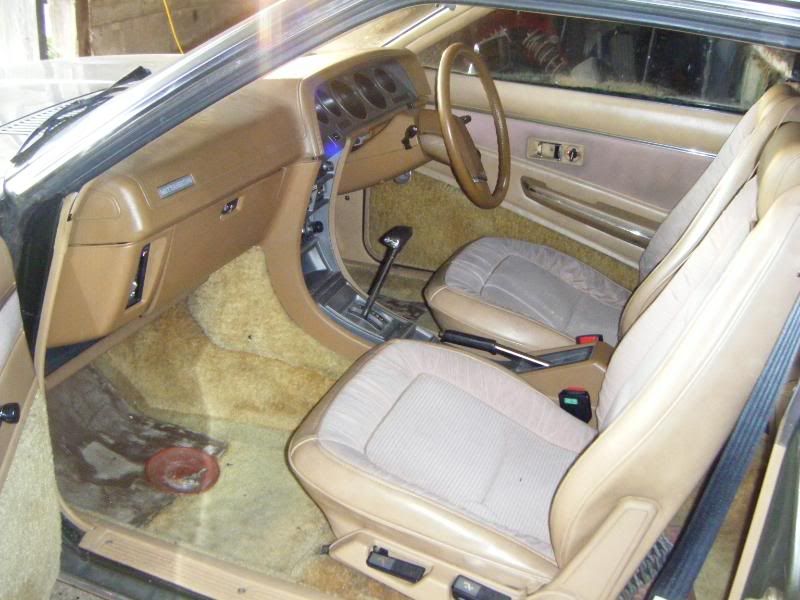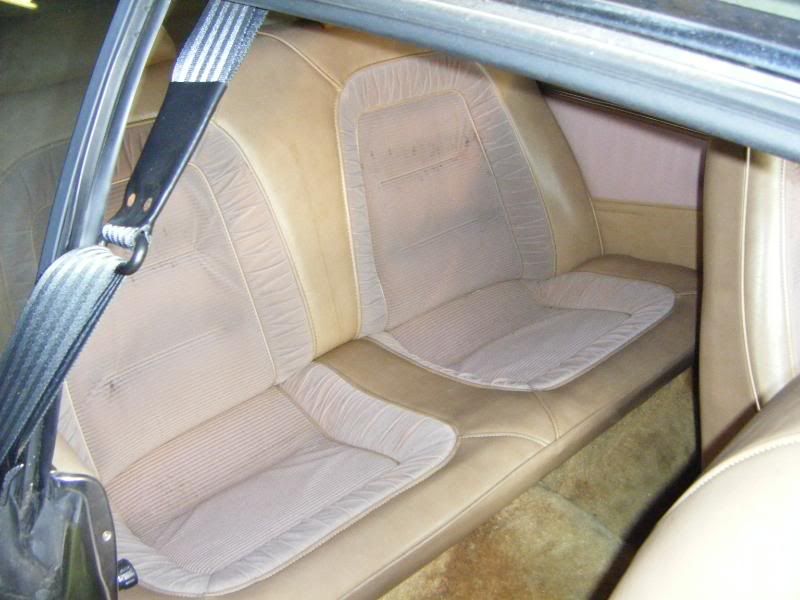 (pics borrowed from Stuyizz)
However, the seat retrimming plans have been abandoned as something even better has come along, which I thought I'd never be able to obtain! A brown interior from an early Sapporo (Galant Lambda/Scorpion), which is incredibly chintzy! I love it. Due to the similarities it should just bolt straight in hopefully, need to get the car on the road so I can go collect it though.
Finally, some other misc items. I'm going to collect a Starion centre console soon which will give me a 2-DIN radio panel. In this I will fit the most ludicrous 80s radio setup I can import from Japan, loads of stainless silver, flashing LEDs and special buttons for "metal" tapes. Not decided what yet, going to keep an eye on Yahoo Auctions. I will then connect that up to some 80s Pioneer TS-X7 rear shelf speakers I've been hoarding away for this purpose.
Also I've got some dash clocks lying around thanks to Snoozin, which will mean I can watch the engine rotations rather than the time. Stupid 1600 GL spec - beggars can't be choosers though, in the time I've had this car I haven't seen a single other for sale of this generation, they just don't exist, I can't even remember seeing any in the past. They probably didn't sell many, Mitsubishi weren't a huge name here in those days and I imagine a big saloon would be a hard sell for them.