Hey, my first post. Some of you may recognize my username, most probably won't though lol
Anyways, I bought my 280ZX back in May 2008 for $400 and this is how she looked the day I bought her:
The head was taken off and rebuilt at a local machine shop, then it was just parked for over a year till I picked her up, and this is how the engine looked when I got it together for the first time:
yay for vacuum line mess lol
Then got it on the road and doing mods here and there, dynoed it when she was basically stock (doubt a Flowmaster muffler would gain me much lol) made 113whp/145wtq
Along the way, I lowered it using el-cheapo coilovers and Tokico Blues.
With the engine, got an N42 intake manifold ported out for a KA24 throttleody, and gasket matched on the other end along with shaved and painted. Modified a Clifford Research header to fit in my car that I got out of the junkyard for $20. Got a JDM valve cover and painted it UBER JDM TYTE purple got the exhaust done about 3 times (straight pipe, no cat with dual Cherry Bombs). Cressida AFM swap (is larger than the stock one)
In the interior, I got a pair of "Paddy Hopkirk" seats off a friend of mine for basically free, along with a short shifter, Nismo knob, Honda boot, and Pilot Steering wheel.
Drivetrain-wise I've got a new Dan's Driveline driveshaft (just a replacement), a Stage 1 clutch, and an R180 from a 2+2 (got it as a replacement since I blew my original one up, has 3.54:1 instead of 3.36:1 gears).
With all those mods, the car ended up looking like this: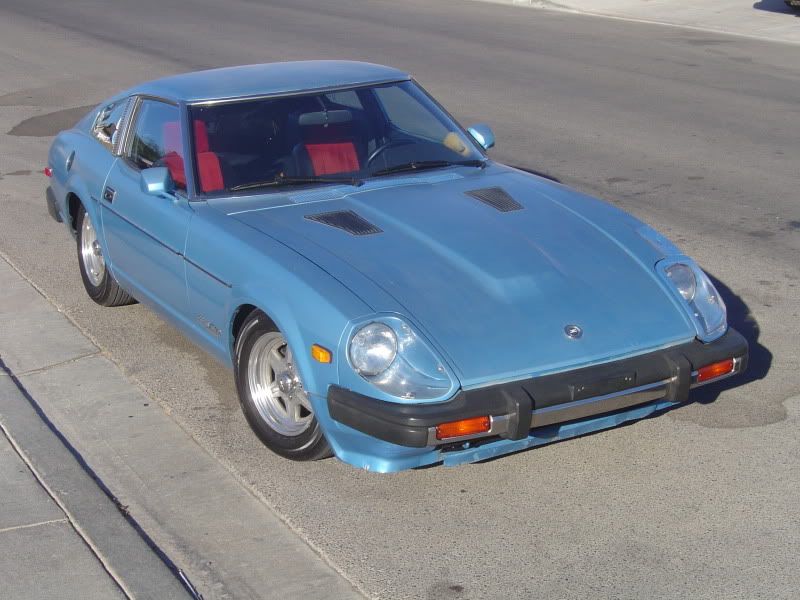 (no, the boso pipes aren't permanent lol)
And with the engine in that phase, with 140k+ on the bottom end, she laid down an impressive 130whp/152wtq, with NO headwork!
And then I was finally mostly happy with it and just daily driving her up until two weeks and two days ago... Then this happened: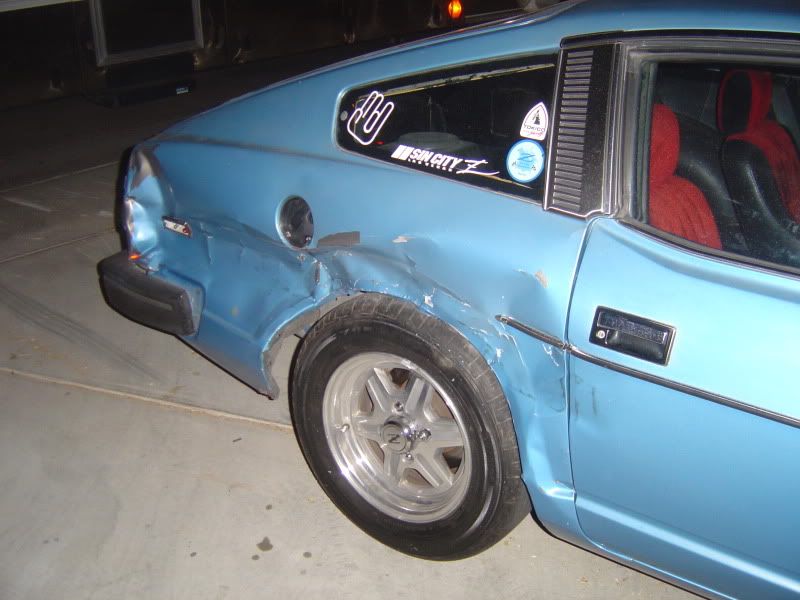 Long story, my fault, no citations or insurance involved, gonna fix her up and do a full suspension restoration, along with re-doing part of the header and exhaust so I can go even lower.
So this is basically how she sits today(except under a car cover):
Got the front suspension pulled out for redoing/cleaning:
oooohhhh yeeeeeaaaaa, like that droop travel? lol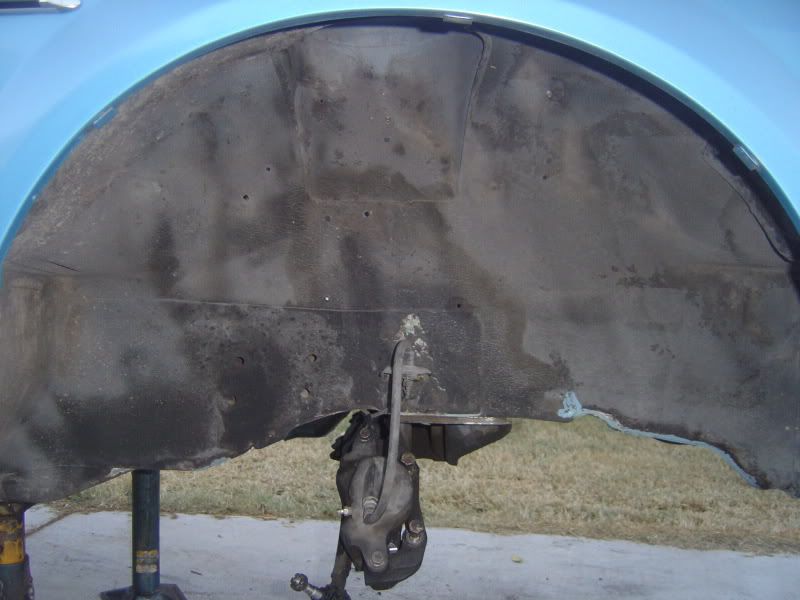 looks like I haz some cleanin to do... lol
As far as plans go, these are it as of now:
-rebuilt brake calipers up front with high performance pads and fluid
-Kouki 280ZX rear control arms and brake setup for lighter weight with high performance pads and fluid
-slotted rotors (most likely slotted and drilled even though I know drilled don't do shit lol)
-All polyurethane bushings
-powdercoat all suspension hard parts (most likely a "transparent copper")
-remove engine and trans to get cleaned really well as well as replace the oil pan gasket and rear main seals
-CV axles to replace my lame half-shafts
-Pillow Ball upper mounts for 3/4" moar lowarrrrr
-"frankenstein" R200 LSD (more on that when I get to it)
-custom upper strut bars if I remember to lol
and for the best part of all, my wheels that I still need to order lol:
-14x10 -45ET Diamond Racing wheels with 195/65-14 Falken 912's!
Yea, I'm a fitment whore lol
so yea, that's basically my Z's entire story.
Since the accident, I'm "stuck" driving my first car and my baby, my '69 Firebird:
and my dad's 300M for cold winter mornings when a heater is a nice thing to have lol
damn that was alot of typing lol
BTW: I've got those stock 6 spoke wheels for sale, pm me if you're interested