Hi all, ive been a Corona Mark II Nut for quite a Few years now.
Had 7 Sedans and one coupe (the coupe was stolen and written off
)
Here in Australia we only got the 6 cylinder powered Beasts with the M in the early MX10/MX22 and the 4M in the later MX13/MX23.
Im Running a NA 1GGE in my car atm, I use to have the running gear in a 71 MX10 but it had some serious rust issues (football sized hole in the passengers side A piller, bogged up countless times) and So here's a rough run down of the rebuild.
And soon we got stuck into the Mx10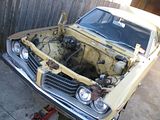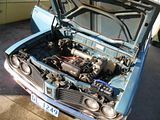 Interiors/dashes were then taken apart... and the wiring loom trace began....... so did the headaches
A W55 was sourced from Trumps in Wynyard plus a 1G bellhousing from melbourne - No more blowing T-50s apart ::) . The starter motor had had it on my 1G, so we got a T series starter, They
WILL NOT
fit a G series bellhousing. Even after cutting the backing plate to suit the larger diameter for the T series starter the Throwout gear will not meet up with a G series flywheel. ???
Fuel pump fitted, lines modified to suit..... Re-wiring begun = more headaches.
Engine in the MX13 and what was left of the MX10
Replaced rear wheel cylinders........
Swapping the shockies over was just another headache.... when i fitted the front shocks the little metal tab on the top of the shock broke off so the only way to undo them was to hack one of the rubber bushes out and use vice grips.
Just about everything back together.......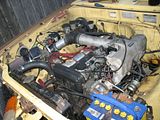 And here it is at the most recent cruise we had, Mines the yellow beast second from the left in the front row