While I was waiting for the Helicoil kit to come in, I worked on the ignition coil. The plug ends were bad and the one of the wires didn't look too good. I began with the instructions over at the anz600owners Yahoo group by Bill Colford.
http://groups.yahoo.com/group/anzhonda600owners/photos/album/1377331630/pic/list
Bill instructs to use 8mm sparkplug carbon core wires, but
I talked with some other guys on the 2cylinderhondas yahoo group, one was Miles and the other Dean, to learn that they used 7mm spark plug wires. So 7mm I went with instead of 8mm, and I kept the 90 degree plug caps that came with the wires.
***DISCLAIMER: Follow my instructions at your own risk.****
These are NGK copper racing wires 7mm.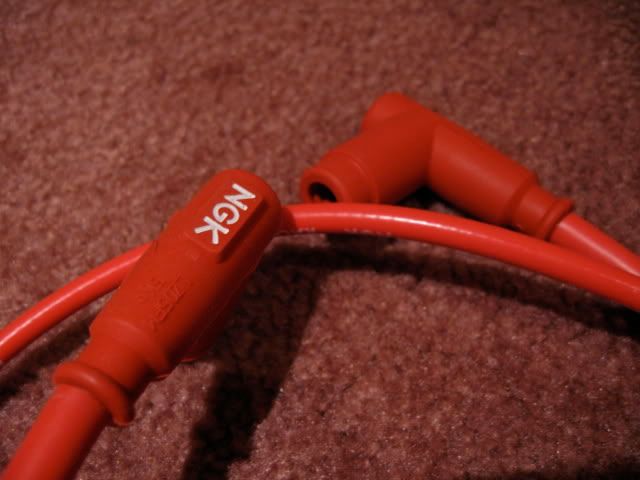 Removing the battery would give you more room and probably make it safer.Then remove the coil, the plug wires, blue wire and electrical lead.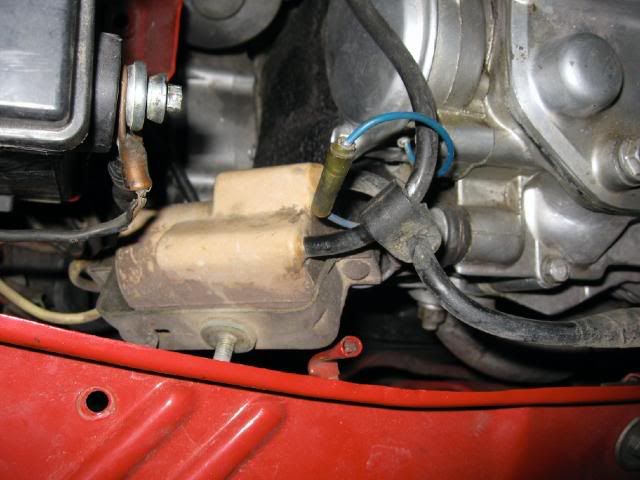 This is the coil out.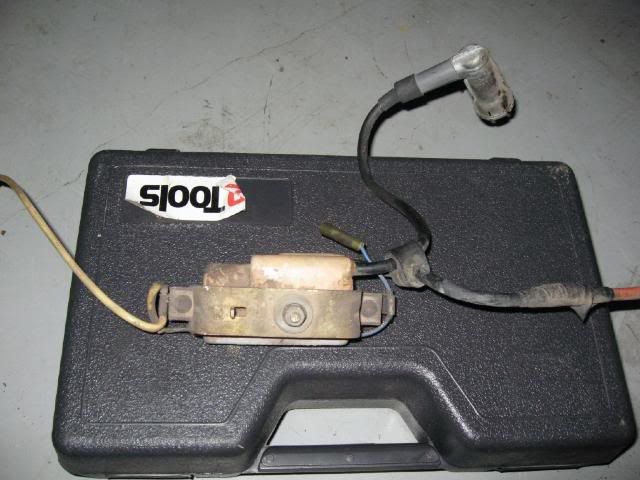 I picked at the glue and probed down between the plug wire and inside of the coil using a stylus I found around the house. Don't know what it was exactly designed for, but it does the job
.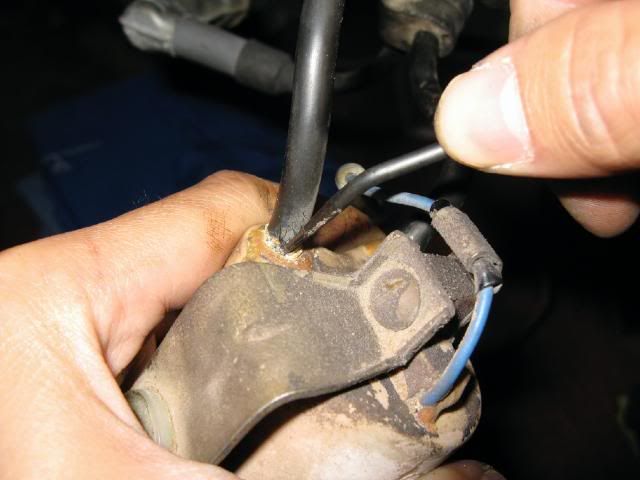 When I felt ready, I pulled the wires out, but they left their outer covering still inside the coil. It's likely because of the way I dug down with the stylus.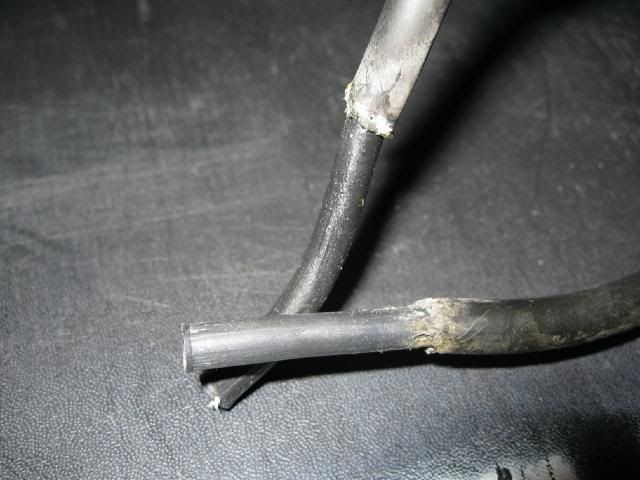 I went at the residual glue on top of the coil again and also tried to separate the inside walls of the outer covering left inside the coil.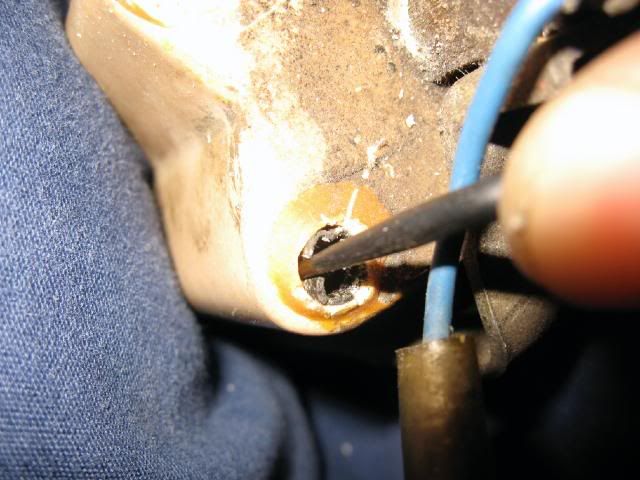 I was able to get enough of the glue off around the top part so that I could use a pair of pliers to grab & pull the the outer coverings out.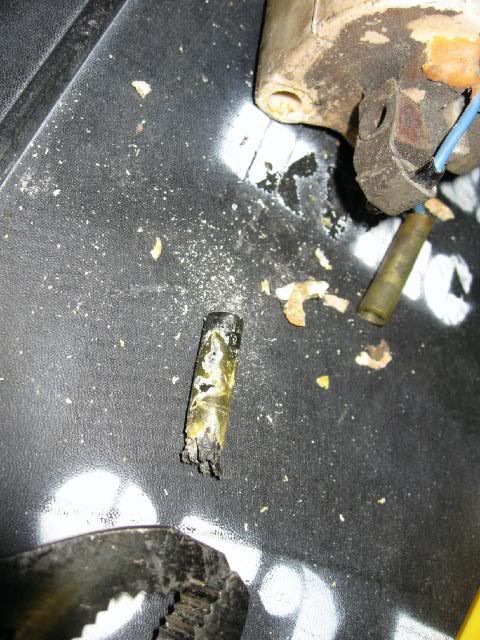 Notice the copper barb inside the coil. Each of these will need to make contact with each of the plug wires.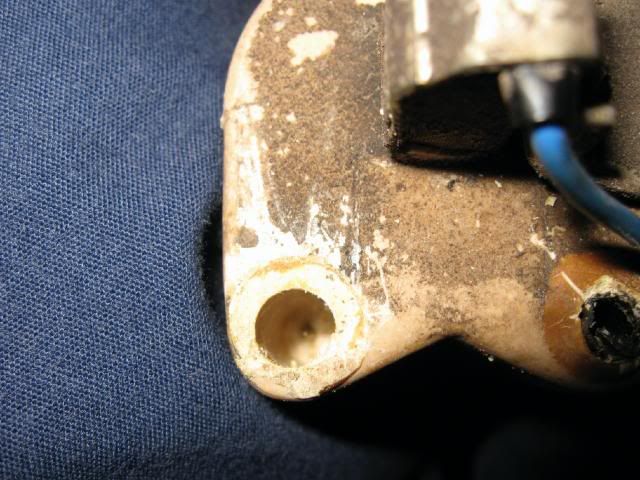 I clipped some of the NGK wires and added splice ends to them. (The splicers are optional.) Then inserted them into the coil being careful to make the barbs contact the copper wires. I tested continuity of the wires like in Bill's instructions using a multimeter, except I couldn't find continuity between the two plug wires, so I tested resistance. That seemed to do the job.
When I found that the wires are in the right place, I applied glue (5 minute epoxy) to the outside of the plug wires carefully not to get the glue on the copper barbs or the copper wires. Then the wires go back into the coil and comes the you wait for the glue to harden.
While at the plug wires, I replaced the spark plugs. (Note: used 13/16 socket)
Previous owner was using NGK B6ES, I went with what was recommended in the 600 manual, B8ES. I found them very inexpensively at O'reilley's Autoparts for $1.50 each.
New wires and plugs in, and the N600 starts up with confidence.