Yes it would be February 1972. It's good to have the month if you're looking at a car that is close to the 25 year cut-off for importation. Sometimes it's not listed.
I agree, the tail lights seems like an after thought. Maybe blacking out the trim rings would make it pop.
If you really want one here is another. It went to auction yesterday and didn't sell, maybe due to being a grade 2 car. It goes again on the 5th. Bidding starts at 150,000
Maker ISUZU
Model BELLET 2D 1800GT
V.I.N PR95
Year 1973
Engine CC 1800
Gear F4
Starting price 150,000
Grade 2.00
Color ORANGE*
Km 93,000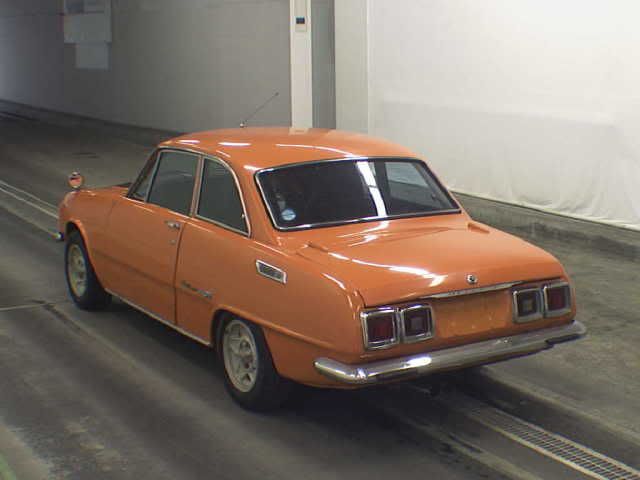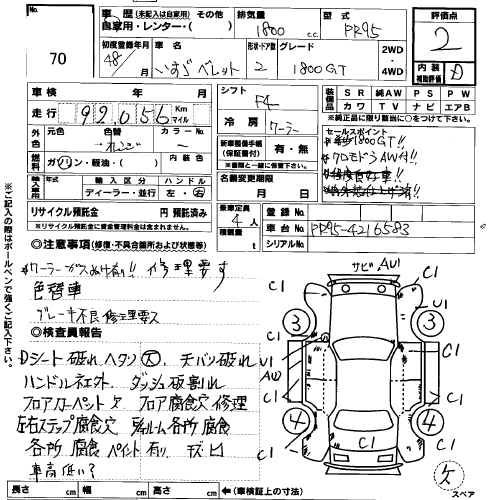 Grade explantion table:
Auction grade MEANING
*** Accident damaged / salvage.
R, A, 0 Repaired from previous accident
RA, 0A Repaired from previous accident, overall condition similar to 3.5 or 4.
1 Modified for Racing, or natural damage such as hail or water damage.
2 Poor condition.
3 Might require 2-4 panels work, or high KMs, or worn inside. Generally, under average for age.
3.5 Might need 1-2 panels work to get back to grade 4.
4 Good condition as relates to the age of the vehicle.No need to paint panels or recondition interior.Ready for showroom display.
4.5-Up Mint, small use only, or new.
Abbreviation for Condition paper:
1. Auction lot number
2A. Private use
2B. Rental use
3. Capacity
4. VIN number, (Vehicle Identity number)
5. Auction grade:
6. Japanese year: 62 = 1987, 63=1988, 1= 1989, 2=1990, etc.
7. Model name
8. Valid "Shaken" - year and month of valid MOT.
NOT DATE OF FIRST USAGE
9. Gear box type: F5, MT = Manual, FA, FAT, CA = Auto
10. Sales point: one owner, special parts etc
11. KM
12.? = Appear if the mileage looks NOT real
13. Air condition or Auto air condition (Climate control)
14A. Service history available
15B. Service history unavailable
15. Sun roof
16. Original alloy wheels
17. Power steering
18. Power window
19. Leather seats
20. Television / GPS
21. Color
22. Color code
23A. Gasoline
23B. Diesel
24. Owner comments
25 Appraisal comments