We're back--82 Starlet named Chupacabra aka Chuppy because I bought it in a seriously nasty state from some Mexicans here in Tulsa's Little Mexico. 
Just a recap of the significant stuff done so far--Weber 38/38 matched to a ported and matched big port manifold, Martelius header that runs into a straight pipe that dumps out the side, TRD 2-way LSD,  went from a 3.2 final drive to a 3.9,  currently on Tokico struts all around but Koni adjustables are in the future, swapped the strut and brake assemblies for AE86 units with T3 camber plates. The interior has been redone, painted, and the masive holes in the floor are gone.  Rolling on Celica Supra wheels-- looking for 13"s if anyone has some they'd like to get rid of...
So the point of my next steps is to prepare for three things-- the upcoming Tulsa Autocoss season and open events at Hallett Raceway--and--the 2015 Hot Rod Power Tour.  Yup,  as far as I know I'm the only Japanese import entered and I will most definitely be the first and only Japanese car to go the long haul which is from Wisconsin to New Orleans this year.
So, a good buddy hooked me up with a second good 4KC engine that I am prepping.  Head has been worked over,  cleaned up, and the port and polish plus chamber work was completed by myself.  The block has received similar work.  Pics coming soon of those.
I'm currently gathering parts for an engine rebuild and some suspension work.  Pics of some of the parts I've gathered so far.  Getting some of the Starlet/4KC specific parts is a nightmare...but I'm working through it and if this was easy it wouldn't be fun.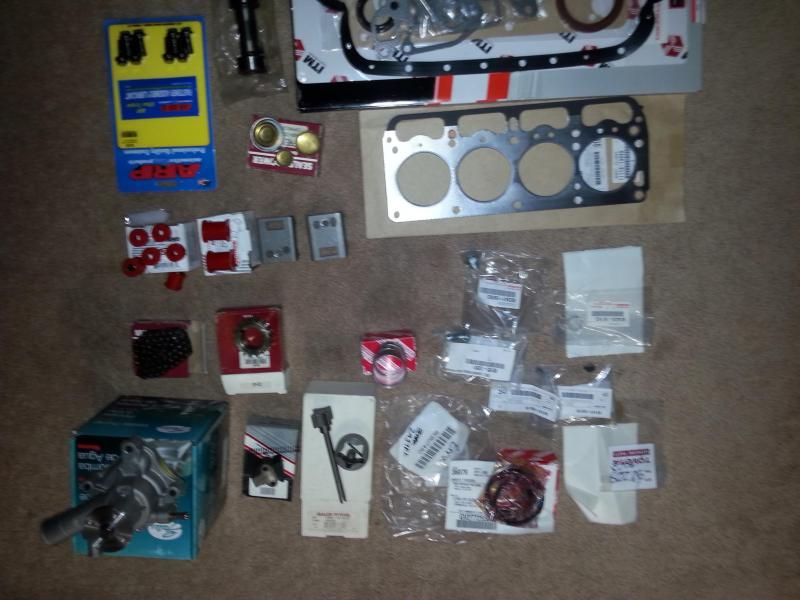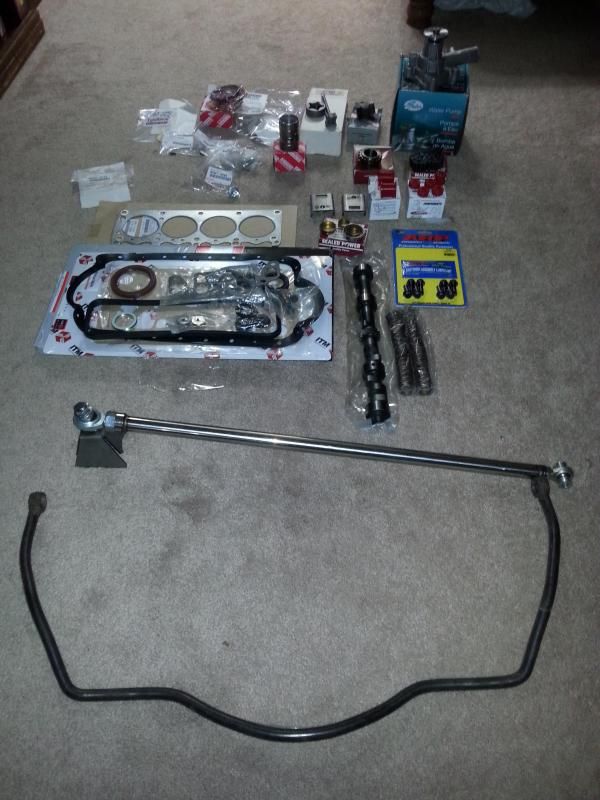 From bottom to top we have a AE86 rear sway bar (still looking for a front GTS bar),  UEO lateral rod,  Xcessive Manufacturing lateral rod mount,  Kelford cam and valve springs, ARP flywheel bolts, freeze plugs, various urethane bushings, Xcessive sway bar pads, ITM engine gaskets,  Toyota of Japan head gasket, various Toyota factory parts such as crank keys, bolts, gaskets, cam bearings, piston rings, timing chain parts, oil pump drive, and a new water pump.
I'm still verifying the size main and rod bearings I need.  Once that's done the plan is to pretty things up, balance the moving parts, and put it all together with ARP head studs.  I've already verified the correct stud and nuts to use--ARP doesn't make a kit for the 4KC but they have individual studs that will work nicely.