takumiproject.com sells hayashi sport and watanabe wheels, but expect a high price tag. Any SSR dealer can get the mkI, mkII, and mkIII wheels, and Reverse Mesh still, also expect a super high price tag. On occasion rbwheels.com get's some nice older wheels, but they mostly deal in big bippu bling. Their wheels are used, but for a fee they can professionally restore any wheel to perfection.
If you aren't a purist, and don't mind having the same thing everyone else has, you can always get one of the recent wave of knockoff's. Konig has the rewind (watanabe rip) and the bbomb (mkIII rip). XXR (go figure) has a panasport rip, and the 002 is a rip of a rare and little known watanabe design from the mid '80s. XXR has a ton of older designs in low offsets, and they seem to have a new one every 6 months or so. Axis has the "OG" series of wheels, the Banzai (Hayashi sport rip) come in 15x8 and staggered 17", and they have a ssr reverse mesh rip now too that looks pretty nice, along with about 3 different other rips of older wheels too. You can try rota too, but the only old skool style wheel they have really is their watanabe style wheel that only comes in 13" 4x100. They do have a te37 knockoff (the Grid) but that's not very old skool.
Craigslist is a great site for finding dealz too! I find bargains all the time
. You can't be afraid to get dirty and do a little resto work yourself though when you buy wheels this way.
Here's some examples:
- I bought these about 2 months ago for $100:
15x8 -20 boyd coddington star1
Before:
After:
- I bought these about 6 months ago for $100 also:
16x8 +10 Ultra Mesh (BBS style)
Before: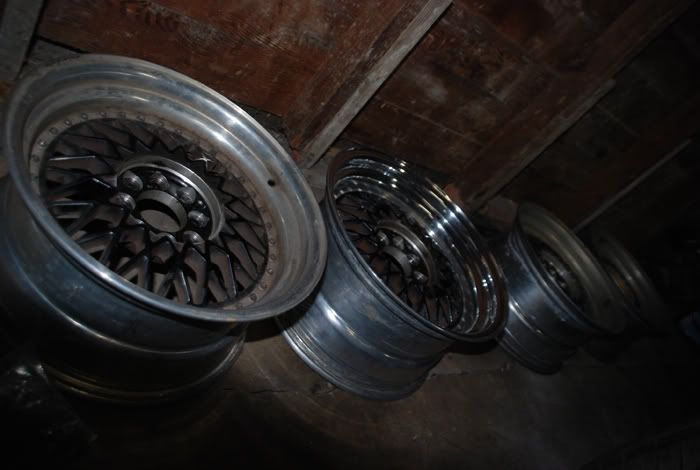 After:
And I bought these for $50 last year off an s130 at the junkyard. I dont have a before shot, sorry.
15x7 +0 Enkei 92's
The wheels on the gold s13 in the background came off my brother's 510, I gave him $120 for them
. They were 15x8 +20, also very dirty and pitted when I got them.
_________________
'70 sl350, '86 spree, '88 cressida