I came across this website two days ago and my head is spining over all those beautiful classic cars! I loved the Japanese Classic Car Show pages
But.. I'm a Mazda guy.. and I've always loved the 929 of the first generation. In 2005 I was looking at some second hand carwebsites and saw this 929 Hardtop:
And then I thought; why won't I buy one..? I love Mazda's, would love nothing more to keep them on the road so why not? So I went to check out that red one but it was in poor state and some other guy bought it a day after my visit. But then I saw on the internet a 929 facelift that I already saw on a Mazda Classic meeting in 2003. I went to see the car and bought it.. my first car!
Yeah those alloys were already on it. The licenseplates are ugly.. I know.. thats why I've put oldtimer plates on it. The car was from feb. 1978 but only cars before 1978 could have oldtimer plates but I didn't care
(Civic was of my twinbrother. That was his first car too)
The car wasn't perfect but the outside almost was.. these spots were the only ugly ones..
fender
hood
So far so good.. I loved the car. I drove quite well actually and the reactions on the streets were very cool! But all good things come to an end.. the car had to go through an check (every car have to be checked every year if everything is allright with the car. Otherwise you can't go on the streets with it!). And the car didn't made it. I was so stupid to buy a car that looked great on the outside but it needed work únder the car
And then things got worse; I moved to Rotterdam and 2 cars parket there car into mine.. offcourse no note with a phonenumber. The frontbumper was messed up a bit. So my car wasn't safe at that spot. So I drove the car tot my moms place....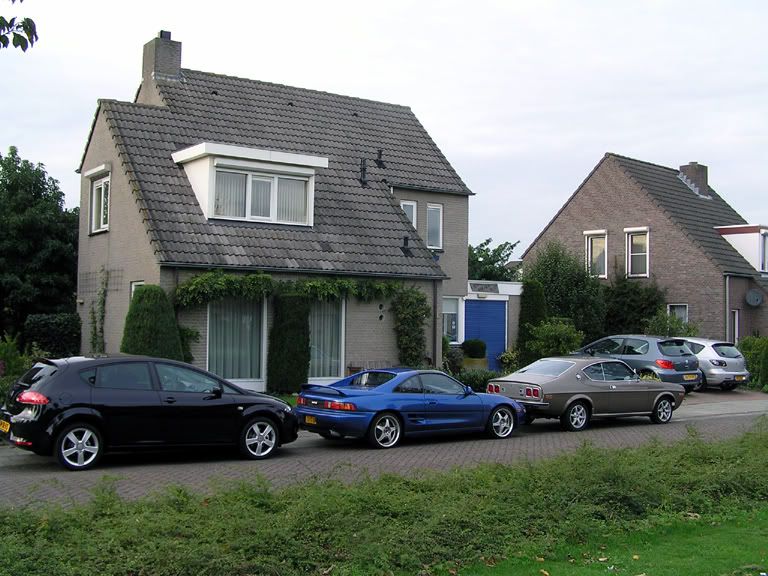 Seat Leon and Toyota MR2 of my twin, my 929, my moms Mazda3 and her husbands 307. You can understand that my mom wasn't really happy with the situation. 5 cars in front was way too much.
I was planning to get my car ready for restauration with a friend and friends of him but it just didn't happen. Or they had no time or I had no time and my mom wanted my car to go somewhere else... so what should I do..? I decides to sell it. I honestly cried all day when I made that decision
A guy bought it who knew my car of several Mazda Classic meetings. He has a shop together with his brother (who has a great looking red RX-2). I know he was planning to make a RX-4 of my 929 and they've painted the car green. I haven't seen any pictures though. I sold my car on 21 October 2006
Here in better shape when I bought it...
Now I live in Amsterdam and if you live there you will need a bike and not a car
And I'm still a student so I'm carless now... well atleast I go home from time to time and drive in my moms Mazda3