Thanks for the comments everyone!
These last few weeks I've been prepping myself for a two-day presentation I had to give on Automobile Basics in Myanmar. The best way I know how to mentally prepare for that is to just go completely off-grid and focus on the job I need to get done. Last week all week I was in Myanmar knocking it out and thankfully, it all went smoothly! So, it's time to update this thread!
Firstly, Kuroneko, the rear drum brakes are pretty weird actually. The wheel cylinder itself slides back and forth, allowing the non-cylinder end to be fixed. The cylinder is just a single piston as well, so the piston pushes one shoe into the drum, then the cylinder slides away pushing the other shoe into the drum. The adjuster is also on the cylinder too. Once I get my hands on a cup kit for them, I'll take some more pictures!
Alright, as I said earlier, I went off grid to prep for my Myanmar trip, but that didn't completely exclude me from getting down to the garage for an hour here and there, so some progress was indeed made!
Now that my starter was hooked up, my goal was to suss out all the vehicle electrics, but I immediately ran into a problem.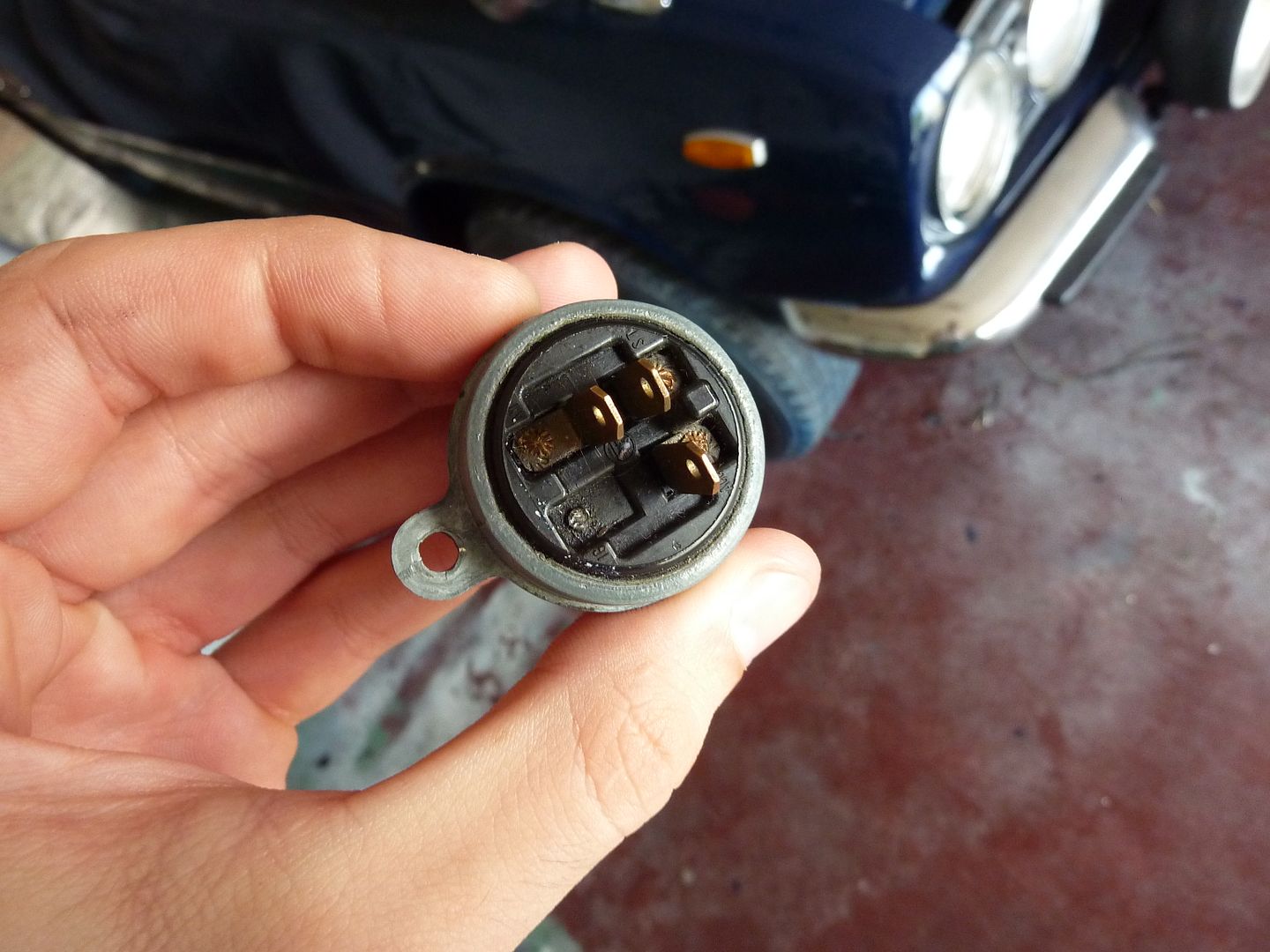 Yup, my ignition switch is missing a post. So, I had to hot wire the car to check the electrics.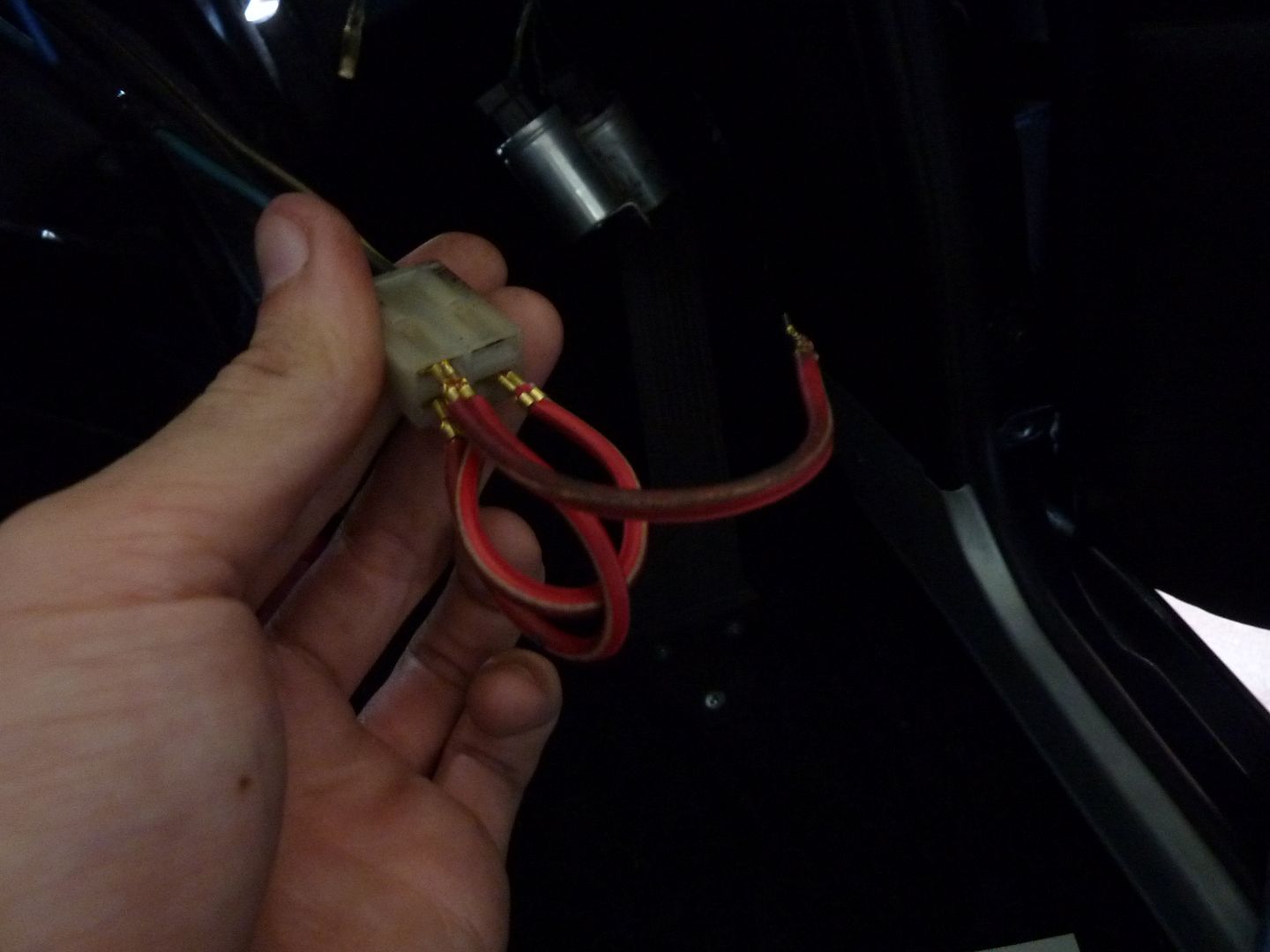 Turns out, it's super easy to hot-wire a car. Although if you were to steal a car, I'm still not sure how you'd tackle the steering lock. At any rate, the first thing I decided to hook up and check was the headlights.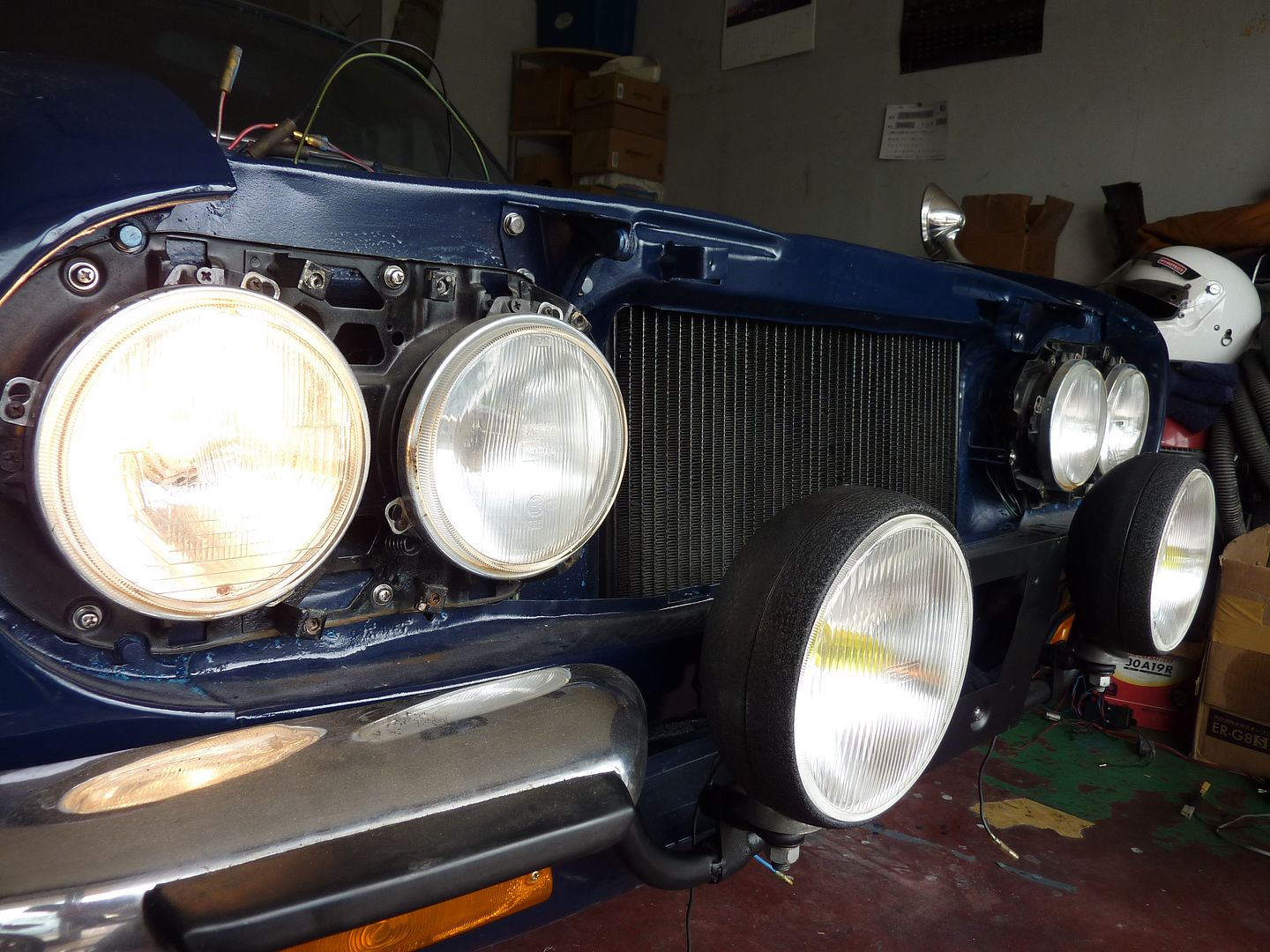 Hmm, on low beam only one light lit up. How about high beam?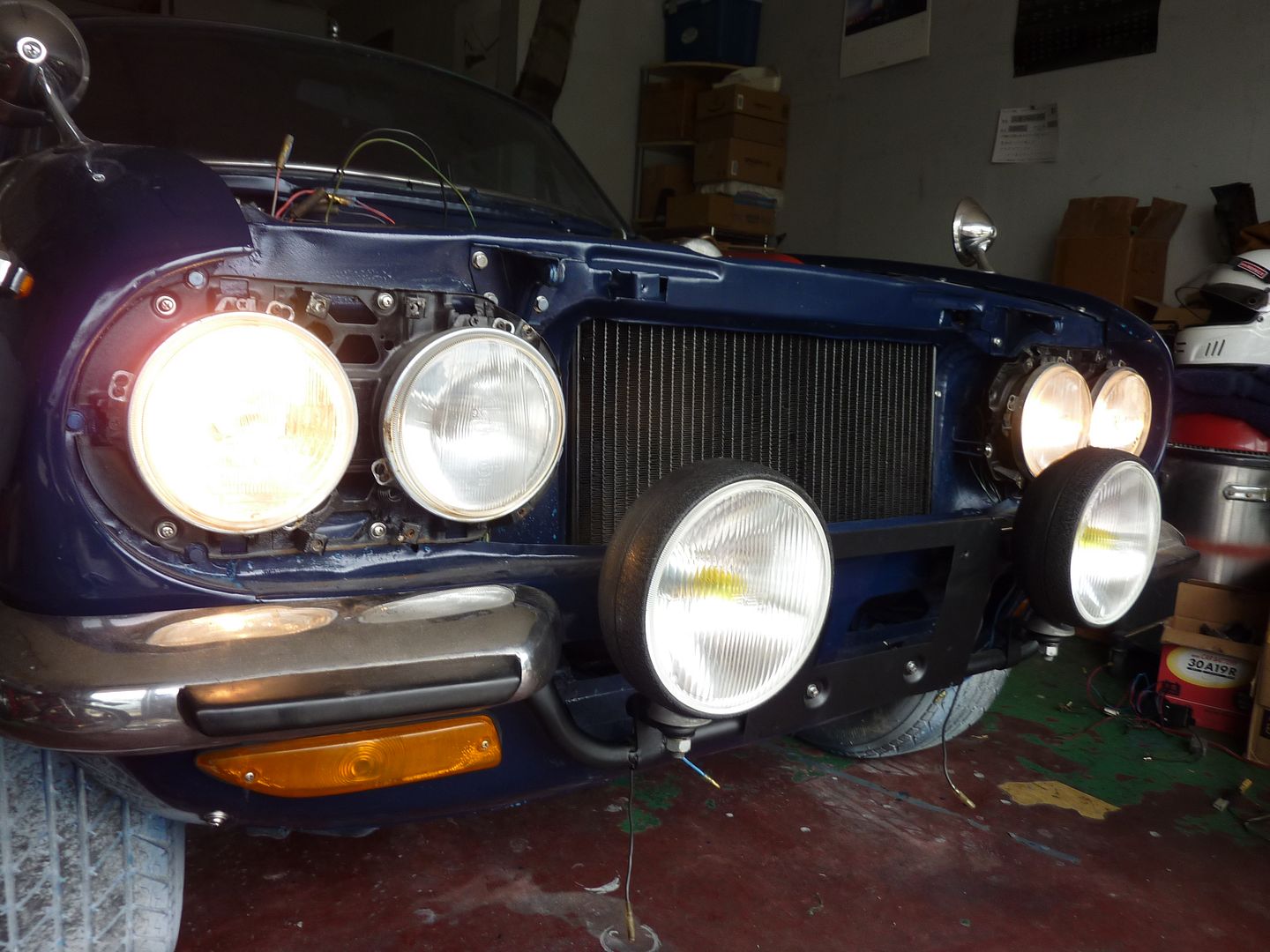 That's better. Turns out I just had a few burned out bulbs. So, while I procrastinated going to the local parts shop to pick up some new bulbs, I checked the tail lights. After figuring out a small ground problem they lit right up as well!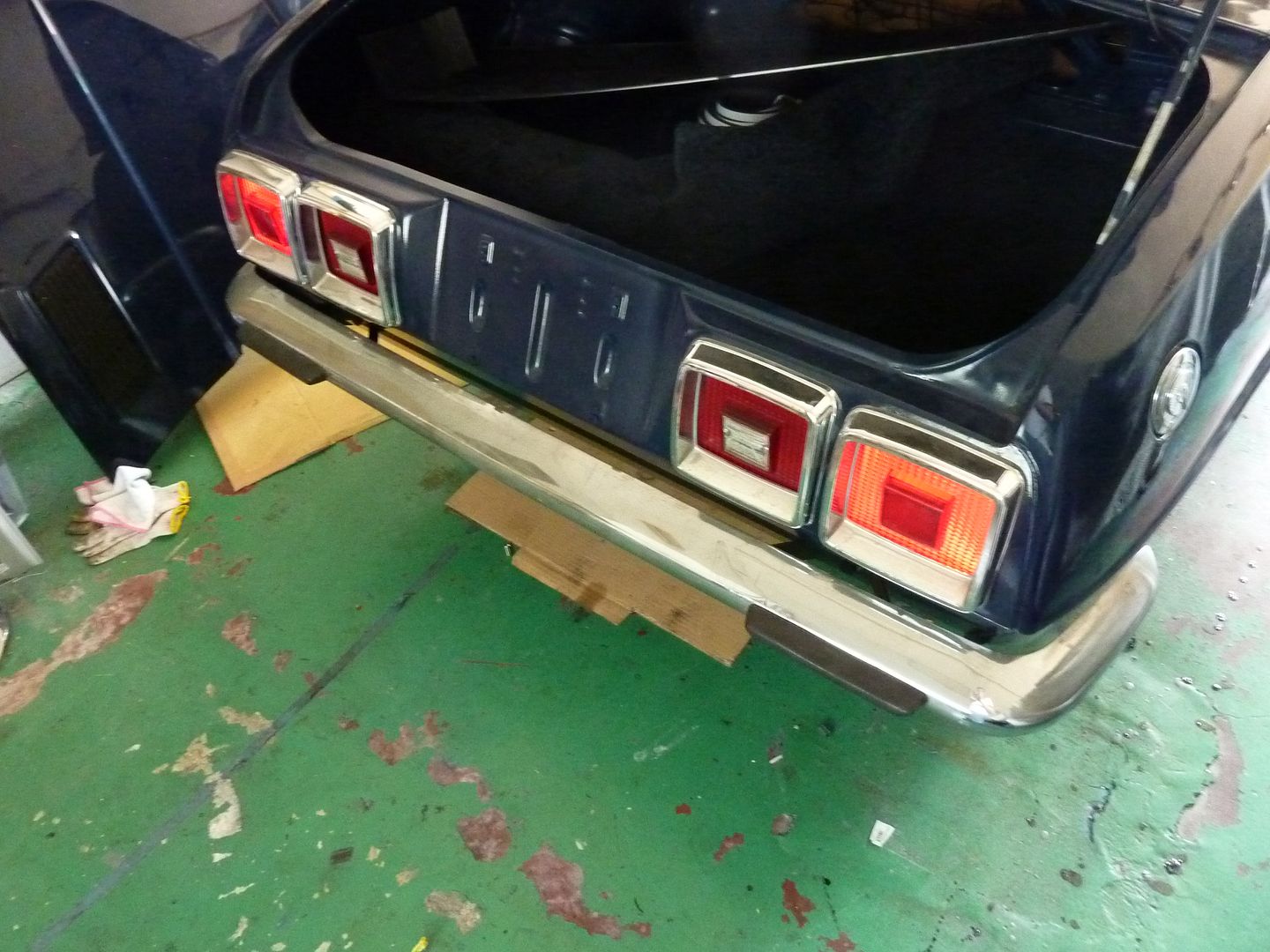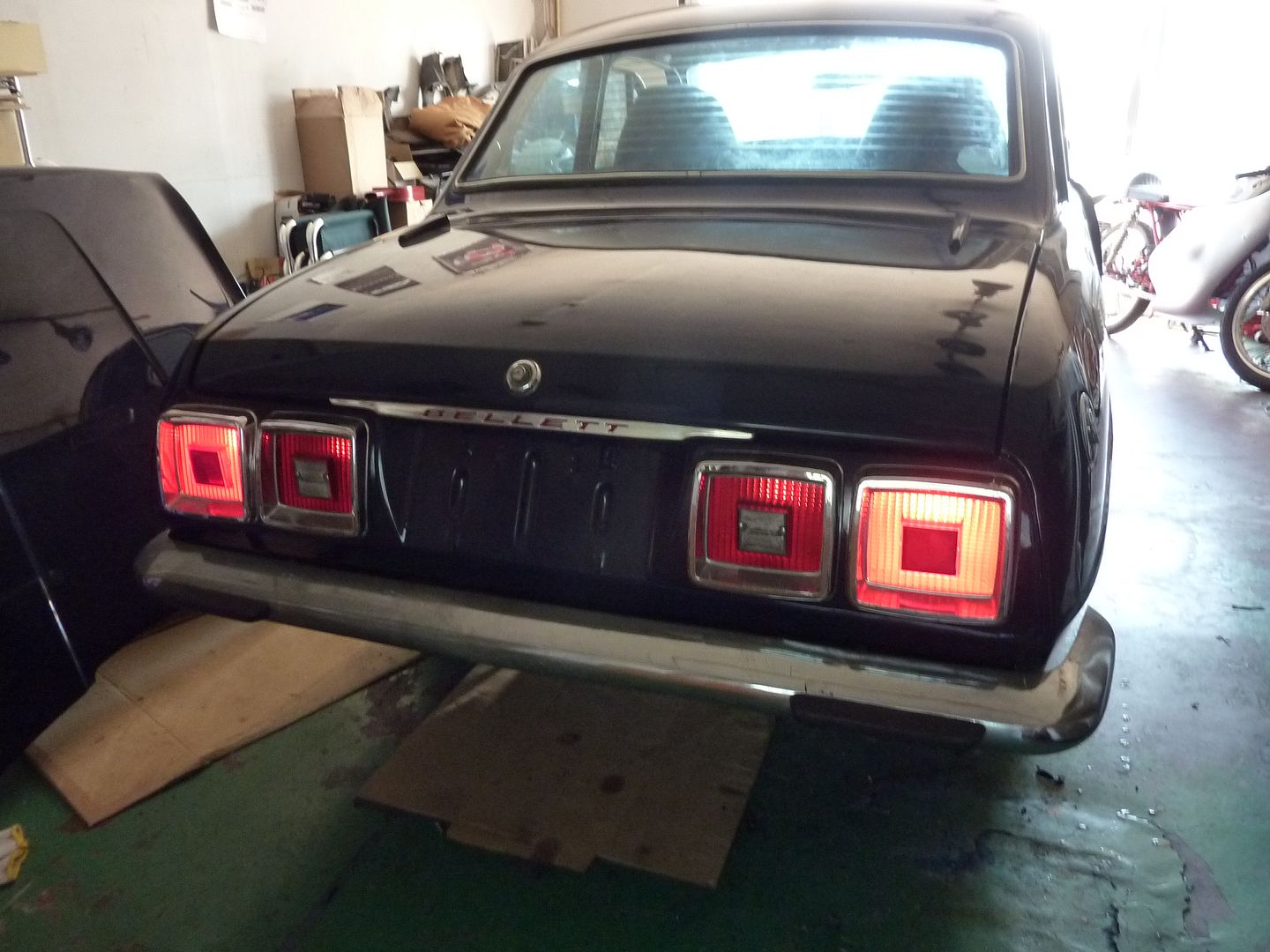 The gauge lights were lighting right up as well!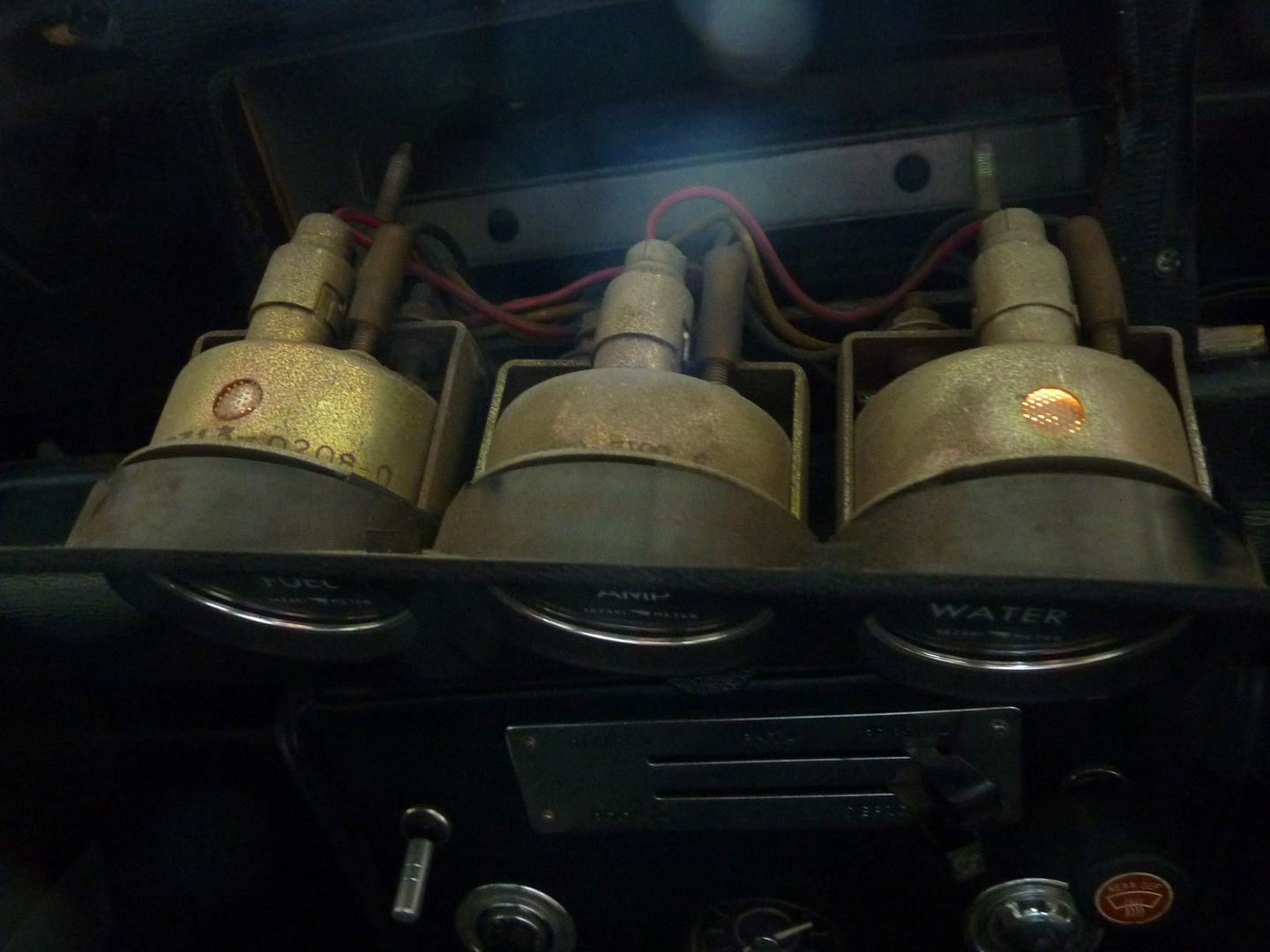 Even the interior light was on the ball!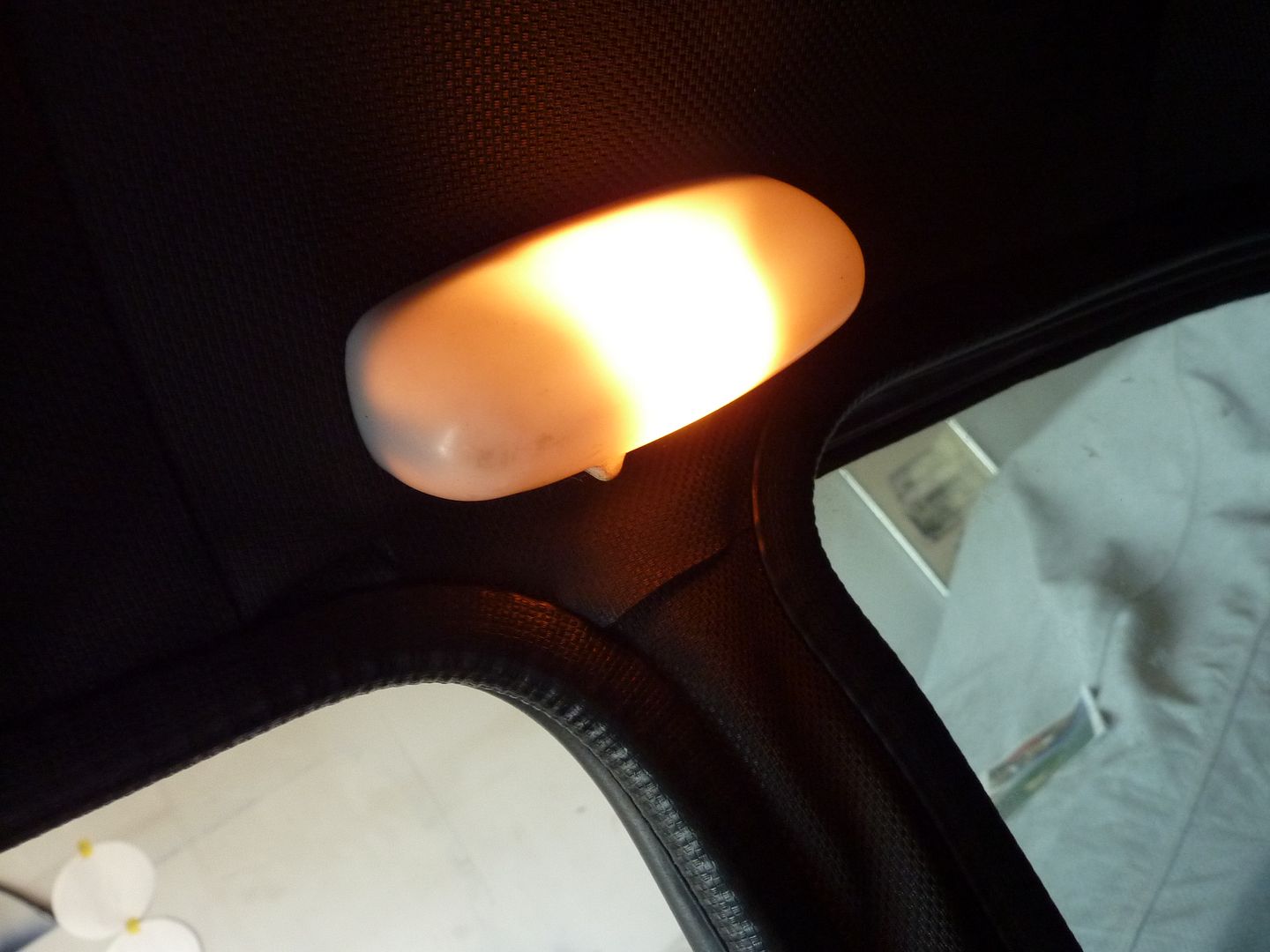 The next major hurdle though was the turn signals and parking lamps. For days I couldn't figure out what was wrong. It was a combination of a poor ground, improperly hooked up wires and having the flasher and hazard relay plug in backwards. But, persistence won and eventually I got this: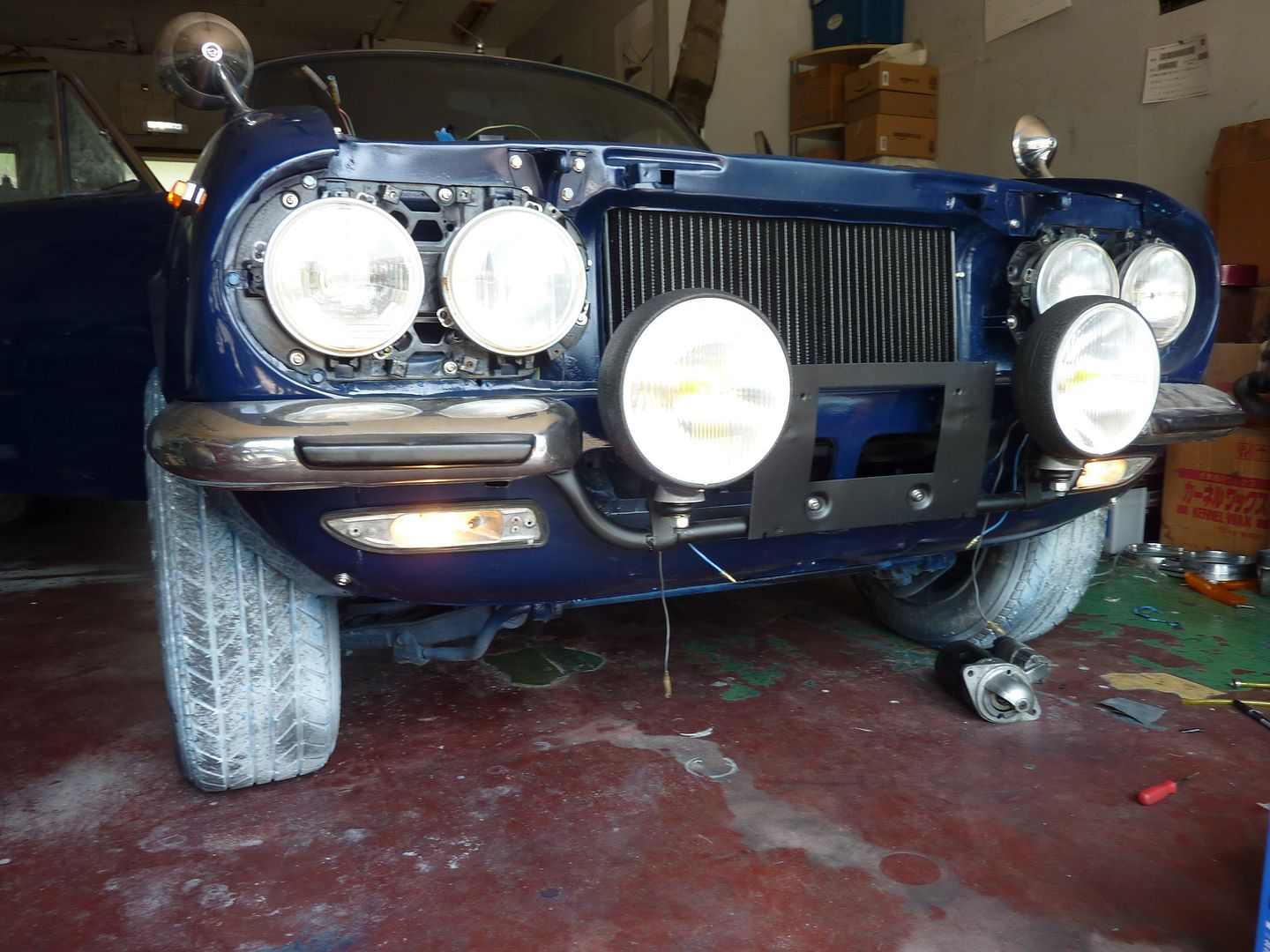 I threw in some new bulbs for the headlights and had the entire front end lit up like Christmas!
Now I just have to wire in the fog lights, but that was where I went on my trip to Myanmar. After getting back on Friday, I took all day Saturday off to recover and then decided to get out there and do something on Sunday. I needed some motivation so I got to work on the engine.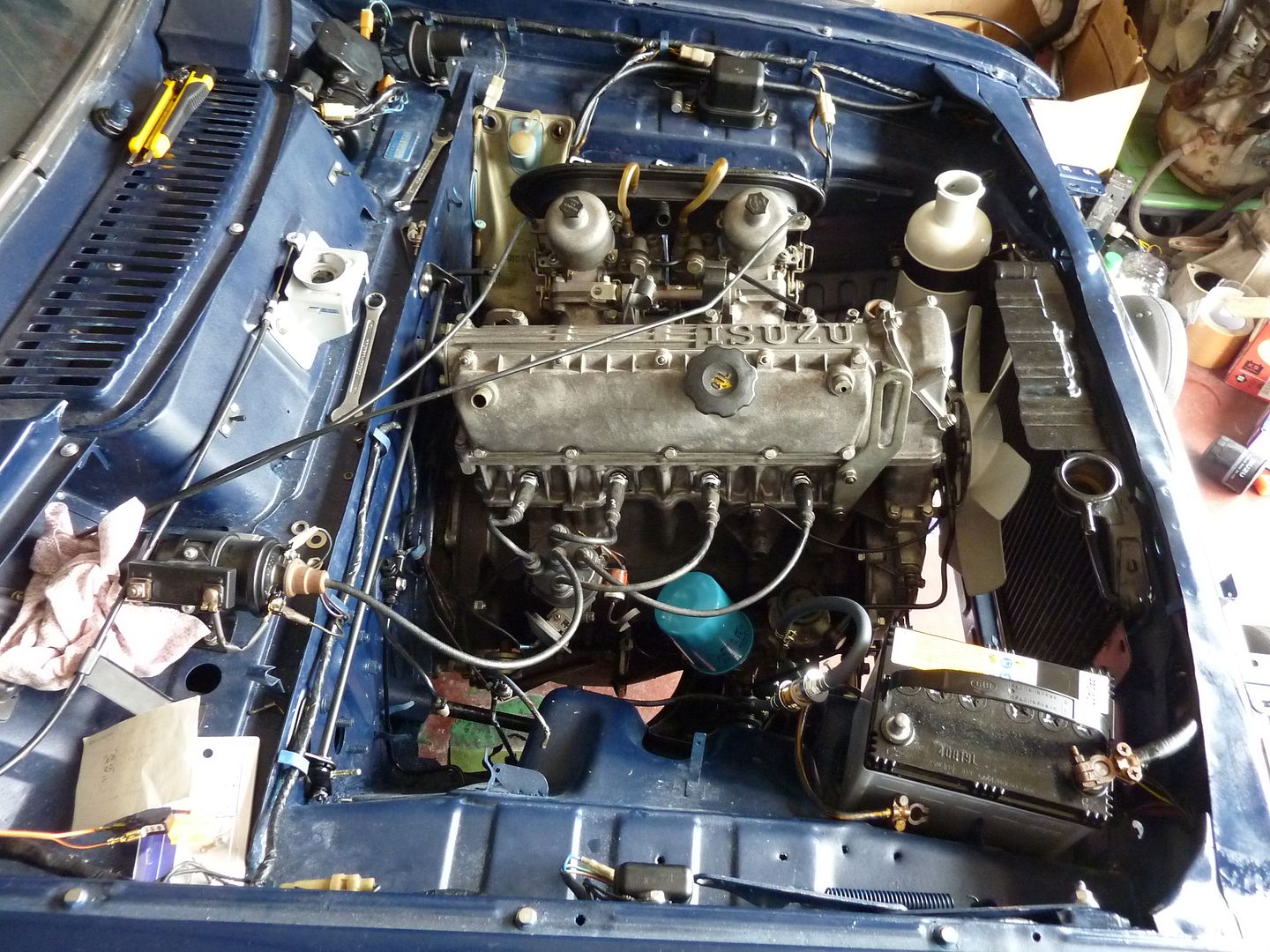 New oil filter, new oil, new plugs, new fuel filter, and new fuel lines. Yup, that sounds like a recipe for maybe potentially getting the engine to start. At first it wouldn't start at all, so I double checked my spark plug wires, turns out I had put them on 90 degrees out of order. Fixed that and still nothing. Then, I wasn't sure if it was getting fuel, so I popped the tops off the bowls on the carbs to check that they were full of fuel, and they were. Finally, I decided to advance the ignition timing a bit and well, the results speak for themselves.
http://youtu.be/1P0FdsouR_g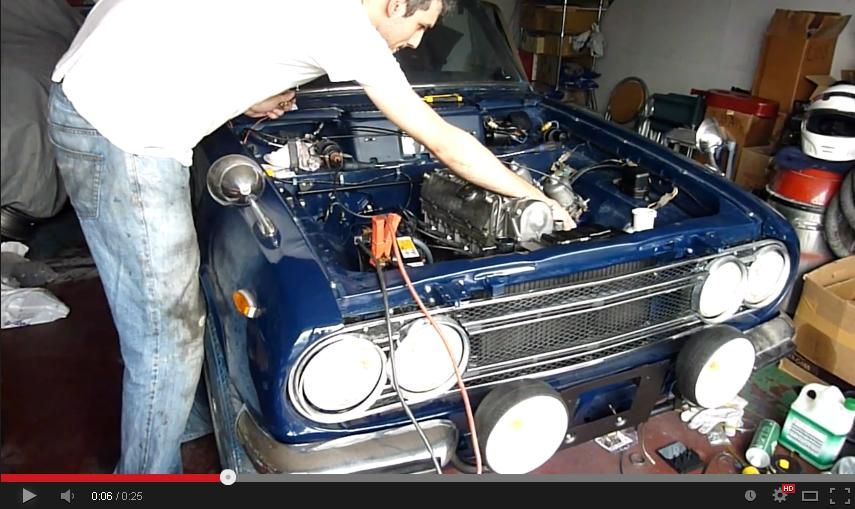 Put on some headphones, turn the volume all the way up and then sit inside of a subwoofer and you'll get an idea for how loud it truly is, haha. It's running open header, which is why it sounds so burly at the moment. Also, there's no oil in the dashpots on the carbs, which is why it picks up and drops revs so fast. Still, for a budget rebuild and a poorly, hand-honed cylinder, it sounds pretty righteous! I still have some fine tuning on the carbs and ignition timing, but that'll have to wait until I get the exhaust back on it and the cooling system properly hooked up.
It's close now!
Thanks for reading guys!
Cheers,
David
Today's Garage Soundtrack
Metallica - Ride the Lightning
https://www.youtube.com/watch?v=OhT0g9jULpw