Hey all, I love JNC so I thought I'd share my car with you guys. I'm Irish but I recently moved to Switzerland - the car, unfortunately, is still in Ireland
This post is pretty pic heavy!
I picked this '84 RX-7 FB Series 3 in September 2012. Originally a UK car, was pretty rough when I got it bodywise and mechanically, but the 12A engine was absolutely spot on. A full service and the engine doesn't miss a beat - 96k miles. And it had a great (read: loud) decatted exhaust too.
After I paid import fees, we got around to the resto. (Not my work, just my money!)
Got some PI springs and this fancy box of bushes.
Powdercoated the metal trim, caliper rebuild and a few other small bits and it was ready just in time for the First Irish National Rotary meet in July of 2013.
Next up was a set of old school Jap wheels - well, not a set, two pairs. SSR Formula Mesh upfront and Longchamp XR4s on the back.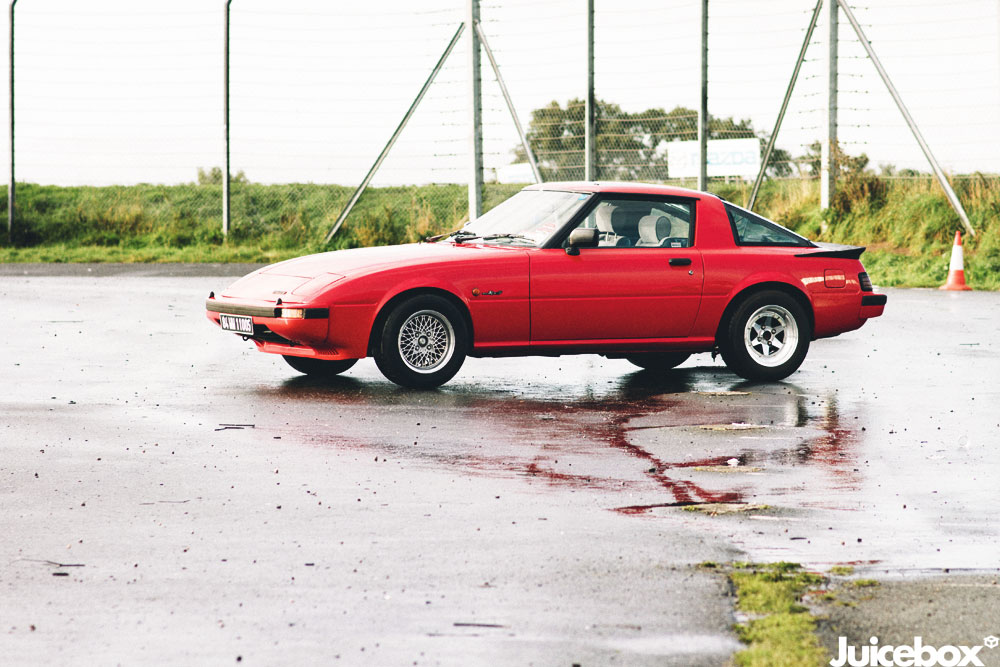 And then, on the Sunday of this years local rally, my clutch decided it was sick of abuse and packed its bags...
Which meant, I could buy a 6-puk
And back on the road for RetroStock
Then I picked up this Eunos Roadster 4.1 Torsen LSD. Bolt-in job Makes such a difference.
And then this popped up for cheap, and exactly what I wanted. A 6-port 13b N/A. I was on the hunt for a small while for exactly this, but I was getting no joy, until a friend tipped me off about this one for sale on Driftworks. Only catch was that it was in the UK. I went out on the limb and bought it on the back of a couple of videos from the fella. Big risk, but the price was pretty okay and I would have planned on rebuilding it anyway. However, it has sat in the same spot ever since I got it home, as I've been collecting bits.
This is the plan...
...Weber 45 DCOE
Rotary shake intake mani to mate to the carb
75 mill trumpets
Big box of gaskets, brackets, GSL-SE oil pan and other bits from Racing Beat and Atkins Rotary
Rare as GSL-SE front cover to make the mounting that much easier.
Plug kit to block of the injection ports
How it sat as I left for Switzerland.
Was hoping to get it together and in for this years Nationals but that looks doubtful
Still a few more bits to get, like rad, oil cooler, water pump, fuel pump and gilmer pulley. Fingers crossed the engine isn't snookered...but if it is, I'll get it rebuilt with a Monster J-Port
Also got some new door seals, old ones were in a bad way.
I've also kinda got carried away collecting some awesome wheels. Set of Magroads, only production year 1975 apparently!
Another pair of SSR Formula Mesh.
SSR MK3, happy out about these
Nice pic from JustJap driftday -
Few pics from a recent hoon
Future plans include an adjustable watts linkage and maybe T3 coilovers. I'm on the fence about that at the minute though. And overhaul the interior.
And I tend to keep my instagram pretty up to date with everything I'm doing with this -
http://instagram.com/jayomoto
So yeah, that's my RX-7
I also have a Eunos Presso V6 with plenty of JDM and Mazdaspeed goodness.