Hello all!
This was originally posted sometime after August 14th, which means it all got lost when the JNC forum went down. Fortunately, I still had a backup of the post on my PC so a quick copy and paste and all is nearly back up to speed! Longlivekel made some posts showing what progress has been made to the car after this post, but I fear those may be lost. Fortunately, his pictures tell a pretty complete story, so with luck, those will be back up soon too!
======
This story starts quite a ways back and I've been holding off posting too much information until I got the go ahead from the owner. Well, I got the go ahead, so here goes!
(Note: I usually do my build threads a short bit at a time giving me ample chance to double check and fix grammar and spelling errors. I punched this one up all in one go, so it'll probably be pretty bad.)
About 5 months ago, I was trying to figure out how I could go about shipping my Mitsubishi 360 home (
more info on that car here
). I kept coming up against brick walls and was having a hell of a time finding a shipping company that would work with me. Most shipping companies I talked to would just simply say "We don't ship to America."
I ended up getting in touch with R-International and asked them about shipping a car. They were willing to work with me, but would only ship to Los Angeles. I said the car's final destination was in Texas and would need some help getting the car from LA to Dallas as well as some help with stateside port paperwork. The guy at R-International put me in touch with Sean Morris in LA, who would get the car through customs, move it to his lot and hold it until a shipping company could pick the car up to take it to Texas. After exchanging a few e-mails, I was finding it difficult to work with Sean as he seemed a bit impatient dealing with a newbie like me. On top of that, he wanted to charge upwards of 3,000 USD to pick the car up from customs and store it in a parking lot for 2 or 3 days until a truck could get it. Considering that the shipping would cost at least a grand and then another grand to get the car from LA to Texas, I was looking at approximately 5,000 USD to ship my little Mitsubishi. That was roughly the same price as a container.
Feeling like I was at my wits end, longlivekel contacted me about importing a car. We exchanged a few e-mails and talked over Skype to kind of hash out a plan. He's imported a few Minis in the past and new a few people who could help with things stateside. I would just need to find a Japanese broker and do some leg work for the paperwork. That sounded like a hell of a deal to me, so I asked him what kind of car he was looking to import. He said he likes old 360cc Keis, but is particularly looking for a Mazda Carol.
It must have been fate, because just a few weeks before contacting me, a Mazda Carol had shown up at Classic Car Nagoya. So, I grabbed the camera and ran out to take a few pictures of the one we had sitting there.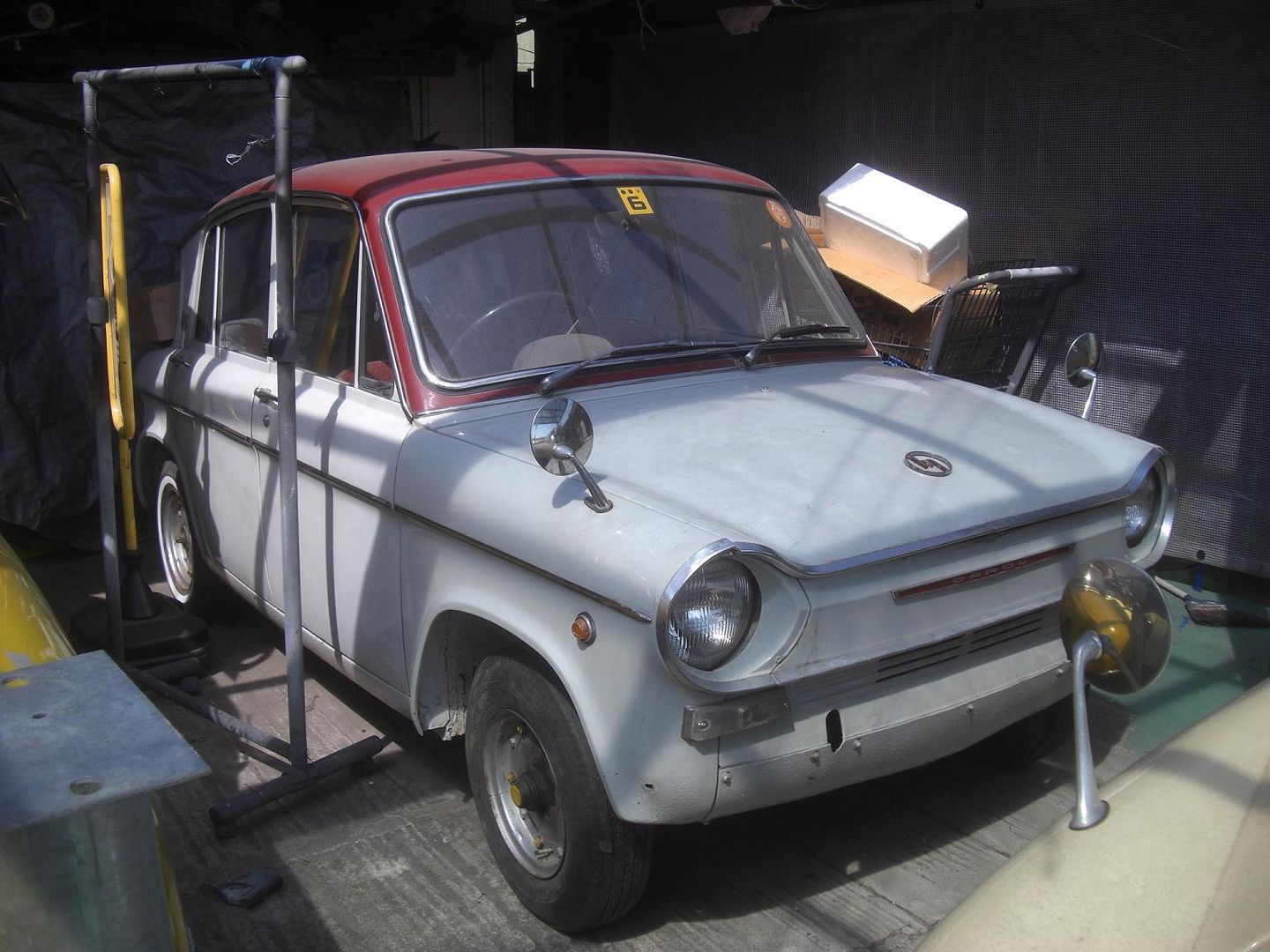 The car was tucked up in a corner and no one seemed to be able to give me a straight answer as to whether the car would run or not.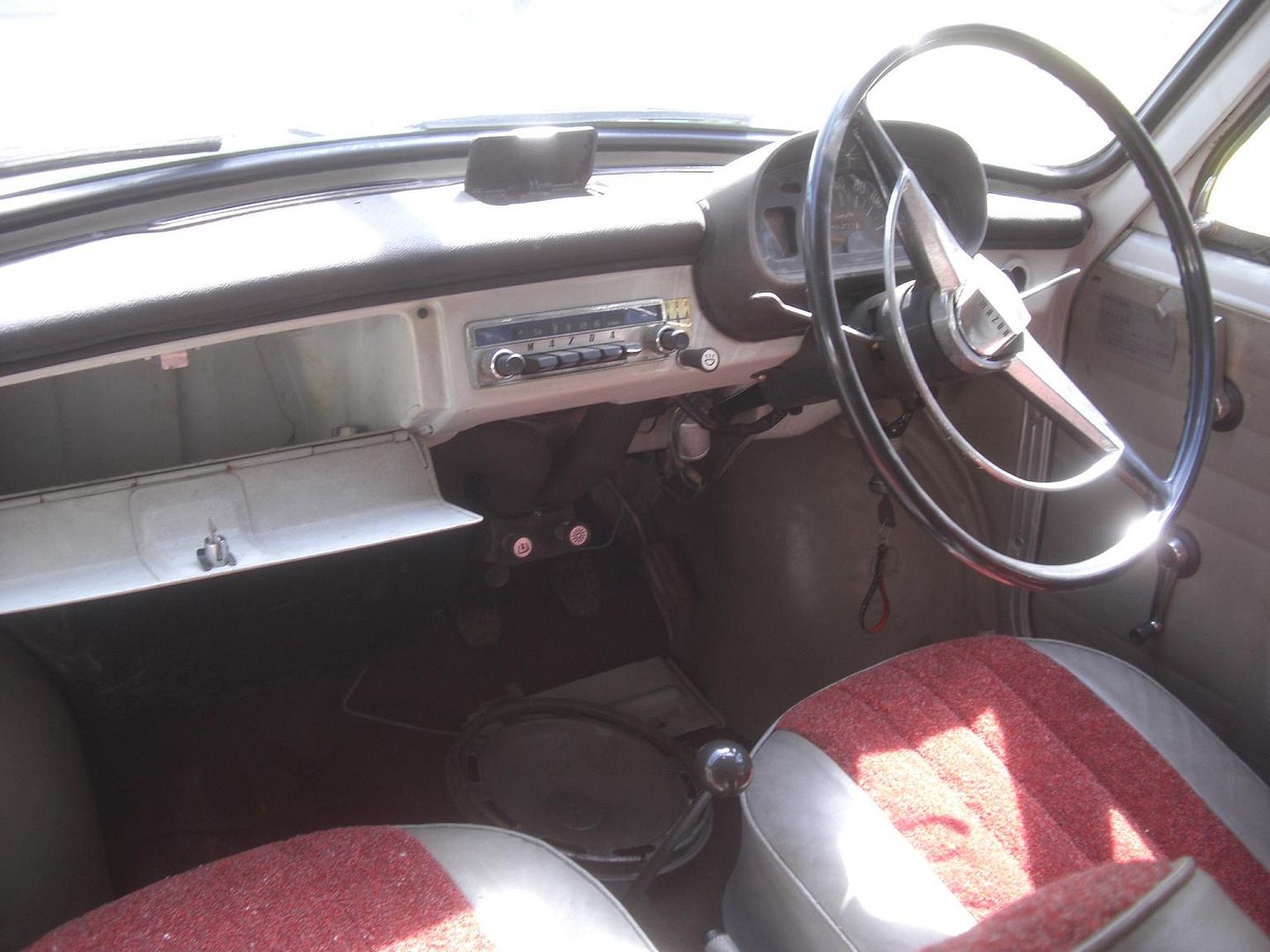 The Shacho of CCN touted that with a little bit of work, it would be right as rain, but the guy who did a little work on it to see if it would start didn't sound so sure.
What everyone was sure of was that it had sat for 30 years!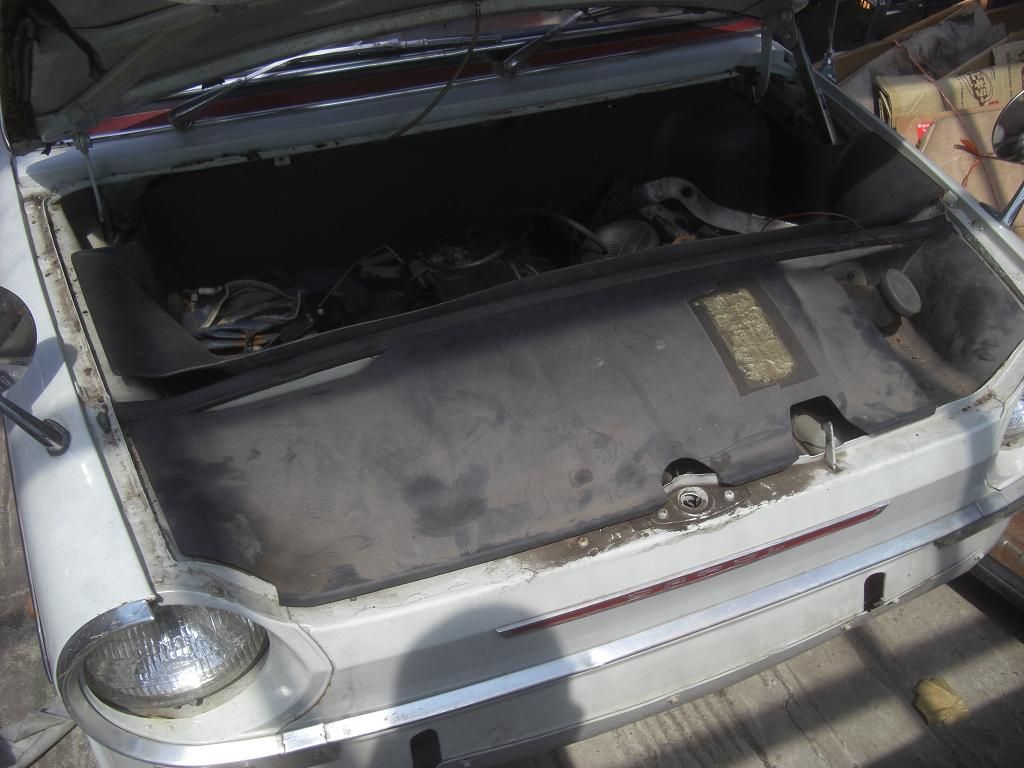 I knew that having sat for 30 years, almost everything would be bad on it.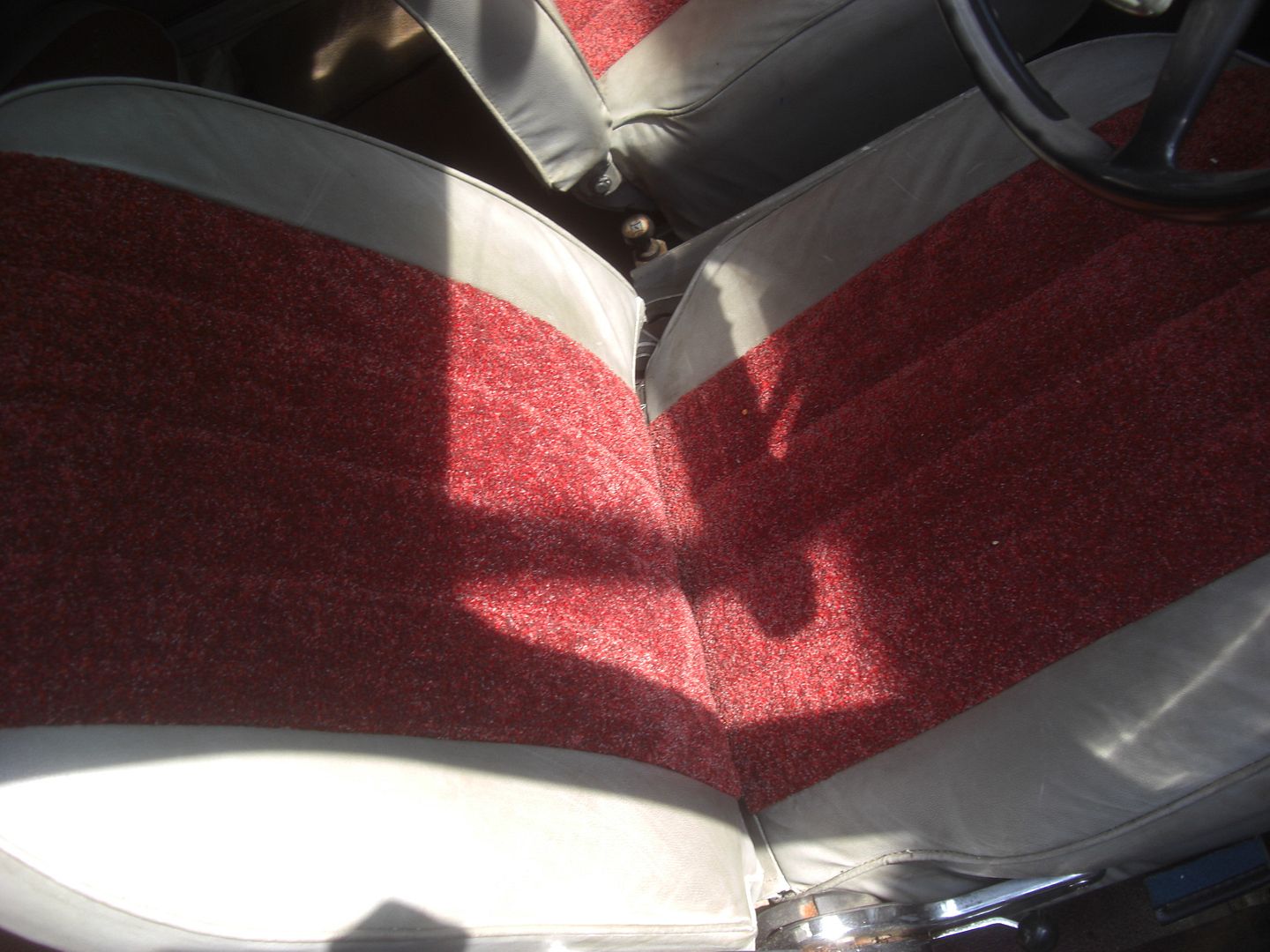 But, there was very little rust and the body was accident free (save for a ding in the driver side rear door.
I sent about a hundred pictures to Kel and told him the story as best as I knew. I said that it might run, but it's been sitting for thirty years, so there's a good chance that everything mechanically was borked.
Kel wasn't fazed for two reasons. One, since I had been quoted so high on Roll On Roll Off shipping, we were planning on rocking a container. Two, he was planning to build a crazy resto mod Carol. As such, all the original brakes, suspension and engine would be pulled out and replaced with newer bits.
To be honest, this is probably the best candidate for a resto mod there is, which will become hugely evident a little later. Kel's biggest concern, understandably, was interior space. So, being 6 foot 4 inches tall, I folded myself in and took some pictures.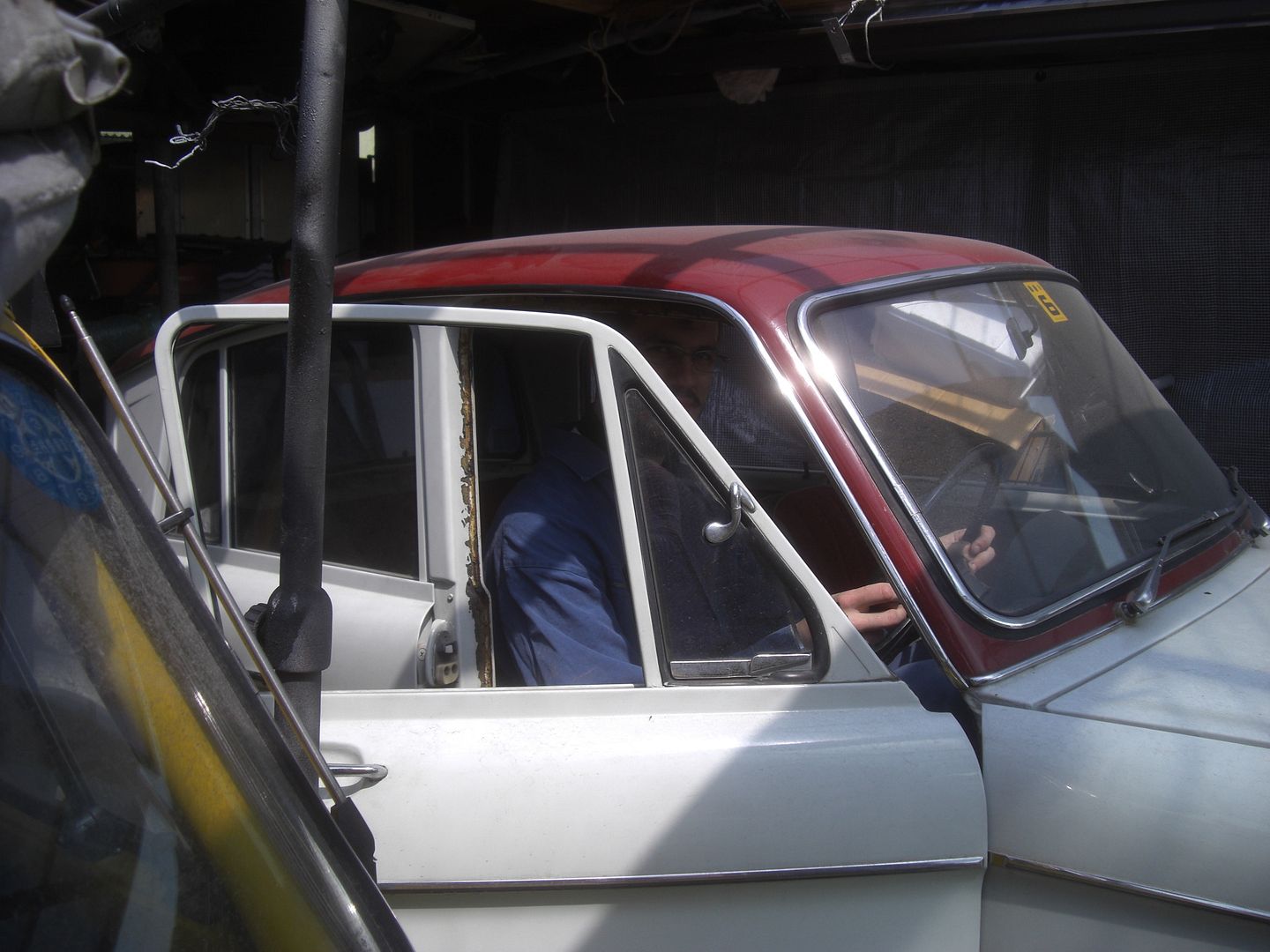 It's tight inside, there's no question about that!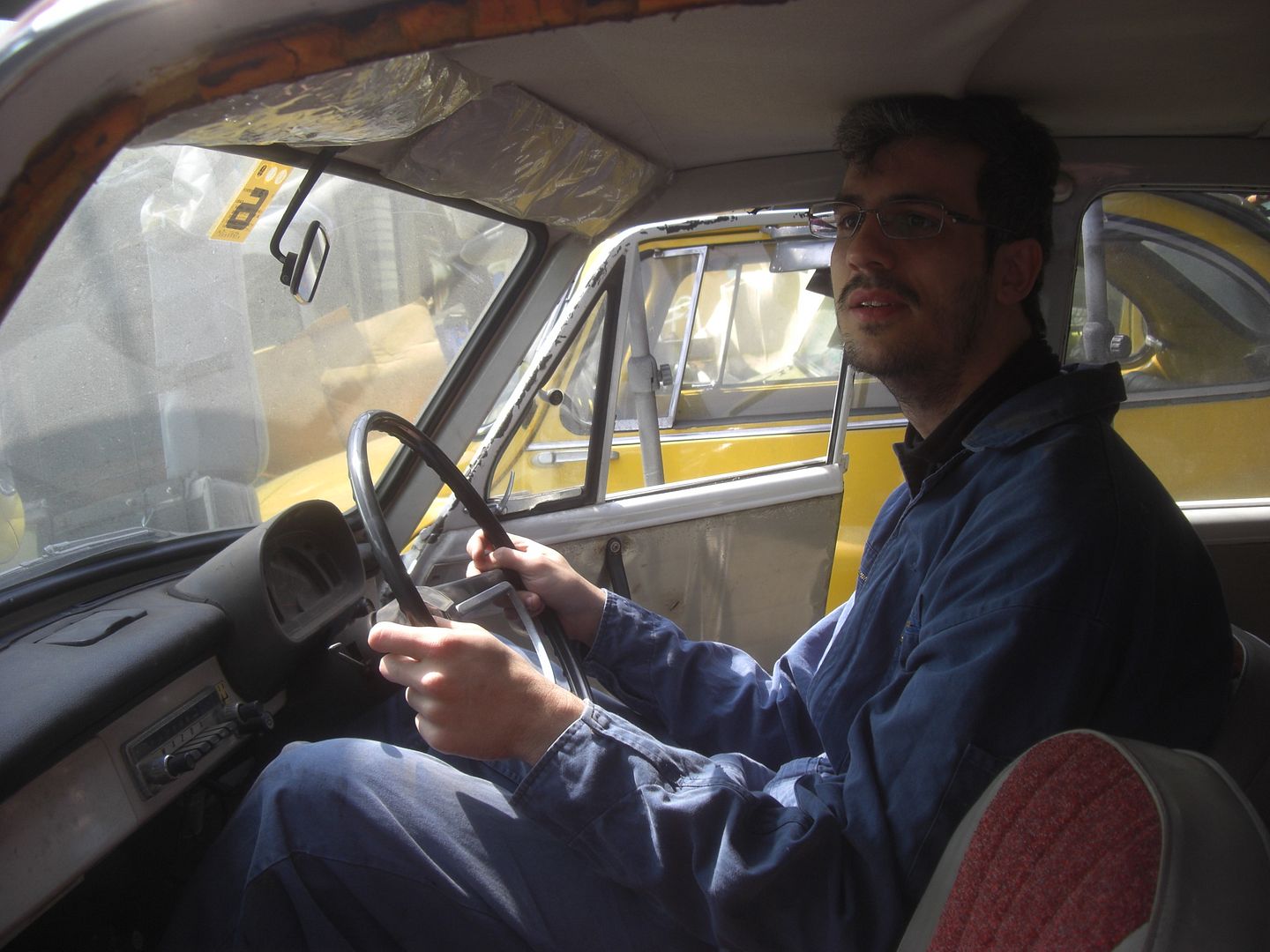 With a seat that sits a little lower and further back though, it would be pretty nice.
So, with that he decided to pull the trigger on this one. We got a price from the old man, and it was a little on the high side for a car in this condition, but really these cars are only going up in value.
So, with that, it was time to get the car ready to tow to my house, where it would sit until we were ready to load it onto a container!
More to come in next post!
The Carol was washed and ready for a tow to my place! We didn't want to use a flat bed because I lived just a few kilometers away. The car didn't even remotely have a working brake pedal though. It did have a working side brake though, and that was good enough for me!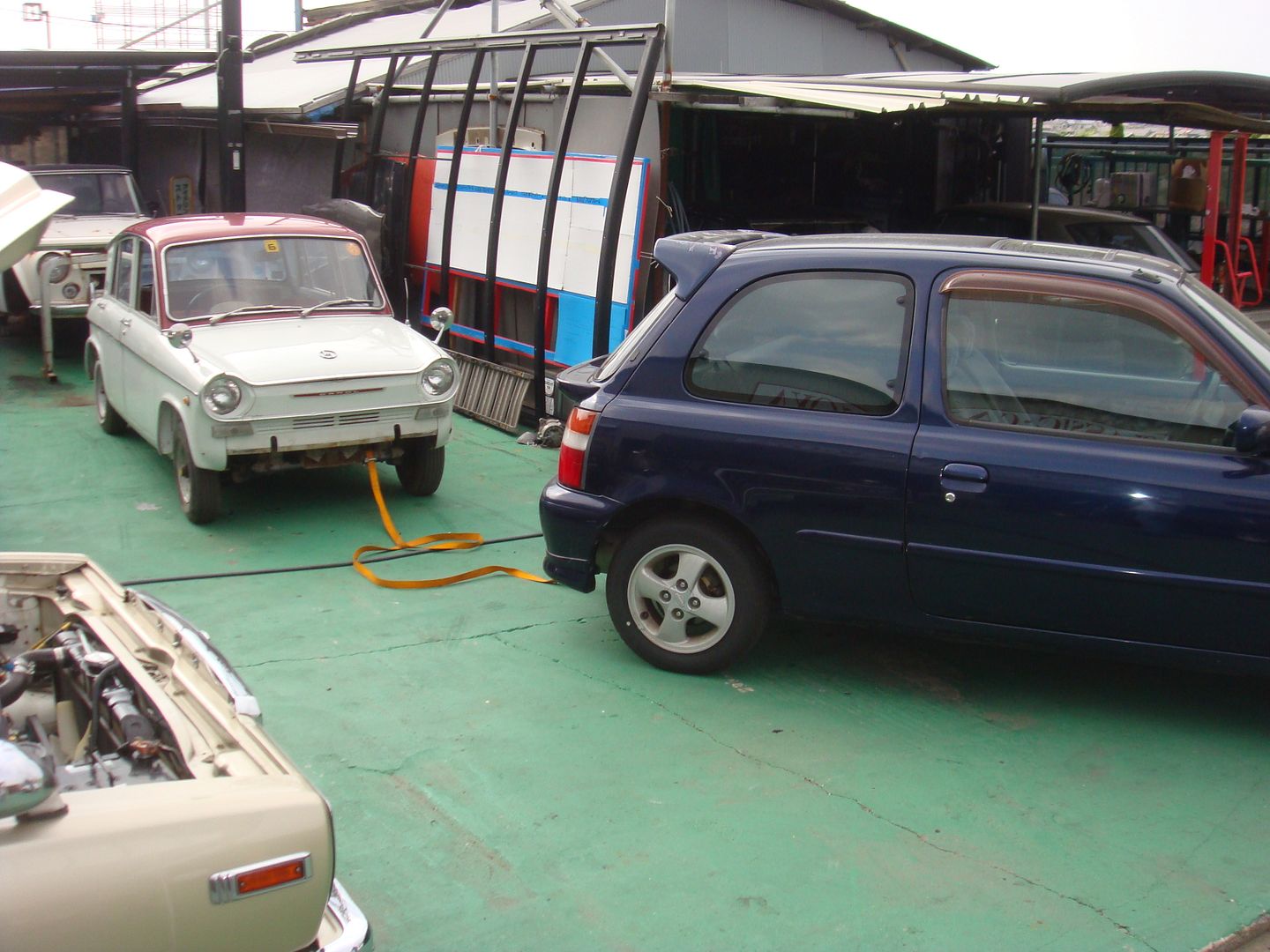 With the little Nissan March in place, we attached a nice two strap and got ready for what was sure to be a harrowing tow home.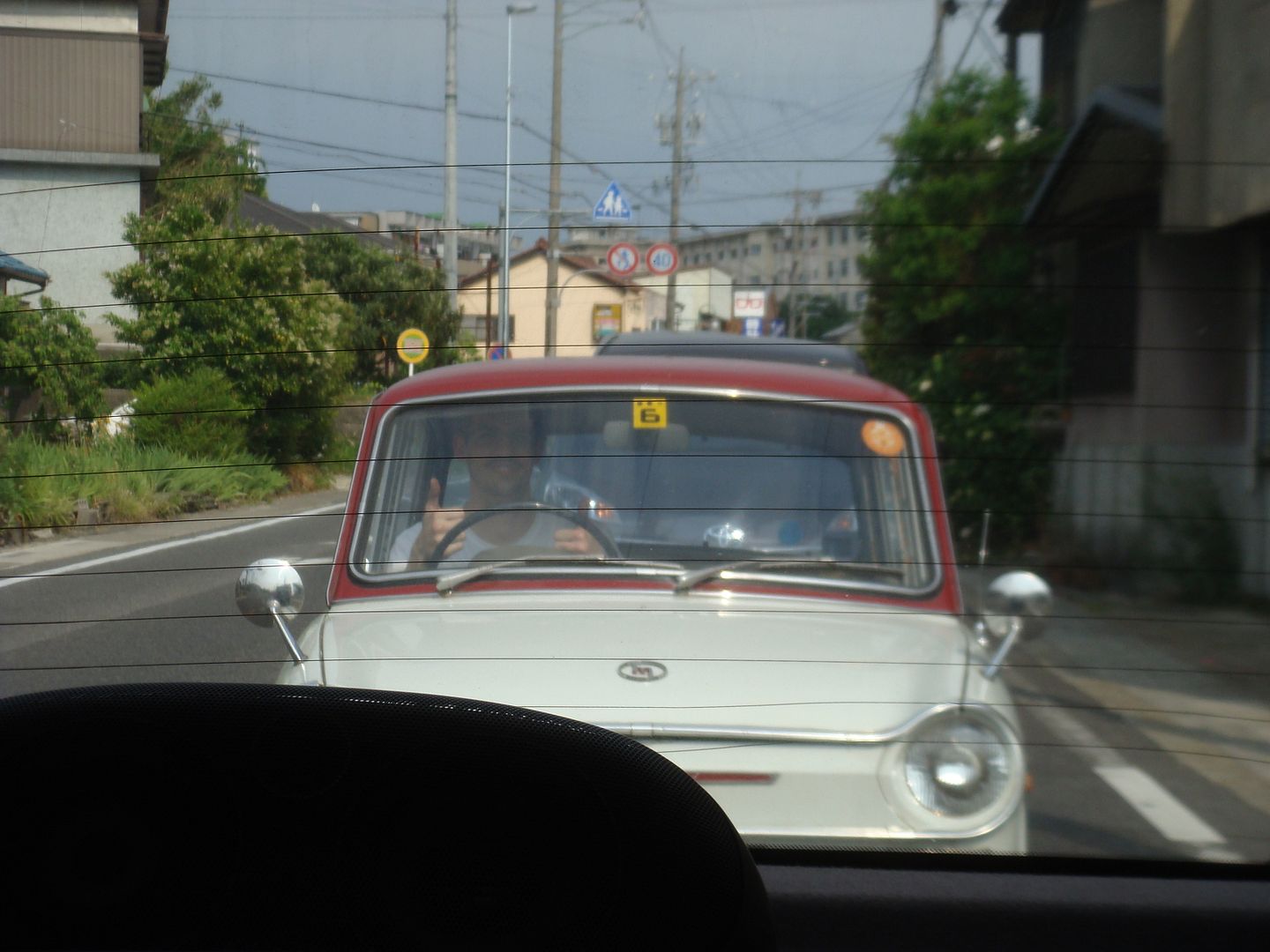 It totally wasn't though! The side brake worked great and everything went smooth as butter!
Once the car was home, safe and sound, I pulled my
Mitsubishi 360
and
Honda Life 360
around to get a picture of the three of them together!
Between the three of them, I had a combined 8 cylinders, 12 valves, 2 camshafts and 75 horsepower!
The Carol is, interestingly, has the lowest roof line of the three. That makes it look totally awesome, but also means head room is far tighter than the other two.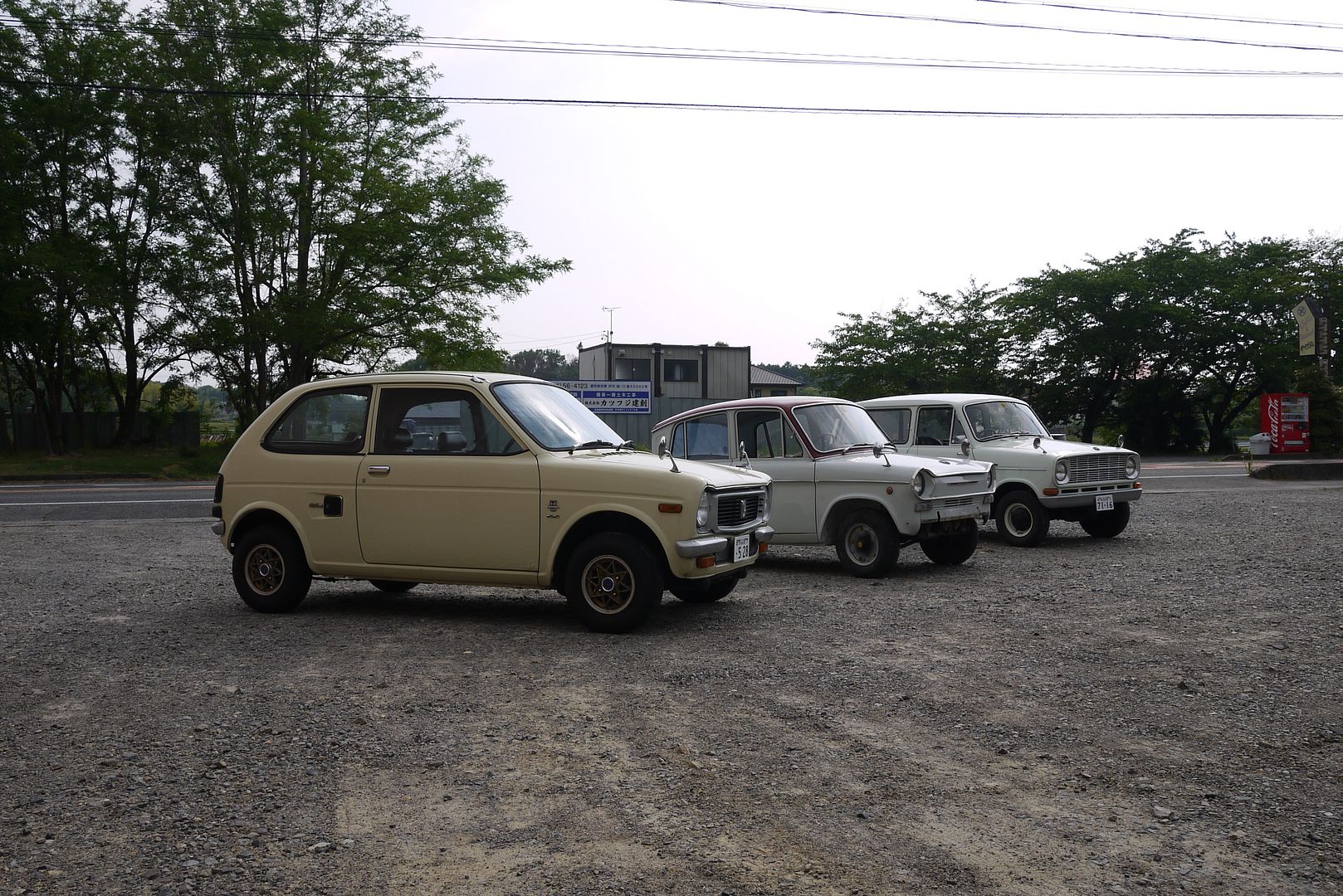 I then popped the hoods of the Life and Mitsu and the trunk of the Carol and got some engine comparo shots.
Mitsubishi 360: Inline, 2 stroke, 2 cylinder producing 21 hp at 5,000 rpm.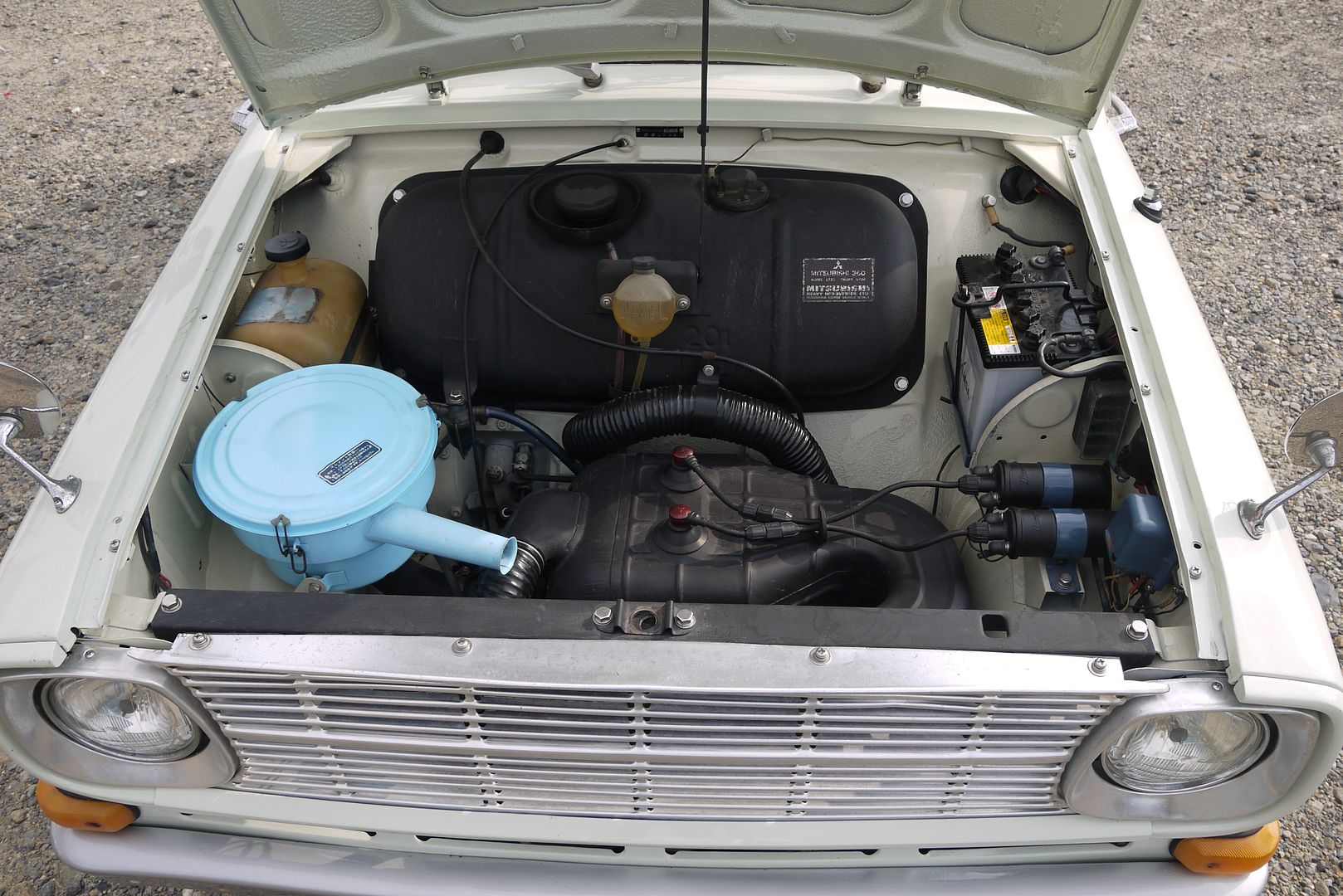 Honda Life 360: Inline, SOHC 4 stroke, 2 cylinder producing 36 hp at 9,000 rpm.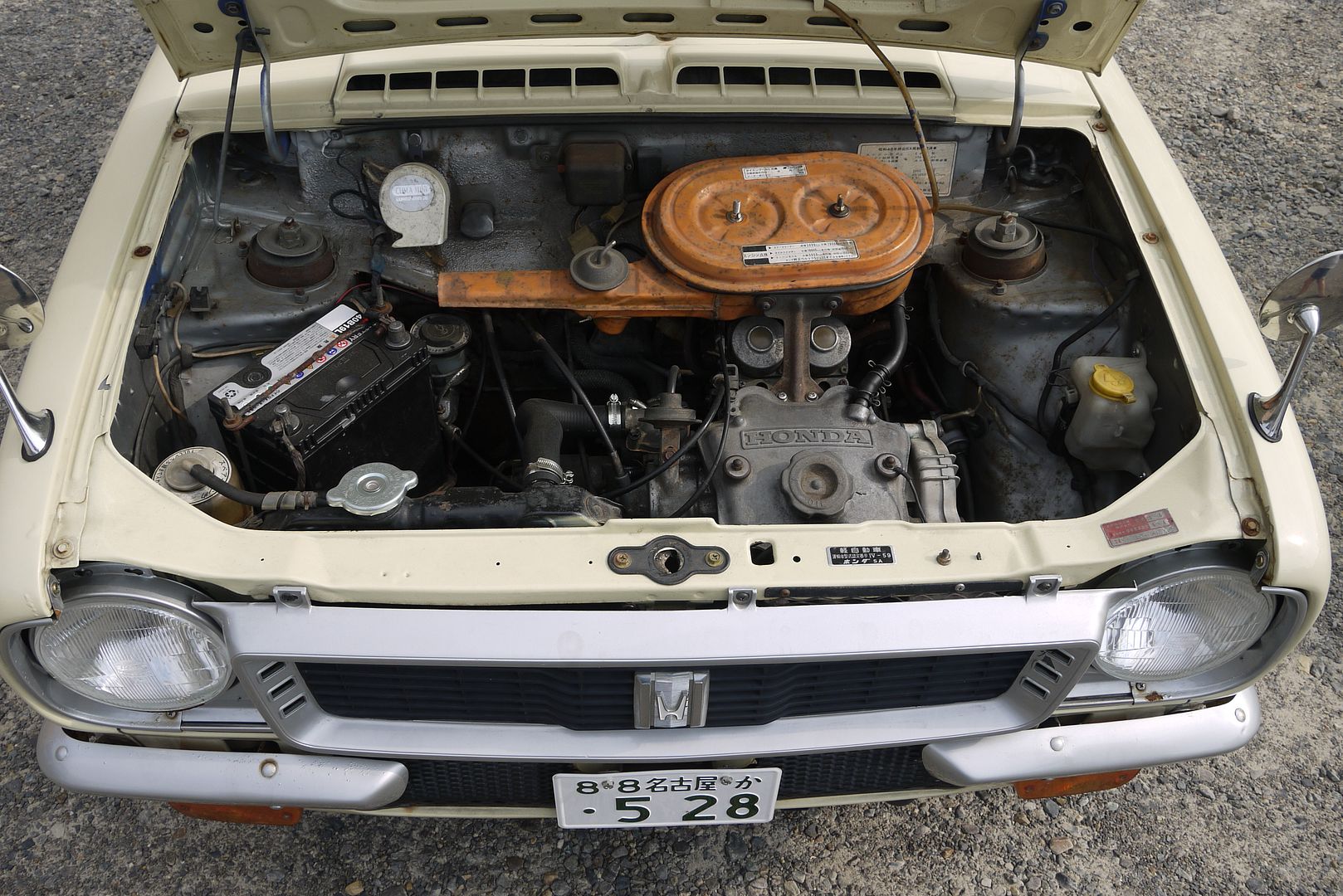 Mazda Carol 360: Inline, SOHC 4stroke, 4 cylinder producing 18 hp at some rpm.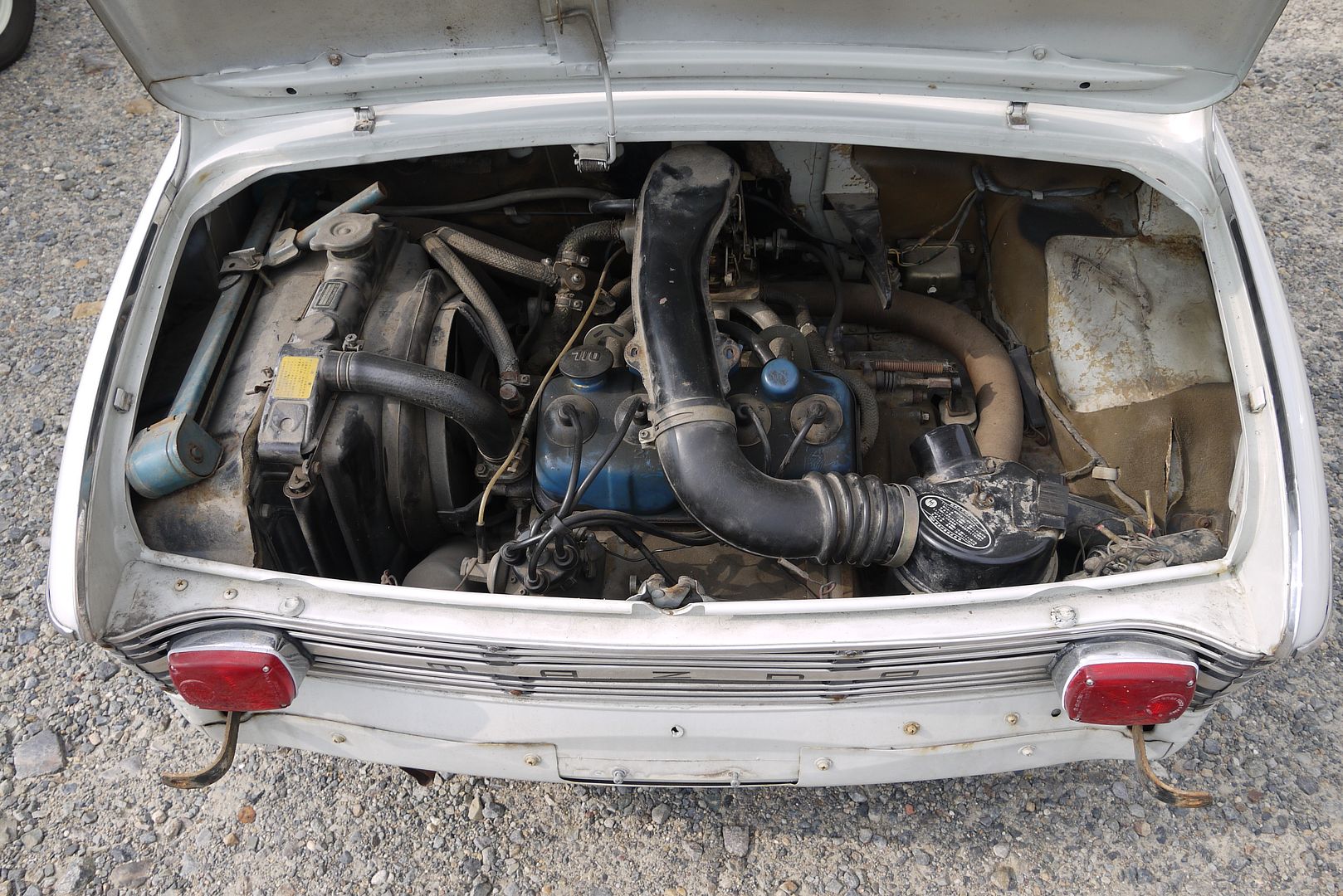 I then moved all three cars back over to in front of my place and called it a day with a job well done.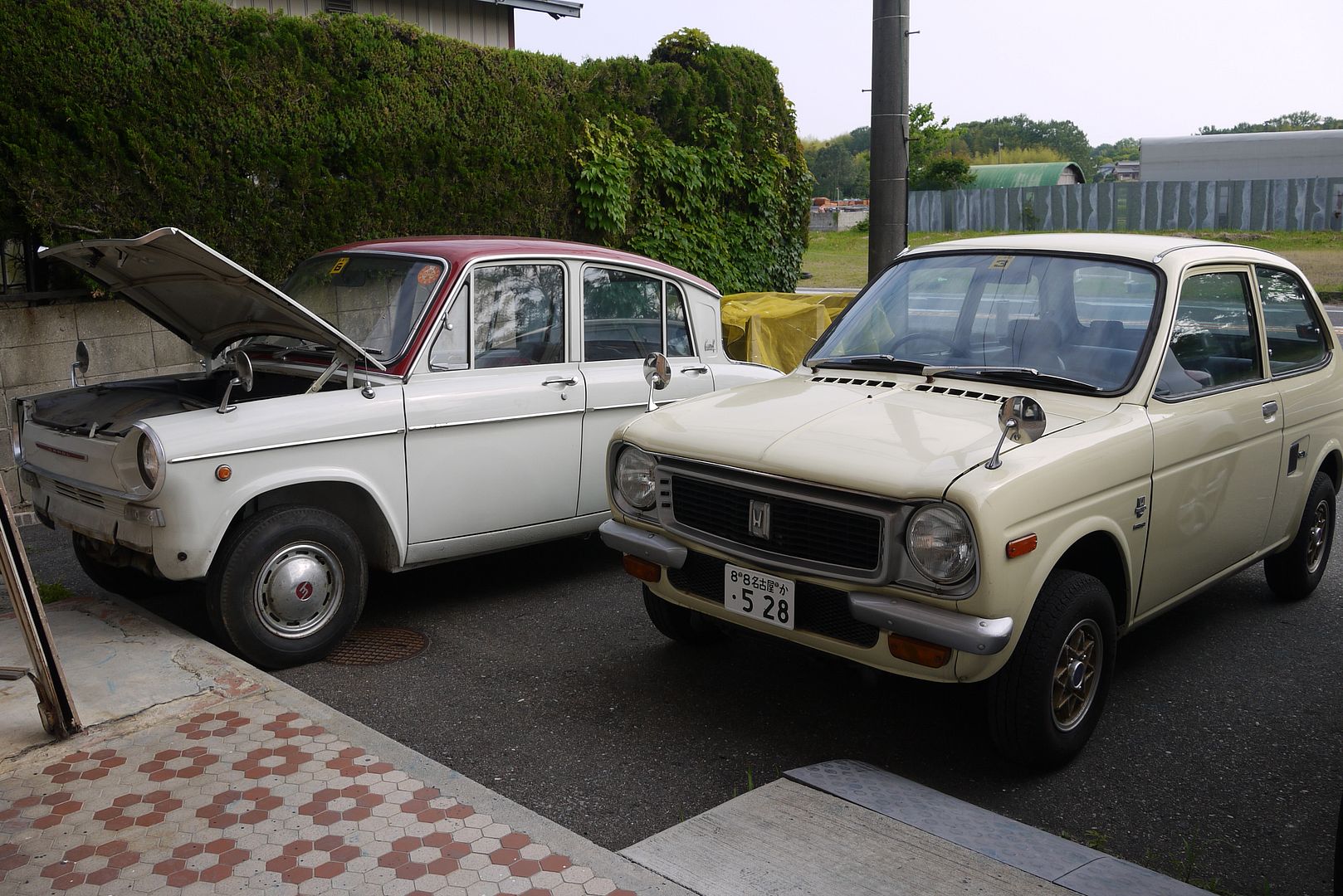 And here's where things get really fun. Kel and I were talking on a daily basis about the best way to get these cars back and he was totally awesome in hunting down pricing quotes. The man has a work ethic like no other! He was getting container quotes in the range of 4,000 to 5,000 USD, which is about what I was expecting to pay.
Out of curiosity though, he decided to look up some Roll On Roll Off prices. He managed to find two companies who would not only ship to America, but would do Roll On Roll Off to Glaveston, Texas, just a few hours drive from my pops' house! Not only that, the quotes we were receiving were about half the price of a container!
So, we made the decision to do Roll On Roll Off to Galveston. This would be far simpler and much more cost effective. There was just one slight problem with this. The car had to go, stop and turn under its own power. When the car was parked 30 years ago, no one drained the fluids, so everything was rusty and bad and in need of severe replacement. That would be hugely costly though, so it was time to see how much I coax back into life with minimal replacement parts.
I feel the most comfortable around carburetors, so that was my first course of action!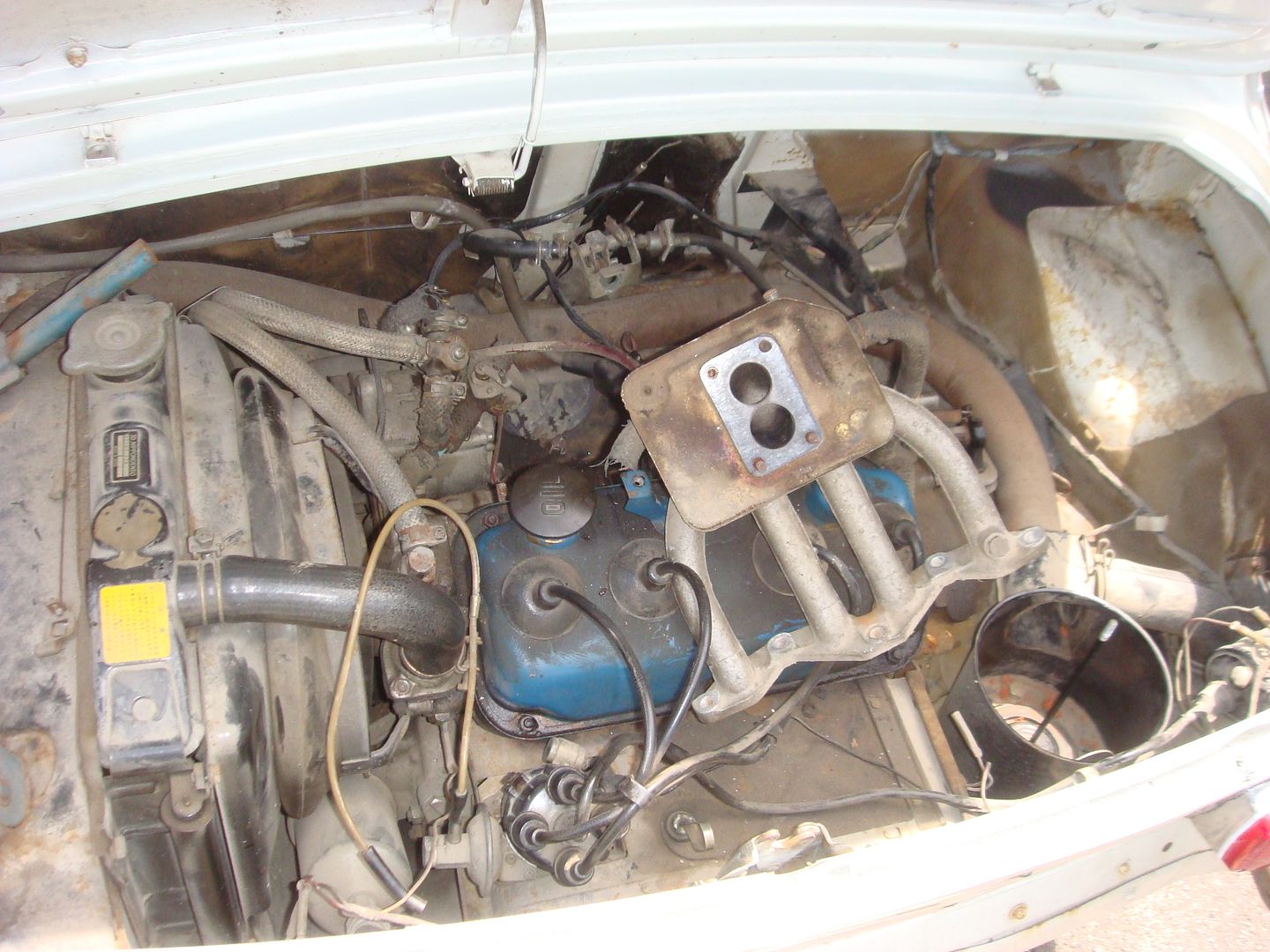 The carb had this wild design where coolant was routed into a pocket on the side of the float bowl to warm up the fuel.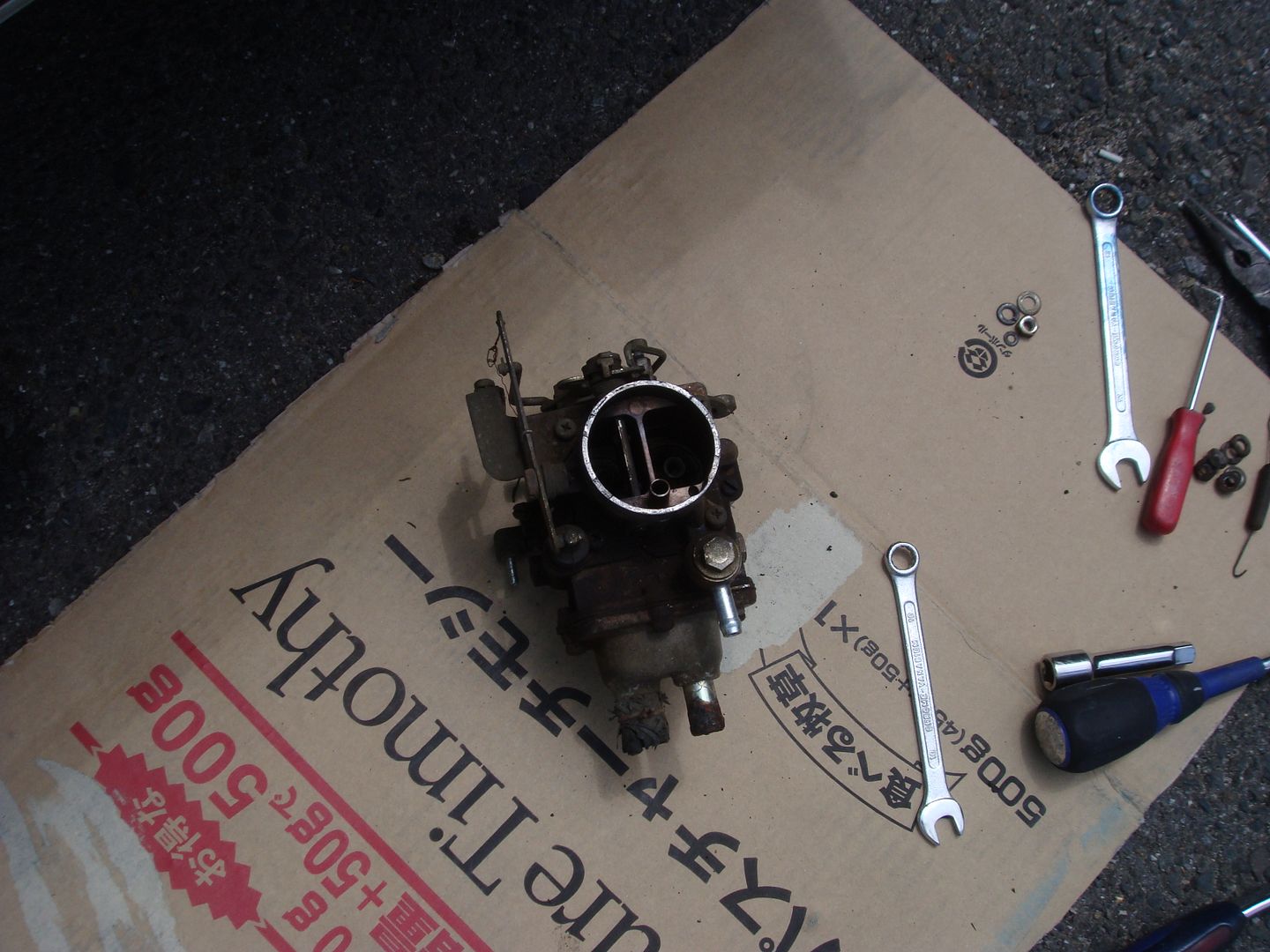 I dismantled it as far as I felt comfortable and started making new seals from old gasket material I had laying around.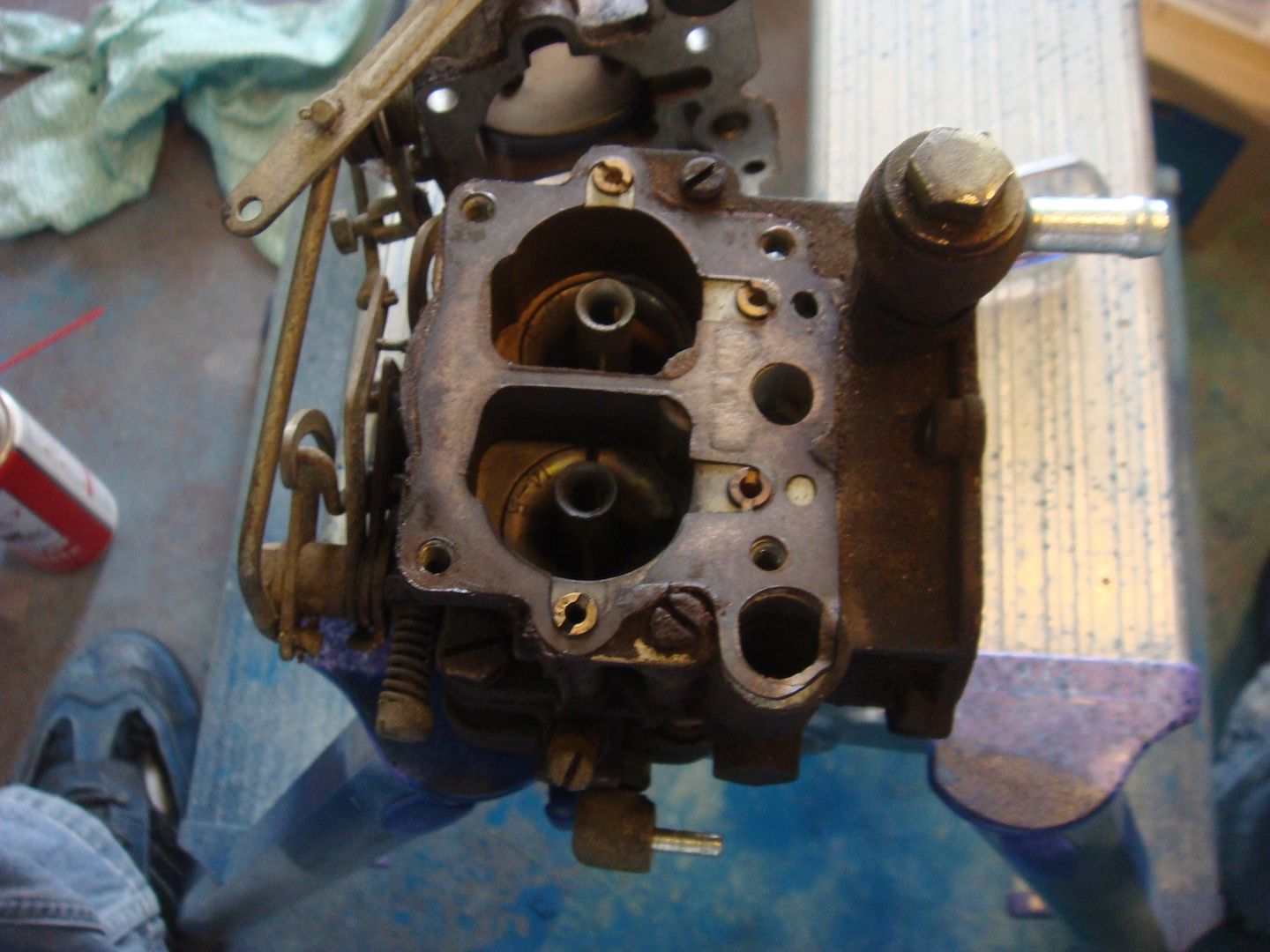 Zero dollar carb rebuild!
I got it back on the car and wanted to see if it would start. I knew it most likely wouldn't, but trying to start it would highlight other weak links in the chain that I could focus on.
The first weak link though was the fact that the starter refused to engage. After double checking all the ignition switch wiring and wiring to the starter, it was clear I had a dead starter solenoid. This put us dead in the water, but Kel, managed to find a shop up in Gifu that specializes in Mazda Carols. A quick call to that guy and this was on my door step shortly.
With that in, the engine would turn over, but only with the water pump/alternator drive belt off. The water pump was frozen completely solid. So, with the belt disconnected and a little bit of praying ,the car actually started!
Here's a short video of it running!
https://www.youtube.com/watch?v=-hlTi-rIjCE
Now that it started, I shifted focus to the brakes and the clutch, knowing that I could finish tidying up the engine bay later. So, the car went up on stands!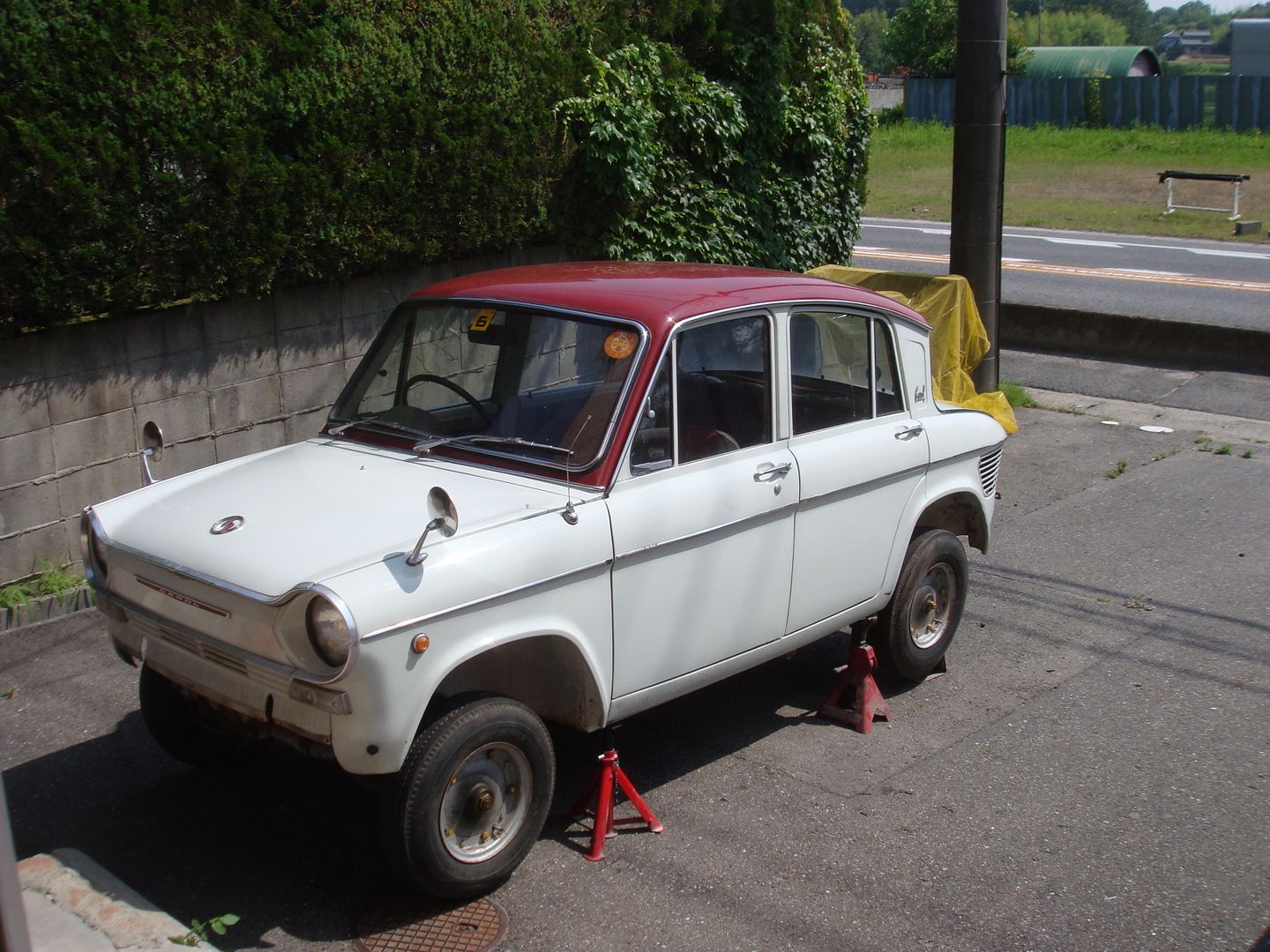 I pulled the front left wheel off and this is all that was there, two frozen wheel cylinders and nothing else. Fortunately, the remaining parts were hidden under the passenger seat.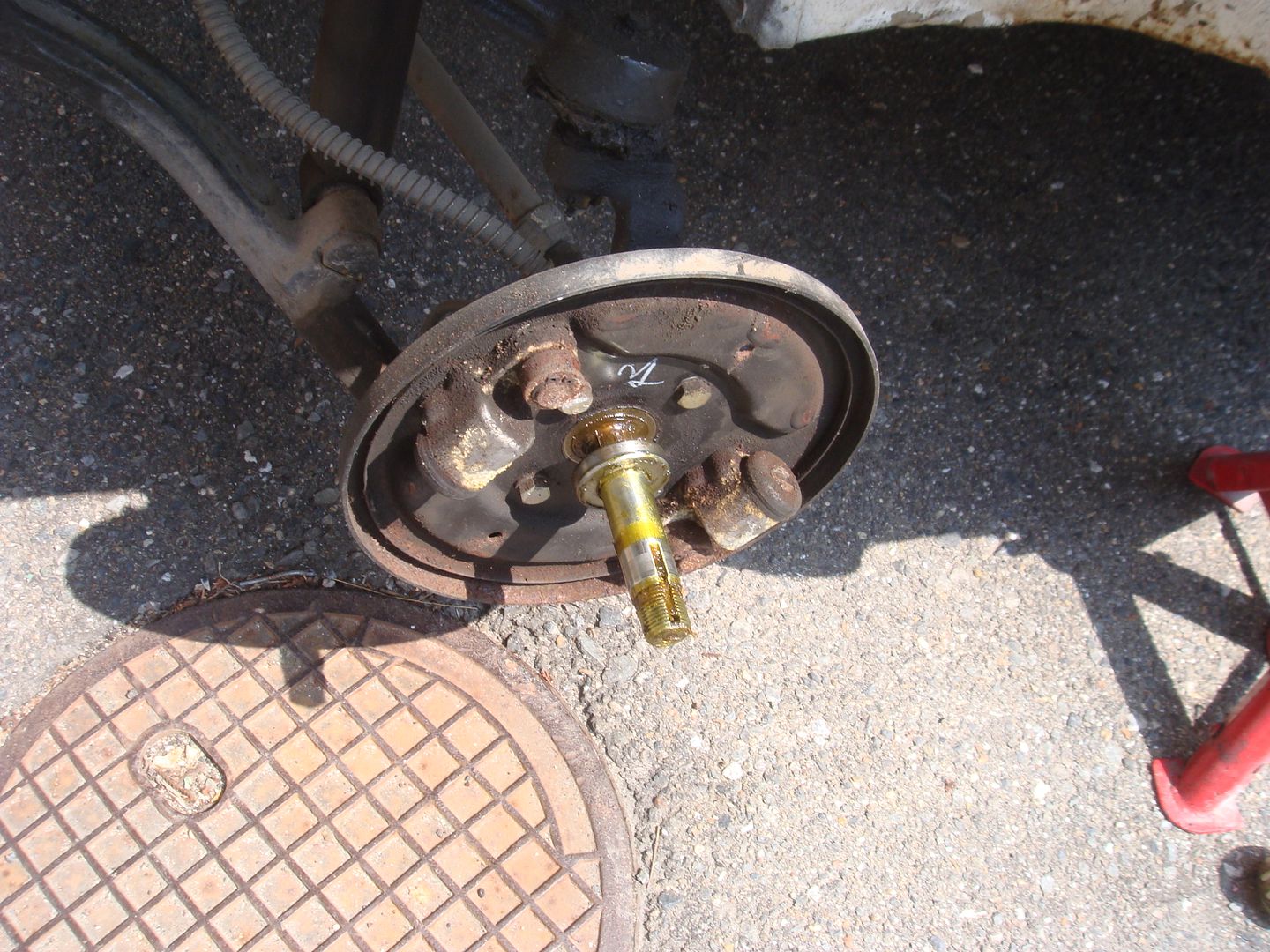 Fortunately, the driver side was more complete, although the wheel cylinders were still definitely frozen.
I managed to get the right rear wheel off, but the left rear wheel was so frozen solid I couldn't get it to budge.
I figured I'd deal with that when the time came and focused on the front instead.
With the wheel cylinders out, I dismantled them and was greeted with 30 year old solidified nastiness.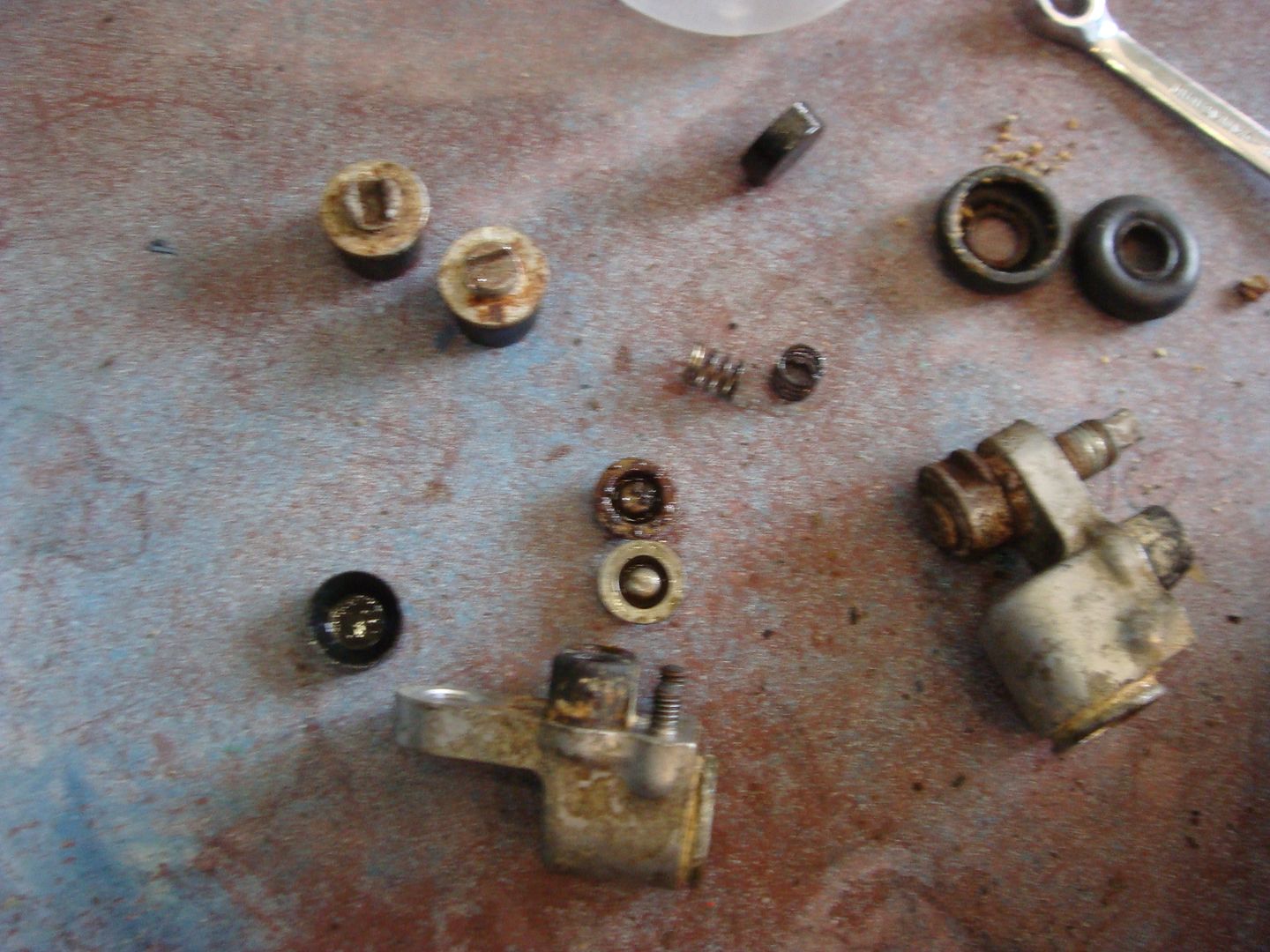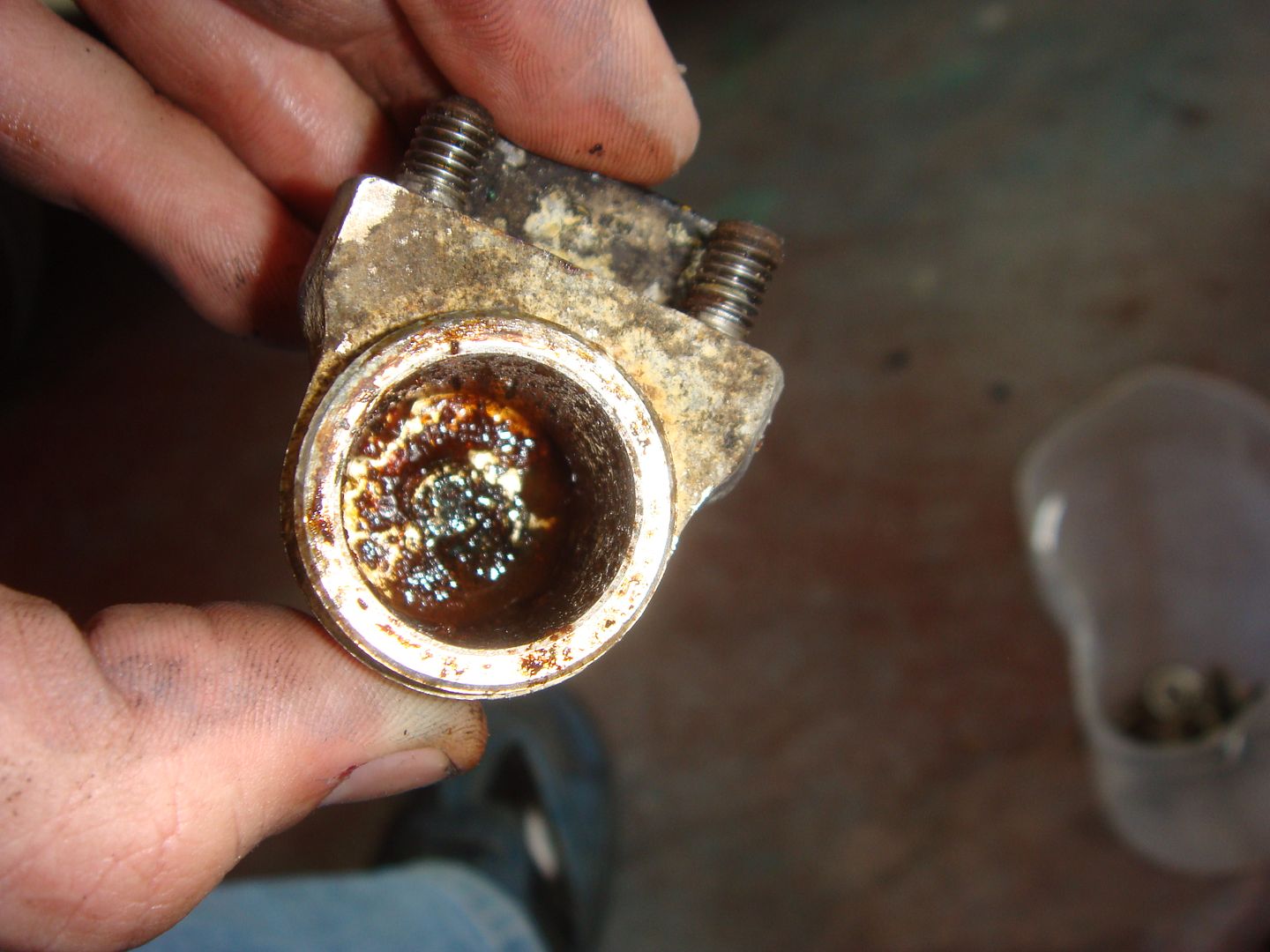 Fortunately, the rubber still looked mildly usable, so a clean up, some brake grease and back together they went. I knew that if the wheel cylinders were that bad though that the clutch and brake master would be no good too, so they were next on the list.
More in the next post!
The clutch and brake master are actually mounted inside the cabin on the old Carols. This means that if it decides to leak, it dumps fluid all over shoes. More importantly, for me at least, it means you have to fold yourself up under the dash to remove them. You can't just remove the master cylinders either, they have to come out in one piece with all three pedals!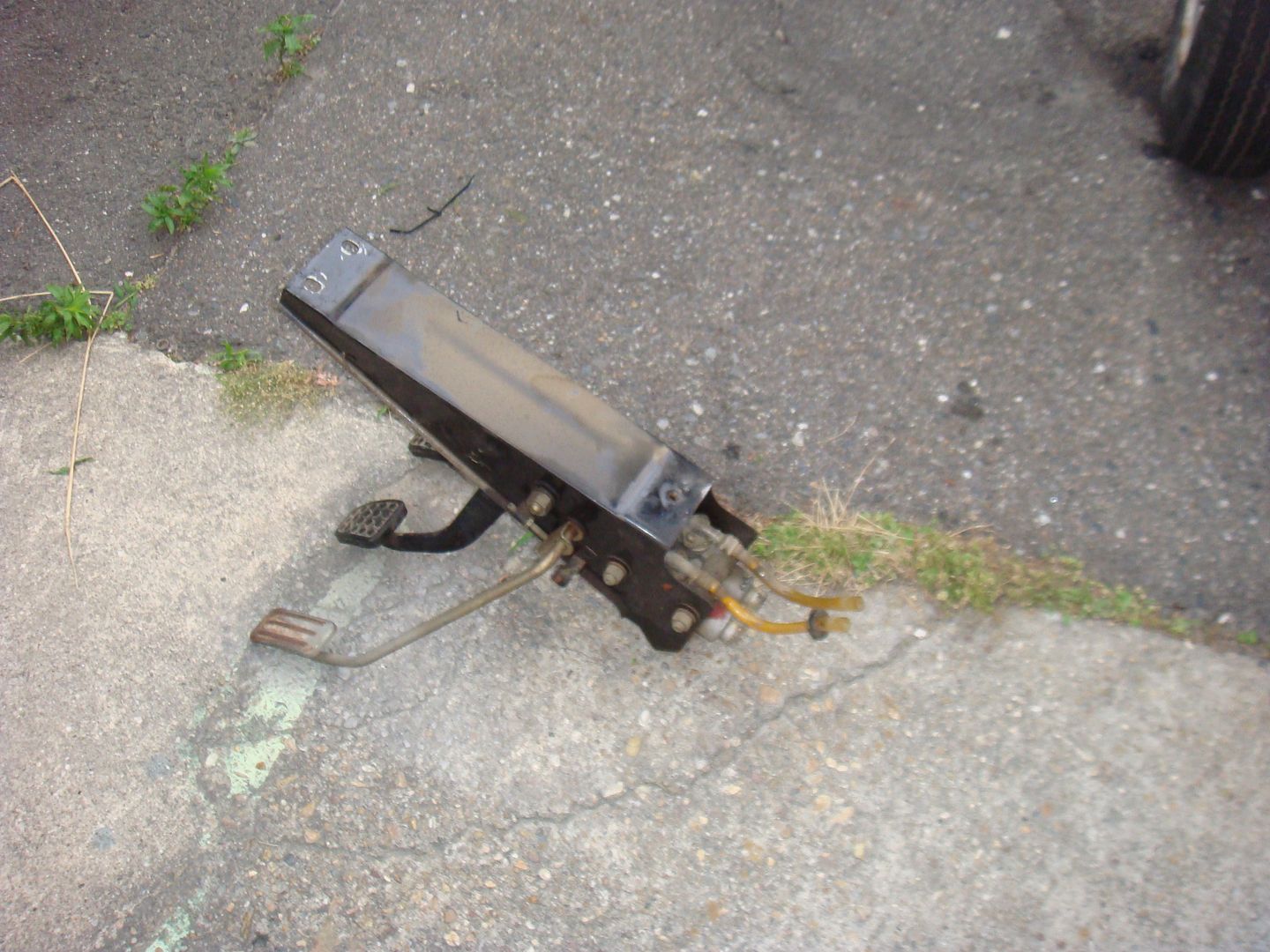 Certainly not an easy job, but an interesting design to say the least!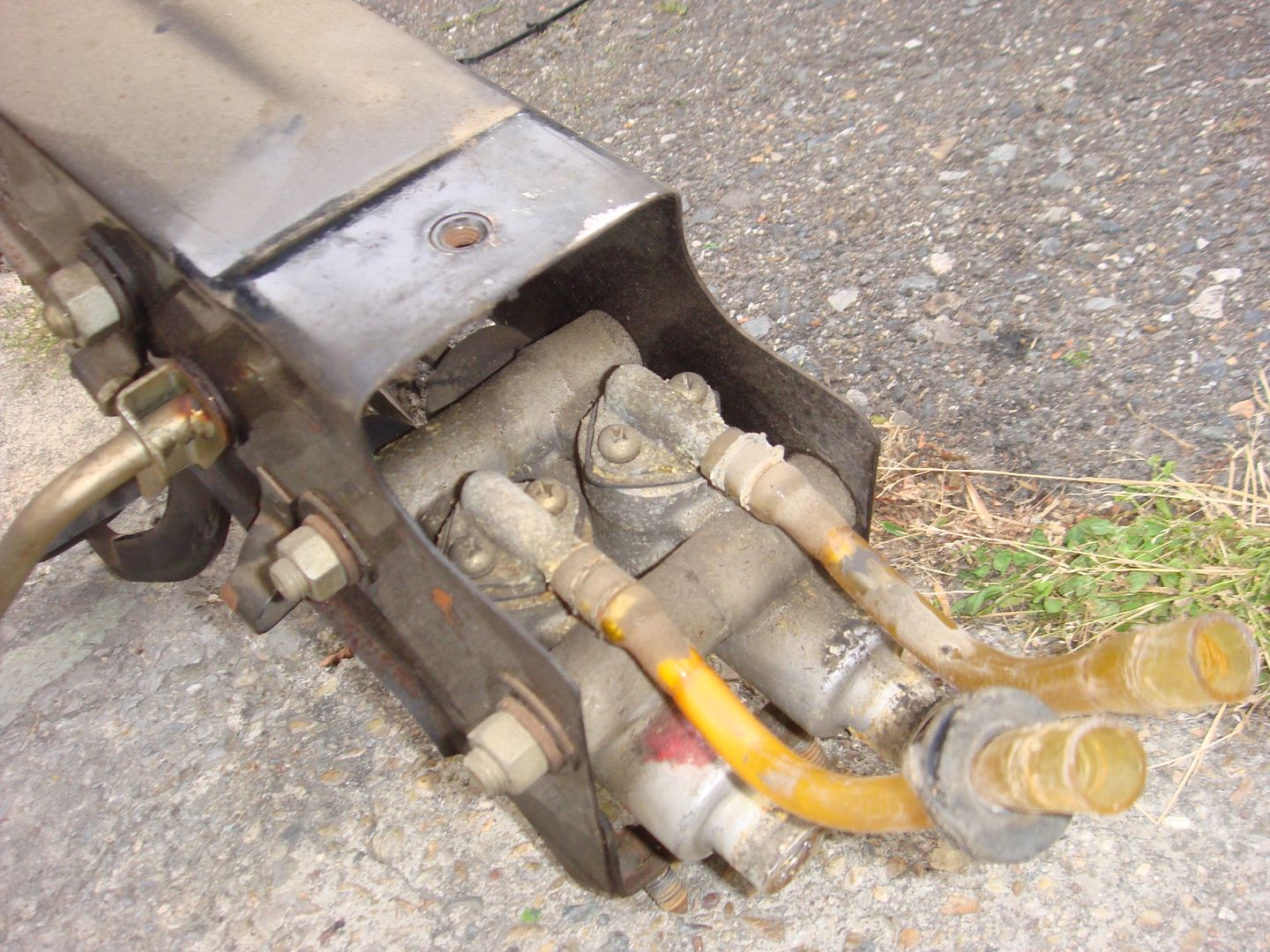 The clutch and brake master cylinder look identical externally, but there inner diameter is actually different. Also, they share a common fluid reservoir, which I thought was interesting.
Here is where the pedal box sits. You can see four holes on the firewall. The upper two are for the hoses to go to the reservoir and the lower two are where the ends of the masters stab through and have a banjo bolt connection for the lines.
Looking into the brake master, things clearly look not right.
The whole thing was so gunked up and seized that no amount of work could break it free.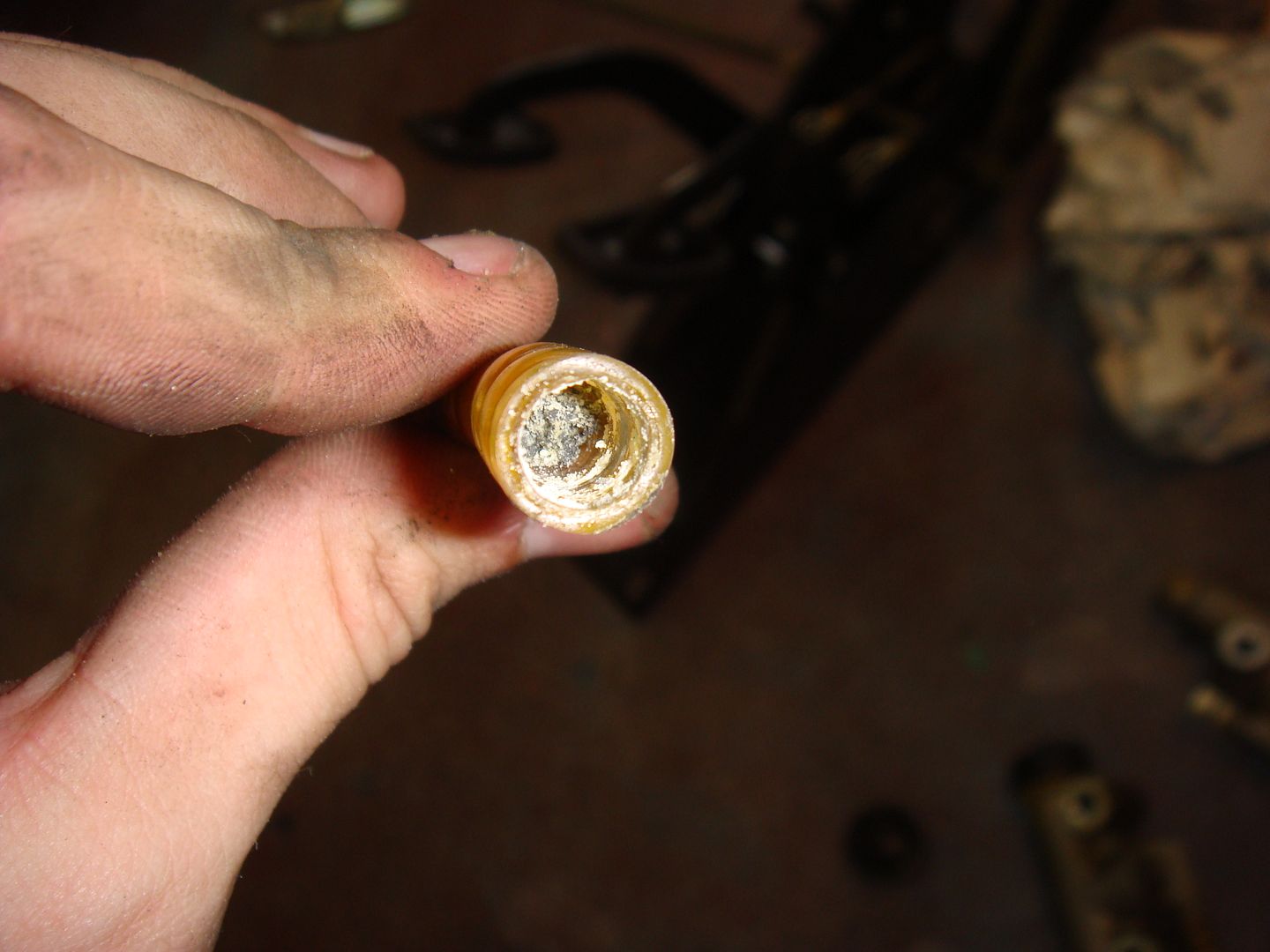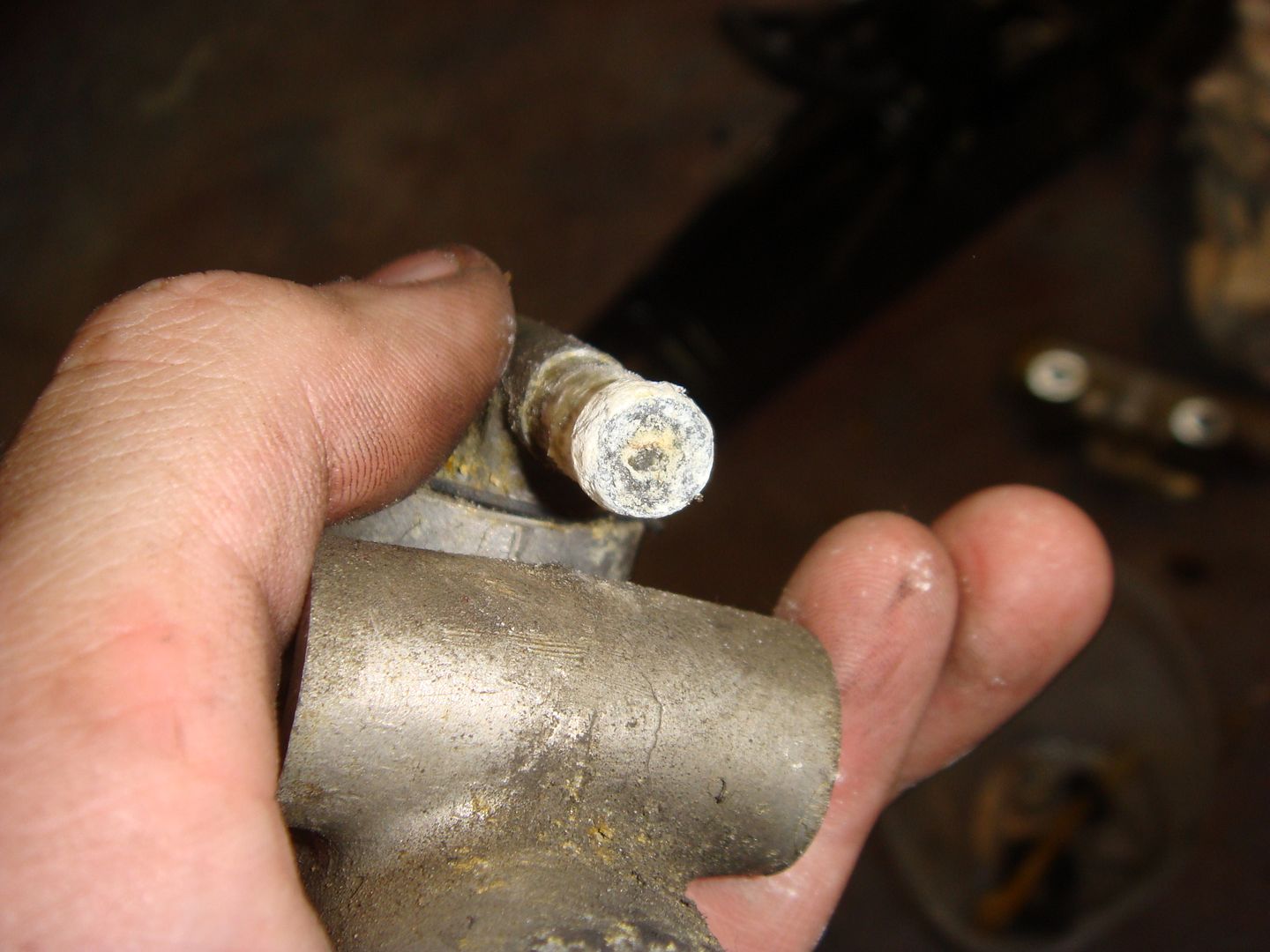 This required a trip to Standards in Gifu for some replacement parts. I wanted him to look at the actual master cylinders and see if he had any ideas, so I head up there personally!
This place was awesome! He had so much cool stuff floating around, even an R360 awaiting restoration…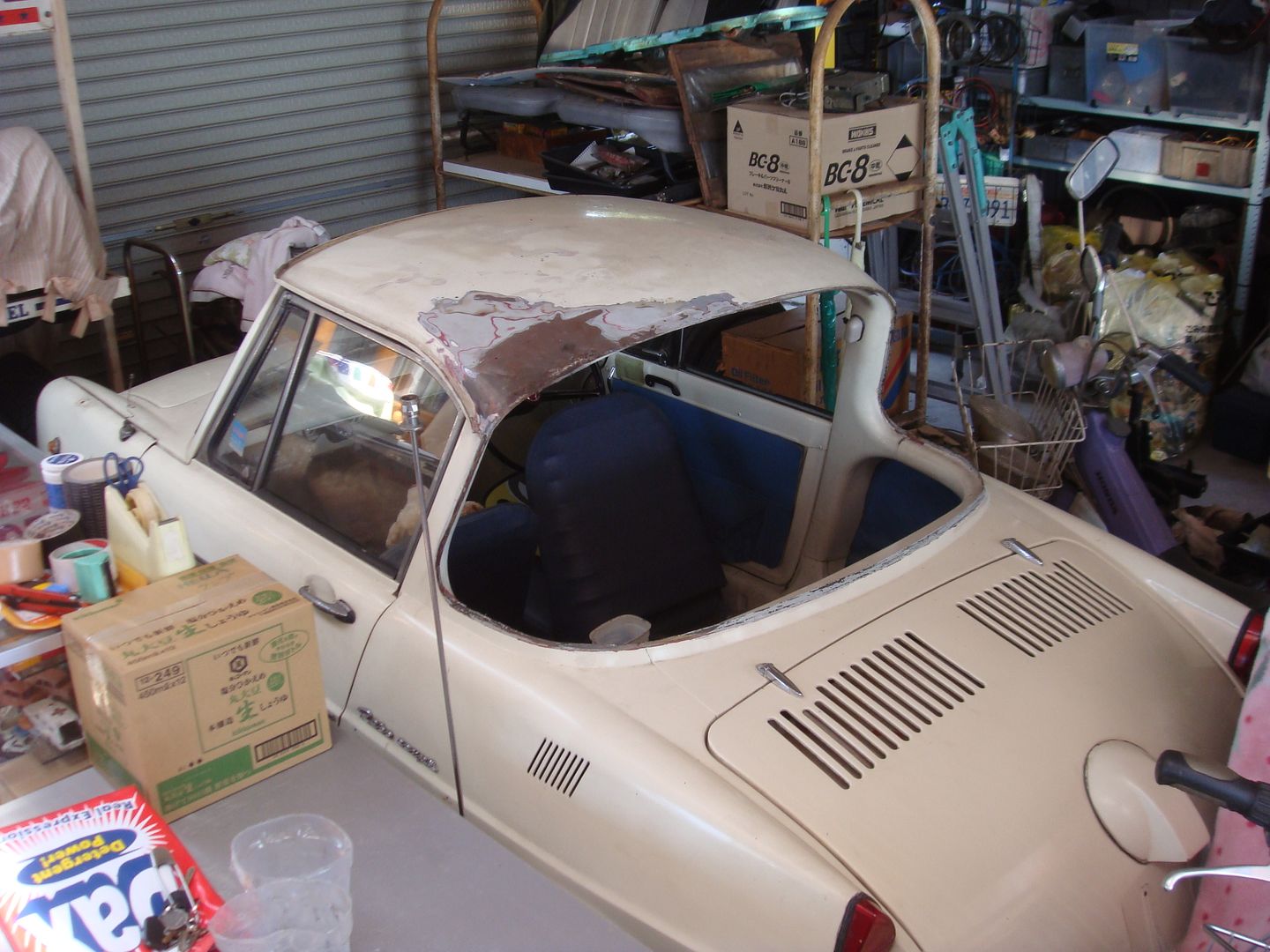 … and a B360 out back!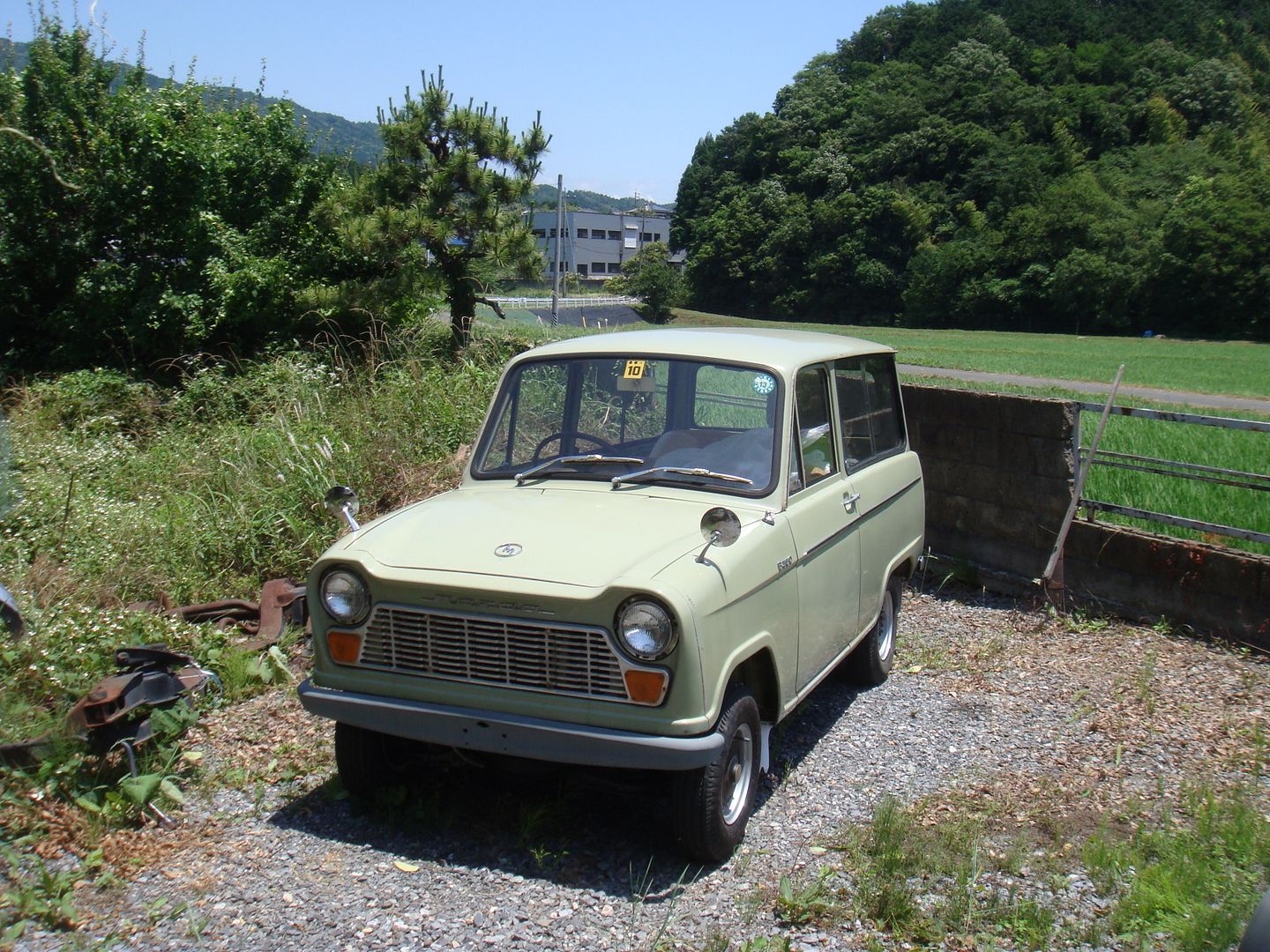 This place was so awesome, it deserves its own thread and quality photographs. I've been trying to get back up there on a nice sunny weekend to grab more pictures, but I swear, every time I clear my schedule to go, the sky opens up and dumps rain. Soon though, soon!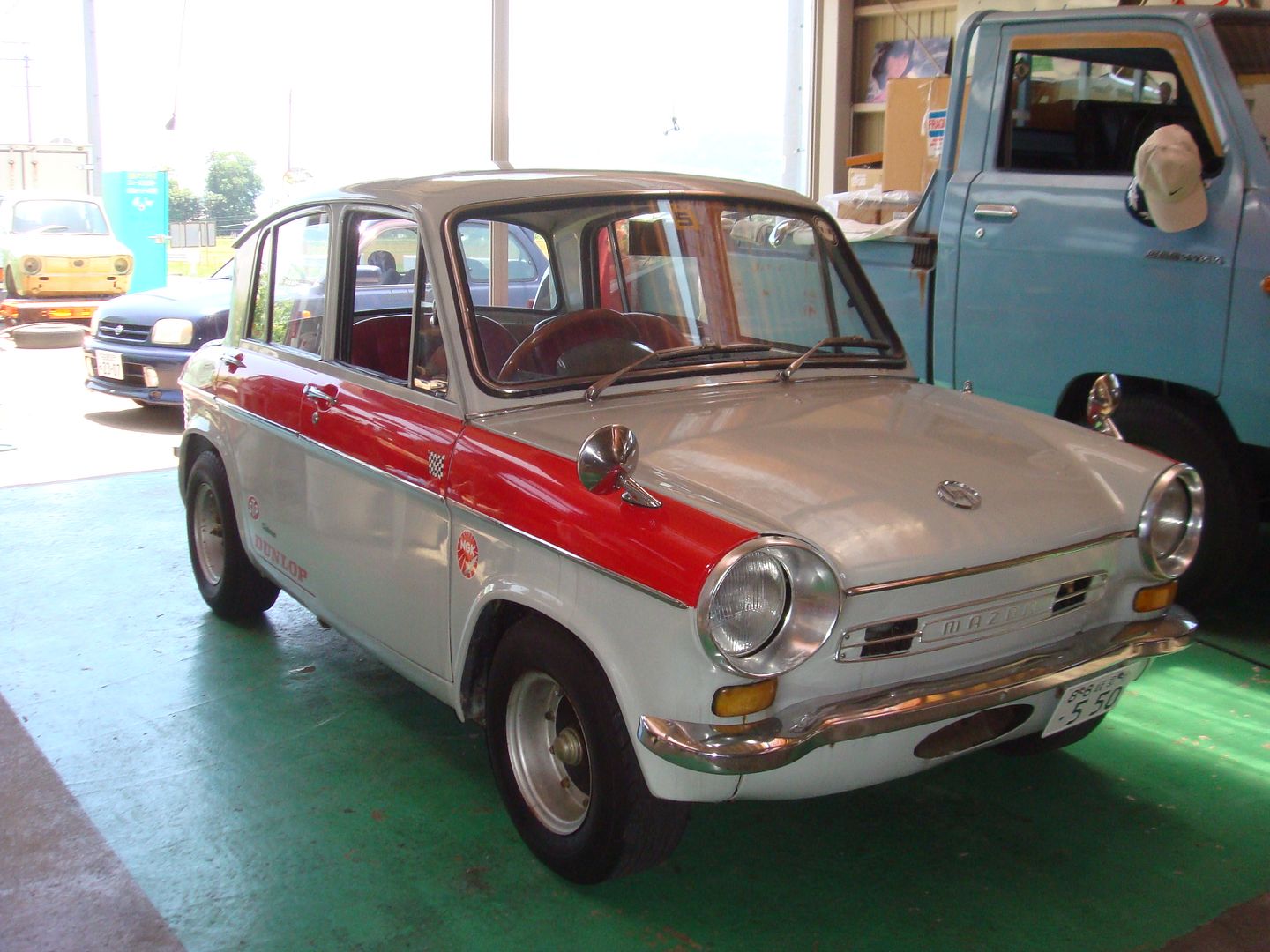 At any rate, he had two new (used) master cylinder bodies for me and new rebuild kits for each one.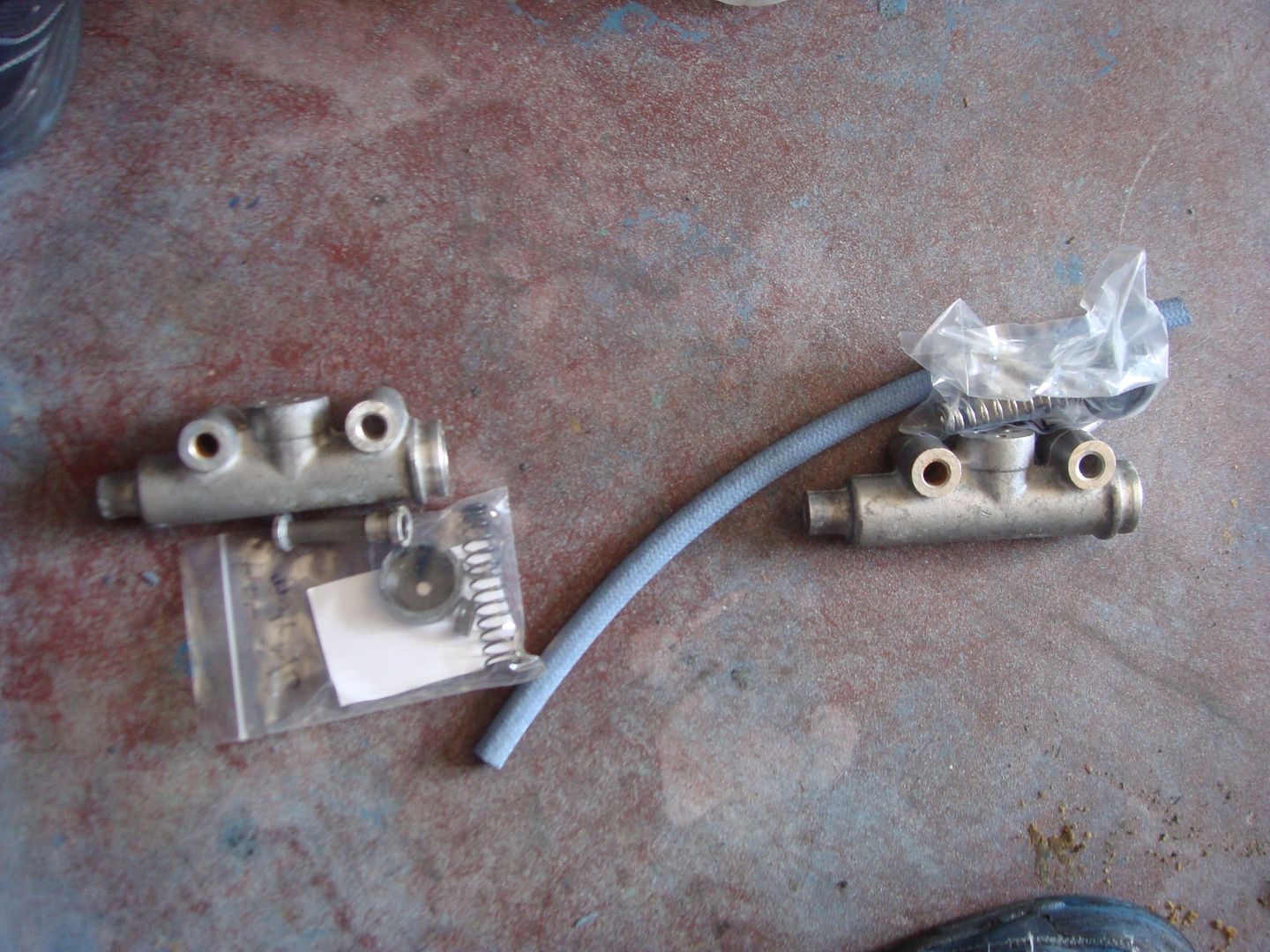 Back home I got them all together and reinstalled.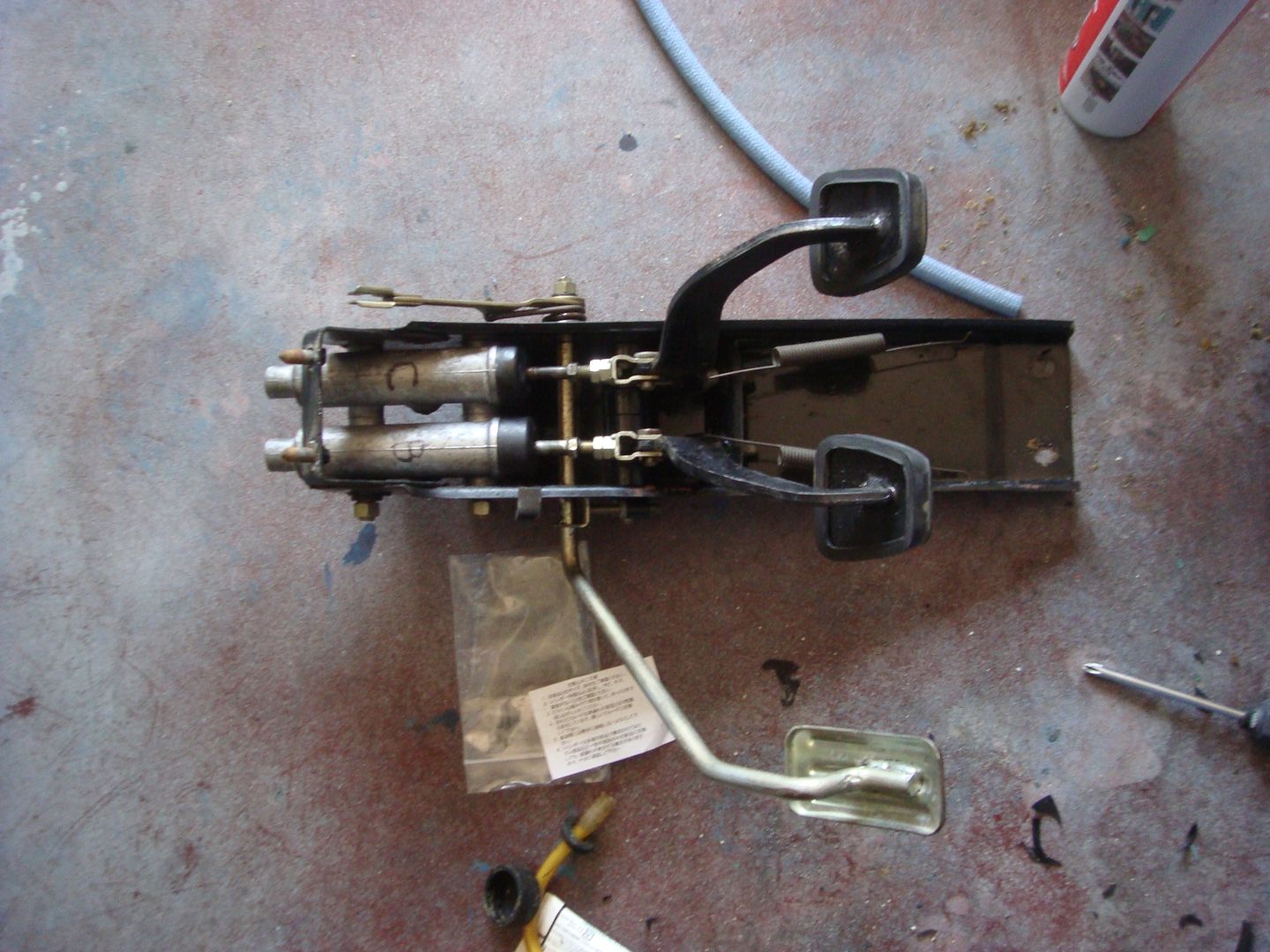 I still had a few problems to sort though. First, the rear brakes. Instead of battling to get the rear drum off, I just decided to block off the rear brakes all together. I took an old brake pipe and fitting I had laying around, welded it up tight and then threaded that in place of the rear line. For the speeds the car would be going to make it onto the boat and off again, front brakes only would be plenty.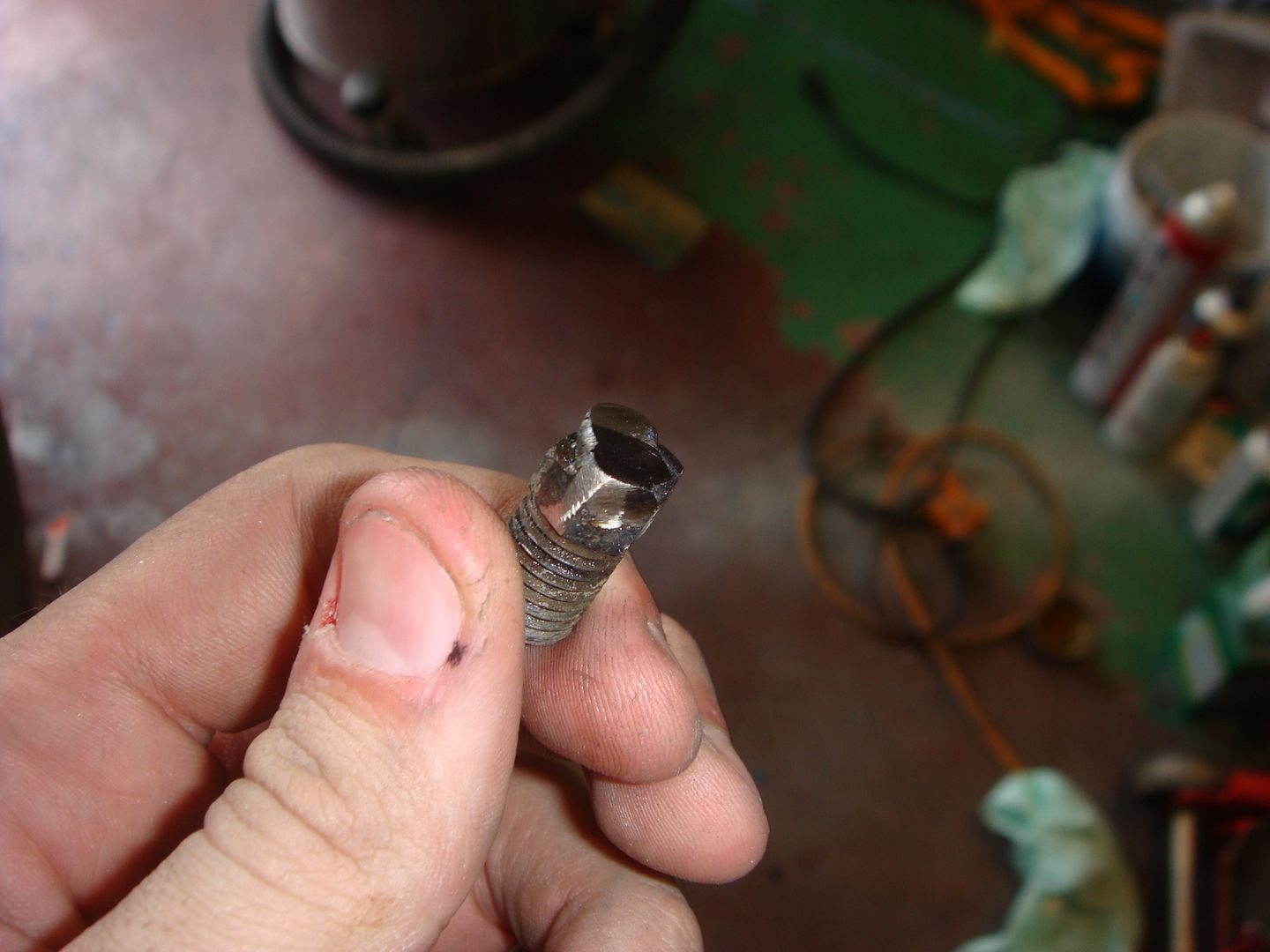 For the clutch system, the slave was well and truly frozen solid too. Unfortunately, Standards didn't have a good replacement. That was going to need some ingenuity. Since I didn't have anything that would work on hand, I switched gears and went back to work in the engine bay.
Knowing that the water pump needed to come off, I pulled the thermostat housing off and ripped the thermostat out. I was greeted with some grossness to be sure!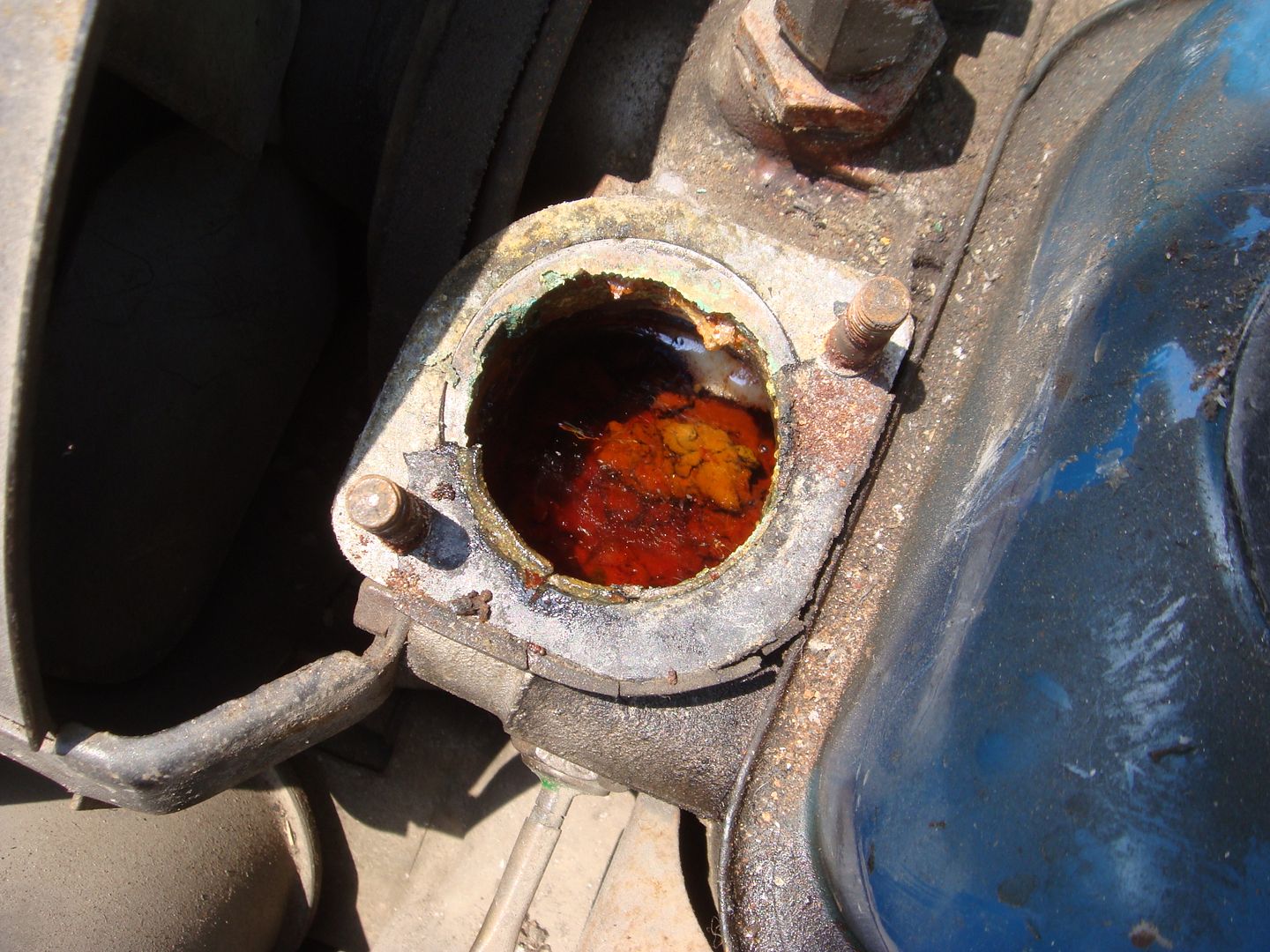 After some work I managed to pry the water pump off. It was not a pretty sight.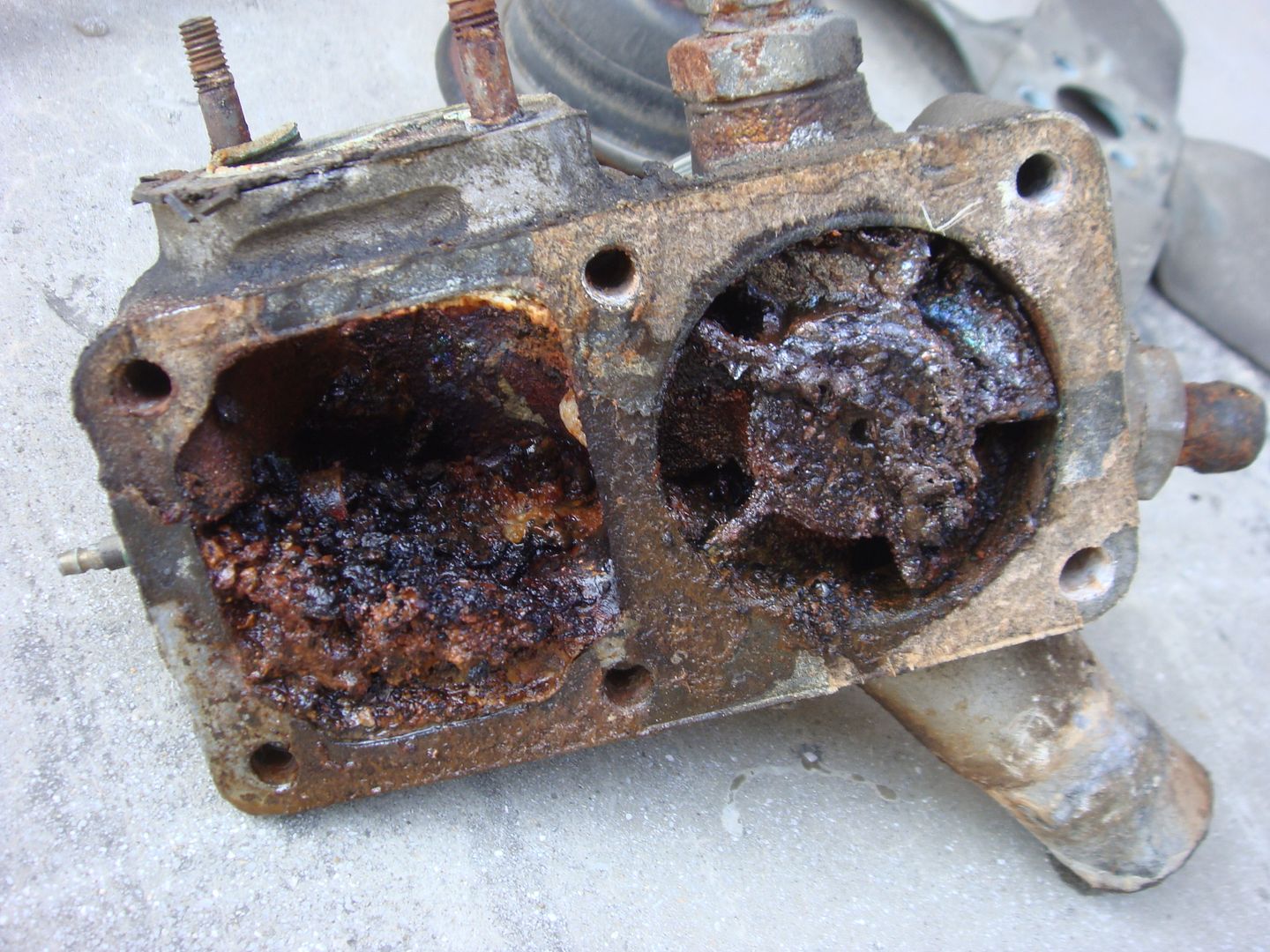 Replacement water pumps, if you could find one, were in the neighborhood of 300 bucks, so we needed to figure something out for this one. I chiseled off as much of the crap as possible and spent about an hour slowly massaging it back into life. It rotated and didn't sound too awful. I cut out a new seal for it and mounted it back up to the engine. Surprisingly, with the engine running, it turned just fine and only made a mildly alarming whine. I reckoned it would last maybe an hour tops, but that should be just enough.
I popped some new spark plugs and changed the oil in it and it was a different machine. Starting much easier and sounding much livelier. Here's a quick video.
https://www.youtube.com/watch?v=QuUtHuro93U
I immediately ran into another problem as soon as I put water in the radiator. One of the outlets come out of the water pump and runs to the intake manifold to act as a sort of warmer. From there it runs over to the opposite side of the head where it hits a plate that lets the water flow into the head. I bypassed the intake manifold, but the plate was dumping water. I pulled it off and it was clear to see why.
Rust had turned it into Swiss cheese.
So, I grabbed some aluminum and made a new plate.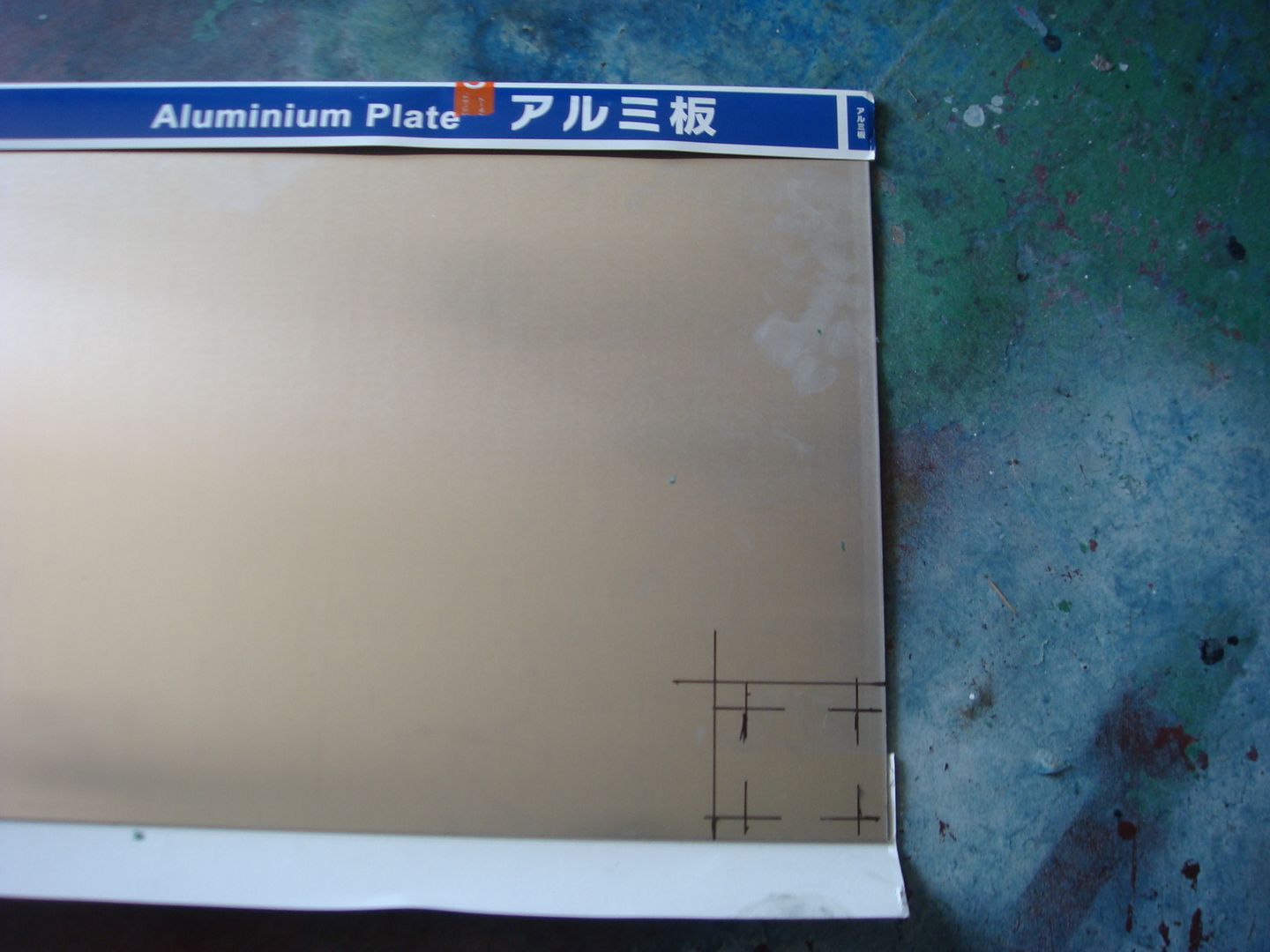 With everything in and sealed, it didn't leak a drop! I left the thermostat out to try and drop the pressure in the system as much as possible. Also, I didn't care if the engine never warmed up, I just didn't want it to overheat and seize. The water pump was pumping, albeit in a leaky sort of way.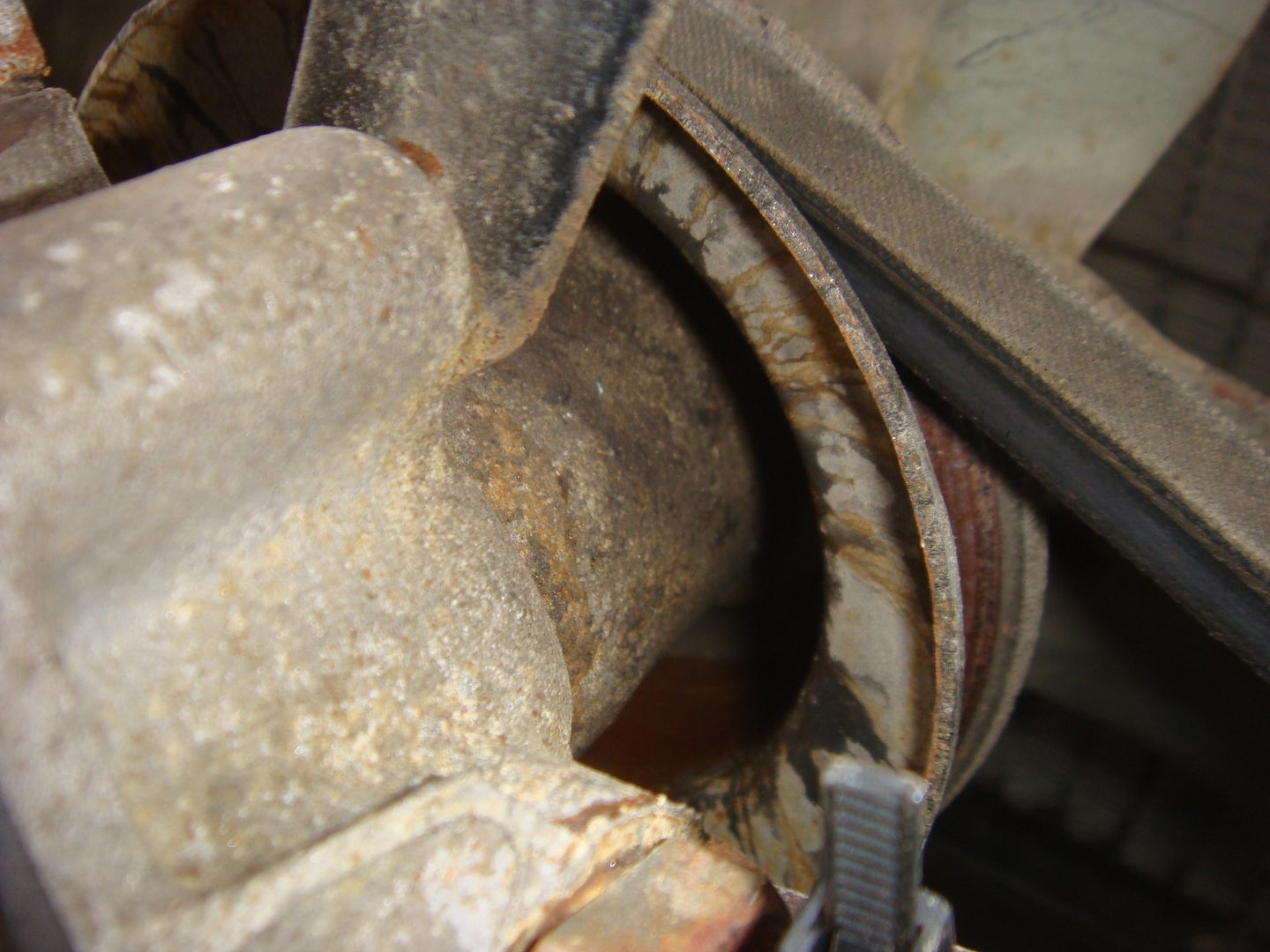 I was expecting that and it was minimal enough that I think we could sneak it onto the boat before anyone noticed. That just about buttoned the engine up completely! It started like a top, ran great and sounded good.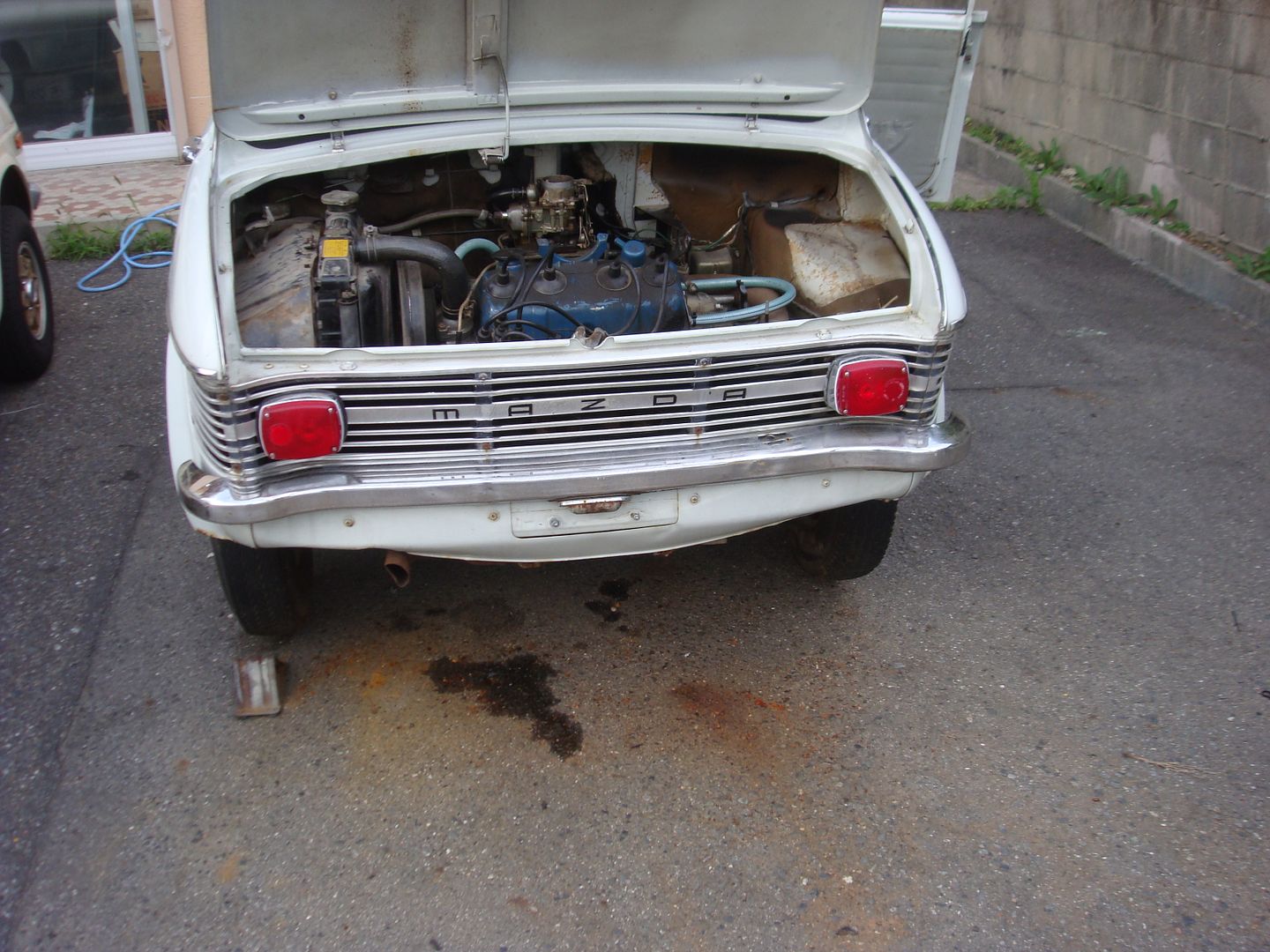 It was time to get back to work on the clutch.
That clutch. I have never hated working on a car as much as I did when working on that clutch.
That story to come in the next post!
The clutch slave was completely dead. No amount of heat, hammering, penetrating fluid, etc. could get it loose. It was time to find a replacement. Only there are no replacements. I measured the broe and started looking for slaves from other cars with the same bore size. I found this Nissan one and purchased it.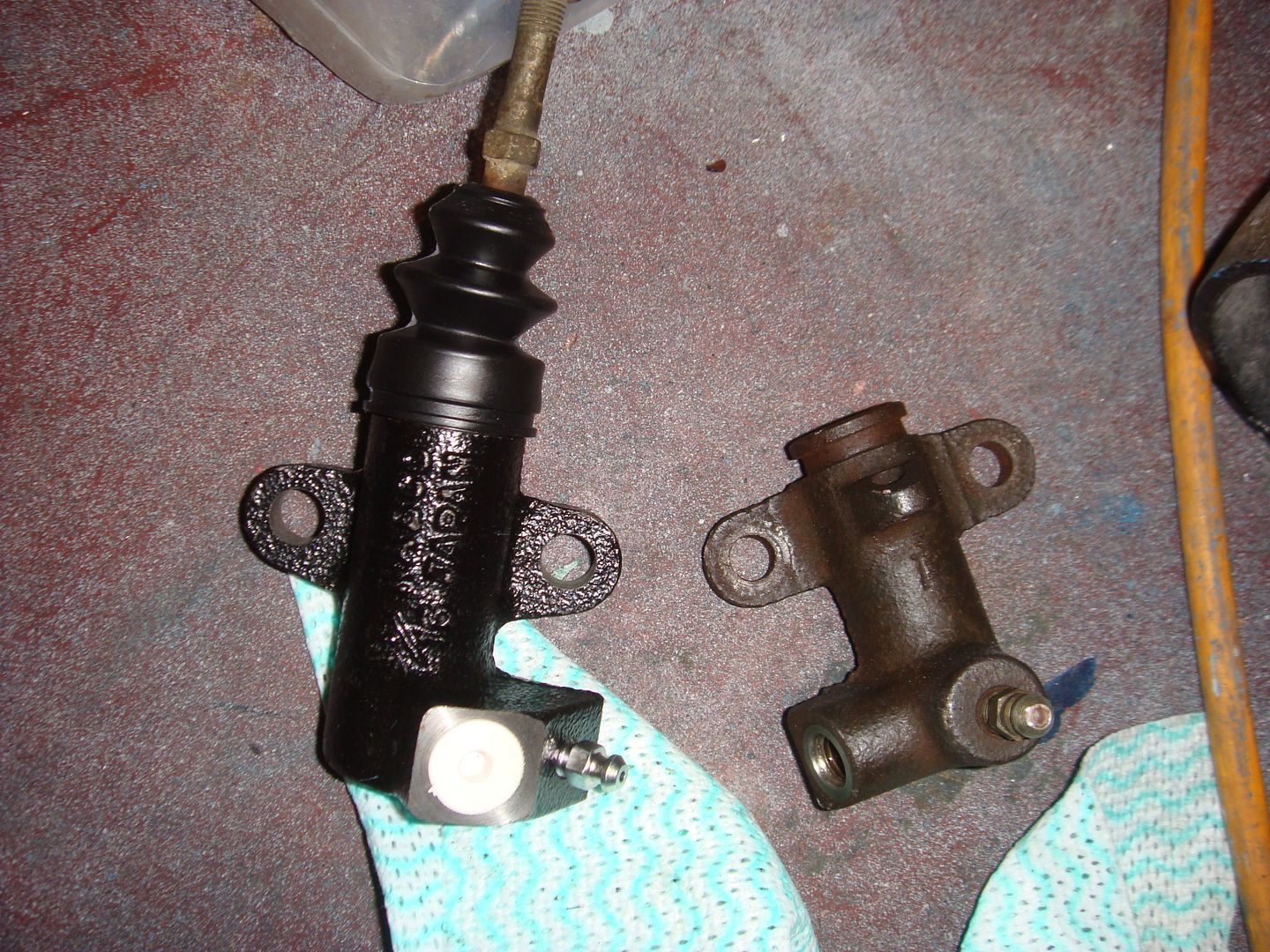 You'll notice a couple massive problems right away. The inlet is vertical instead of on the side and the bleeder is on the opposite side. That's not an impossible situation to deal with though.
It's a much beefier cylinder, but the same size, so I should get eh same amount of travel. I had to grind a corner off the head to clear the bleeder, but that was fairly easy. The next problem I had was a mismatch of thread pitch. Old Kei cars, for some reason, love to use M10x1.25 while anything modern uses M10x1.00. This meant I needed something to go between the two.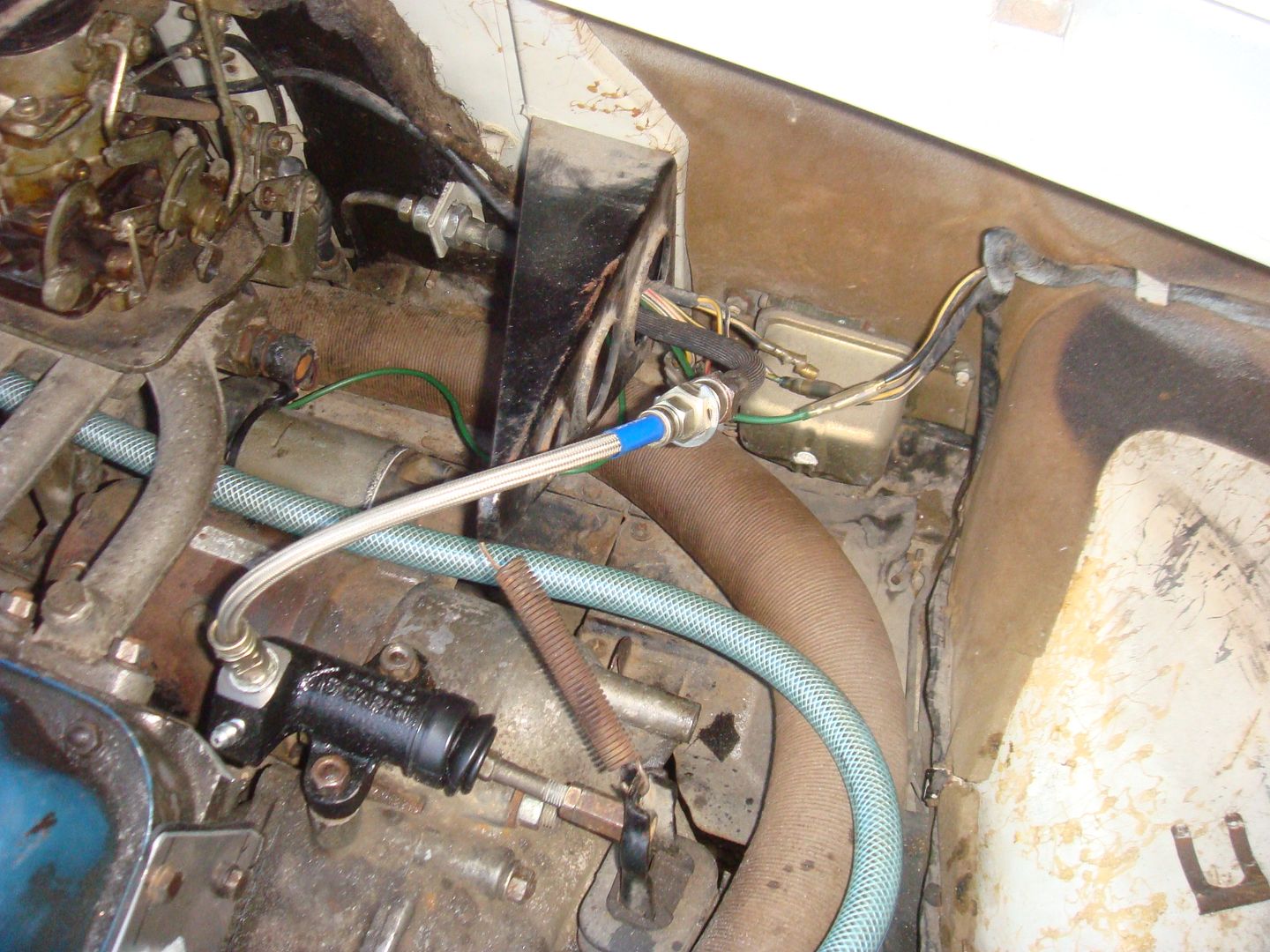 The stainless line you see is actually a brake line from an AE86, my old crashed AE86 to be exact. I removed the female end and re-threaded half of it for M10x1.25. Then I ran the M10x1.00 side into the slave cylinder. It was ghetto, but it worked.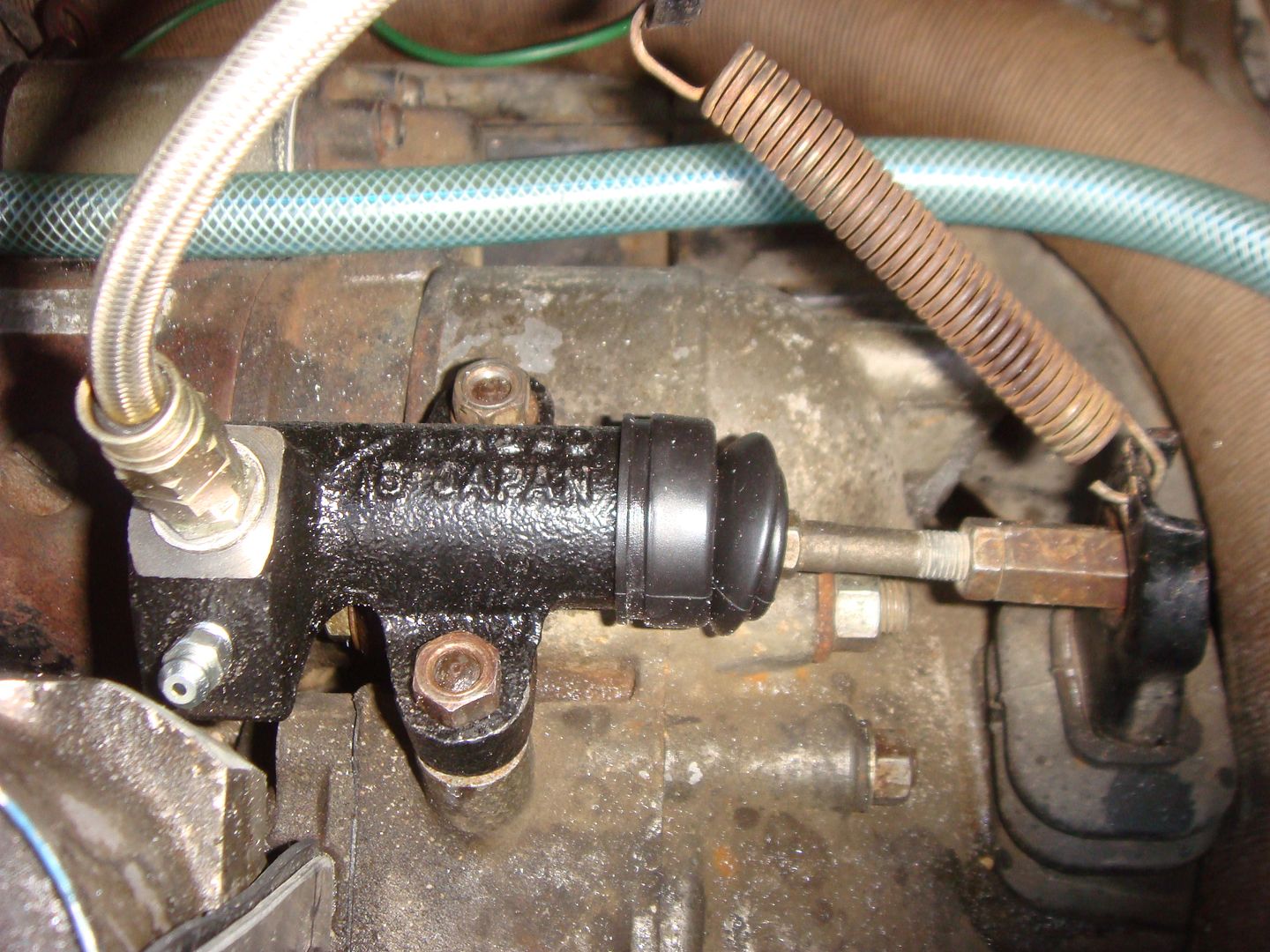 After some work and a lot of adjustment, we finally got the system bled!
Here's a video of the first test drive!
https://www.youtube.com/watch?v=vy0NqkJcpCg
We were all ready for the car to be shipped. We made reservations on the boat, rented a tow truck and both cars were ready for their trip across the world!
"But David," you say, "I thought you said the clutch was really difficult and you hated working on it, this all seems rather simple."
You're right, it was rather simple. But the clutch was just waiting to strike the final blow. I didn't get any pictures over the next week, so this next bit is going to be very text heavy. This is how the next 7 days went down.
It was Sunday evening and we had rented a tow truck for next Saturday. In 6 days, we'd be taking both cars to the port and then in 15 days, they'd be on their merry way across the world. After three months of work it looked like I was finally able to breathe easy.
I was getting ready to shut down the shop for the night that Sunday when I decided to take one final look over the Carol. I looked inside and noticed a pool of liquid in the driver's side footwell. A quick inspection revealed that the clutch master cylinder was leaking. Disaster! I went furiously to work. I pulled the pedal box out, removed the master and pulled it completely apart. The bore of the master cylinder looked a little rough, so I decided to get it rehoned. Unfortunately, most shops are closed on Mondays, so I had to wait until Tuesday.
Tuesday rolled around and my beautiful fiancée, Miki, took the master cylinder to Classic Car Nagoya to get them to clean it up while I toiled away at my day job. As soon as I got home, I changed clothes and went straight to work. We got the master cylinder in and started bleeding it. Three hours later the clutch still refused to bleed and the master cylinder started leaking yet again.
Miki knew that if we didn't get this thing back on its feet and moving under its own steam in just 6 days, we'd have to push the shipping date back an entire month and we'd have to cancel all the reservations we made for the tow truck and boat. We needed it to work. So she agreed to take it to Standards in Gifu first thing Wednesday morning.
The next day I rushed home from work, changed and went straight to work. I was beginning to think I was Bill Murray because Wednesday was turning out to be a carbon copy of Tuesday! After three hours of the thing failing to bleed, we threw in the towel once it started leaking again.
Thursday rolled around and Miki was back at Gifu asking for more help. The totally awesome dude at Standards exchanged bodies, rebuilt the insides and Miki brought it back home. I again, rushed home after work, changed clothes and got to work. Things were going better and we were starting to get it bled, but as soon as we got substantial pressure in the system, the seal let loose in the master, dumping fluid all over the driver footwell, again.
Knowing that Friday was it, I removed the entire pedal box and asked Miki to take the whole thing to Standards to see what he could do. She agreed, feeling as exhausted and frustrated as I was. The guy at Standards knew the stakes were high and he pulled out all the stops. He called his friend who's particularly good at massaging hydraulics back to life and they spent an hour working on the master cylinder. They thought they had it good and it wasn't leaking so Miki brought it back home and I got to work getting it back into the car.
After two hours with no noticeable progress bleeding it, I was trying everything. I was sucking fluid into a long tube and then blowing that fluid through the line and all the way out the slave cylinder, just so I knew that the line and slave was 95% bled. Bolt it all back together and nothing. Finally, I removed the fitting and held my finger over the end of the master and asked Miki to pump. Nothing. No pressure whatsoever. We weren't leaking, but something was clearly not working. I tried everything I could think of toget any air bubbles that might be trapped in the master out, but given that the pedal box has to do some pretty spectacular acrobatics to be removed and installed, bench bleeding was out of the question. Finally, at about midnight, we called it. Something was broken and perseverance wasn't going to fix it.
I got online and talked to Kel. I had been keeping him up to date all week and he knew that chances were dwindling quick. He had talked to our broker and we decided to go ahead and ship the Mitsubishi this month and then get the Carol finished and let it go next month. He was, understandably, heartbroken, but he understood that these things happen.
Saturday morning we loaded the Mitsubishi up and headed to the port with somber faces.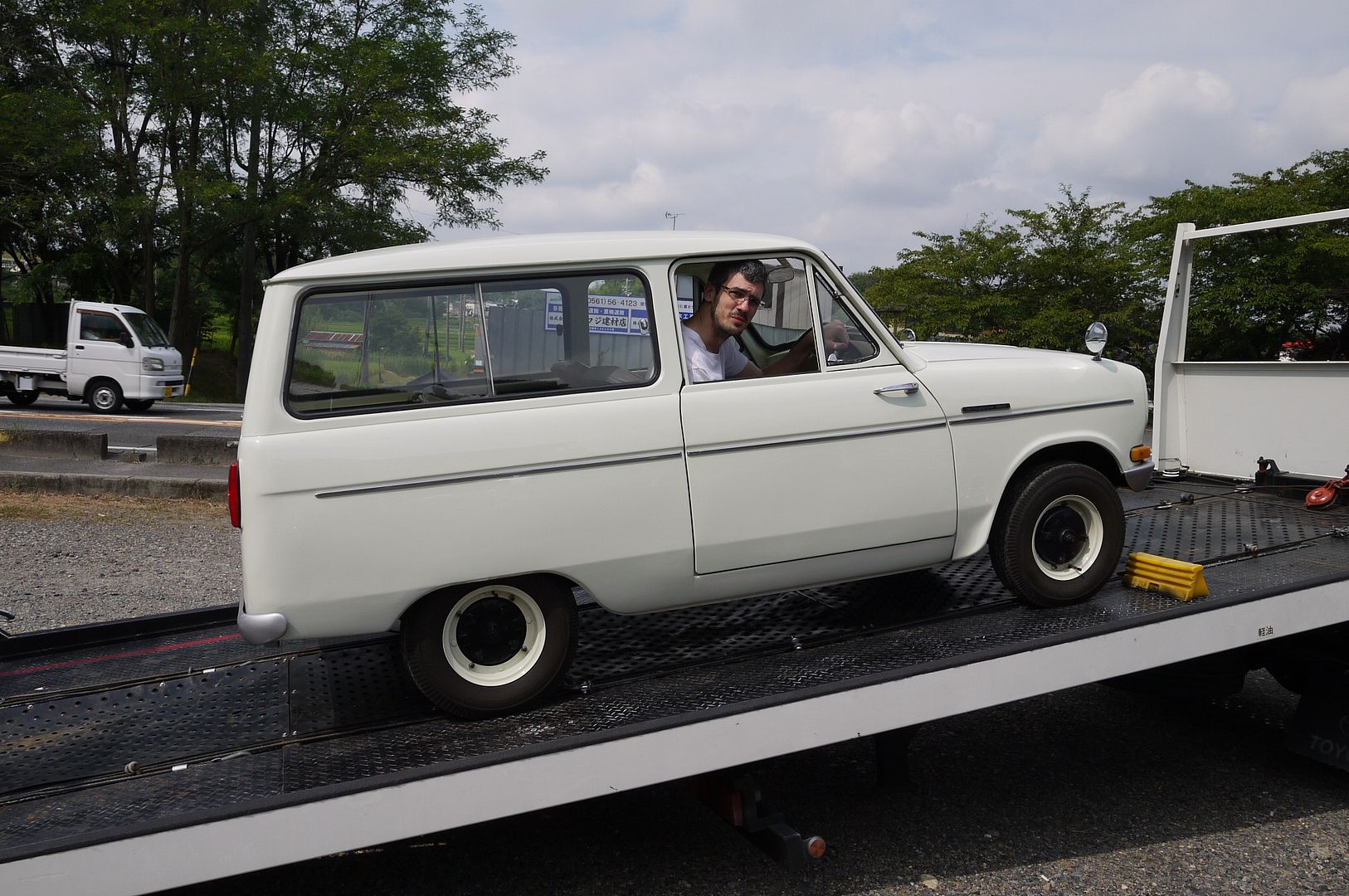 After a little paperwork, a quick radiation check and checking to make sure the VIN number matched and was unaltered, the little Mitsu was parked in the lot ready to make the long trip to America by her lonesome.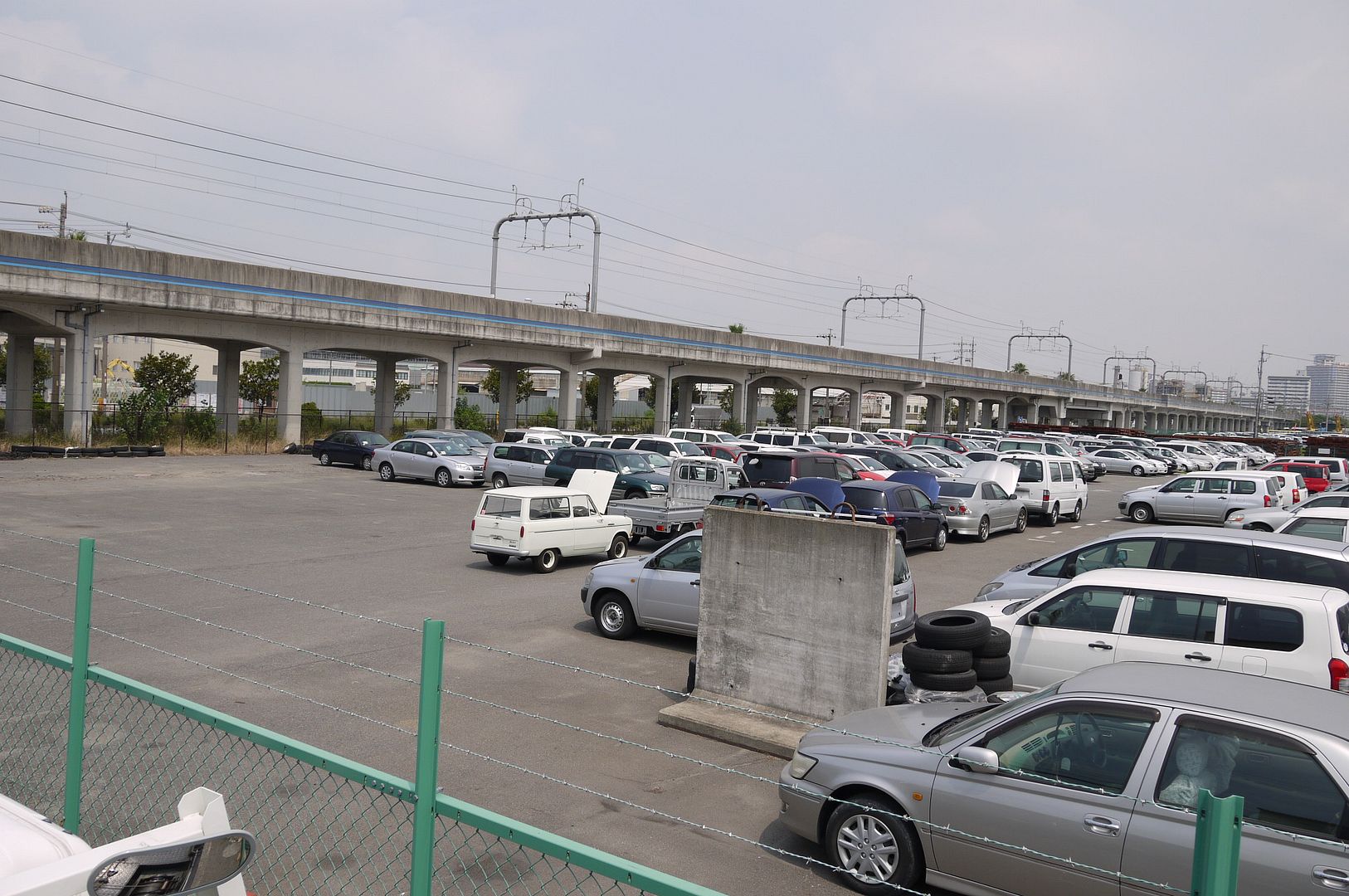 Then we talked to the guy running the yard. We explained that we initially intended to bring two cars, but one of them had broken and couldn't make it. The guy said, "Well, if you can get it here by Monday, we can still get it on the boat."
Two days, huh? A lot can happen in two days!
More on the next two days in the next post!
We raced home and I knew I needed to make every minute count. I also knew that I was sick of hydraulics. This clutch was going to work by Monday and it was going to do so without the help of hydraulics.
Once home I hopped in the car and set out immediately for Classic Car Nagoya. They have around about 4 Subaru 360s that are parts cars and I knew that one of them must still have a clutch cable floating around. An hour and a half later, I had one in my hands. I screamed back home and got to work. I made a bracket out of some scrap aluminum I had hanging about and mounted the cable. It hooked up to the cutch fork with no issues whatsoever! This was looking good so far.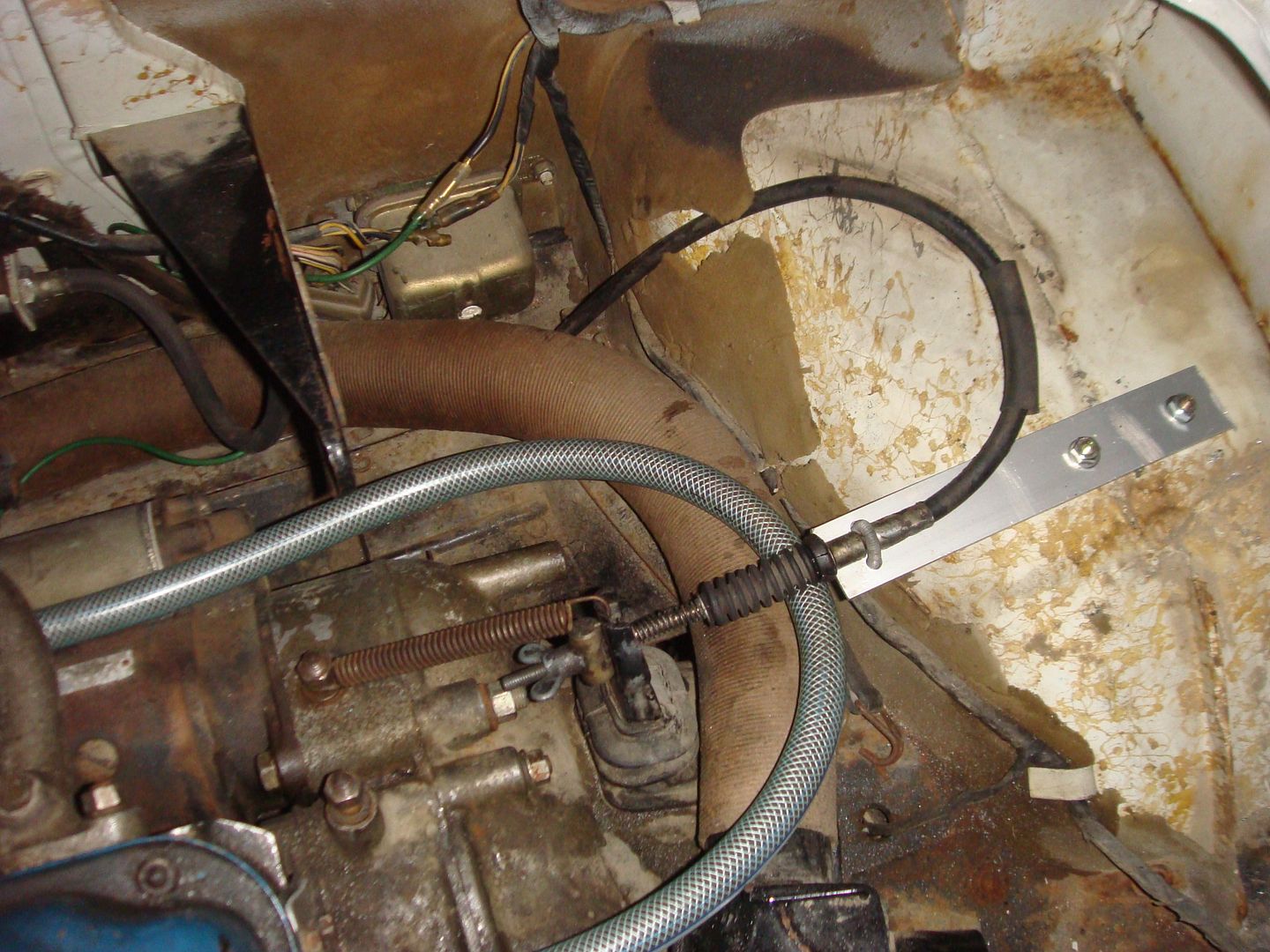 I had three massive hurdles I needed to tackle though. Firstly, the Subaru cable is only sheathed for about 1/3 of its length, the rest would need to be dealt with appropriately. Second, I needed to find a way to attach it to the pedal, and third, it was too short.
The too short bit was the biggest problem by far. I hunted around my garage until I came across an old brake cable from my CB125T project. It used mechanical disc brakes, so the cable was plenty beefy, it should do the trick. I connected the two cables up and it was actually a bit too long now, but that was much easier to deal with than being too short.
Next, I decided to tackle the problem of connecting it to the pedal. The problem with the pedal is that it has nothing above the pivot point, so the cable actually needs to attach to the pedal from the same side as my leg, which means they have to battle for space. I routed the cable in such a way that it didn't interfere with my leg by running it up through the passenger floor board and then around and into the pedal.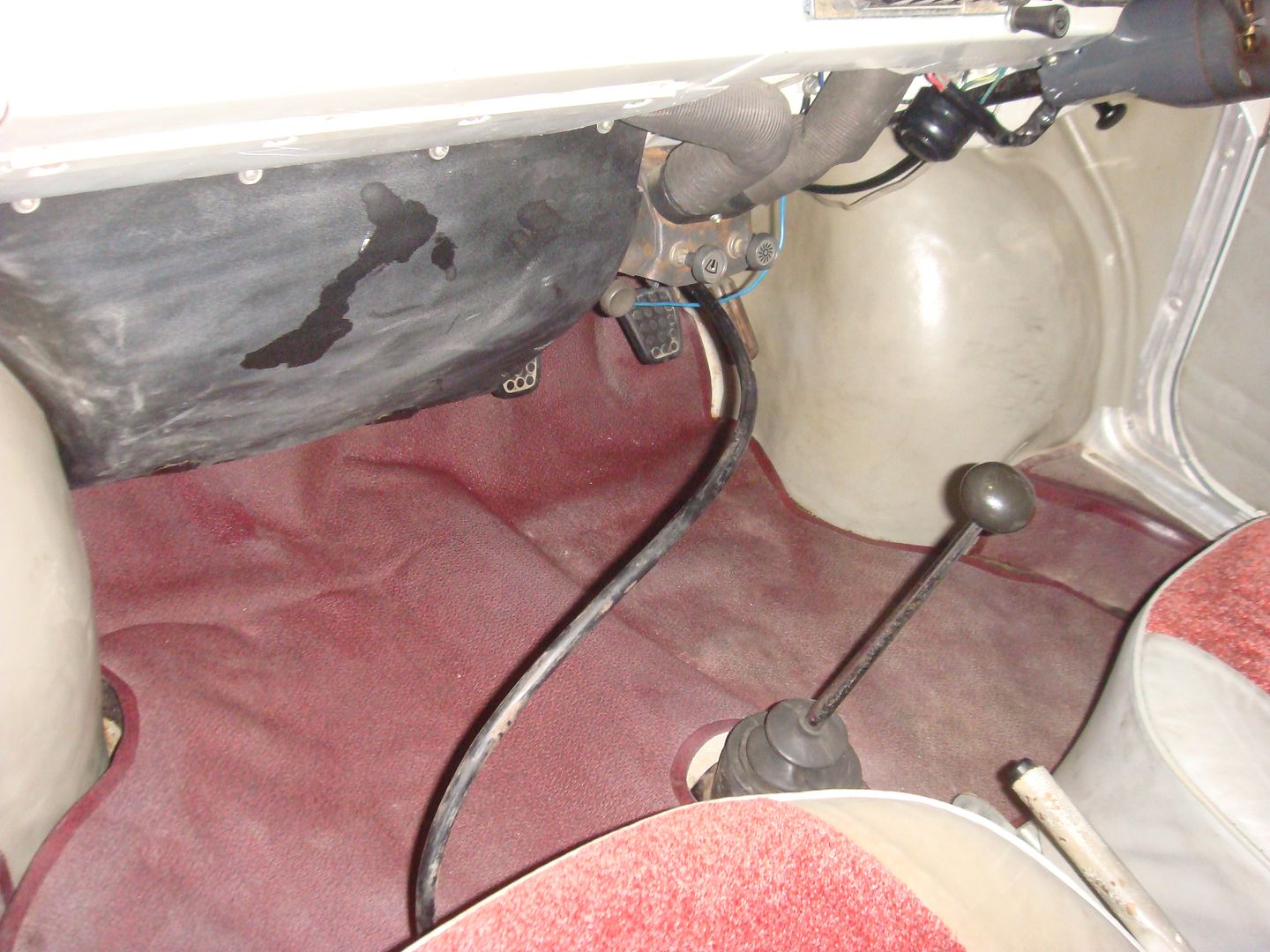 I connected it to the pedal by using two pieces of 2 mm thick aluminum with holes drilled in them. The CB125T cable sat inbetween the aluminum and the nub at the end of the cable sat in the holes. The opposite end of the aluminum adapter hooked around the pin that runs through the stock pedal connection point. I built some aluminum brackets to mount the cable in place and keep it from moving.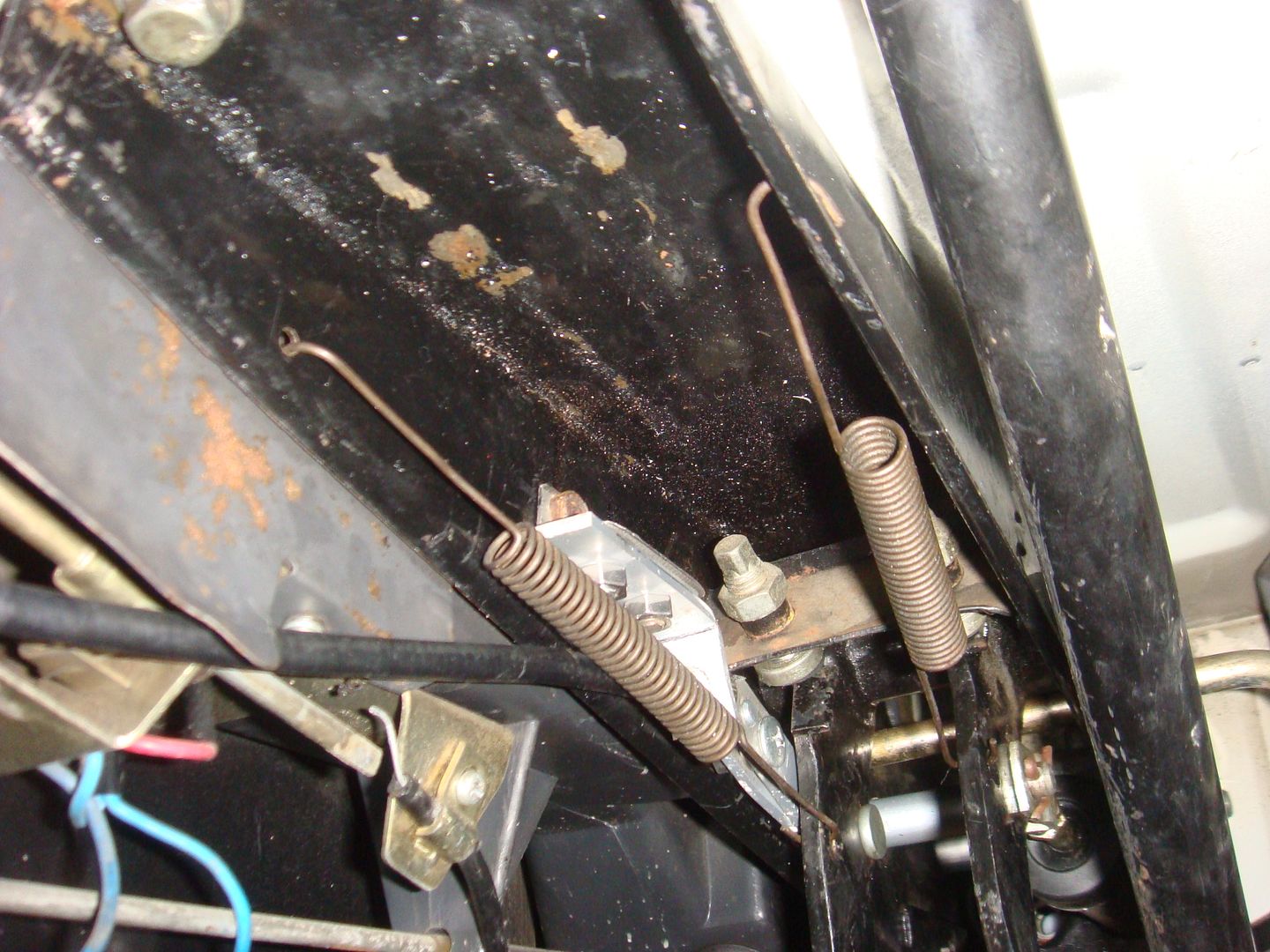 I then had to mount the other end of the CB125T cable under the car. I built some brackets that enclosed it and kept everything from bending around.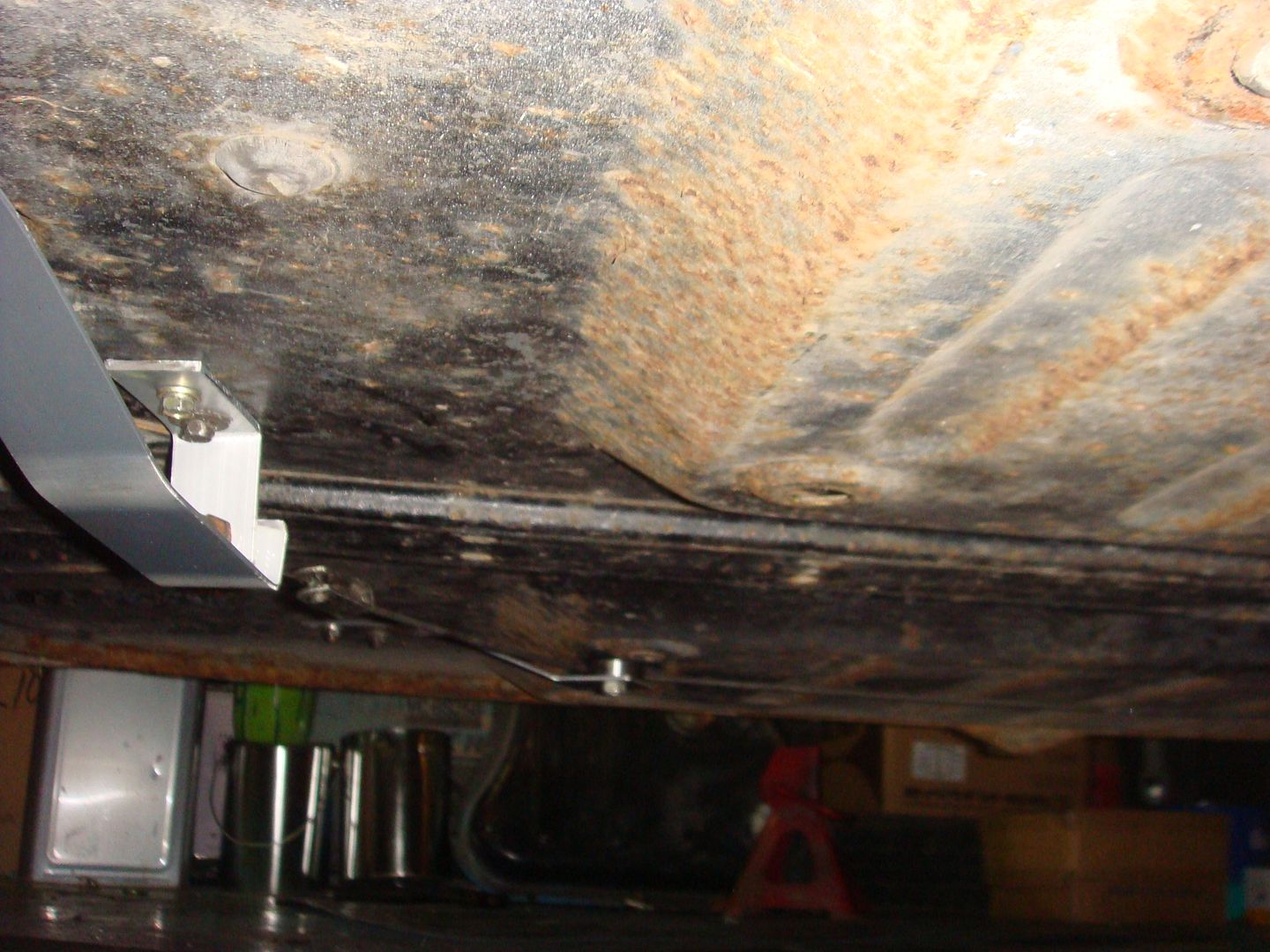 The final problem was that the cable under the car was unsheathed, too long and needed to make a 90 degree turn to go from below the driver side of the car over to the passenger side where it went through the floor board. A small plastic runner that was originally on the cable was zip tied into place to keep the cable from rubbing on the floor.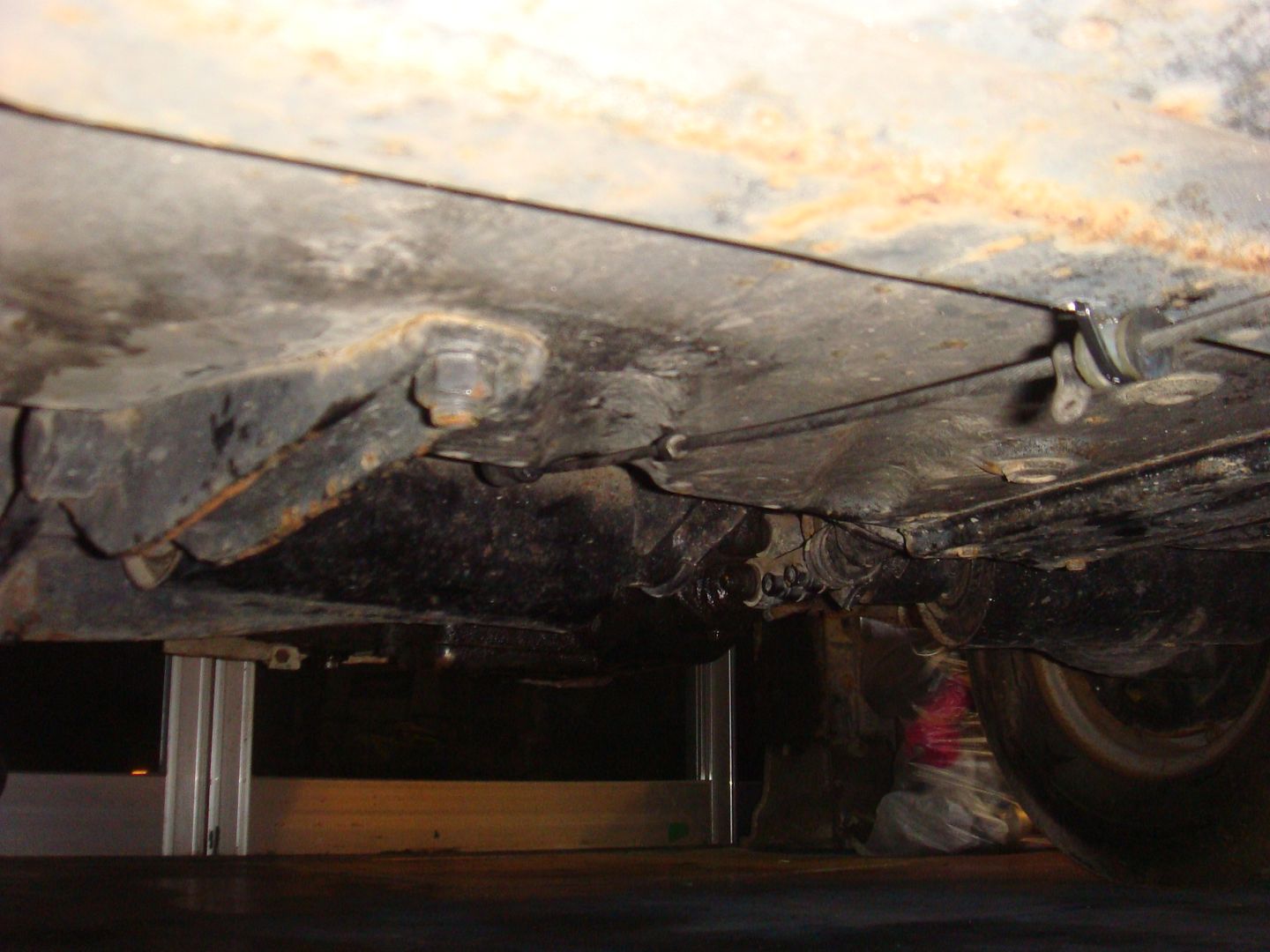 And to handle the 90 degree turn, I ran the exposed cable across a bearing that was held in place with a massive bolt and a support bracket.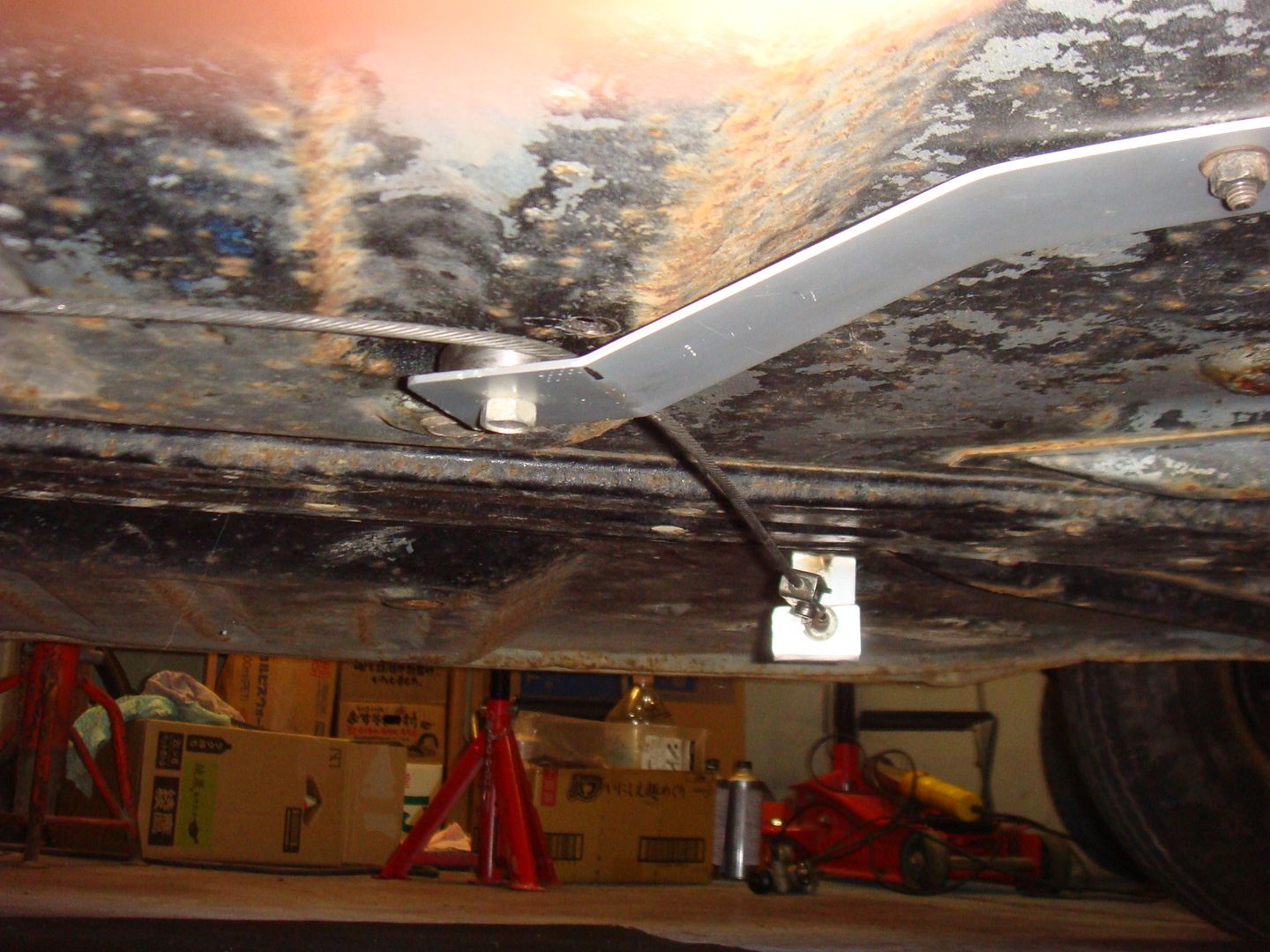 It was now getting dark on Sunday night but I had everything installed. I sat in the driver's seat and Miki stood at the back to watch the clutch fork. This was it, if this didn't work, we were dead in the water. I pushed the clutch. It felt heavy, like really heavy. I clearly didn't have enough leverage on the pedal, the cable needed to connect lower. Still, it moved. I dialed in more and more strength and pushed it clean to the floor. I asked back to Miki if the arm moved and she said it did! Alright, now the real test. The car was still on stands, so I started the engine and told Miki to keep an eye on the back wheels. With the engine idling, I pushed the clutch in, waited a tick and slotted it into gear. I let the clutch out and felt it grab and could feel the spin of the wheels. Miki was jumping up and down saying that it worked! I pushed the clutch in one more time and pulled the side brake. Then engine stayed running and the wheels came to a stop.
That was it! We successfully converted a car from hydraulic clutch to manual clutch in two days using nothing but scraps! I half expected MacGyver to run in and give me a high five!
After a quick test drive we found that we weren't quite disengaging all the way and we weren't quite engaging all the way. Again, another sign that the cable needs to hook into the pedal at a lower point, but it did move under its own power and could stop without killing the engine, so we called it good at that.
Here's a video of a final test drive. You can hear me grinding it trying to get it into first and that's a result of it not disengaging fully.
https://www.youtube.com/watch?v=bxShUwW ... G-W9_PyYrQ
I had to go to work the next morning, so we asked Miki and a friend of ours loaded it up onto a tow truck and hauled it down to the port! I delivered the good news to Kel and he was ecstatic. There was a short scare at the port where no one could find where the chassis number was stamped into the body, but after about 20 minutes they finally located it.
After a few days, both cars made their way onto the boat and it set sail for Texas! A lot more information on that is available on my Mitsubishi thread (
click this
).
In short, the boat went north, up around Alaska, then down the side of California without stopping, into Panama, across the canal, with a brief stop in Jamaica to unload cars and finally into Galveston.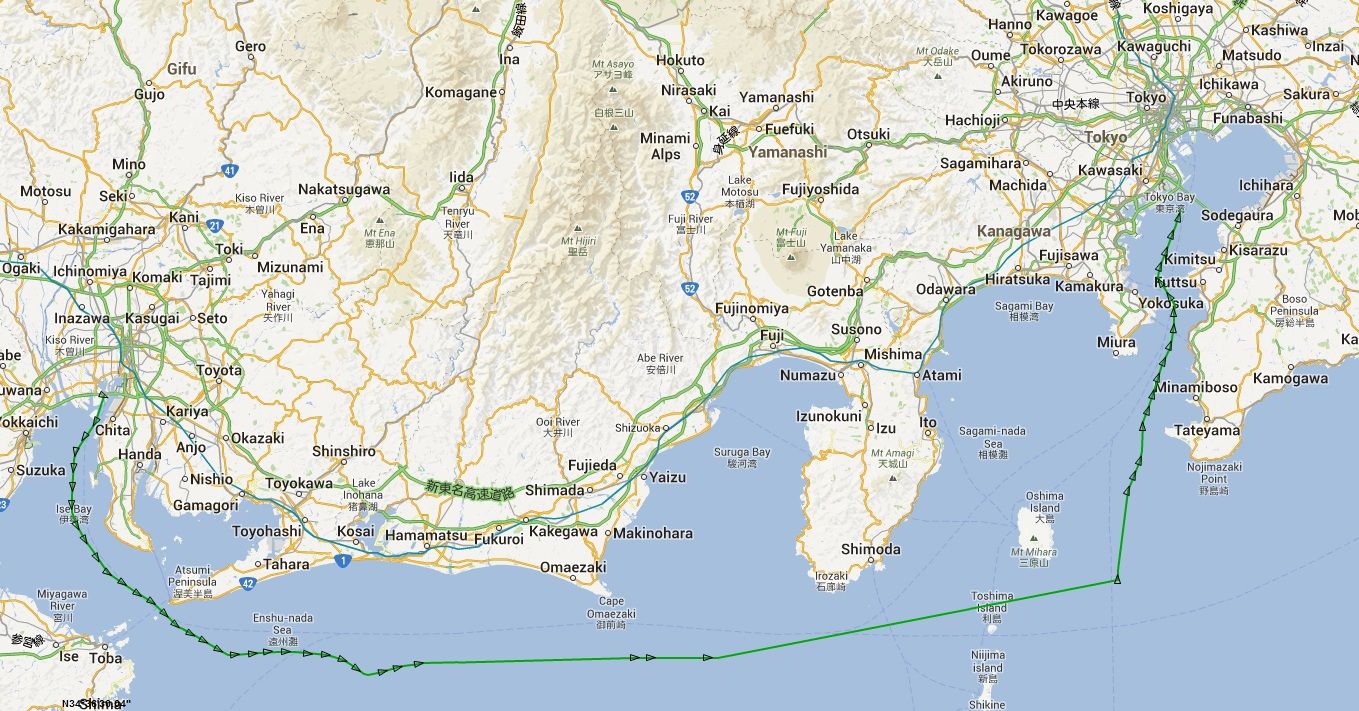 Here's a webcam shot of the boat as it passes through the Canal.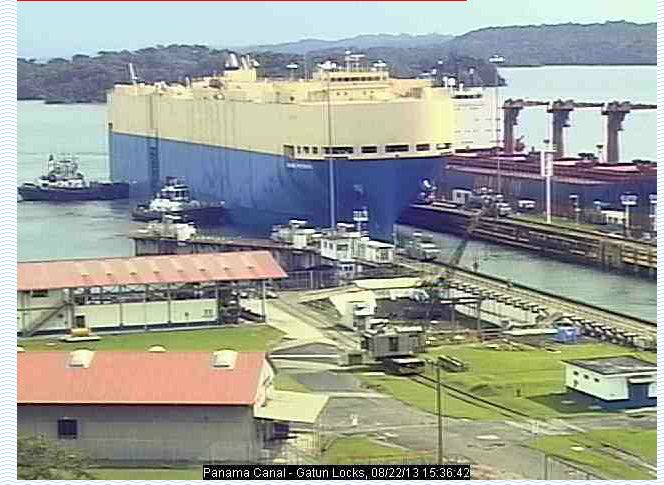 And then up into Galveston!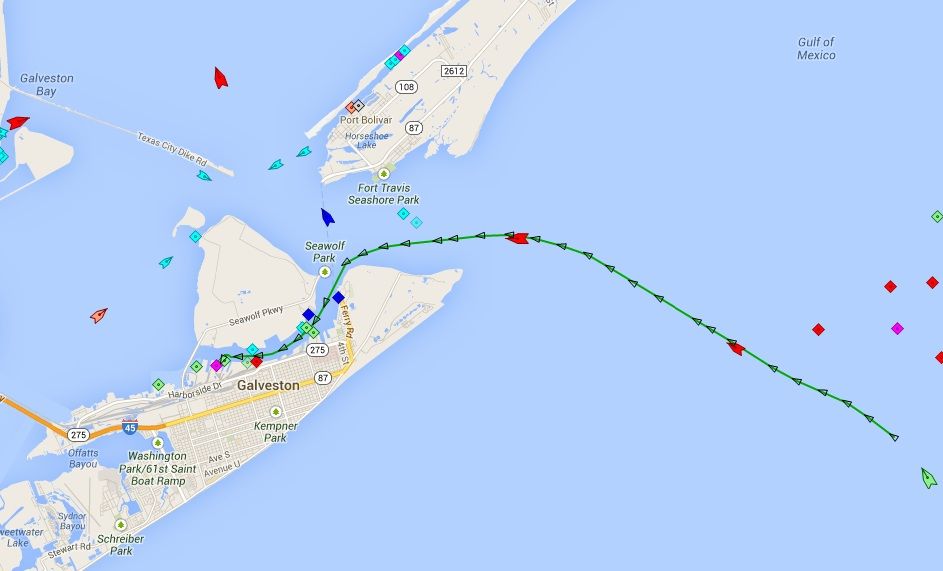 Once at the port, both cars had to clear customs and that's where our customs broker, GLC Associates, came into play. Charise at GLC organized all our paperwork and walked us through the entire process. She was absolutely amazing to work with and took care of us every step of the way. She'll definitely be getting my business in the future.
With the cars cleared through customs, all that was left was to pick them up. My dad drove down to the port with paperwork in hand. He needed an escort to get onto the port so he made an appointment for the next day bright and early. At 8 am he and the escort had submitted all the paperwork and were on their way to load up the cars. Dad had a single 18 foot trailer and with a little smart loading, managed to squeeze both cars onto it!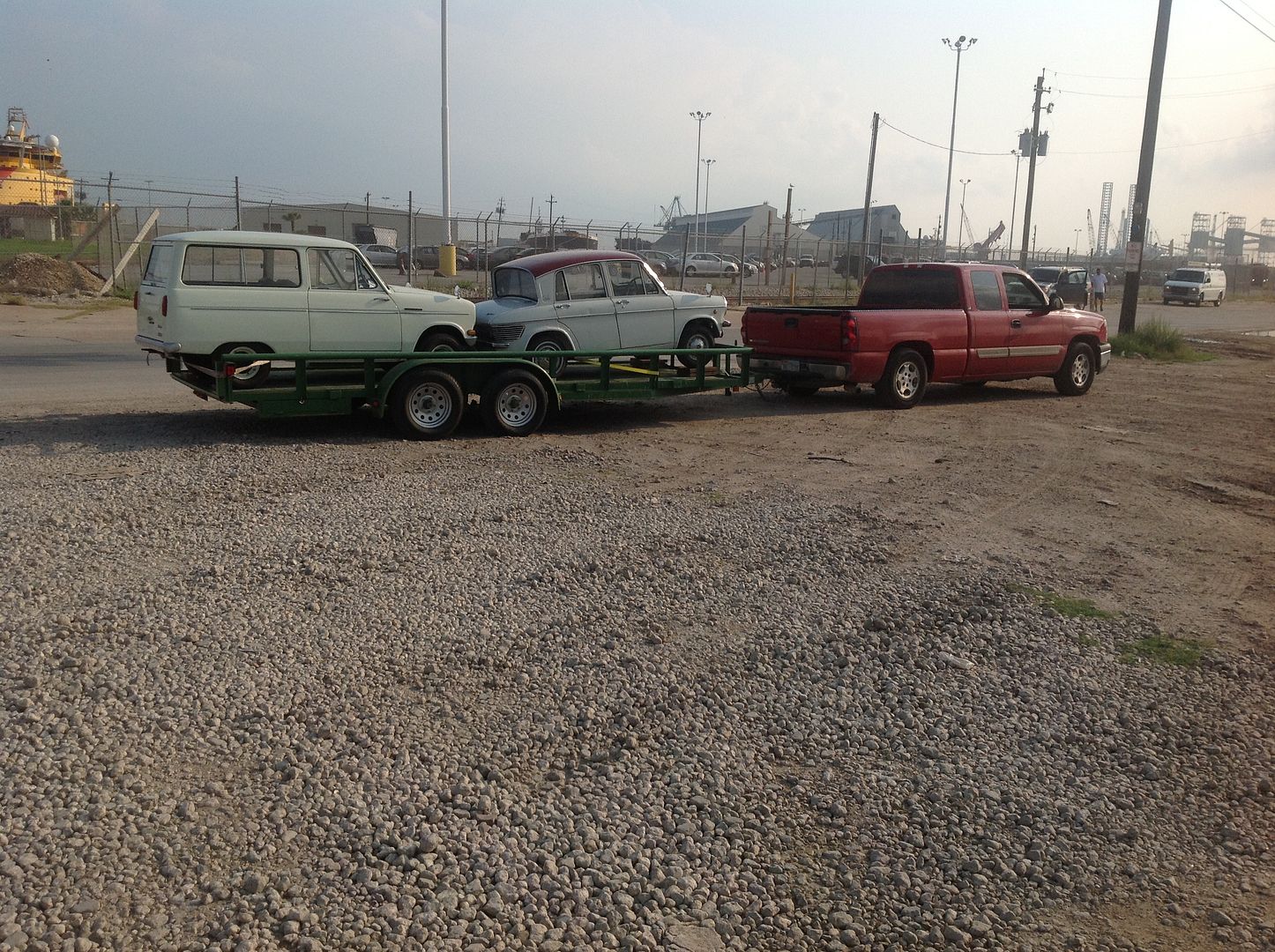 After he was loaded up he was ready to set off, but he had to wait for a guy to come and double check that he indeed loaded the right cars. Once that guy showed up, they chatted about how rare and cool the cars were for a bit and then dad was given a slip that let him back off the port.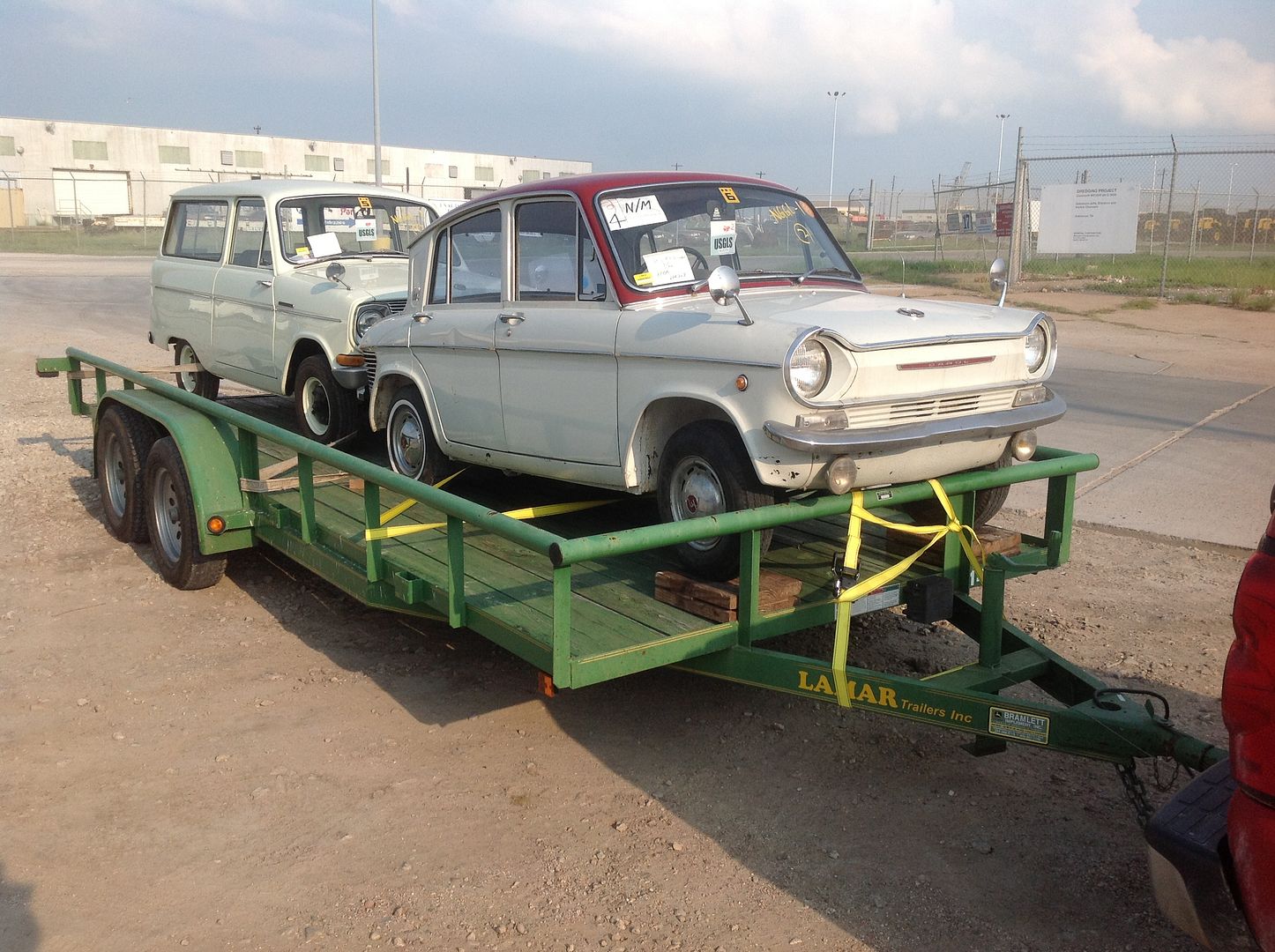 Then came the 5 hour trek back home with both cars cruising at around 110 kmh, faster than they've ever been! Once home, our dog was super happy that daddy was back!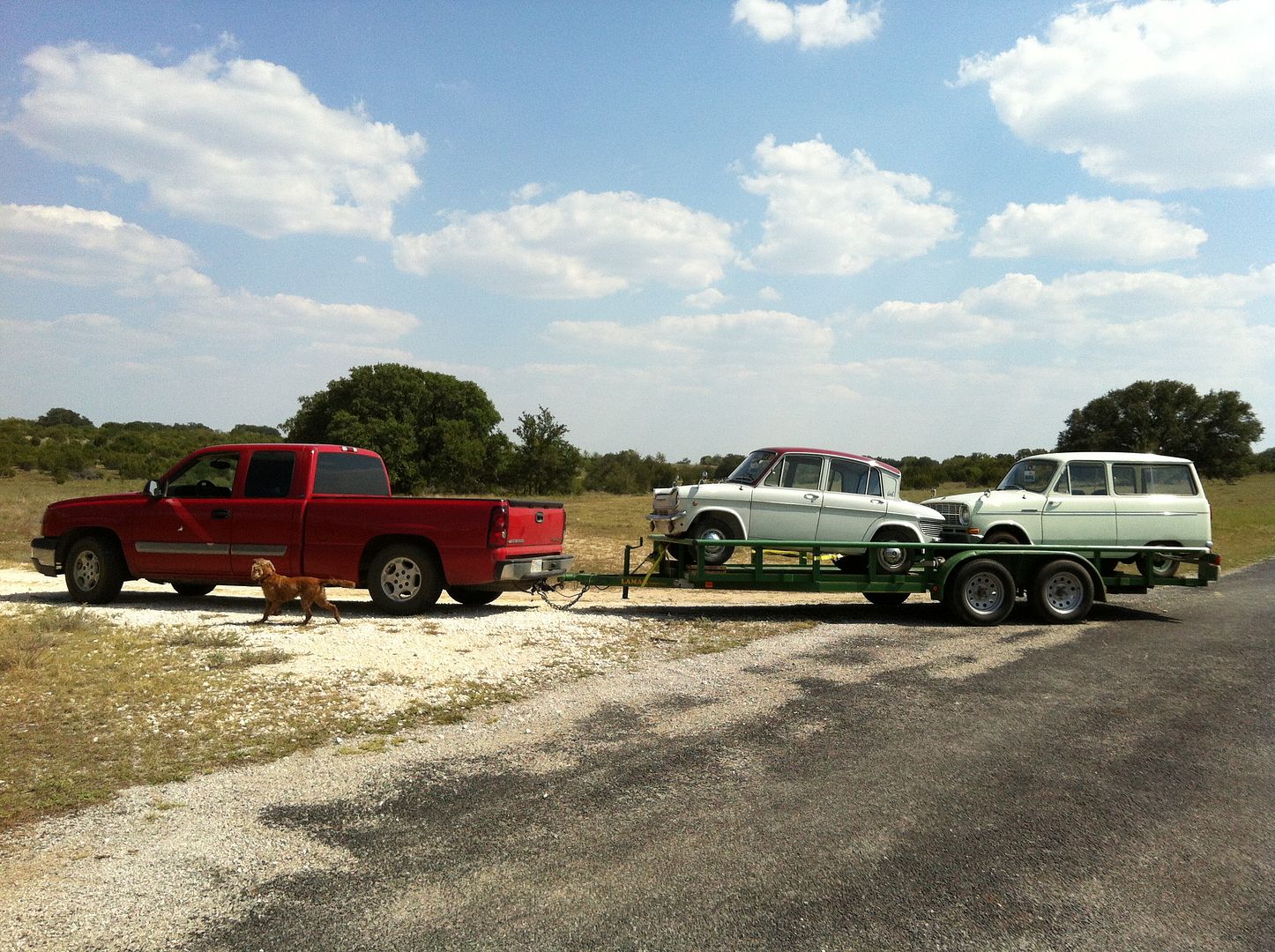 Both cars made it 6,000 miles around the world with absolutely no troubles at all!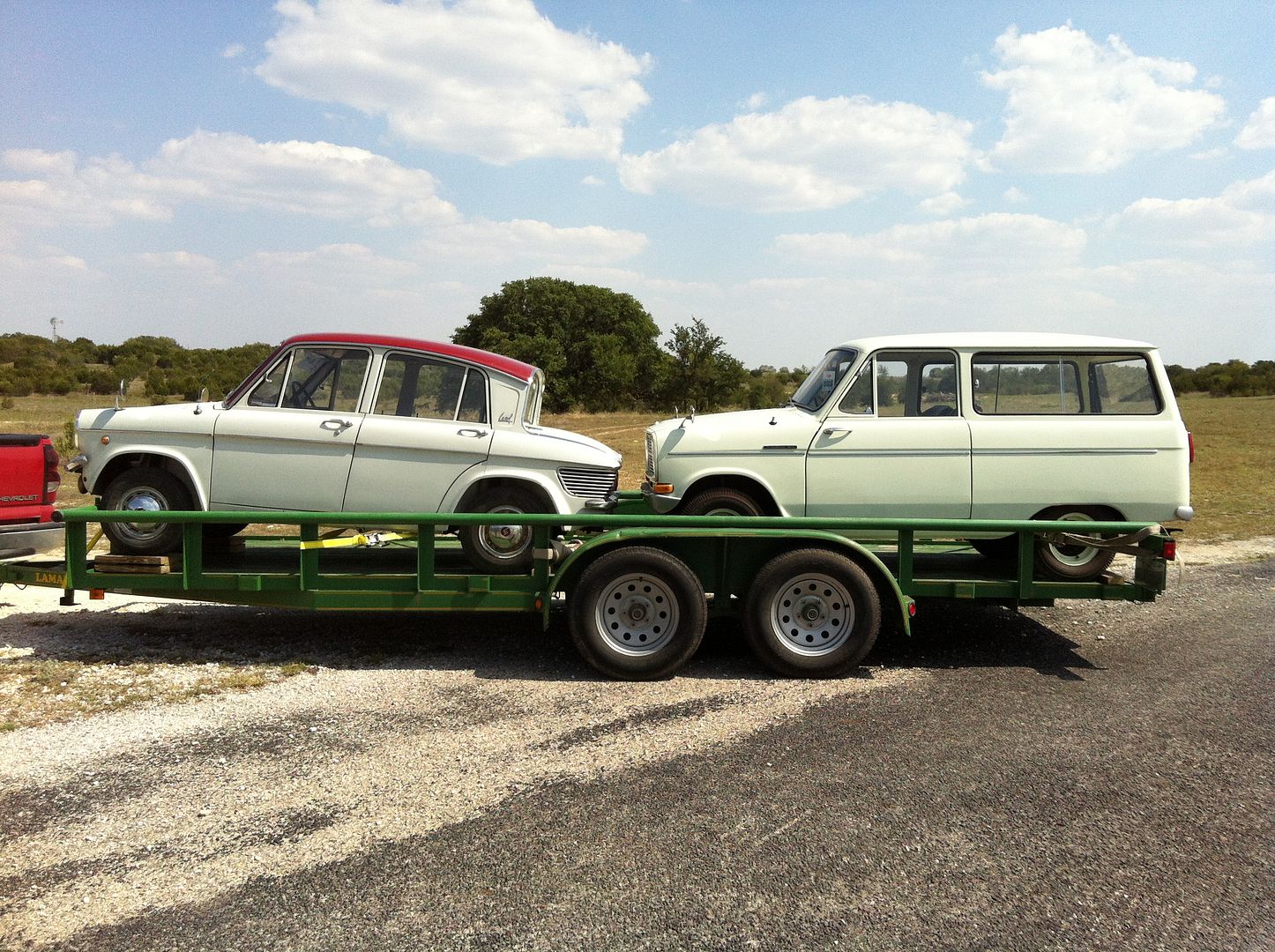 The cars were pulled into the hangar where they'll live for the time being.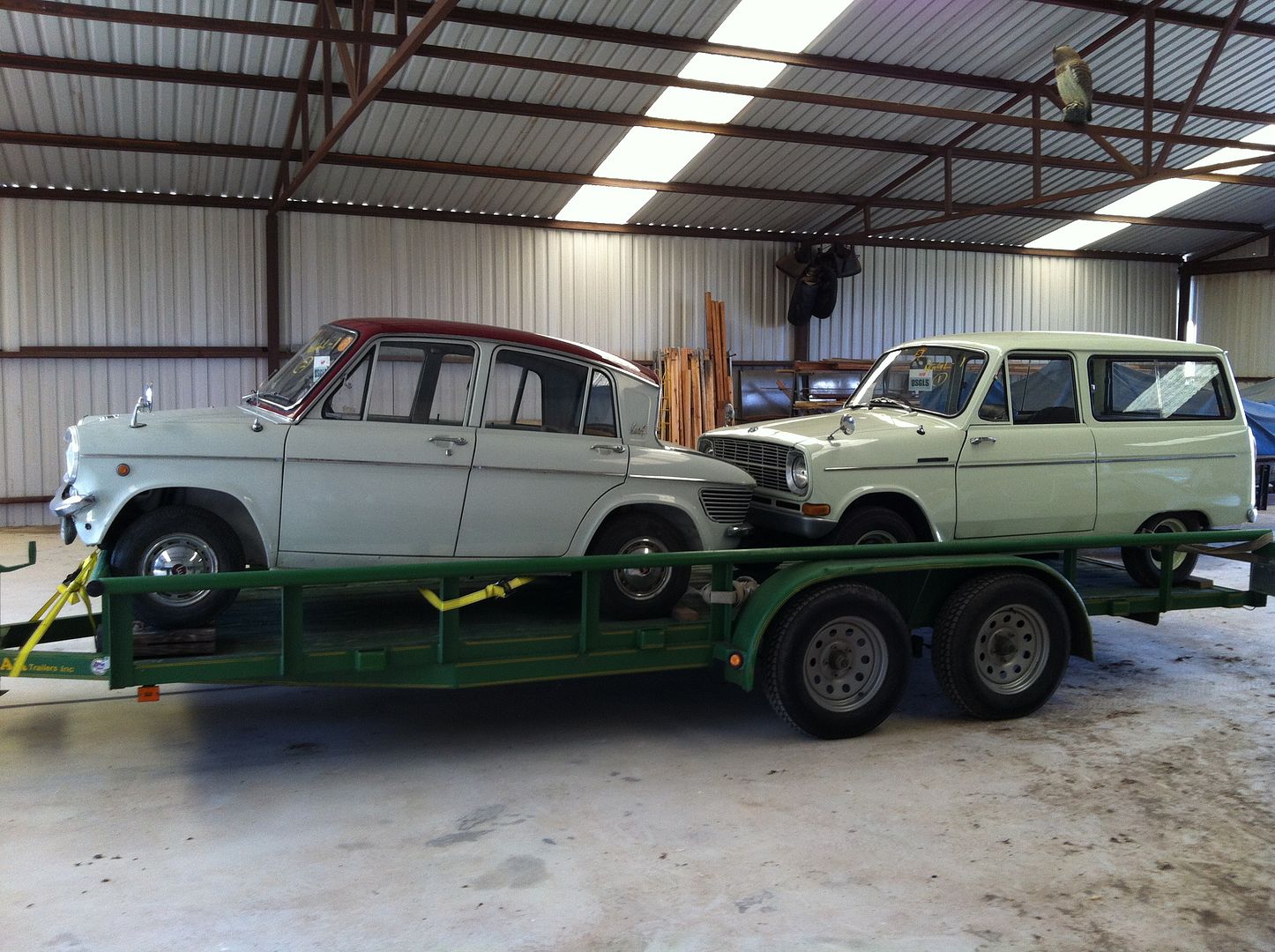 Unloading the Mitsubishi.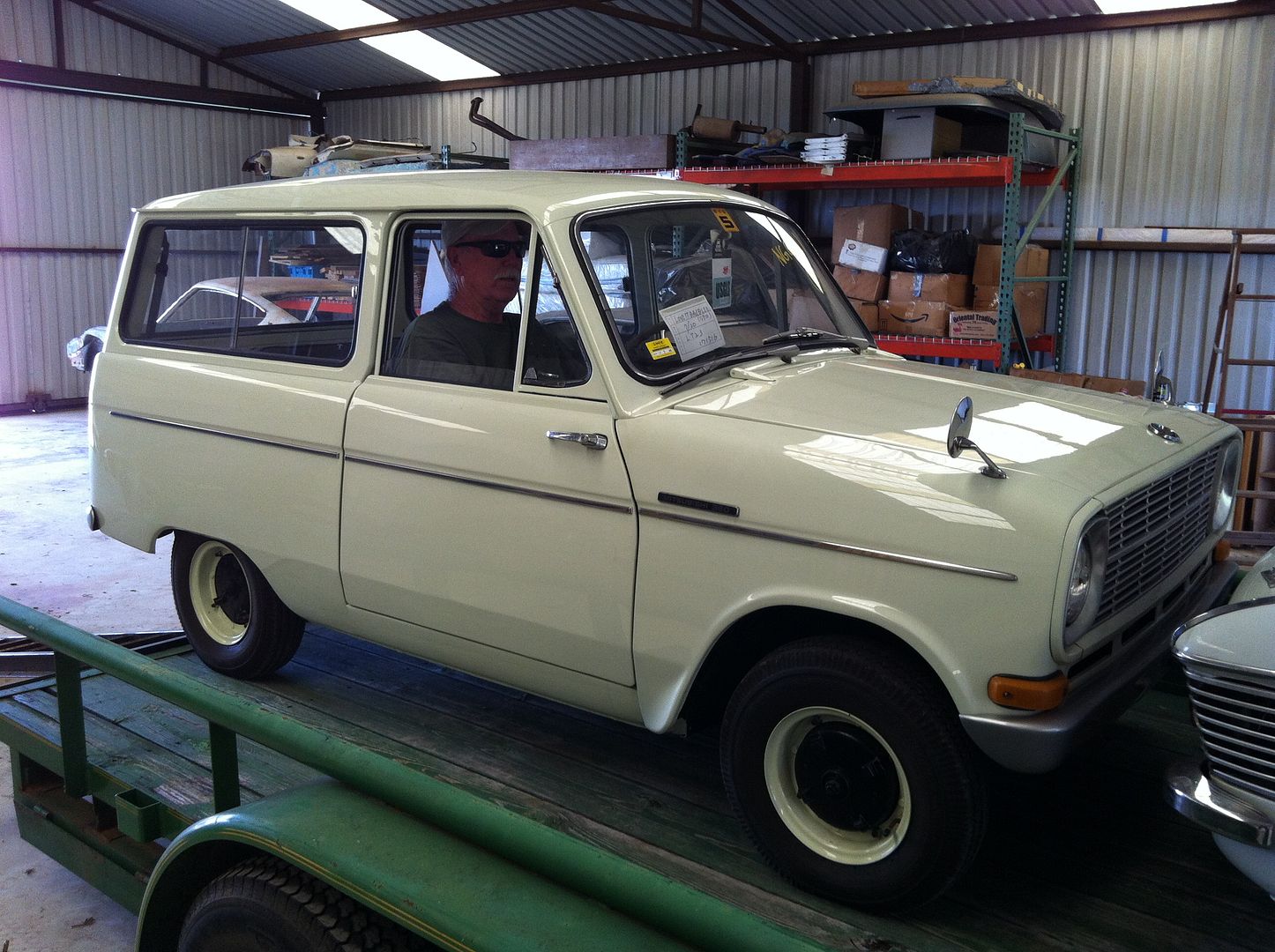 And both cars happily in their new home in Texas!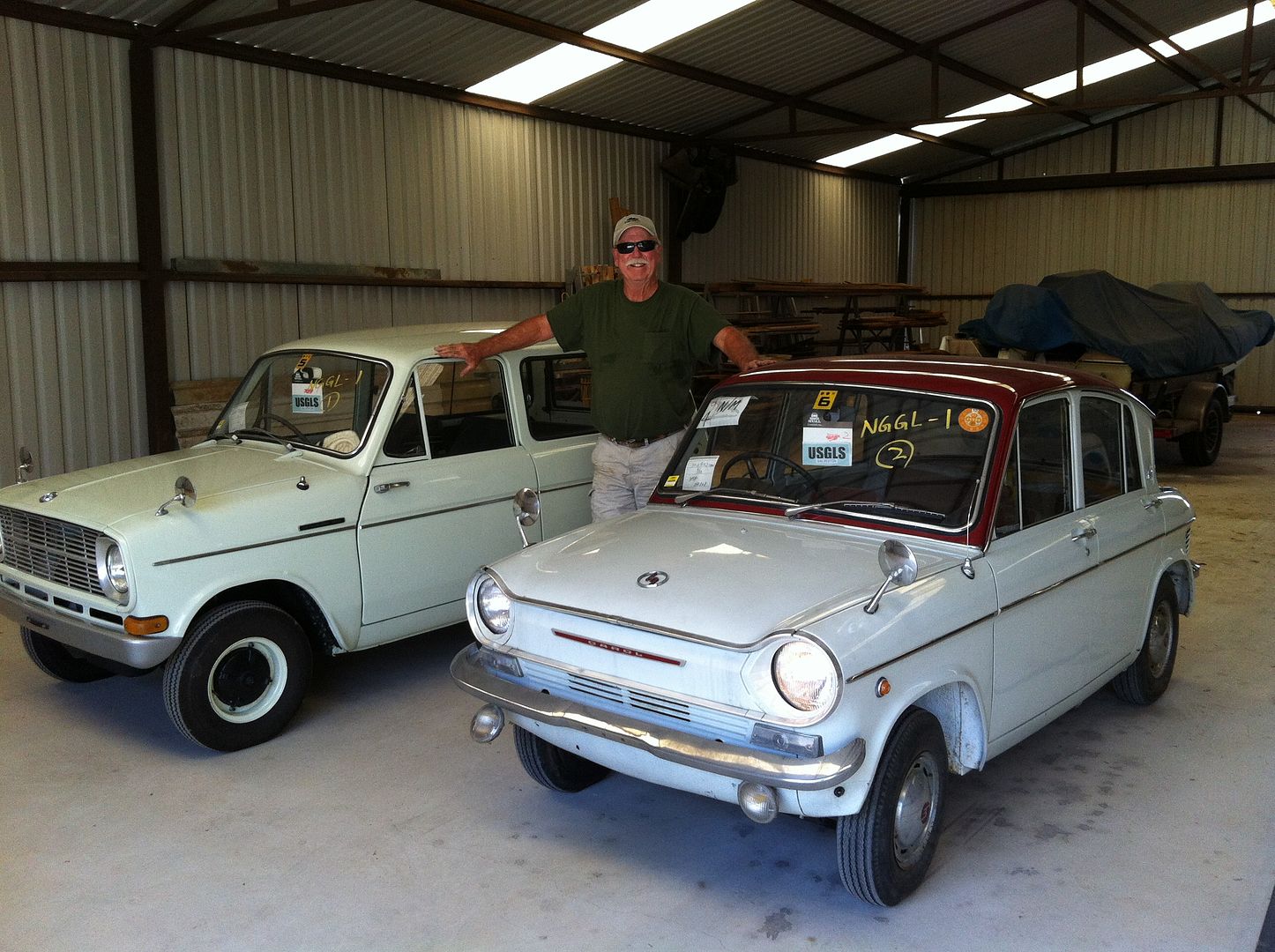 The Carol's journey isn't quite over yet. Sometime next week a shipping company will be sending a car carrying trailer to my Dad's place and they'll be picking up the Carol. Then, it's a 10 hour trek north to drop it off at Kel's place! From there, a whole new world awaits the little car!
So, that's the story of the Carol! I'll let Kel take it from here if he wants to keep this thread up to date with the mods to the car.
Thanks for reading guys!
Cheers,
David