Alrighty!
Since the JNC forum crashed and we have gone back in time a month, we need to bring this thread up to date again! Fortunately, I keep backups of everything I post, so the following is almost exactly what was posted!
(Note: "======" indicates a break in the original posts.)
======
So lately, the little Life has been pumping out a lot of smoke when under load. Particularly, if I go wide open throttle in third gear it looks like a smoke screen behind me. I at first thought it was just burning oil and decided not to go wide open throttle. Then, I got thinking about how the car's been acting lately. It still has plenty of power (it'll peg 90 kmh without even working too hard), but it gets hot awfully quick. The cooling system is able to keep it in check, unless I'm not moving and then I'm pretty much guaranteed to overheat. I chalked this up to the 40+ C days we've been having lately, but there's always that little nagging voice in the back of my head saying that something is not right and I should look into it.
Yesterday I decided to do just that. The oil level hadn't dropped any at all, which didn't really support my burning oil theory. So, I decided check the coolant. I popped off the radiator cap and all looked well in there. Then I took a look in the coolant overflow tank and was greeted with this: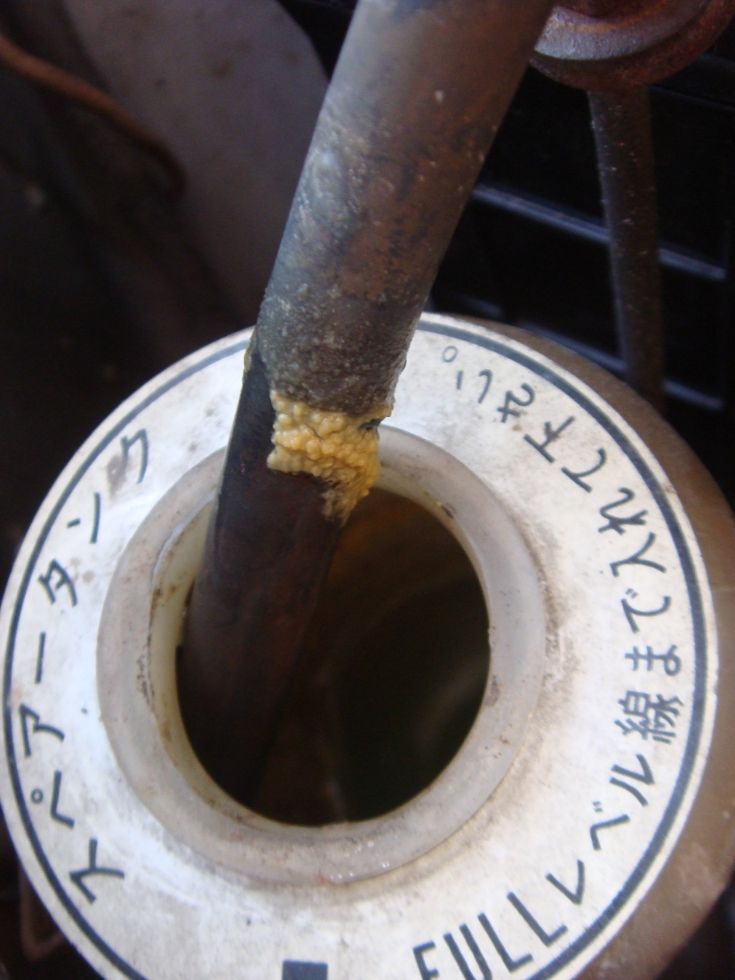 Ya, that's gross. What does the inside look like?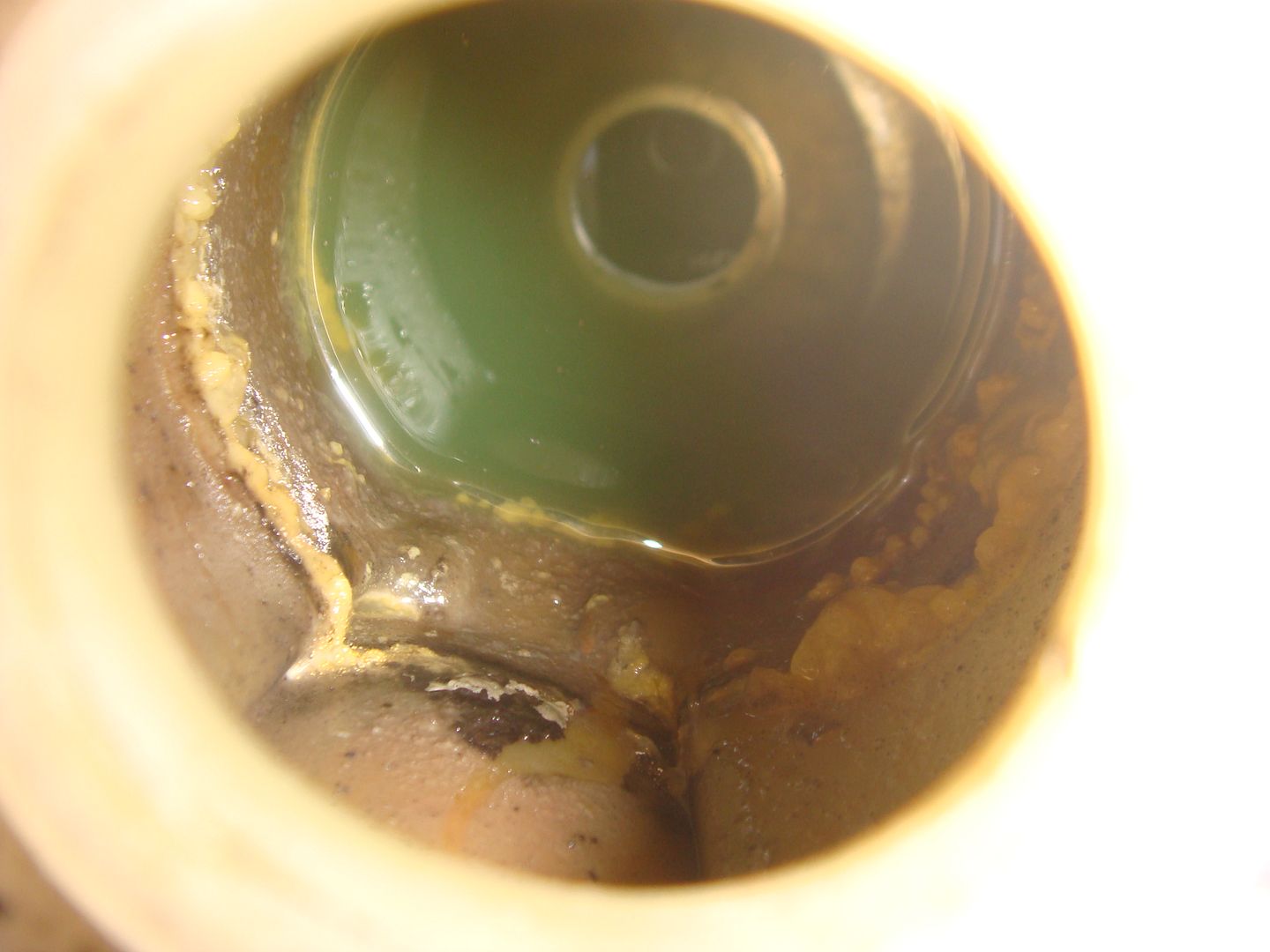 Yummy. You can see that the level has actually dropped about 2 to 3 centimeters leaving this nasty concoction on the walls of the tank.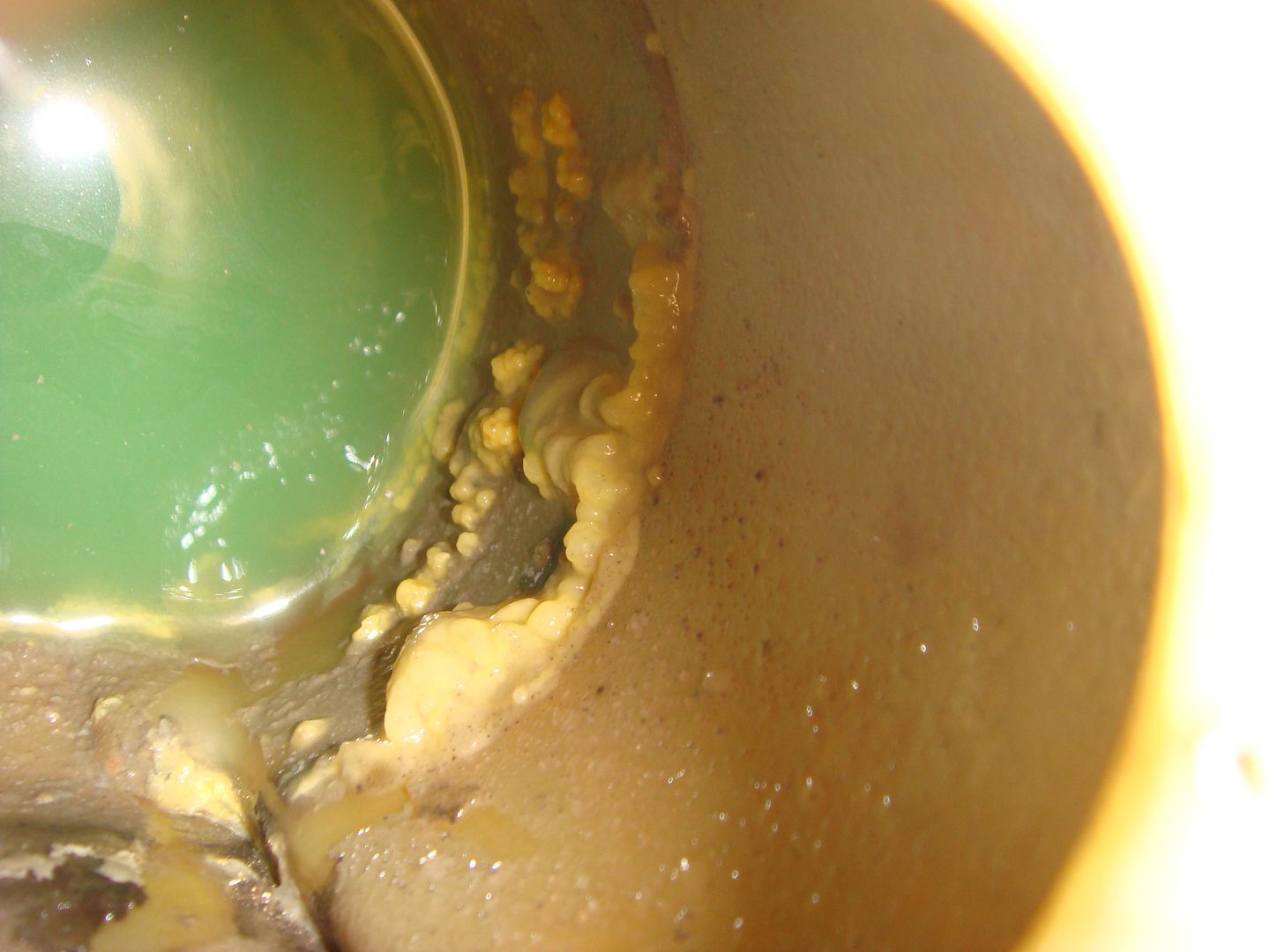 That looks an awful lot like oil mixing with coolant to me. It would explain the white smoke out the back, too. All of this is pointing to a bad headgasket, maybe not decimated, but certainly on it's way out. I tried to get a picture of the back of the head to see if there was any evidence of anything afoul.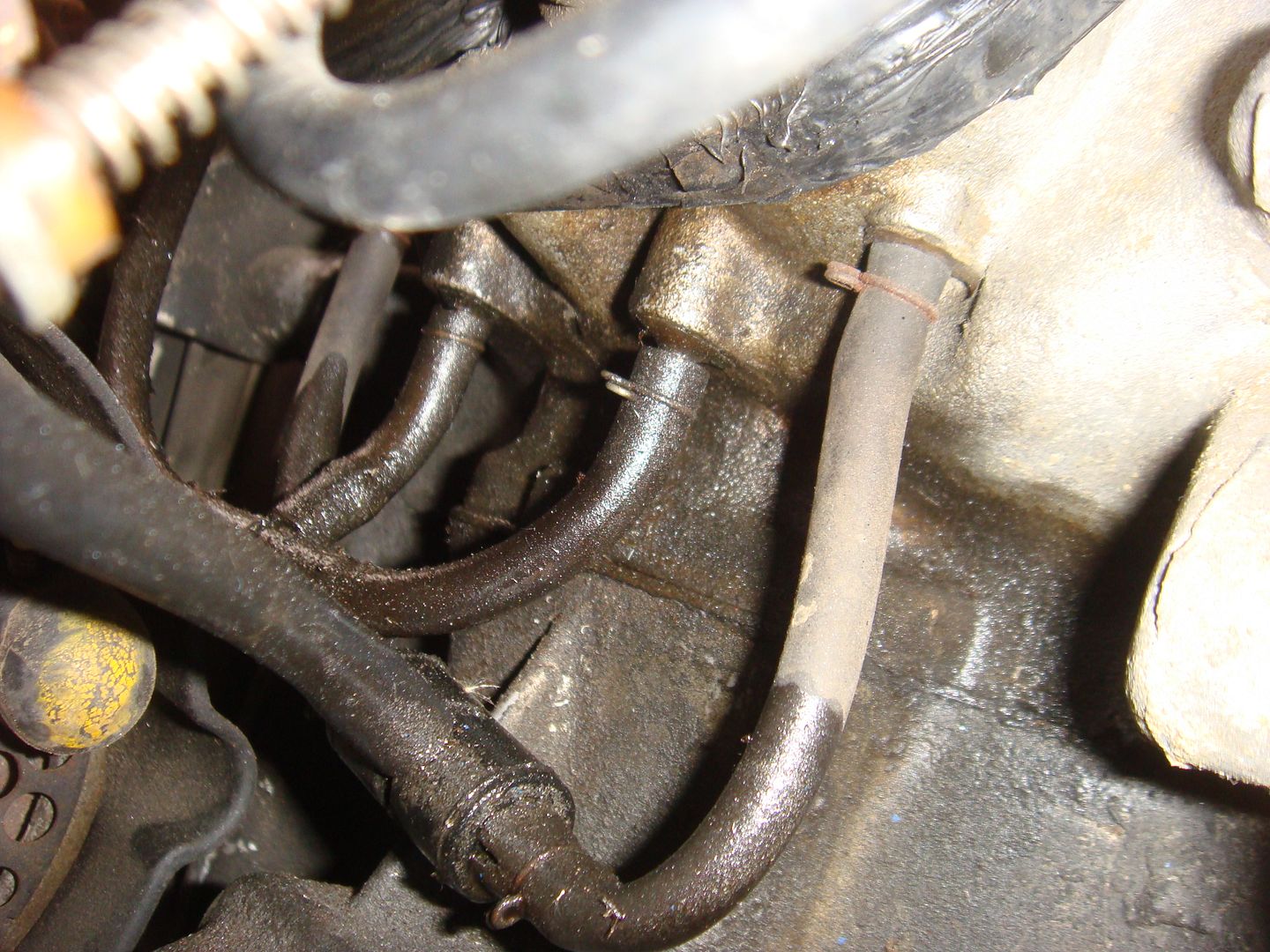 There was a lot of wetness back there, but that could be from anything really. So, I took a step back, looked at the engine...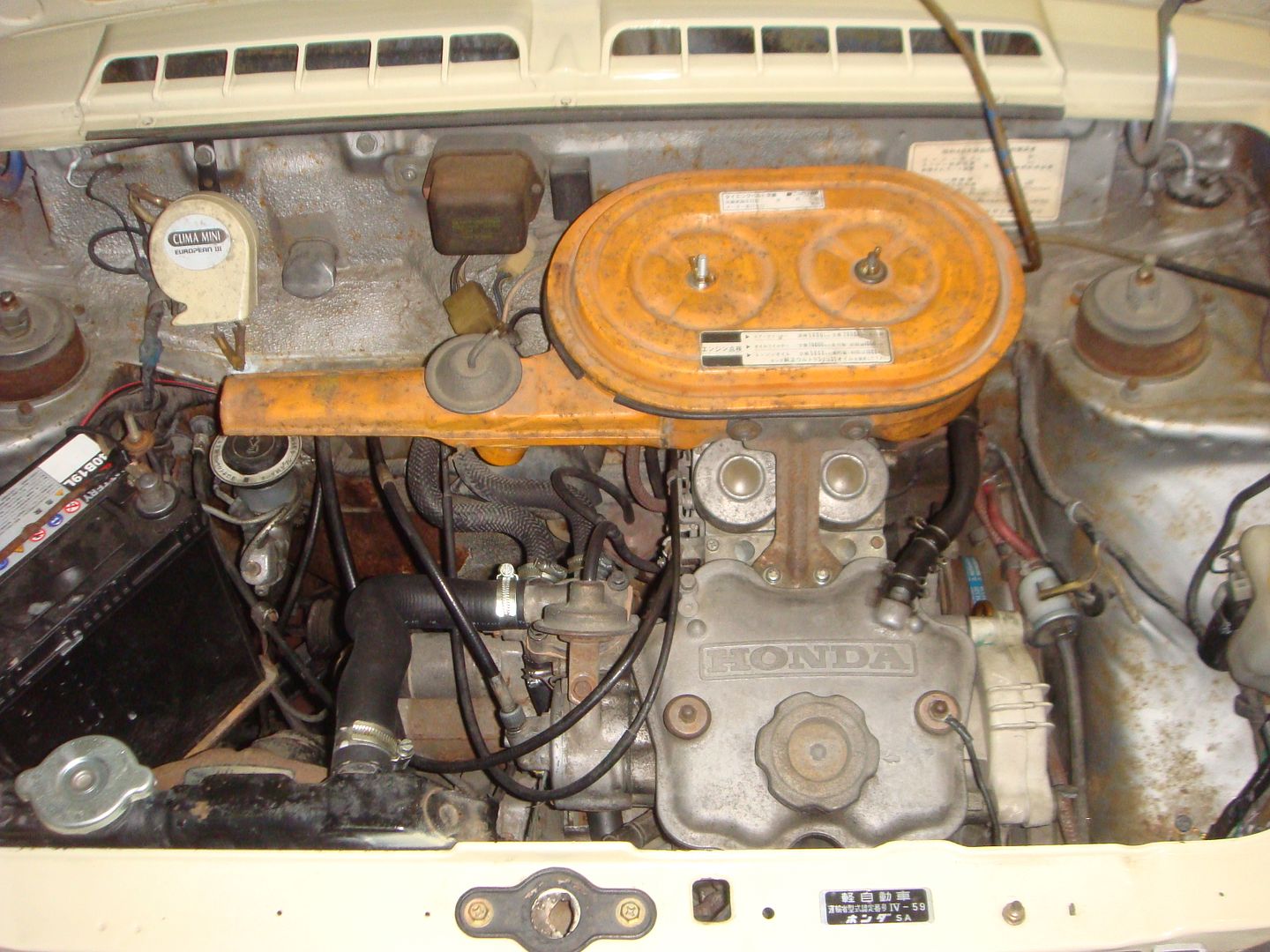 ... and then consulted with my new found garage buddy about what we should do.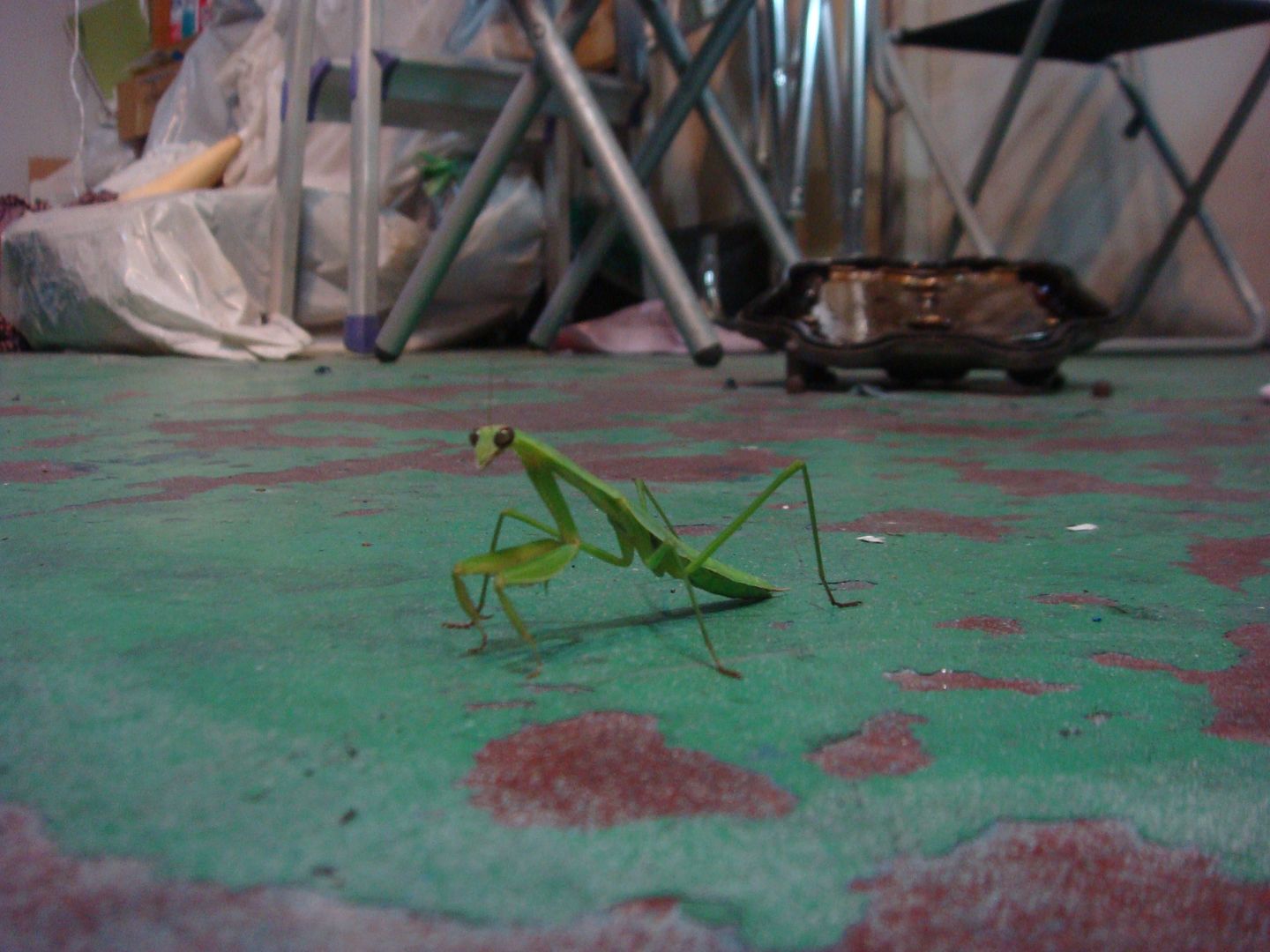 He concurred that we should remove a few parts. So I pulled out my wrenches and ratchets and got to work.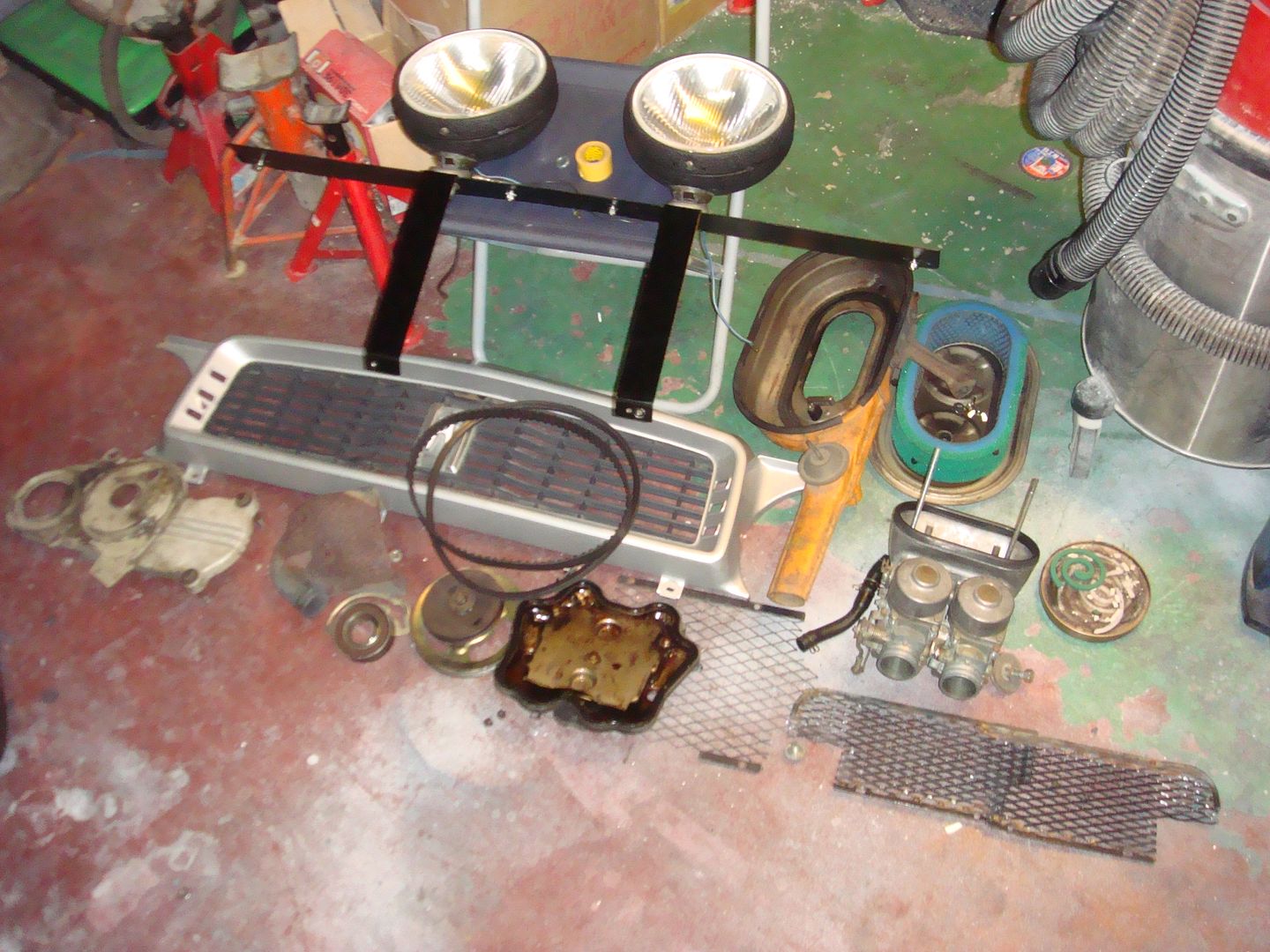 It took surprisingly little time to remove all of that, so I figured while I was on a roll, I should just keep parts coming off (please excuse the blurry picture).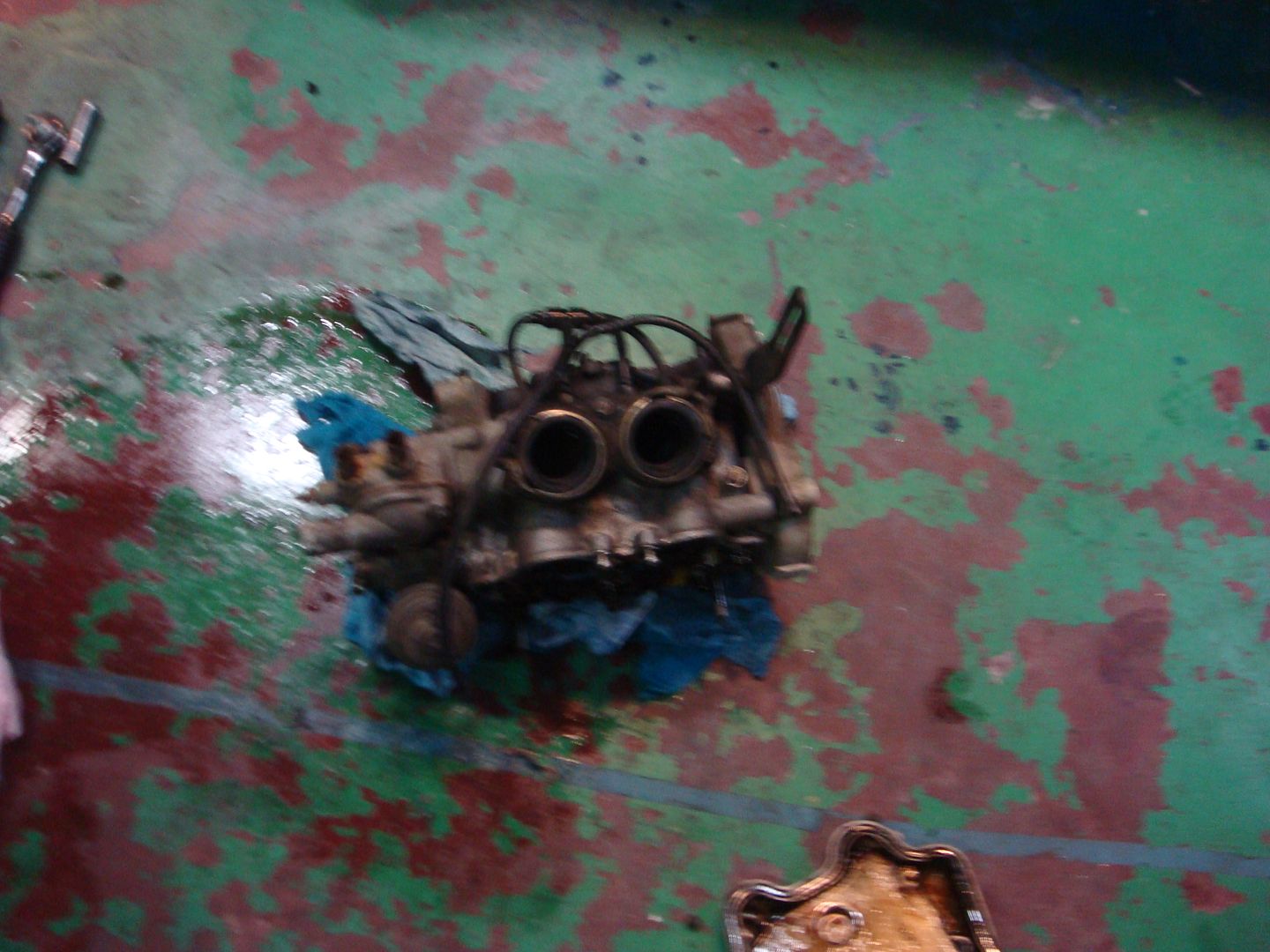 It took me about an hour and a half from driving it into the garage to cylinder head on the ground! Here's a look at the combustion chambers.
A (blurry) look down the intake port.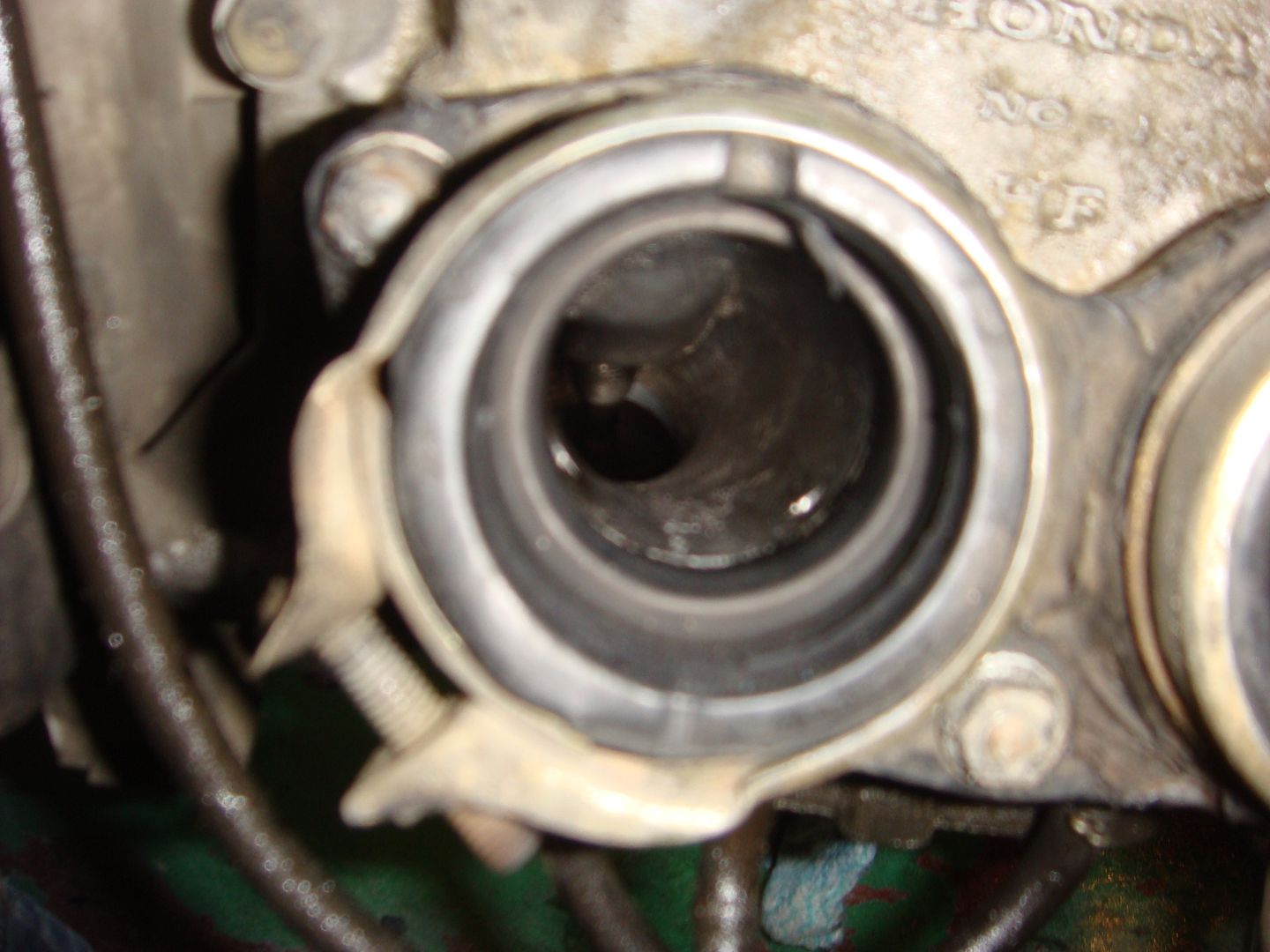 And two pistons right at top dead center. I actually forgot that it was a 360 degree crank and when I pulled the head, I was expecting one piston to be down. This motor is so super smooth for being a 360 degree crank.
I pushed the pistons down to the bottom of their stroke to get a look at the cylinder liners.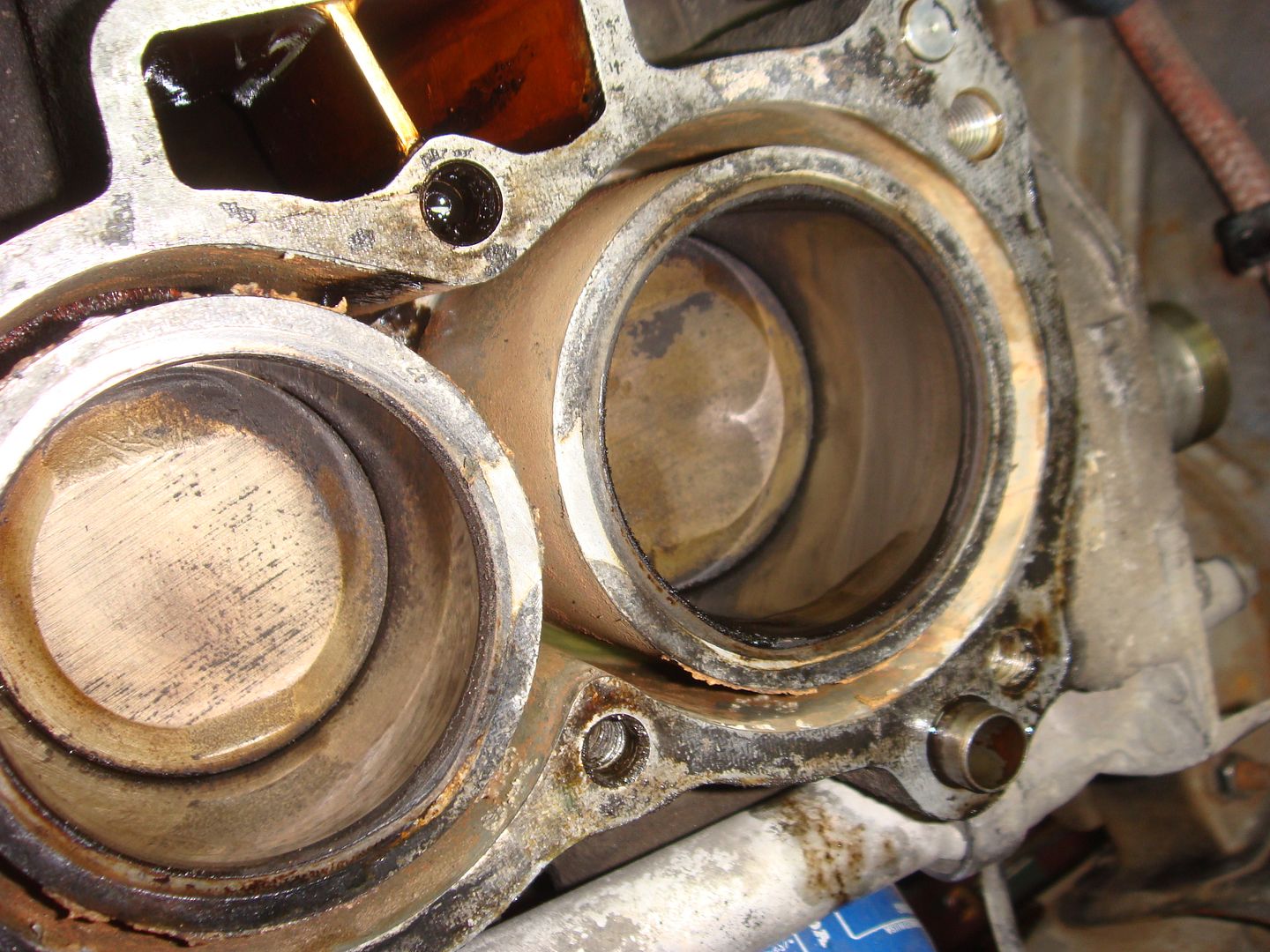 They look surprisingly good with no major scoring at all!
I pulled the water pump off as well. I have a rebuild kit for it, but I think I need a press to get it done.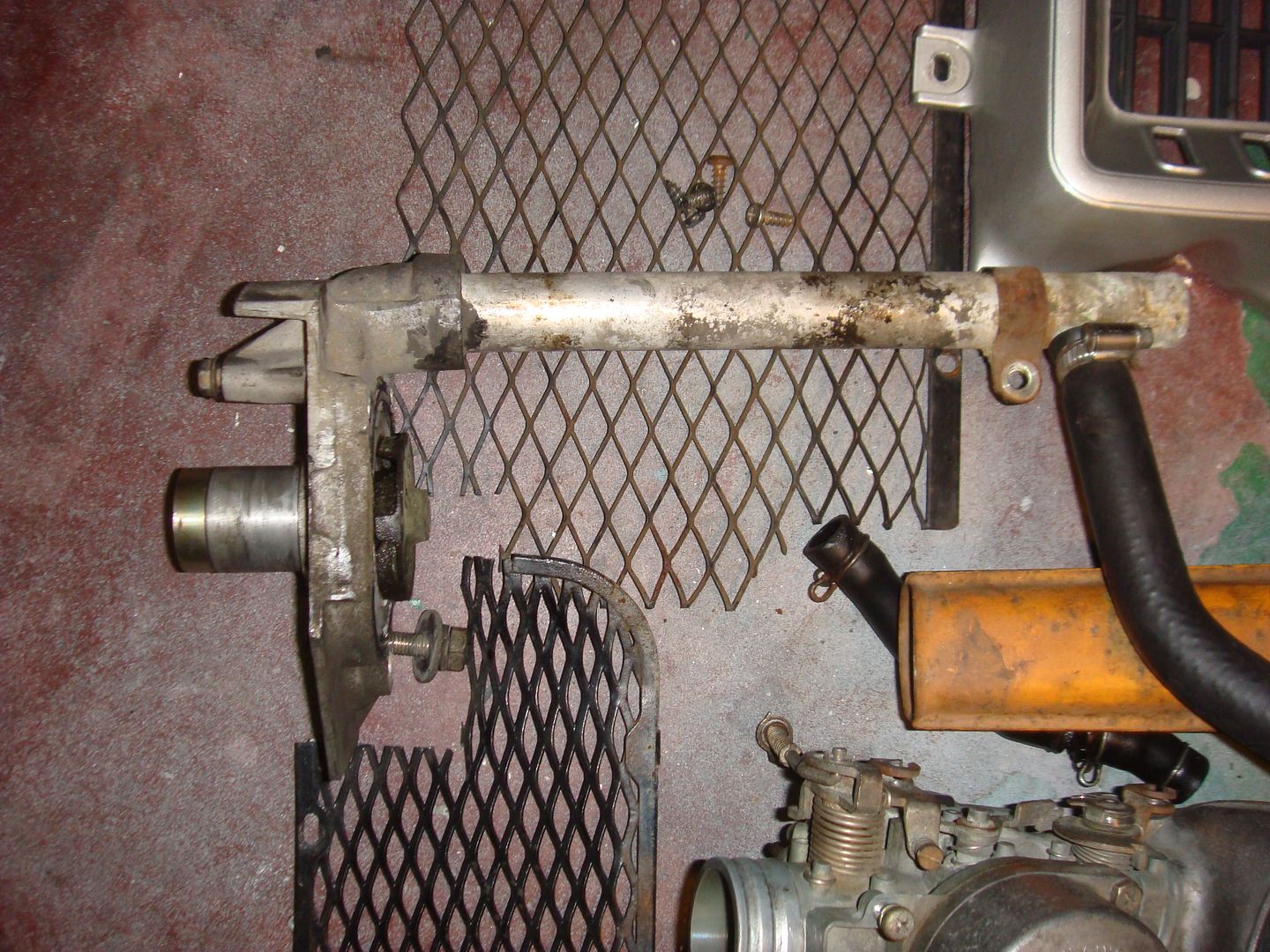 I took a short breather and talked to my garage buddy again about what shape he thought the headgasket would be in.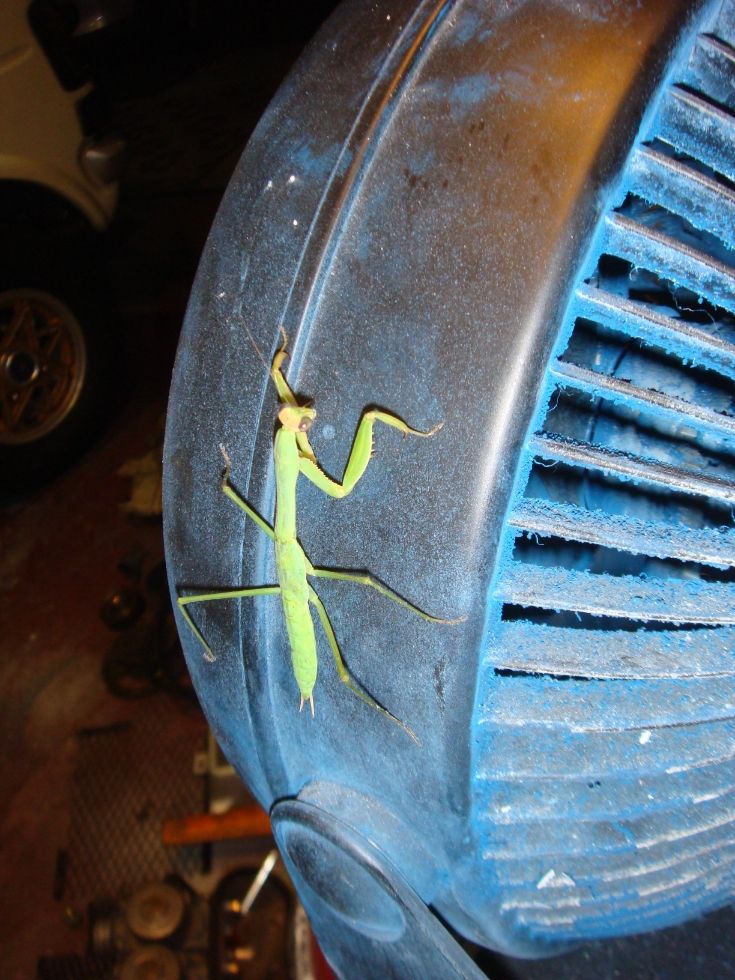 And then I took a look!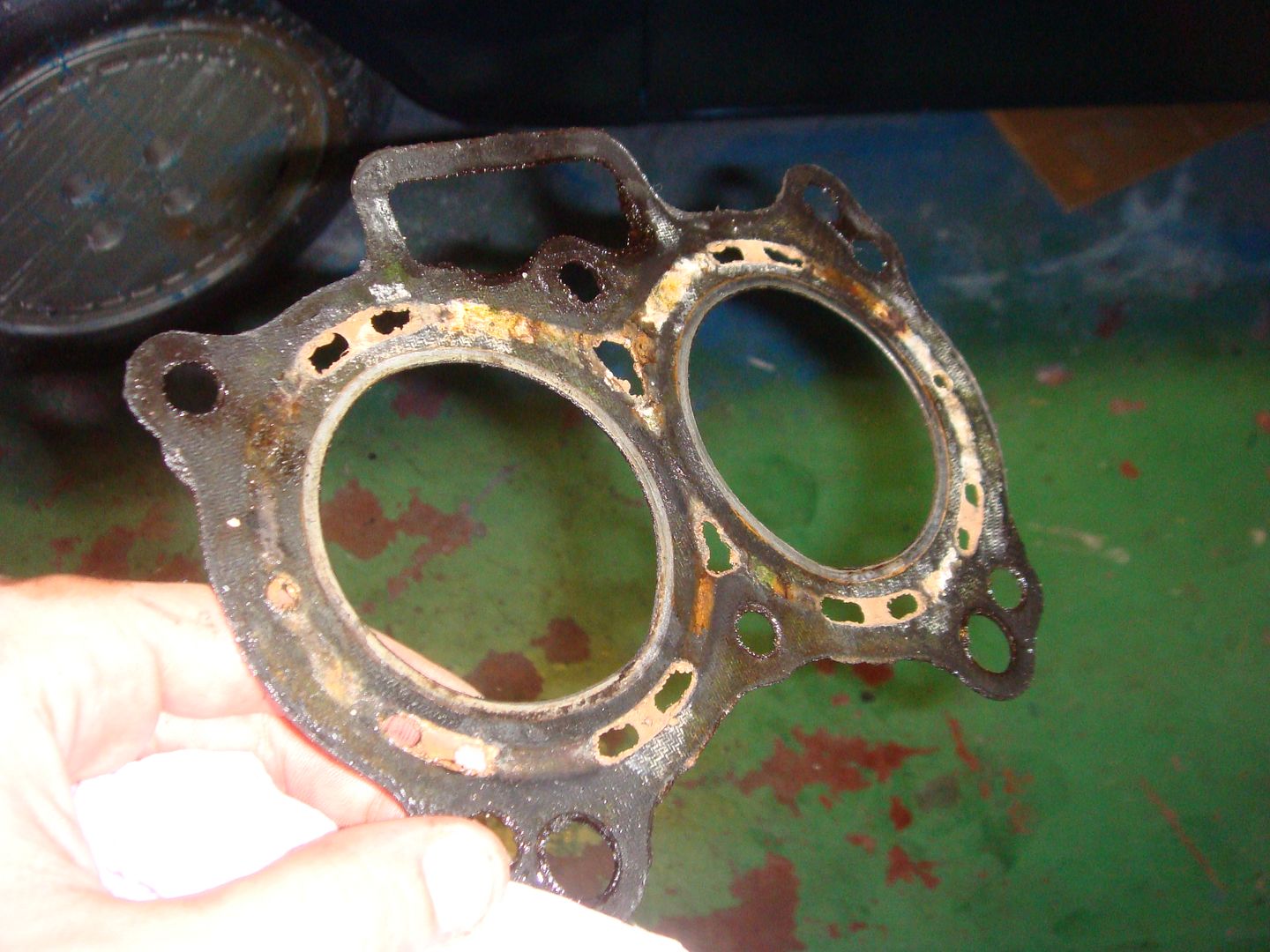 There's no obvious cracks, splits or wanton destruction, but it does look awful. The material looks puffy and like it's ready to separate at any time and there's a lot of gross buildup on the places where the coolant hits.
It also looks like it's the original headgasket from 1973. Given the torque that the head bolts were on with, I'd say this is the first time the head has been off this engine in 40 years! The fact that I was daily driving on this thing is a testament to how well built this engine really was.
So, I called it a night there and put a new headgasket on order. Unfortunately, we're currently in the middle of the Obon holidays so the new gasket won't get here until sometime mid next week. So, I closed up the garage and found yet another garage buddy. I love these little guys, they're so cool looking. I say little, but this brown one was nearly the same length as my hand!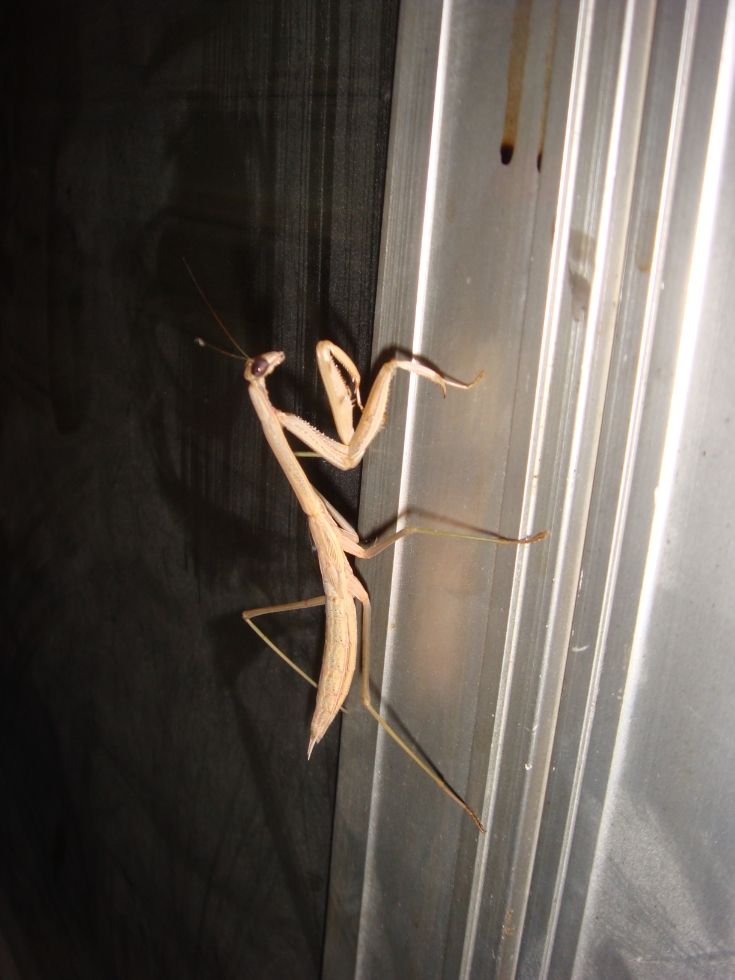 Seeing as how the gasket won't be here for a while, that gives me plenty of time this weekend to focus on the Bellett, which it so desperately needs!
======
So, my new headgasket arrived in the mail last week and some comparison shots highlight some interesting differences.
First, the new headgasket doesn't look like it's made from toilet paper. Second, the old headgasket water channels were about 3/4 the size of the new one. I can only guess that 40 years of build up slowly closed the channels up a bit, restricting flow to the head.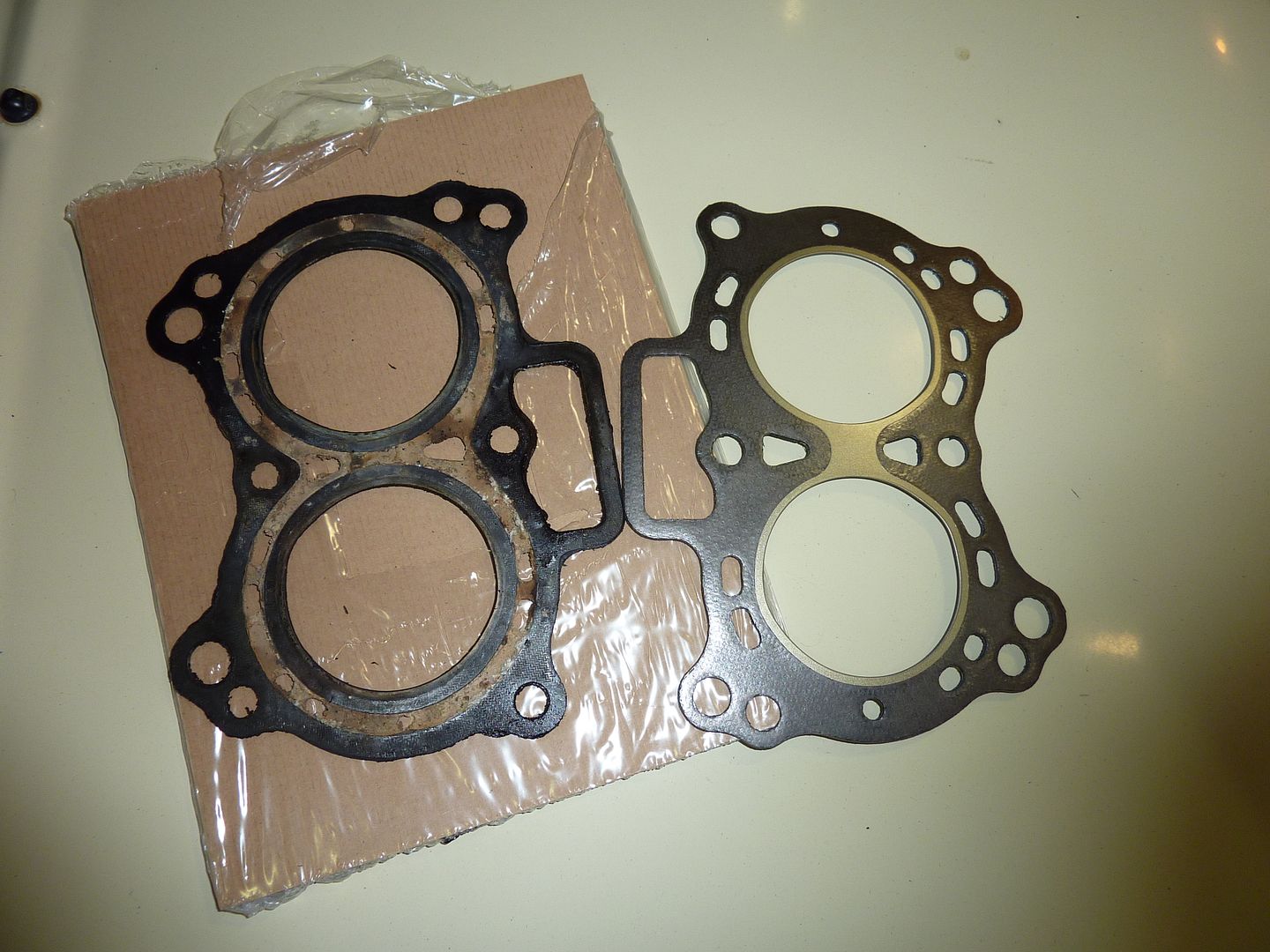 I spent some quality time cleaning off all the gunk and crap on the top of the block. It's much shinier now!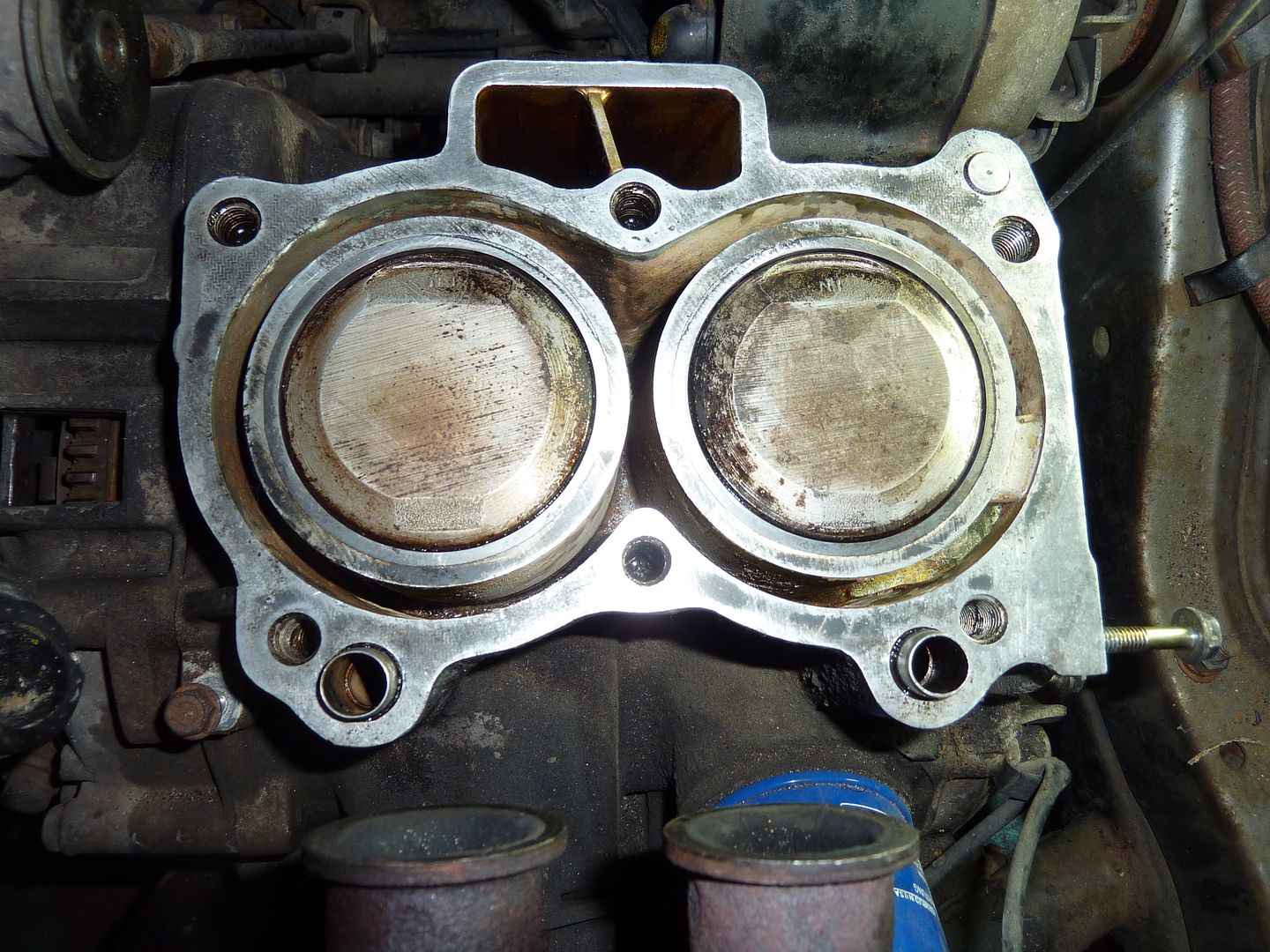 I did the same to the bottom of the head too, although to be honest, they both could really benefit from some machine work.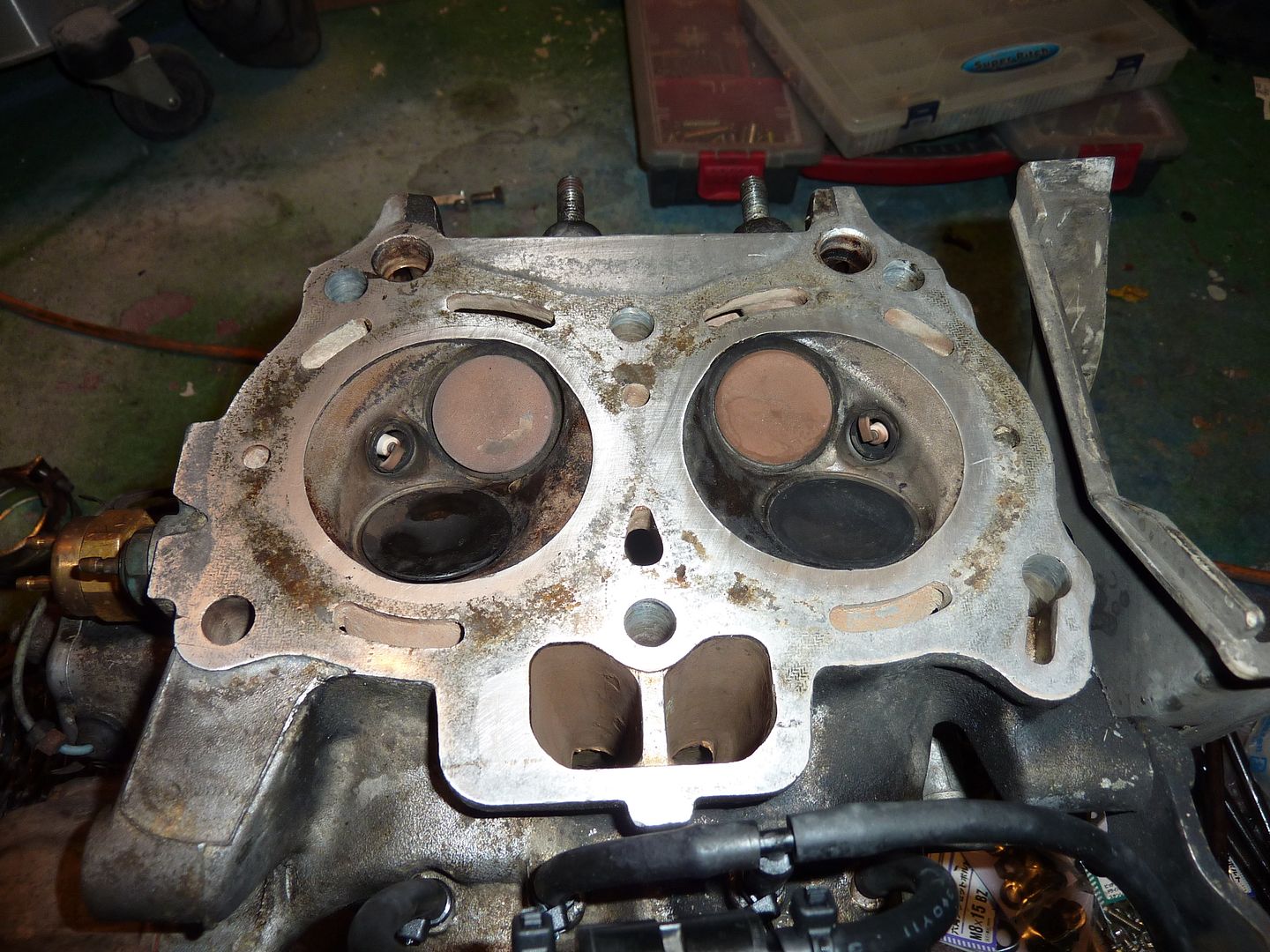 So, now that the block and head were prepped, it was time to clean all the head bolts and bolt holes. While cleaning the head head bolts I stumbled across this one. If you look at the very tip you can see the threads flattened out. It was a chore to get this one out when removing the head and now I can see why.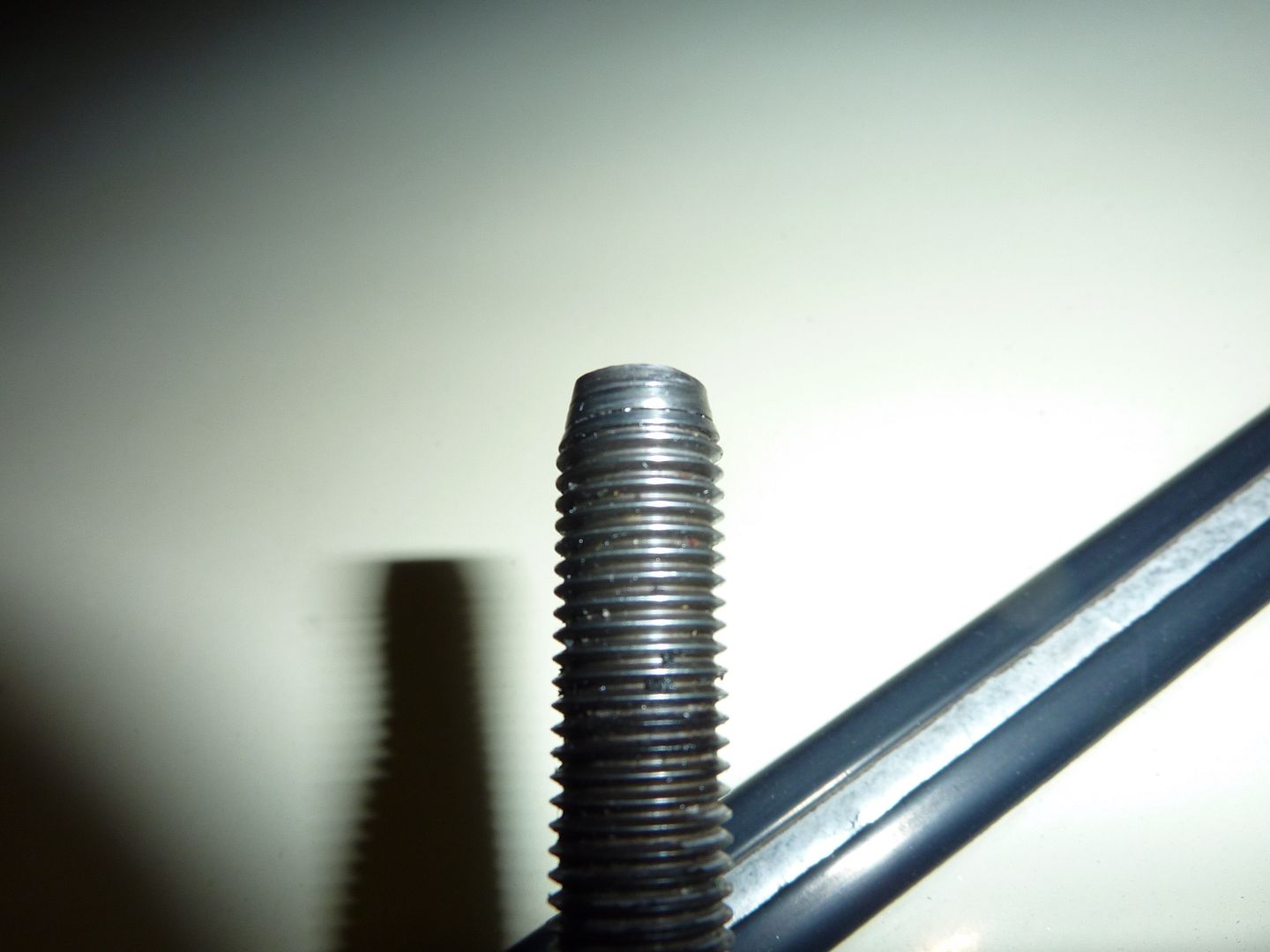 So, I ran a tap through all six bolt holes on the block and a die around this bolt to fix the threads. Then I ran a separate nut up and down all the bolts to clean as much gunk out of the threads as possible. A bit of oil and all the bolts threaded in beautifully!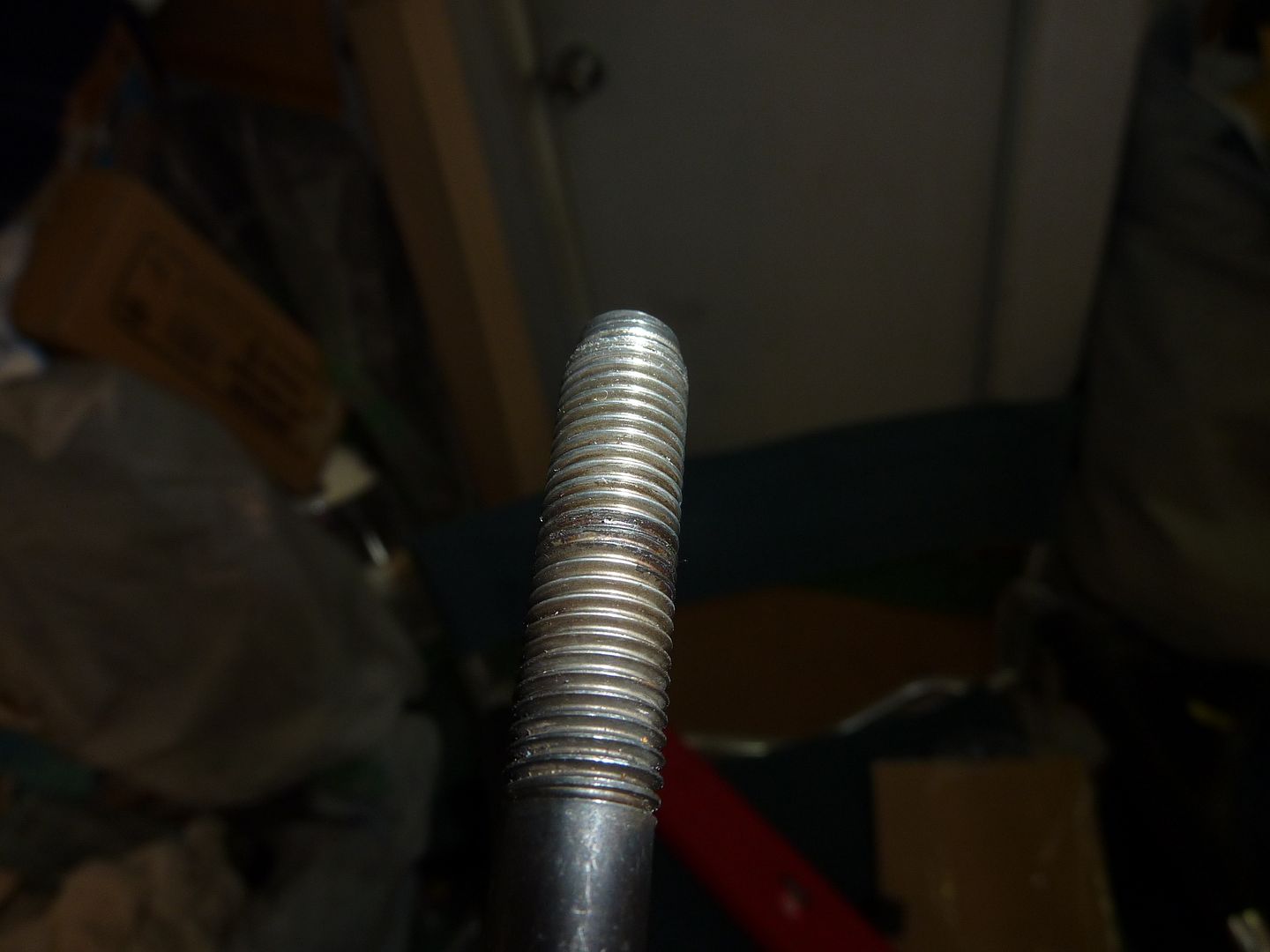 Here's the headgasket sitting on the block and you can just see the clean threads in the head bolt holes.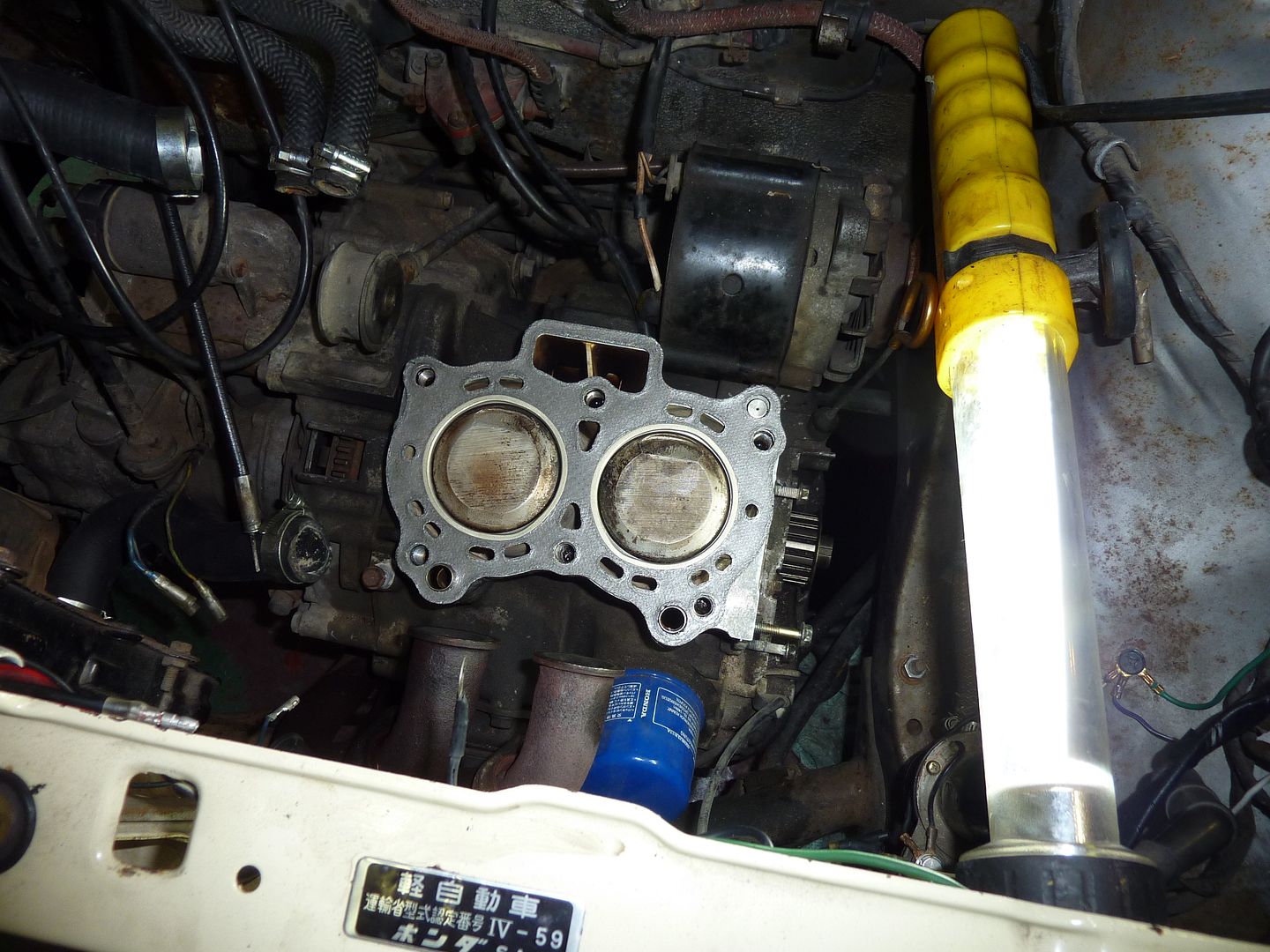 Cylinder head on and torqued! On that note, the torque for the head bolts is ridiculously low, like 36 NM. I quadruple checked the FSM and there it was plain as day. I torqued to that spec but still can't believe how low torque it is. It could have something to do with the fact that the block and head are all aluminum from the 1970s, but still.
Back together enough to do a test run! I slowly turned the engine over by hand to make sure that I got the timing belt hooked up right and that there was no undue friction anywhere. Then I turned it over with the starter a little bit to get the fuel pump going. Then, with the choke out, a dab of throttle I twisted the key and she fired right into life!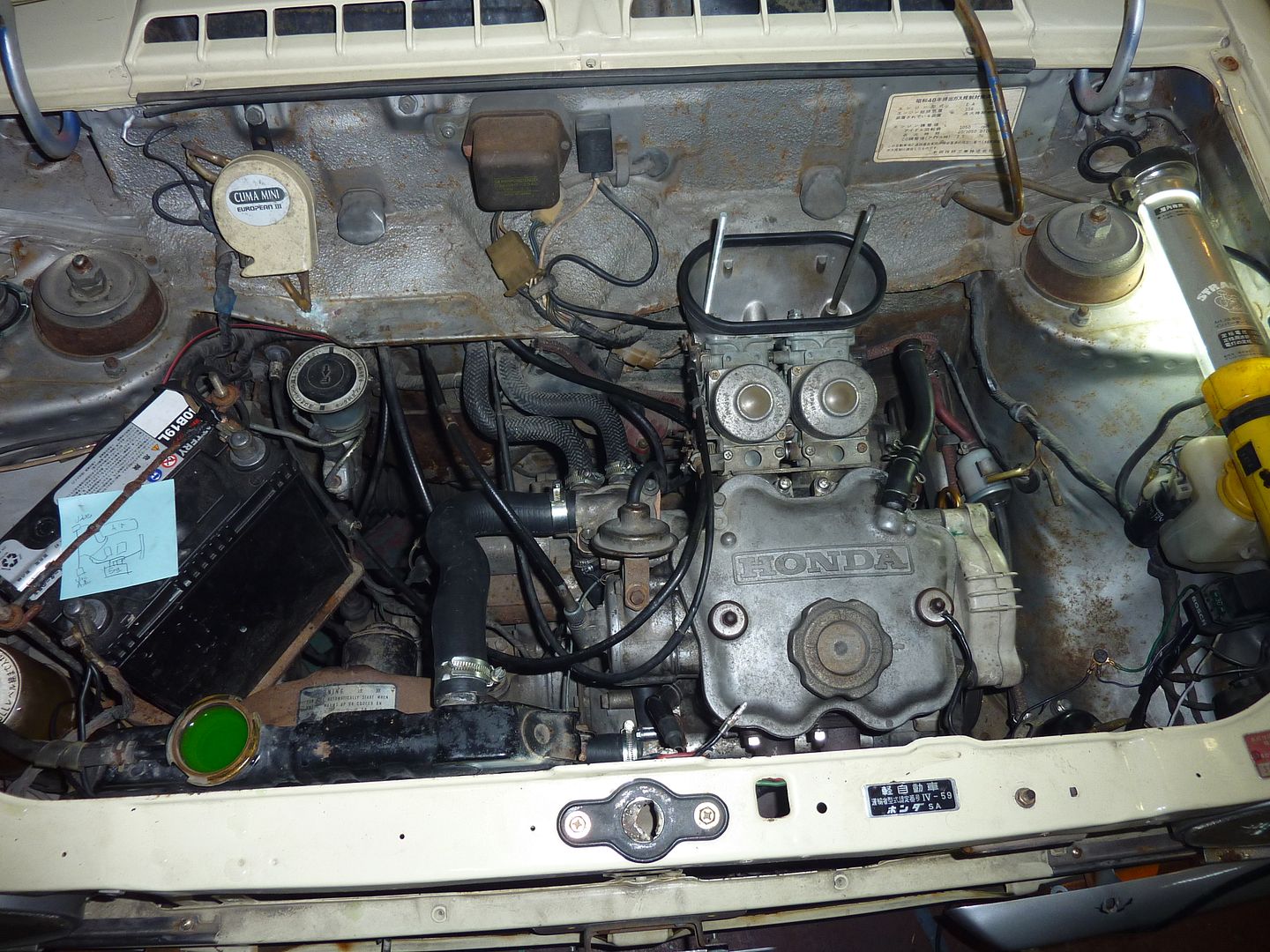 I let it warm up enough to make sure that nothing insane was happening (like peeing coolant or oil somewhere) and then shut it down for the night. The next morning I went out, let it warm up fully so I could bleed the cooling system. With that bled, I started reassembling the rest of the engine bay and the front end. Then, it was out for a test drive in the spitting rain.
The smoke out the tail pipe is 95% eliminated. What remains is to be expected from a car with no cat under high load on the original rings from 1973. In other words, it runs damn well, haha. I was surprised in that it actually takes considerably longer for the engine to warm up now. I haven't gone on any long drives yet and it's been a surprisingly cool weekend, so I haven't had a chance to stress test it and see if it's still prone to overheating. At any rate, I'll daily drive it to and from work (which is just 3 km away) for a week and keep an eye on all fluids.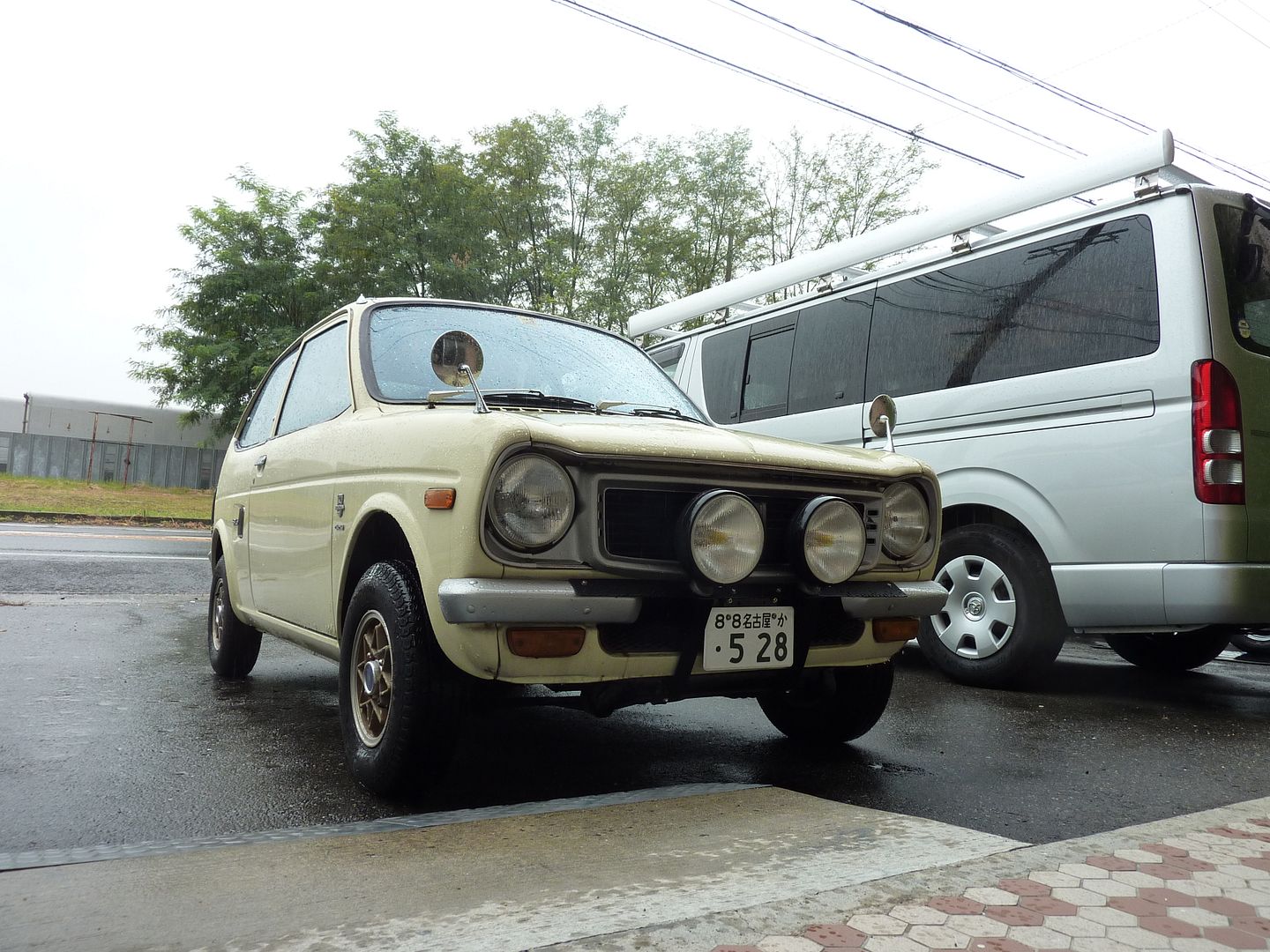 Hopefully, all is well! Although, I'm still a little concerned about the super low torque specs on the head bolts. To be fair though, I'd rather follow what the FSM says than over torque them and warp the head or rip threads out of the block.
======
This weekend I was really hoping to focus on my Bellett and maybe get a little work done on the fog light mount for the Life, but my brakes had different plans. Now that I had the front left wheel cylinder mostly sorted (after replacing everything), the front right decided that it was time to let loose. It was leaking fluid into the drum and making a very nice grunching noise everytime I pressed the brake pedal. So, Friday night it all came apart!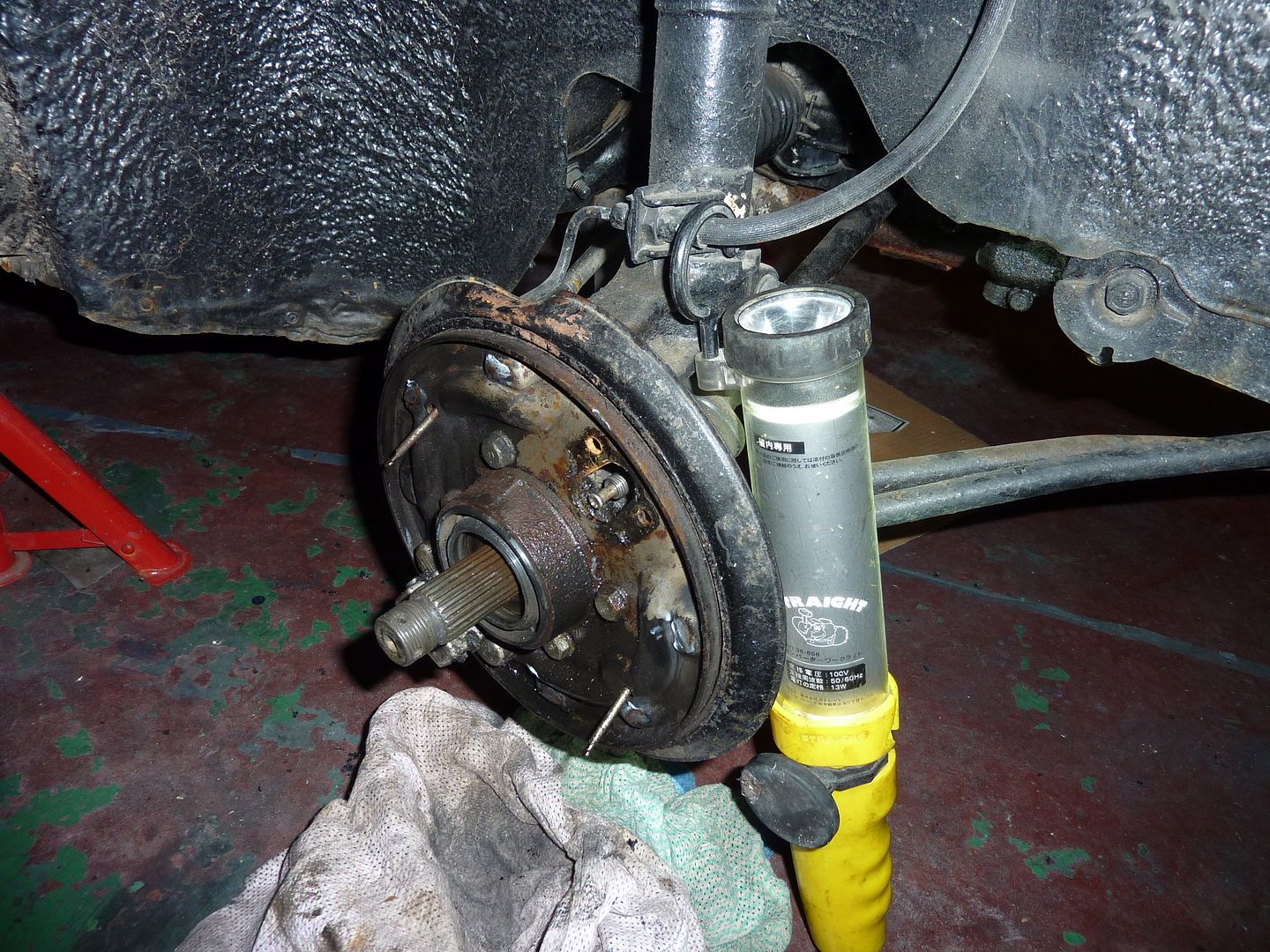 The biggest problem I ran into was getting the little hardline that runs between the soft line and the wheel cylinder off. When I first did the brakes, that hard line didn't want to let go of the wheel cylinder, so I left it mounted and did my best to clean the wheel cylinder that way. Well, this time the wheel cylinder had to come off, which meant I needed to get that hard line off. Getting it loose from the wheel cylinder was painful, but no where near as painful as getting it loose from the soft line. It was a battle to the very end and the fittings show the results.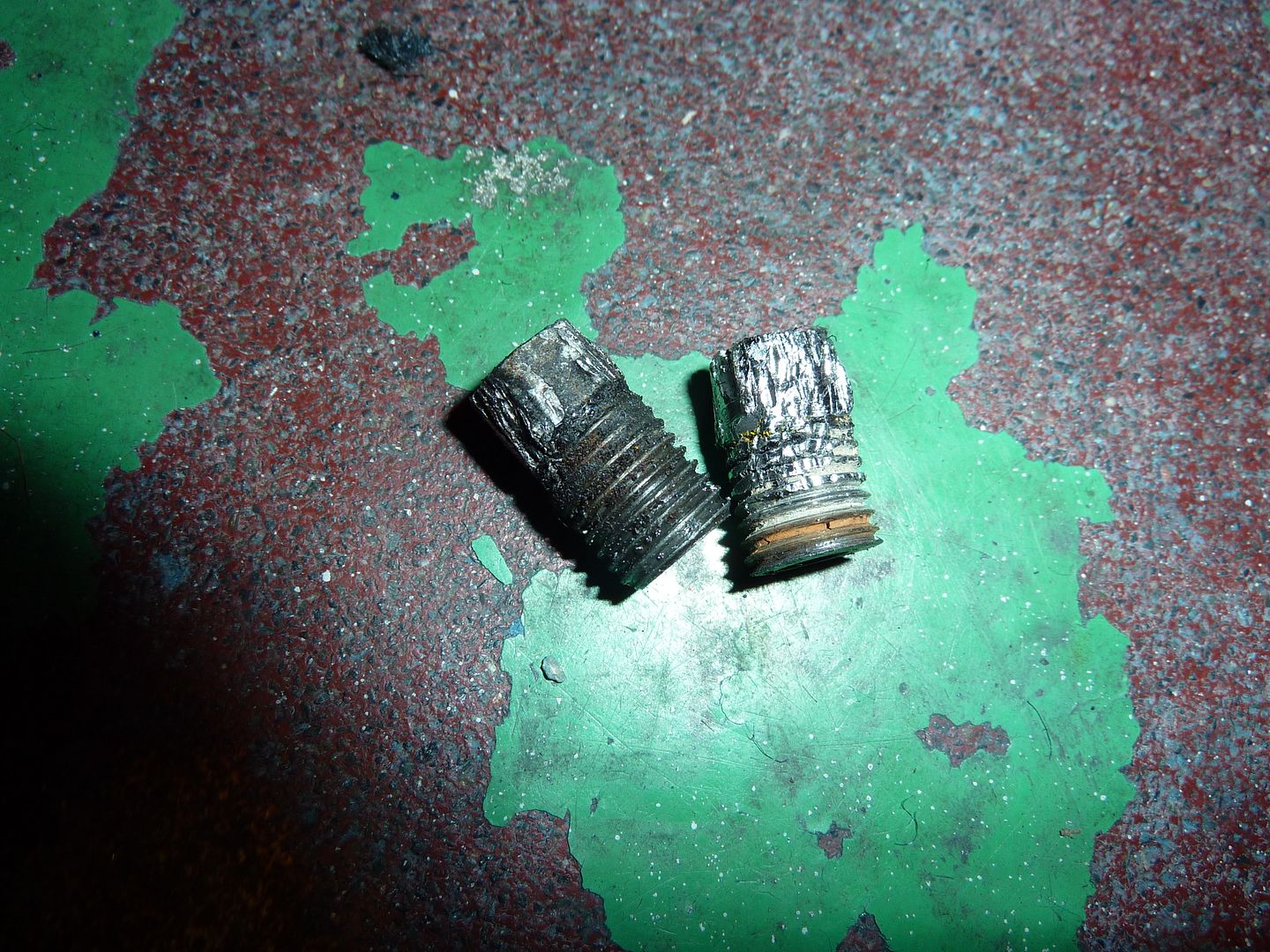 Ya, those will have to be replaced... One trip to the parts car on Saturday morning and voila, two much prettier fittings.
I slid those on, reflared the pipe, then reinstalled it. Then I swapped to a cleaner wheel cylinder that I pulled off the parts car, put in some new seals and reassembled the whole thing. After a quick bleed, it all seems to be working just fine now!
So, I focused on cooling next. Now that I have a new headgasket in, I want to make sure that I don't overheat, even in extreme situations, like being stuck in traffic on a 100 degree day. So, the first step was removing the old fan.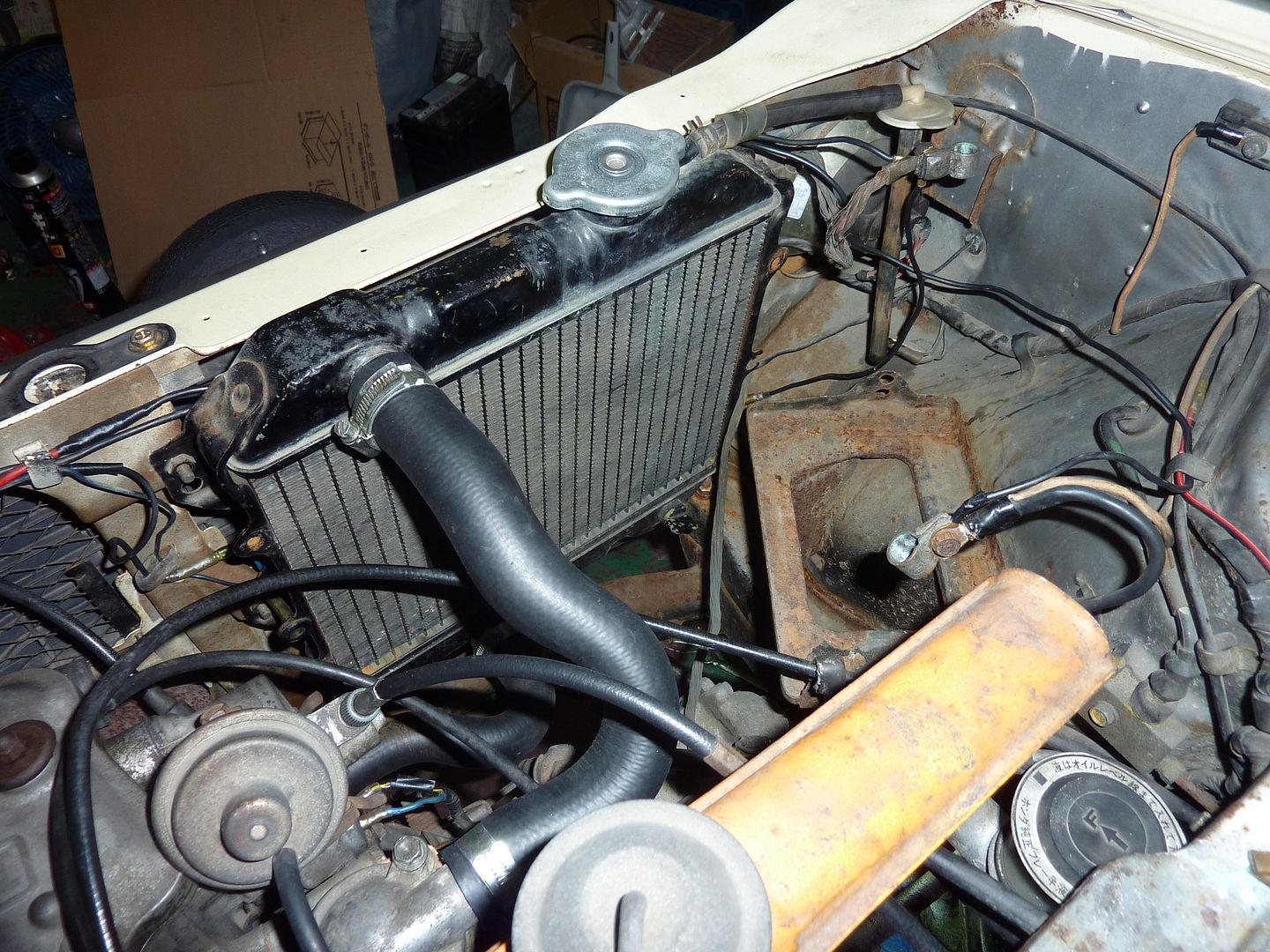 Then, I pillaged a new fan from a 4 door automatic Honda Life.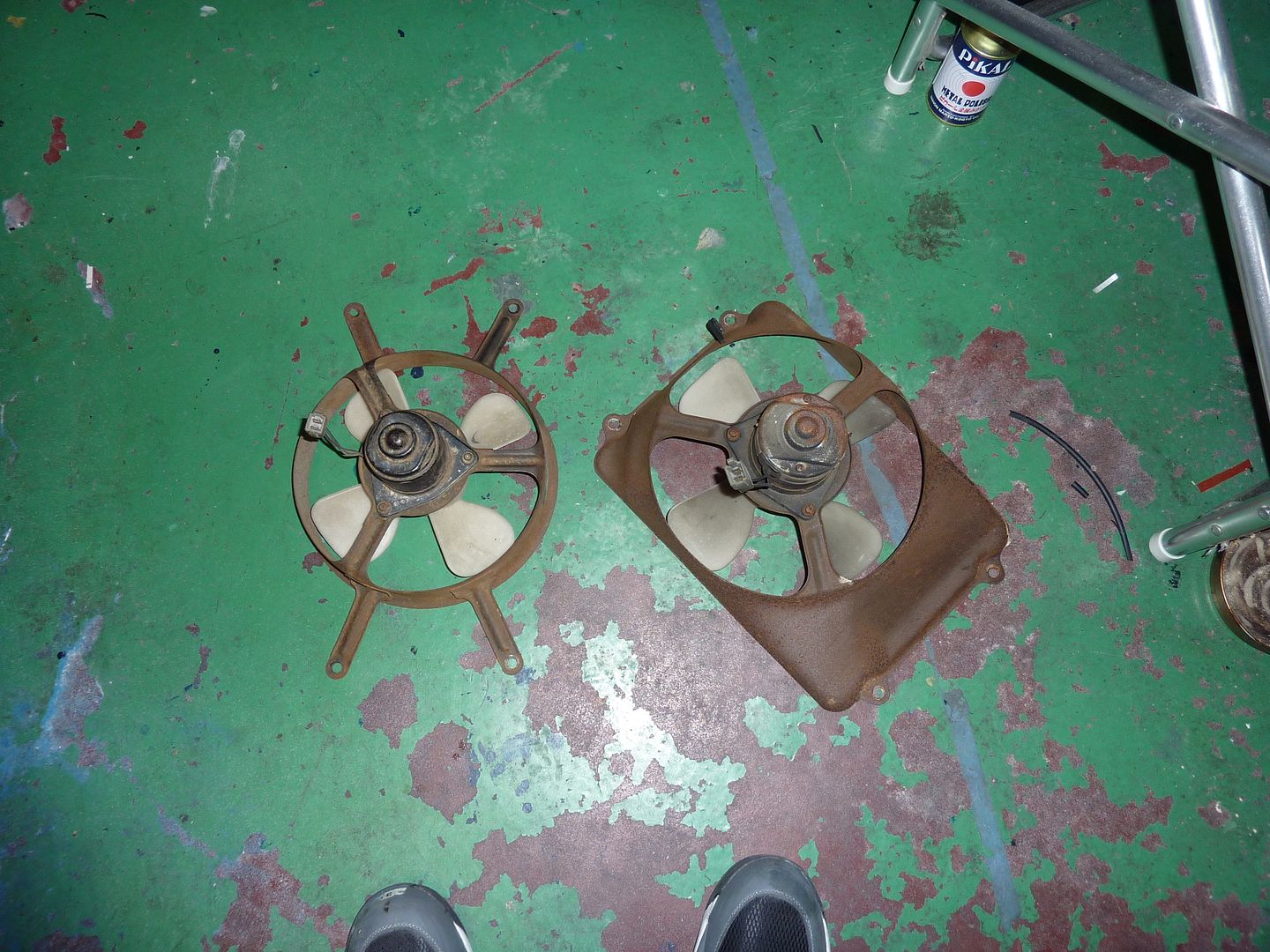 The original fan is on the left in that picture. So you can see right away that the major benefit is having a full shroud. That's going to make the fan way more effective. But the good news doesn't stop there. The fan blades themselves are actually larger and the motor itself is bigger.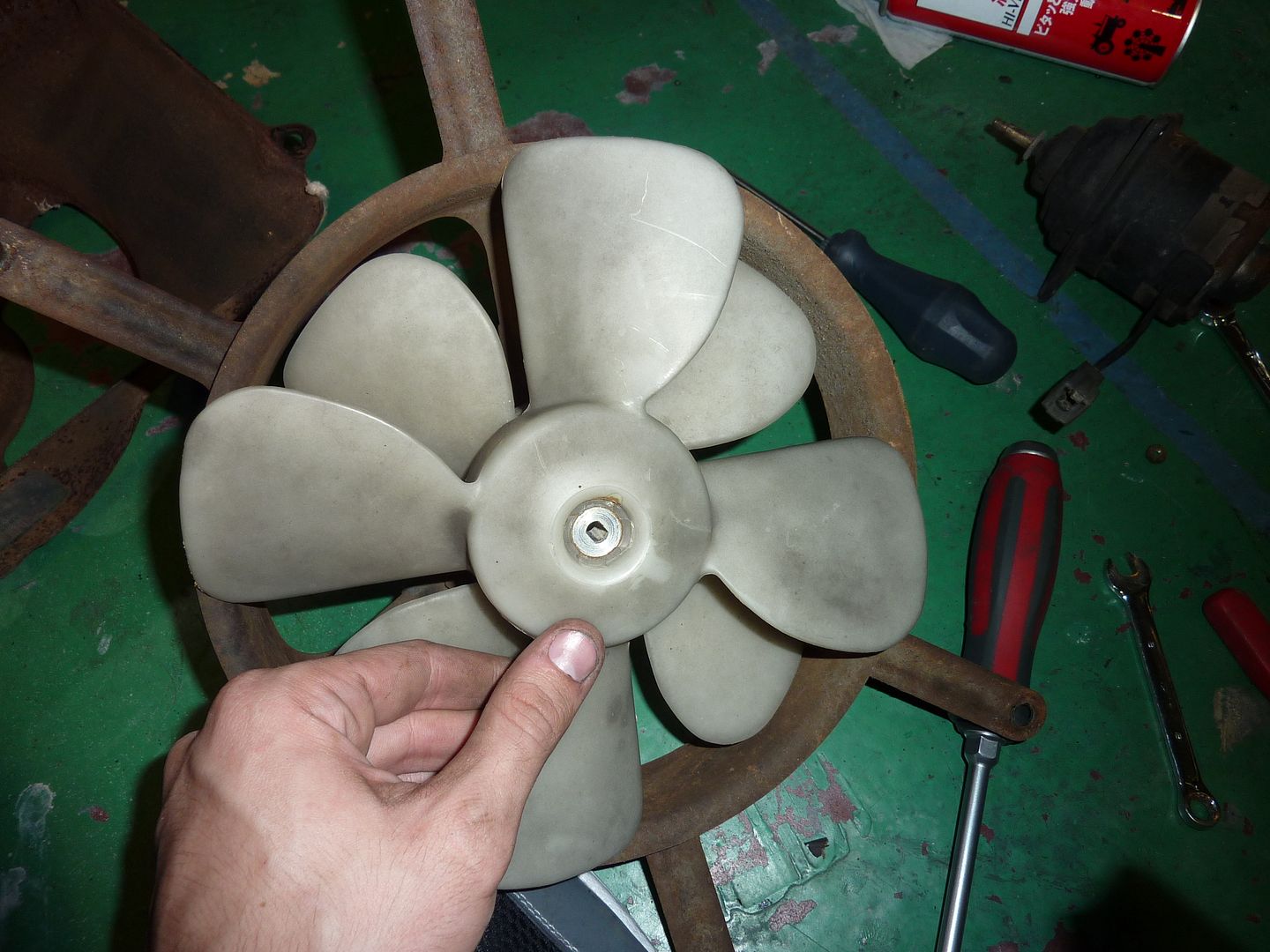 So, more efficient, more powerful and larger and all in the same space as the original fan. I don't know why they didn't run this fan from the get go. The shroud was pretty rusty and since I needed the car to be mobile soon, I didn't have time to get someone to sand blast it. So, I rubbed it back with some 80 grit paper and then painted it with some cheapo rust stopping paint.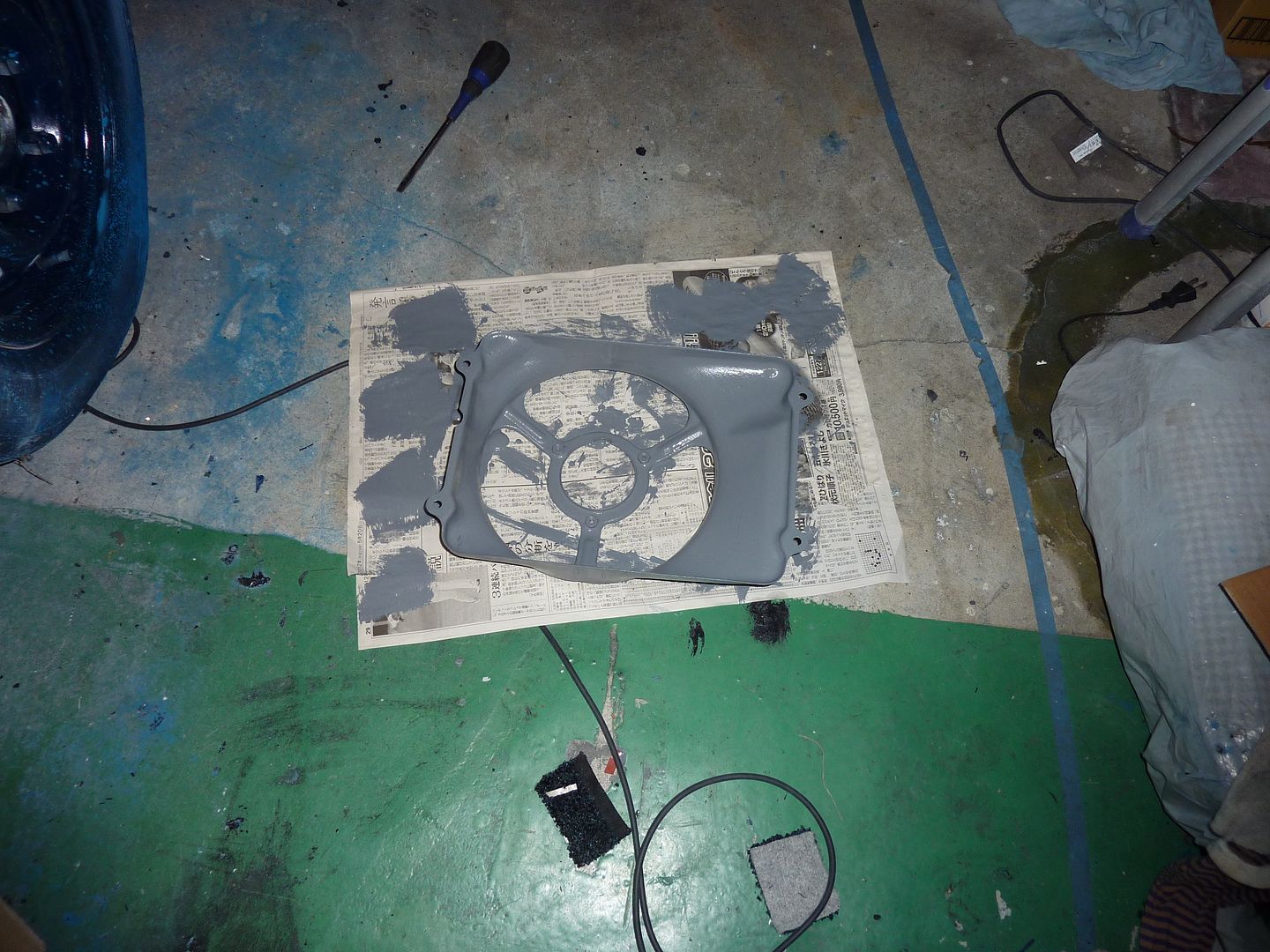 Then I sprayed some black over top of that, which turned out awful, but black.
Not the prettiest thing I've ever done, but functional and it actually blends in with the rest of my tired and old engine bay rather well, haha. Then, because I don't fully trust the thermo switch yet, I wired in a backup switch.
This backup switch uses power from an ACC controlled line, so I can't run the battery down by forgetting about it. It also doesn't disable the stock thermo switch, so, theoretically, I will never have to use it. But after having just done the head gasket, I enjoy the peace of mind.
And we're back up to date!