9/2/13
I was in a big hurry today so I only took one pic. Basically today between 3 and 9 I did the following:
-remove right axle shaft
-replace right drum brakes
-replace both axle oil seals
-re-install both axle shafts with fresh end plate gaskets
-drain diff oil, replace drain bolt/gasket
-remove diff, replace oil seal, replace diff
-refill diff, replace fill bolt/gasket (Amsoil gear oil)
-drain transmission, replace drain bolt/gasket
-refill transmission (Redline MT90)
-install shifter
-replace rear brake softline
-install new custom driveshaft
-re-bench bleed brake master cylinder
-bleed all brakes
-reinstall wheels
As you can see, I was busy. Here's a pic of my super awesome open diff while it was out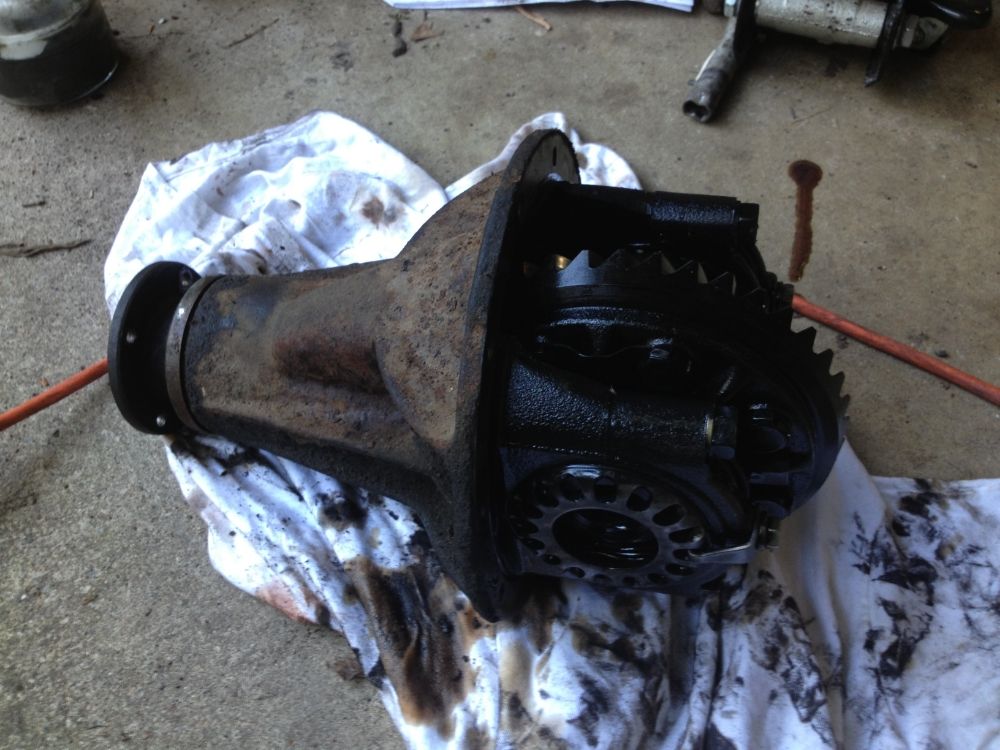 It now runs and drives very well, but there are a few issues I need to address soon.
-replace radiator hose(s) since they are a tad drippy
-replace or rebuild starter since it's kinda spotty when it actually wants to work properly
-it hesitates when you give it lots of throttle. Not sure what that could be, maybe TPS? It has all new ignition, so I'm not sure what's up.
-front right window needs to be diag'd, goes down but not up, but the motor works fine when you apply power directly to it.
-needs rear wiper blades
-needs proper coolant temp gauge. The stock one reads in the middle all the time.
But the important thing is that it runs and drives! WOO HOO!
9/9/13
I've put about 150 miles on the car so far and it's been pretty solid. I put in a cheap-o autozone mechanical water temp gauge just to make sure I'm not overheating and I'm not. There are still a few issues that need to be addressed:
-window still doesn't work
-shift boot/center console needs to be properly put together
-pedals need adjusting
-whenever the rear suspension is compressed a bit (bump or lots of people in the car), the now-oversized front u-joint on the driveshaft lightly contacts the dust shield on the transmission, looks like the black thing in this picture I found on google:
http://www.ke5rs.com/dropbox/rides/supra/DSC_5307a.jpg
So I think I may trim that skirt thing a little bit.
Other than that the car doesn't have any real issues. I do have a list of things I'd like to do to it in the future, here they are in rough order of expense/effort:
-buy cassette tape to headphone jack adapter so I can listen to my iPod through the awesome 1993-spec aftermarket Pioneer stereo
-plumb in a power steering cooler using either a PS cooler I have yet to acquire from a car in the junkyard OR using the stock AE86 oil cooler I have as a PS cooler
-plumb in an engine oil cooler using either the aforementioned AE86 cooler or using another cooler from probably the junkyard in conjunction with an Earl's Performance oil filter sandwich w/build in thermostat
-finish restoring/polishing the P-Type wheels, get tires, put them on the car
-cut springs a bit until I can afford coilovers
-electric radiator fan conversion
-modify my Celi-Supra seat rails to fit/dye seats to match/fix lumbar ball pump thing/install
-complete suspension overhaul with T3 shortened front coilover housings, BC racing rear AE86 coilovers (really adjustable shock perches and adjustable length shocks, not actually "coil-over"), custom T3 panhard bar, custom length T3 axle links, probably T3 steering arms as well for quicker steering
9/14/13
Compiling a list of optionsfor future low...
Front:
A) Cut springs, stock shocks - free, but hate my life
B) Remove spring perches, cut/shorten/weld housings with SW20 MR2 rear KYB AGX shock inserts and T3 weld-on kit and camber plates - $610 + welding costs, $420 without camber plates
Rear:
A) Cut springs, Camaro KYB AGX rear shocks, custom T3 panhard bar - $350, but hate my life
B) Custom springs, Camaro KYB AGX rear shocks, custom T3 panhard bar - $???
C) Megan Racing/BC Racing AE86 rear "coilover" (adjustable spring seats, 8k springs, adjustable length shocks), custom T3 panhard bar - around $650
D) everything from option C, plus all T3 adjustable heim joint links and traction brackets - $1100 ish
I'm thinking B for the front without camber plates for now, and either B or C for the rear
9/17/13
Got word from T3 that a panhard rod would run me $145 and I just have to send them measurements and they will make me a nice heim joint adjustable one.
Megan Racing rear AE86 bits would run around $500 (not sure if shipped or not)
BC Racing rear AE86 bits would run around $660 shipped
I think I may just do cut springs with KYB AGX Camaro shocks on the rear. I'll still probably be doing T3 coilovers/shortened housings/MR2 shocks on the front, but it's all going to have to wait since it's pretty expensive to do everything.
9/19/13
Ordered a Mocal oil filter sandwich plate with built-in thermostat.
It has two 1/2" BSP fittings, so I got 1/2" BSP to -8AN adapters, and two -8AN to 3/8" hose barb fittings that match the 3/8" barbs on the AE86 oil cooler. ALSO, the bracketry on the cooler almost perfectly lines up with the bolts for the hood latch vertical support piece, so mounting it should be a breeze. Still working on how a power steering cooler will fit, but we will see.
I also have new radiator hoses waiting to go in, and I'll probably be getting new belts tomorrow. Every time I start the car from cold, it squeals really loud for about 20 seconds or so.