Copy-pasted from another forum for your viewing pleasure:
6/9/13
Picked up this poor thing from a guy up in NoVA on 6/9 for $600. It has 158k miles, leaks pretty much every fluid, needs a battery, supposedly overheats (it never did for me), the paint is TERRIBLE, the left rear door doesn't open from the outside, the front right window won't roll down from the switch on the driver's door (never tried the pass. side switch), but the interior is in almost PERFECT shape, and it runs. And it's (more or less) a Celica-Supra wagon!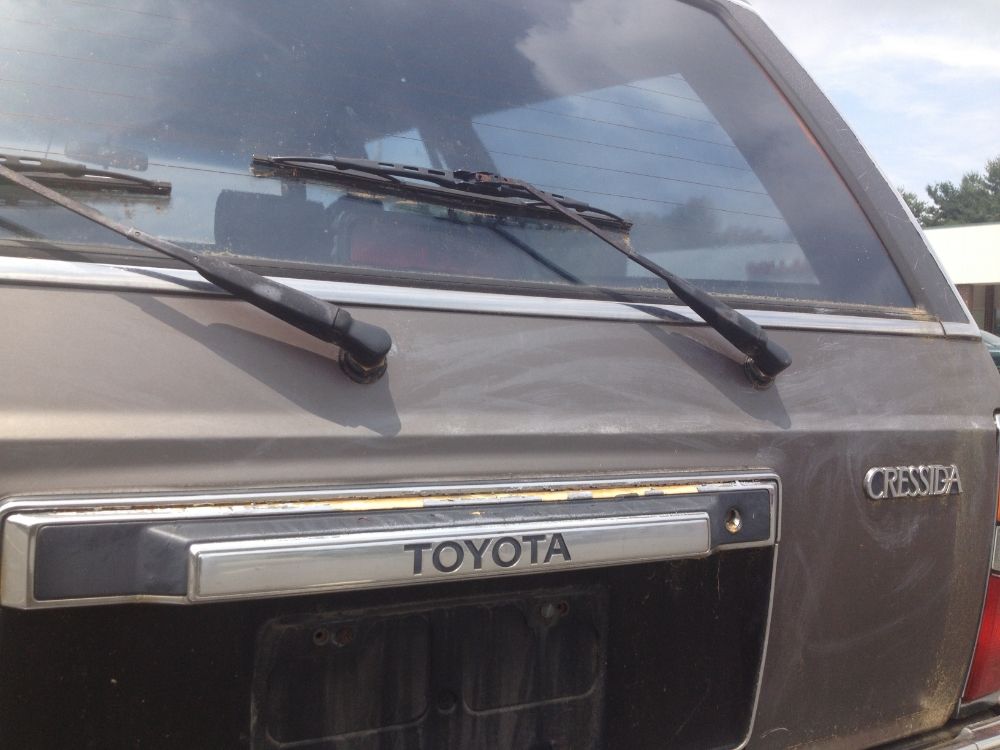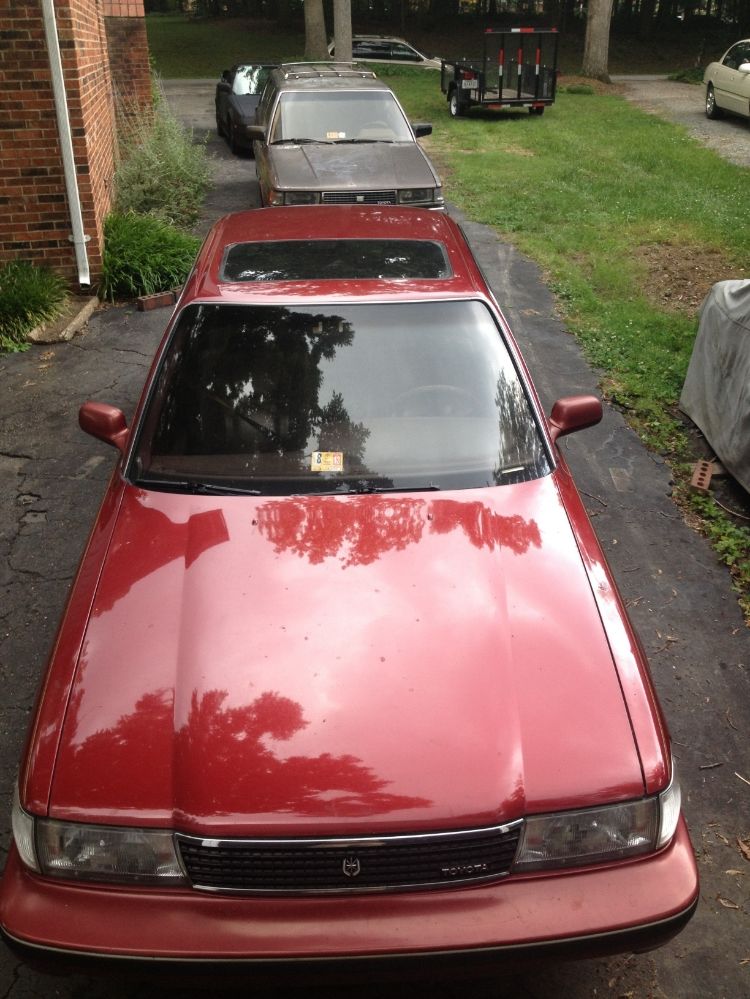 Here's the service history I have for it.
6/23/98 - 106k
Rear brake shoes & wheel cylinders
6/30/98 - 106k
Battery
7/9/98 - 106k
Emissions fail
7/15/98 - 106k
Air filter, spark plug
8/26/98 - 107k
Front struts, alignment, rotation
9/22/98 - 109k
Transmission service, antenna mast, wheel balance, front wheel bearings
4/27/99 - 115k
Water pump
6/18/99 - 117k
Radiator fan
10/19/99 - 121k
New (used) distributor + spark plugs
1/3/00 - 124k
Plug wires
3/17/00 - 125k
R&R tail shaft housing/diff
3/21/00 - 126k
"Differential assembly/rear susp" + gear oil??
8/24/00 - 130k
Left rear wheel bearing
8/25/00
Catalytic converter
3/22/01 - 137k
Rear muffler
7/18/01
Oil change
10/1/01 - 141k
Neutral safety switch
Right now my plan for this car is to remove the engine and transmission and re-seal everything out of the car. This will make it WAY easier I think. I would LOVE to do a manual swap but parts will be hard to find locally and cheaply. It needs a W58 transmission/shifter/slave cylinder from a MA70 Supra, a W58 from any other car has the shifter in the wrong position. I would then need an MA70 flywheel and clutch kit, as well as an AE86 Corolla clutch pedal, MA60 Celica-Supra master cylinder, and I would have to custom make a hard line, and add in a stainless soft line. Then, the drive shaft needs to be re-sized to fit (I don't remember longer or shorter). Then the big issue is getting the speedometer to work. Still not clear on how that happens.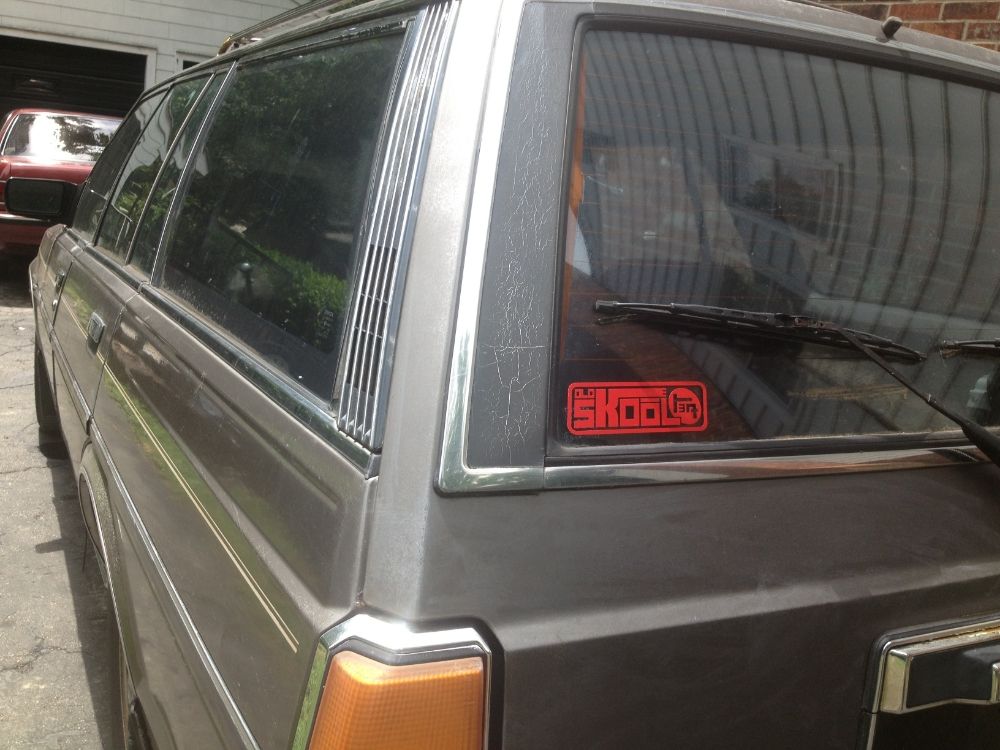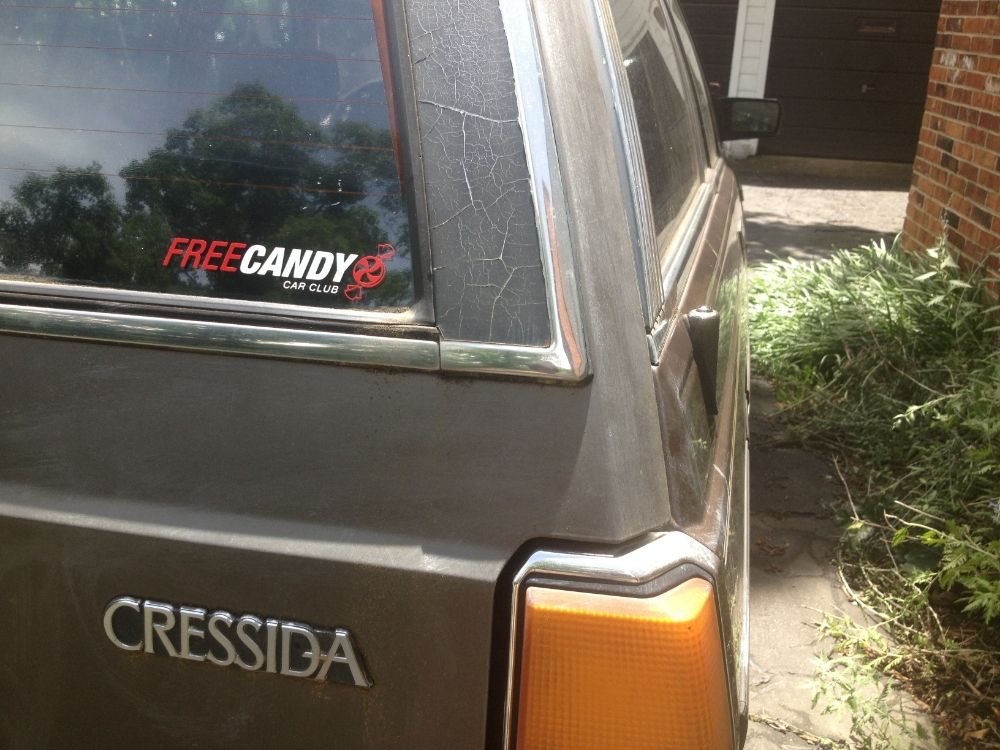 6/11/13
In talks with a SupraMania member in Fredericksburg about picking up a Supra W58 with around 130k for $200 if it has the slave cylinder, $175 if not.
6/12/13
OK so I plan to pull the engine and replace pretty much every gasket and seal in the motor, I have a couple options.
1) Super cheap no-name brand rock auto kit - $100
2) medium priced rock auto kit made by the same parent company as FelPro - $150
2.5) the above kit + oem head gasket for quality where it really counts - $230
3) the LAST later-generation 5M-GE OEM complete engine overhaul gasket kit in the country from Toyota - $318
EDIT: Holy hell, shipping for that kit on rockauto is like $20, bringing the total to $167. I googled the SealedPower part number and Summit Racing has the same kit for $110 with free shipping. I think I'll do that.
6/14/13
Picked up the row-your-own gearbox today. $250 got me a W58 5-speed manual trans from a 1986.5 Supra complete with shifter/boots and reverse light switch, two used clutch/pressure plate pairs, a flywheel, a brown shift boot to match my interior, and a stock Supra shift knob. And I discovered that the Cressida's driveshaft will in fact spline up into the W58. WIN.
6/16/13
So the left rear door wouldn't open from the outside. I got bored and took 15 min to remove the door panel and have a peek inside. This is what I found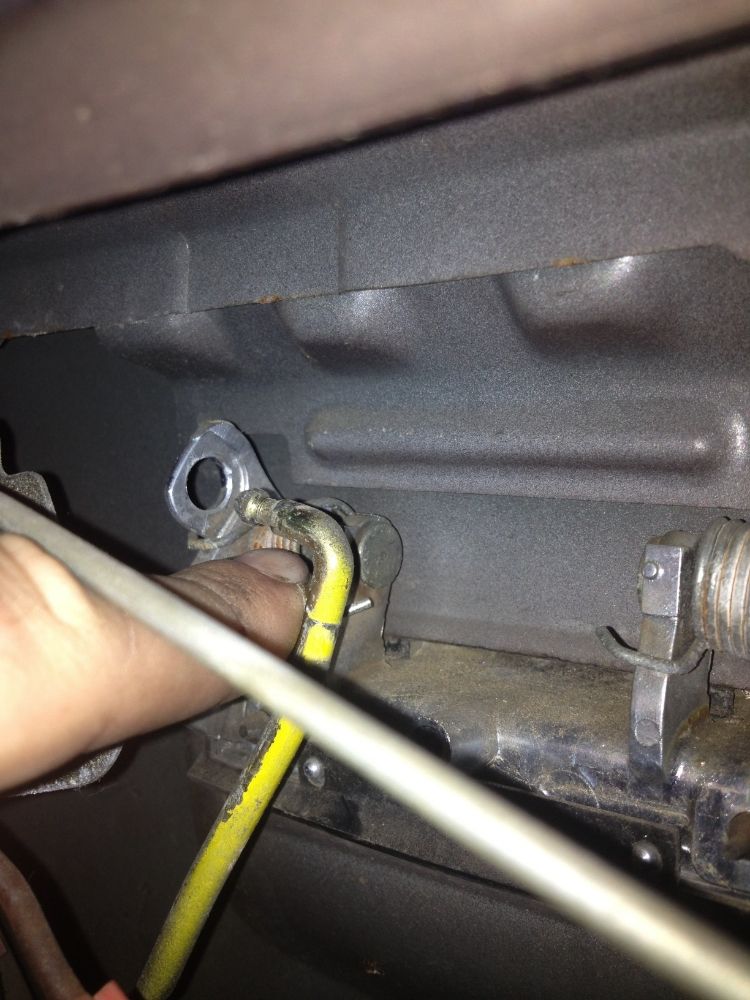 Turns out this little plastic clippy thing had broken and couldn't hold the rod in the handle anymore.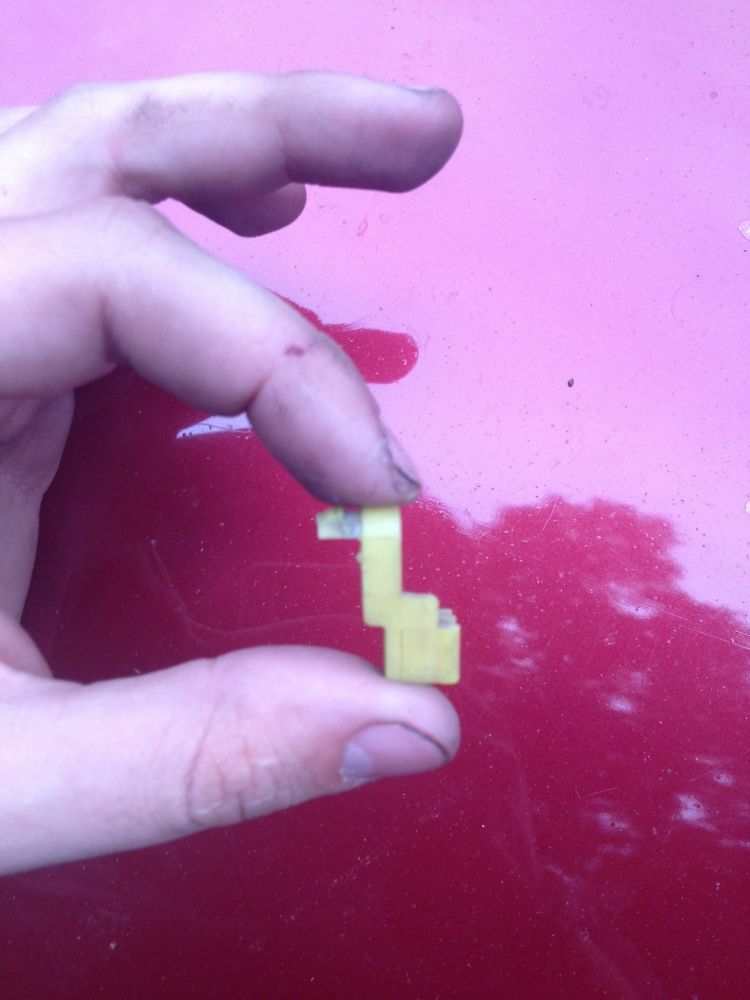 So I took it off, put a zip-tie on the end of the rod, and now the door opens from the outside. Aww yiss.
I also discovered that both of my keys I have for this car are valet keys, so they don't open the passenger door or the hatch. Gonna have to get the code off the door lock cylinder to get a new master made.
6/17/13
Took the lock over to McGeorge and got a new key made. Holy balls my keys were worn as hell check this out. It was even starting to crack. One or two more unlock attempts and it would be snapped, stuck in the lock. The key opens both front doors, but the hatch lock won't turn. I'll have to remove the cylinder and grease it up or something, later.
6/18/13
I got the input shaft seal and bearing cover gasket put in on the W58. The output shaft seal was quite a bit more difficult. The one IN the transmission was a little different design than the part I got from Toyota, I guess it was updated over time. The one in the transmission was a metal outer shell (maybe brass?) with a rubber inner seal. The new one was all rubber. I had to pretty much destroy the old one getting it out with my slide hammer.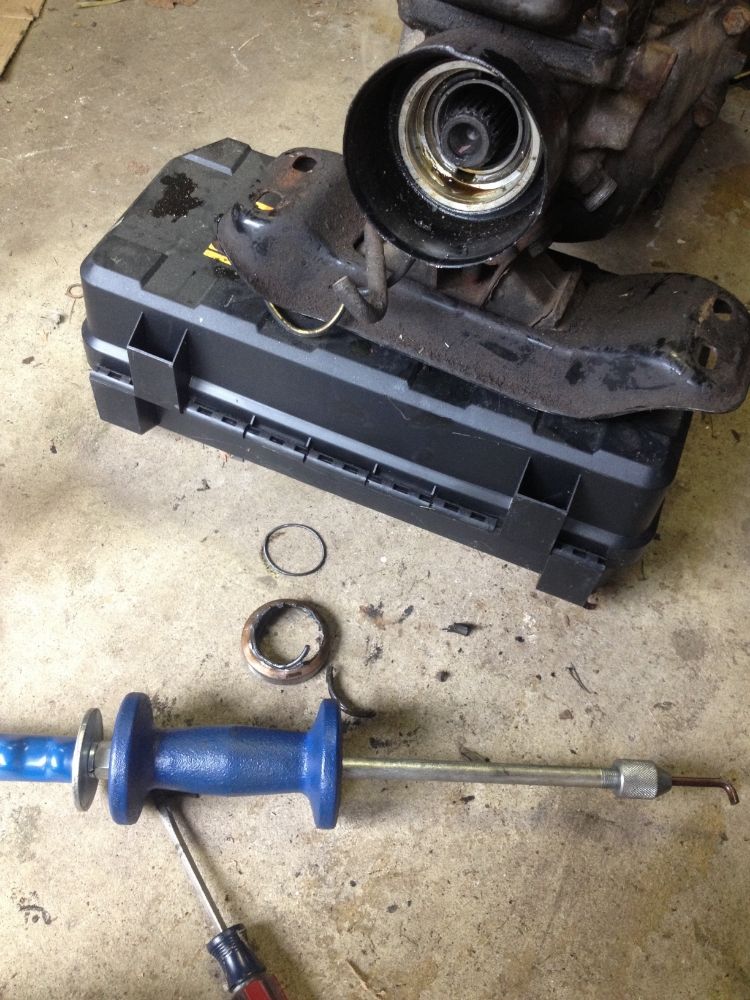 6/19/13
I got 99% of the intake side stuff disconnected. Two fuel lines left on that side, plus the starter cable, then off to the exhaust side, then the radiator, and then it should be about ready to go.
6/20/13
Fe came up with the name of the car today. The car's name is Joby, after this magnificent video.
http://www.youtube.com/v/7cqOEr_yfak
The plate shall be "AWW JOBY"
Anyways, I got everything else disconnected and the engine is basically 4 bolts away from being ready to come out. Since I don't have a hoist, I decided to clean up some of the more visible bits of the engine. This thing is probably the dirtiest engine I've ever seen.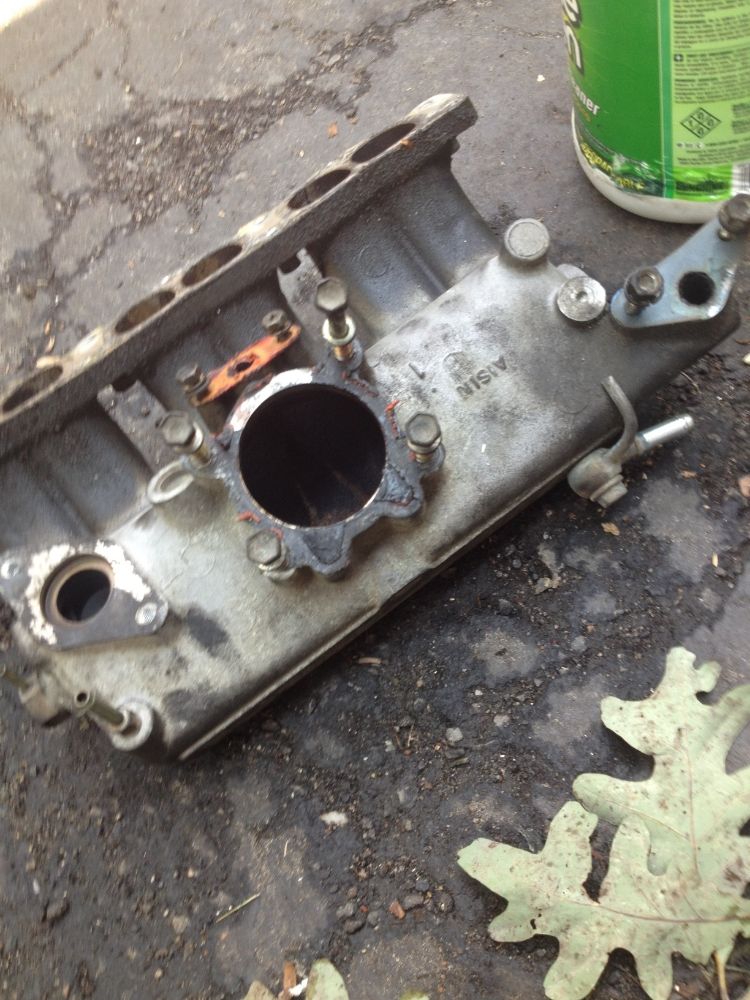 So I took a tupperware container and threw in some water and simple green and some friends and I scrubbed the two intake manifold bits, valve covers, throttle brackets, and fuel rail until they were thoroughly degreased.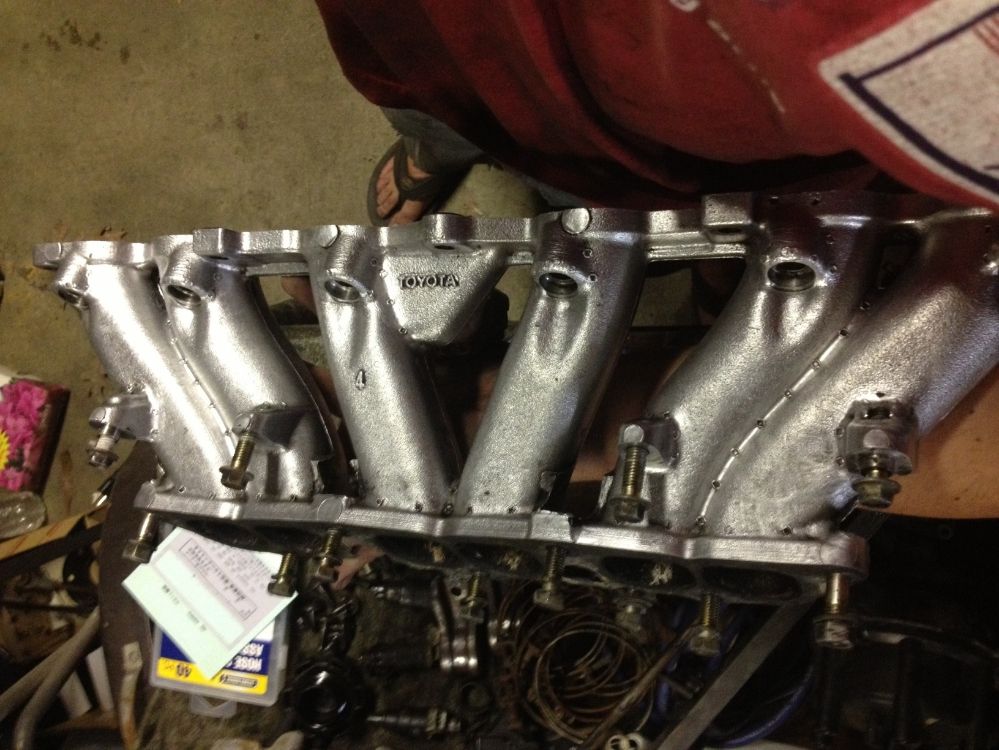 So then later this evening I got all the paint off the valve covers and prepped them for paint. Here's how they turned out: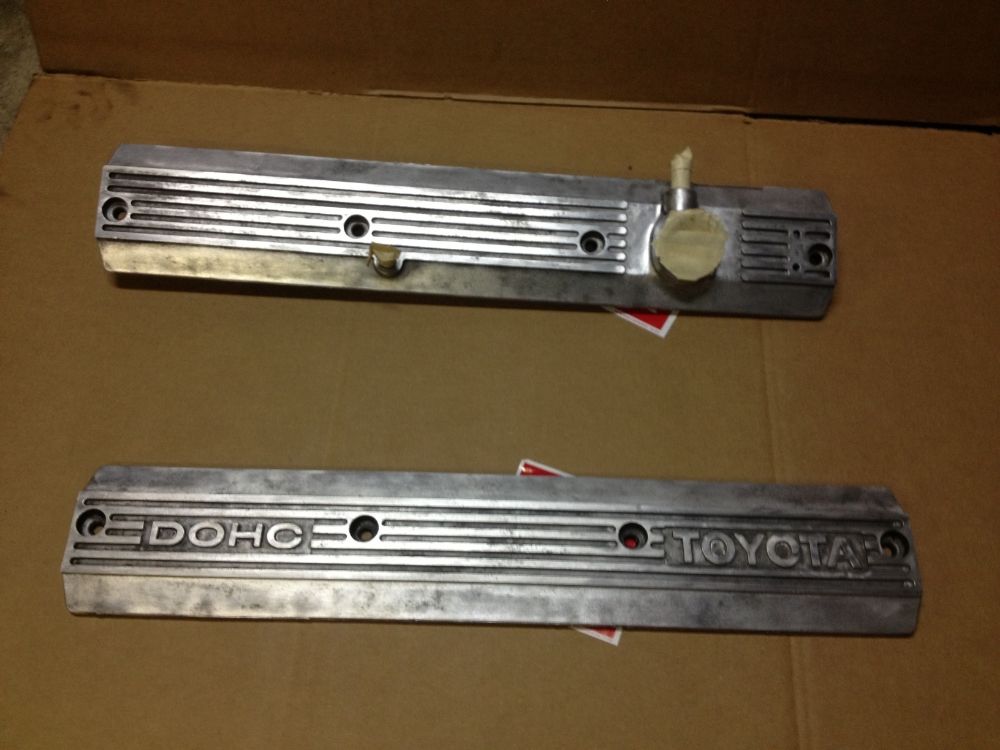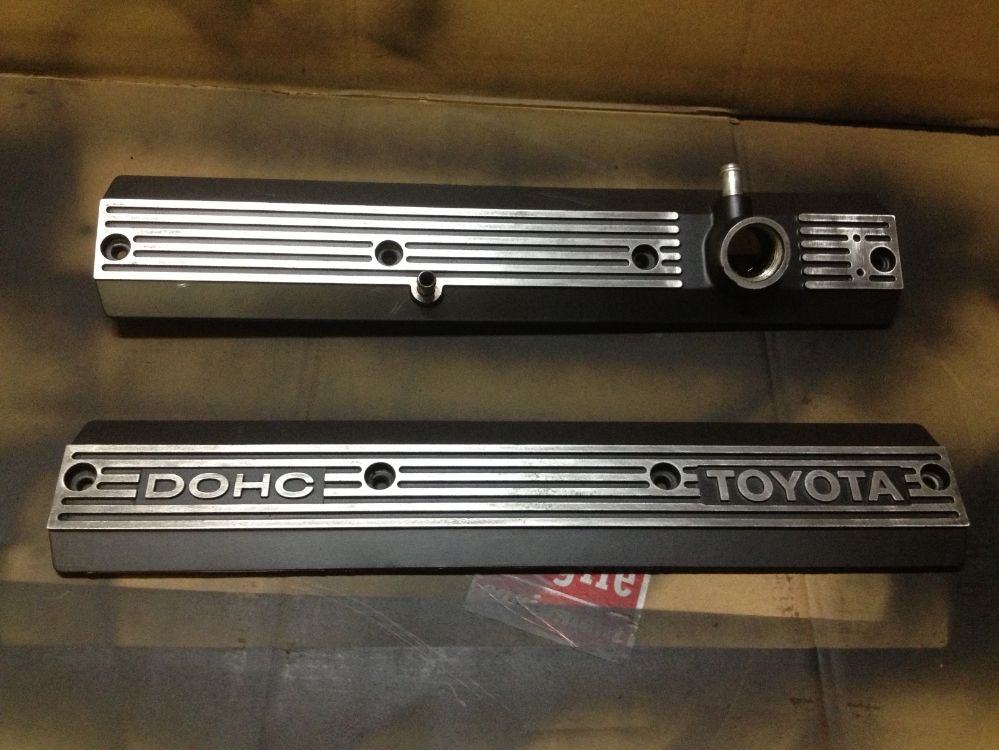 And here's how the engine sits right now.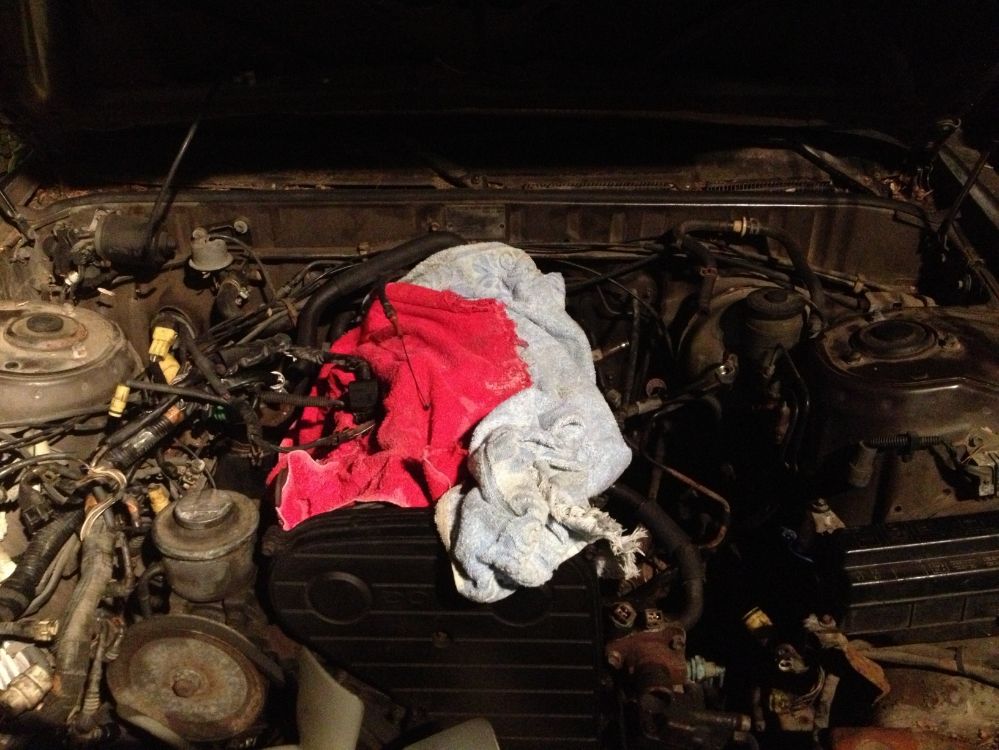 6/25/13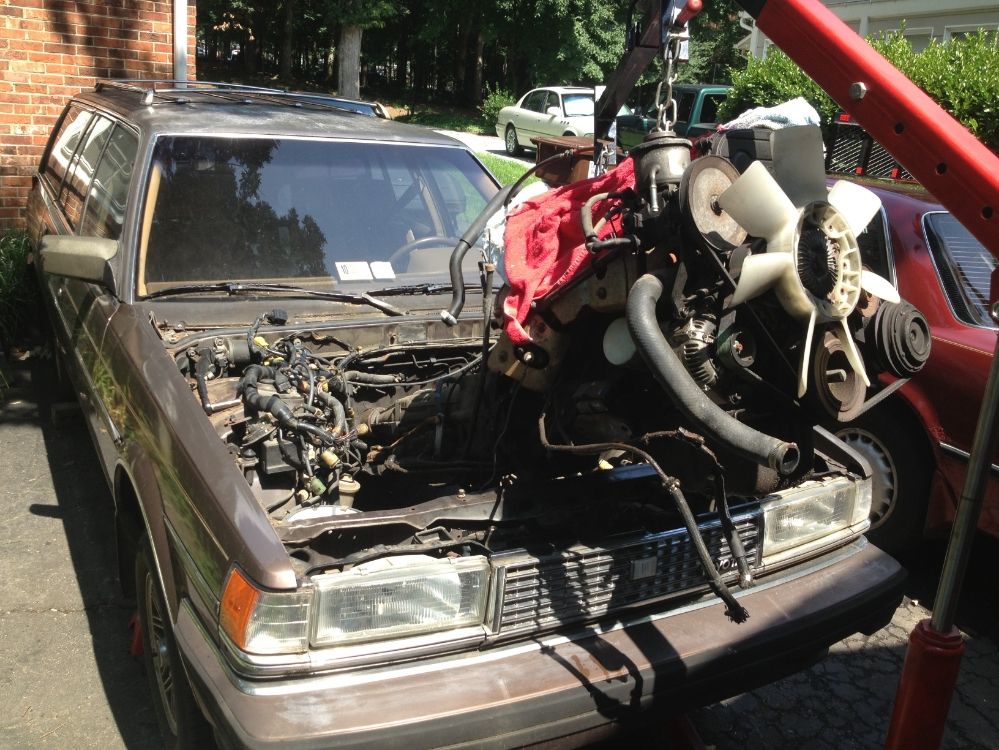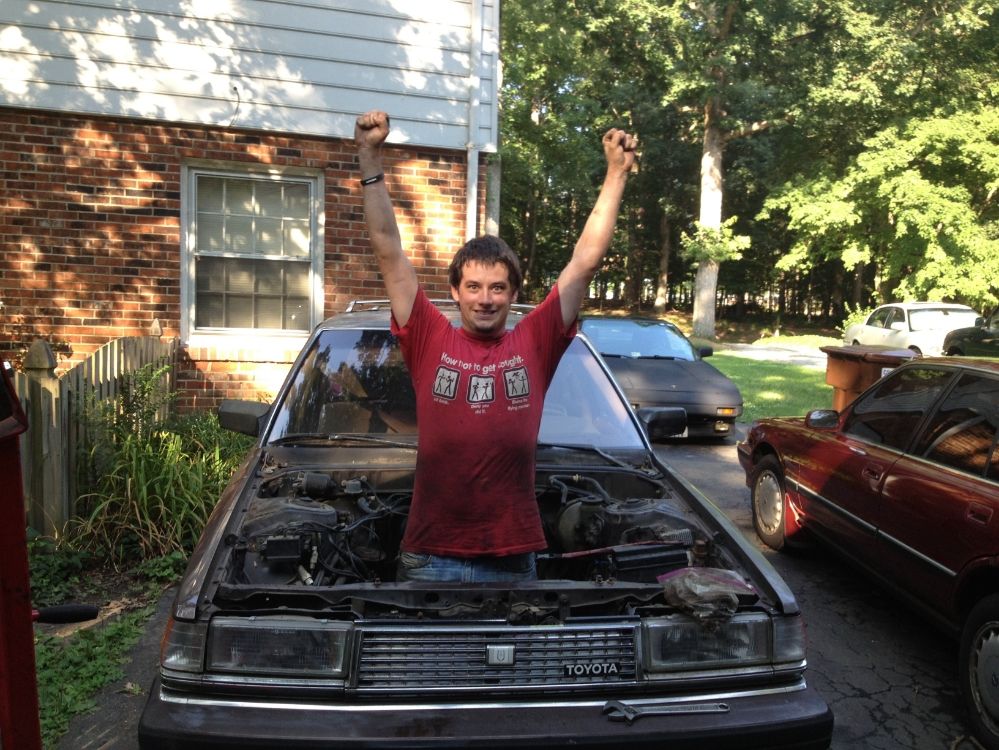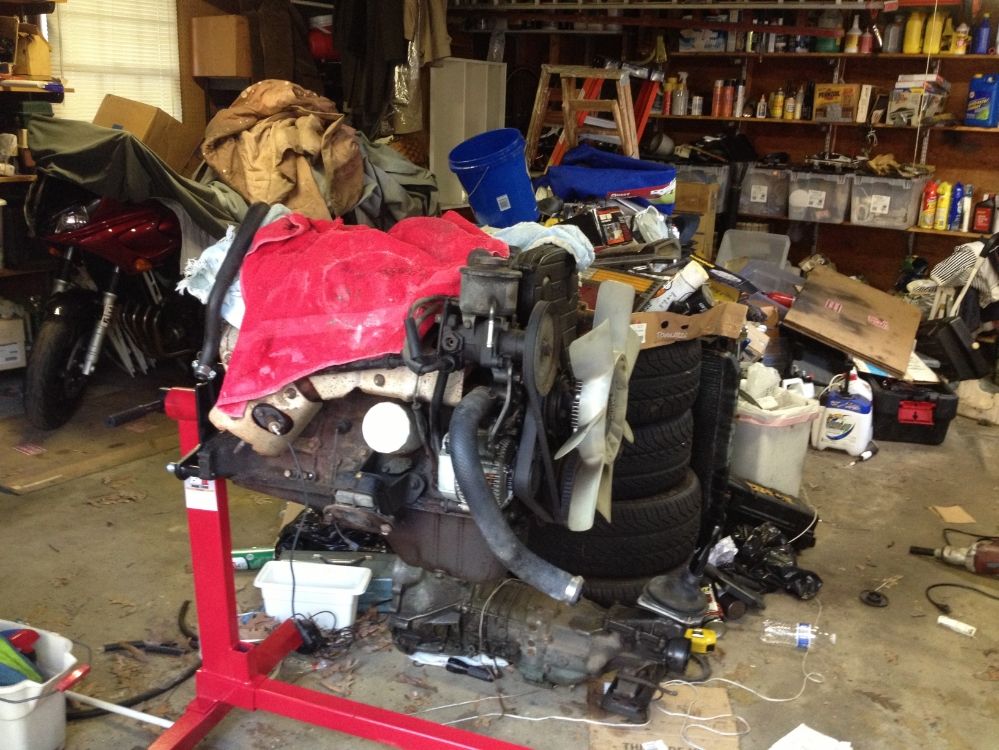 6/26/13
Picked up 5 P-type wheels, four need elbow grease, all need tires.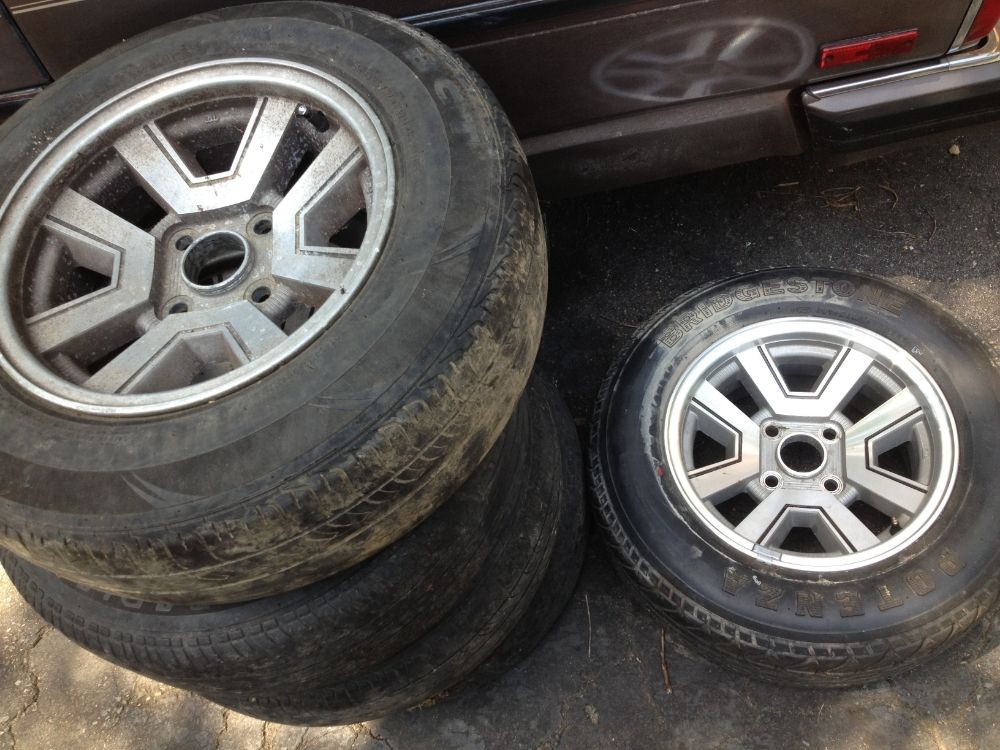 7/2/13
I got the head off and apart today. Man this thing is different from anything I've worked on so far. Each cam is held in it's own cam tower, a separate piece from the head. This thing also uses rocker arms and hydraulic lifters which is not something I've ever messed with. Also, my valve spring tool thing I used on the 7M is too small for this motor, so I am ordering a different kind of spring compressor the guys on CelicaSupra use from Amazon:
Also, I'm going to pull all the lifters and make sure they're all good and clean them out using this process:
Suprabee wrote:
Howdy, during my recent project having a full valve job done, I serviced my lash adjusters. Here's my pictorial of the process for those of you new to our lash adjusters.
After removing them from the head, which can be difficult sometimes. Generally they can be pulled by hand using some twisting action to free them from the head. If you have to use a hand tool to grab them wrap with cloth to keep from damaging the adjuster head.
Summary Process:
The adjuster piston is freed up and allowed to move at its normal operating distance by loosening and removing years of old oil sludge by repeated steps of flushing with cleaner and compressing in a vice.
You should be able to compress the adjuster by hand by the amount shown below. Note: photo is of a cleaned adjuster. All of my adjusters were froze and would not initially compress by hand. Also, my adjuster have 140k miles on them and have seen very regular oil changes, so odds are most, if not all, of your adjuster will also be stuck and not compress properly.
http://img.photobucket.com/albums/v317/ ... MG1383.jpg
Step 1)
I used brake cleaner, but carb cleaner will work fine too. Hold the adjuster away from you and spray into the side hole as shown below for a second or two allowing cleaner into the cylinder and make it ready for the next step.
http://img.photobucket.com/albums/v317/ ... MG1373.jpg
here's what came out:
http://img.photobucket.com/albums/v317/ ... MG1385.jpg
Step 2)
compress adjuster using vice. Note: on this first compression step, it may be very difficult to compress the sucker, but don't worry, you won't crush it. Compression I found on this first step was usually only a couple millimeters.
http://img.photobucket.com/albums/v317/ ... MG1374.jpg
Step 3)
Spray again with cleaner as in Step 1
http://img.photobucket.com/albums/v317/ ... MG1381.jpg
Step 4)
Compress again in vice. It should be easier to compress at this point, and basically you keep repeating the flushing and compressing until no more black shit comes out and you can compress the adjuster its full distance. My adjuster took 4 steps to complete the cleaning/freeing up process:
http://img.photobucket.com/albums/v317/ ... MG1377.jpg
http://img.photobucket.com/albums/v317/ ... MG1382.jpg
Another pic showing the range of adjuster movement:
http://img.photobucket.com/albums/v317/ ... MG1370.jpg
If you have trouble pinching then adjuster with your fingers try it this way. When fully cleaned and freed up, the adjuster should "bottom out" with not much force
http://img.photobucket.com/albums/v317/ ... MG1392.jpg
Step 5)
Ready to bleed the adjuster. Use a light viscosity oil. I used 5w-30. Submerse adjuster completely in oil. Cut a piece of a clothes hanger, or small Allen wrench, or something similar to fit into the hole. Compress the ball and spring in the bottom of the adjuster. Feel around for the ball and press down and up repeatedly to allow oil into the chamber below the metal ball/spring. Air will bubble out of the top. Do this until no more air comes out.
Also, found here:
http://www.cygnusx1.net/Supra/Library/TSRM/MK2/manual.aspx?S=EM&P=32
http://img.photobucket.com/albums/v317/ ... MG1415.jpg
http://img.photobucket.com/albums/v317/ ... MG1416.jpg
Lash adjuster is ready to be installed back in head in the same location it was removed from...And I always match up the hole on the side of the adjuster(that you sprayed cleaner into) with the oil feed hole on the side wall of the head. Not sure if this matters that much, but I do it anyway.
Rick
Later 7/2/13
The lifters are REALLY hard to get out of the head. And I broke one. No idea how that's coming out of there. When I got the others out, they all came out in two pieces. The inner piece with the ball on top came out, then I would have to get the outer housing out of the head, which made cleaning them out very easy. Now I just gotta get one new one and pray that the machine shop can get the remains of the broken one out of the head.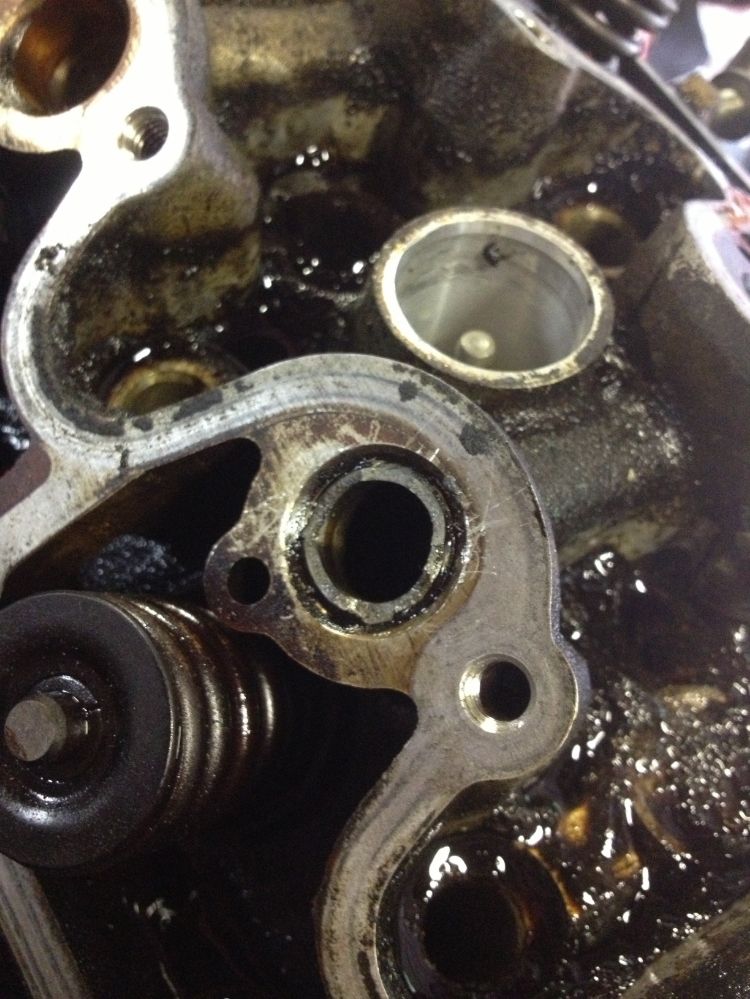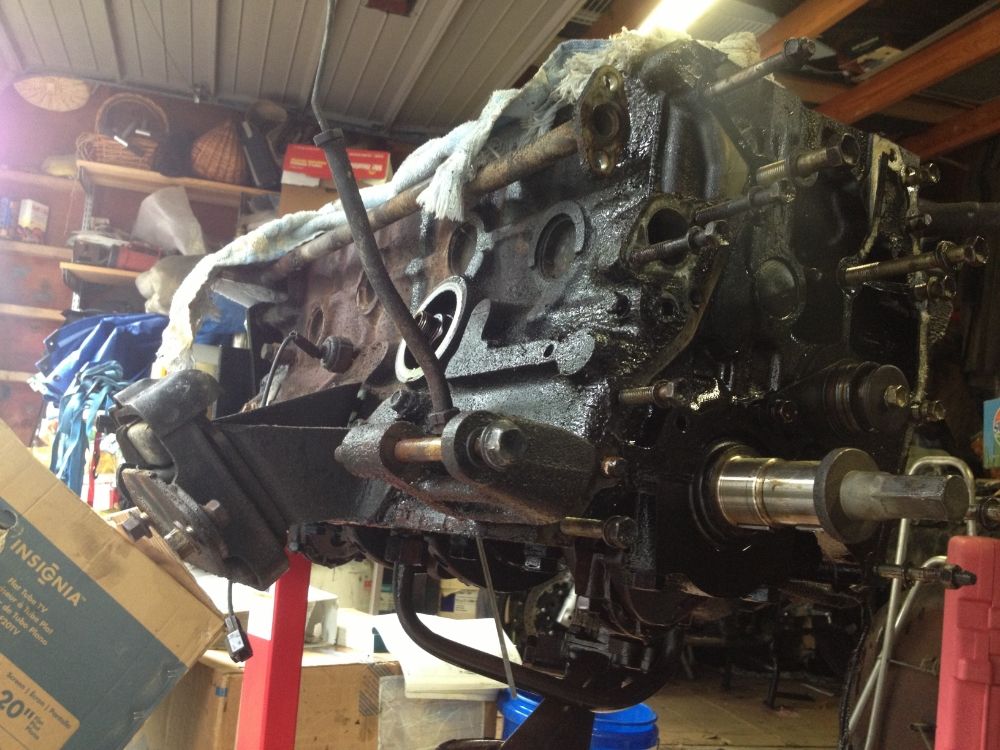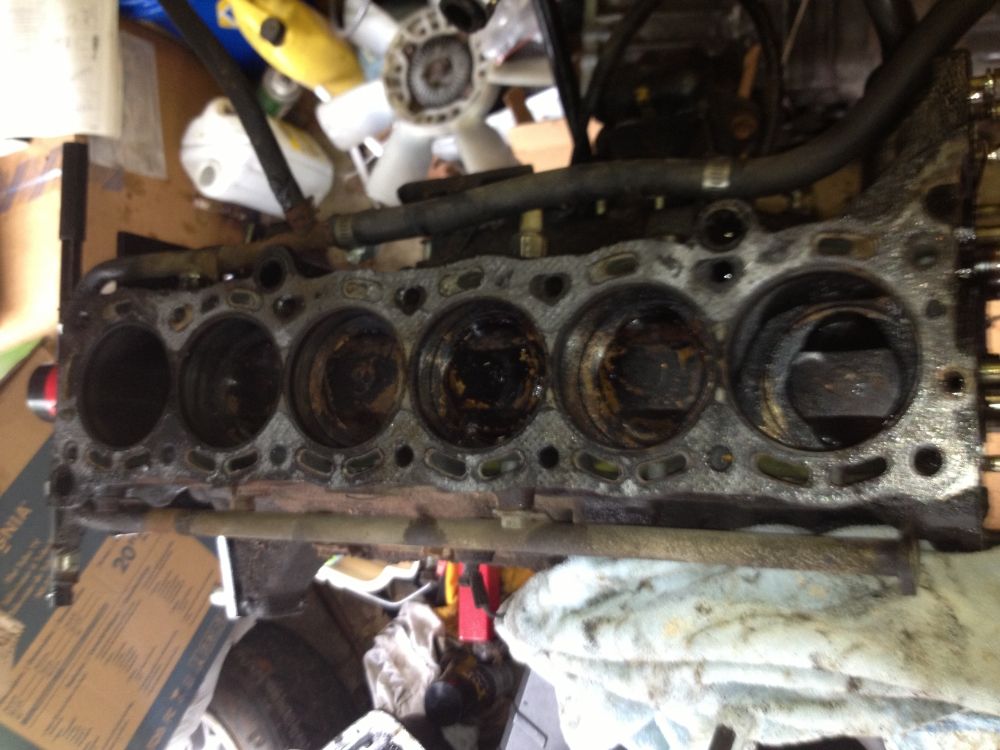 Later-er 7/2/13
After doing some searching, apparently having the lifters come apart is bad. Also, RockAuto has SealedPower lifters on massive sale ($10 instead of $60) so I'm just replacing all of them anyway. Also in that order are spark plugs, plug wires (the ones that came off are wicked old and the ends are pulling off), and dizzy cap/rotor.
7/3/13
Dropped off the head and flywheel at the machine shop. Flywheel is getting resurfaced, head is getting resurfaced + valve job + broken lifter removed. They told me that the labor for putting in new stem seals is included in the valve job, so I can bring them my seals and they will put them in for me. So basically the $20 I spent on that valve spring compressor tool was kinda a waste.....