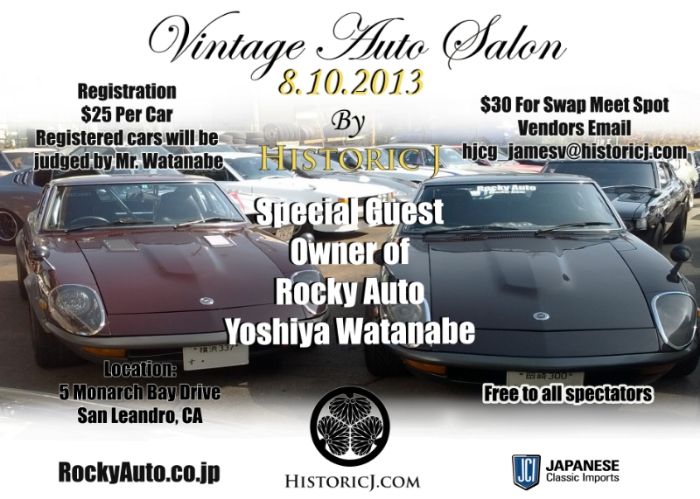 Historic J is proud to announce we will be hosting another very special event at the San Leandro Maria August 10, 2013. Location: 5 Monarch Bay Drive, San Leandro Marina CA .
For the first time ever here in the US our guest of honor from the world famous shop in Japan "Watanbe-San" owner of Rocky Auto will be attending our event.
Some of you might recognize him from the recent show "Retro-Kings". He's also known for the amazing cars that come out of his shop in Japan.
http://youtu.be/NGjI9R1XKEQ
Watanabe-San will have a booth where he will meet and greet and signing autographs. There will also be Rocky Auto merchandise that will available at the event.
Our guest of Honor will be judging all registered cars attending. Which gives you the opportunity to see how well you car matches up to Japanese standards. Trophies will be awarded to a select few based on categories which have been chosen by Watanabe-san himself.
There will also be media from well know Japanese magazines attending the event. Get the chance to have you car featured in one of their magazines.
Once again this is a once in a life time opportunity to meet Watanabe-san in person for the first time here on US soil.
For Registration go to
http://historicj.com
https://www.facebook.com/events/255522554572877/
Thank You
HJCG