Thanks for the positive feedback, and sorry for not keeping this thread up to date. In short, this season has been truly amazing. It tooks us a couple of events to figure out exactly how hard we can push it, but once we did we had a blast. Here's a writeup of my season including some nice pictures and video links.
As you probably know, winters in Norway are pretty cold and we have a good amount of snow. I initially had plans to store my car inside for the winter, but as usual I never got around to it, and playing in the snow is too damn fun! We have a good selection of frozen lakes and abandoned forest stages just outside Oslo, and I must admit the Cressida is AWESOME in the snow!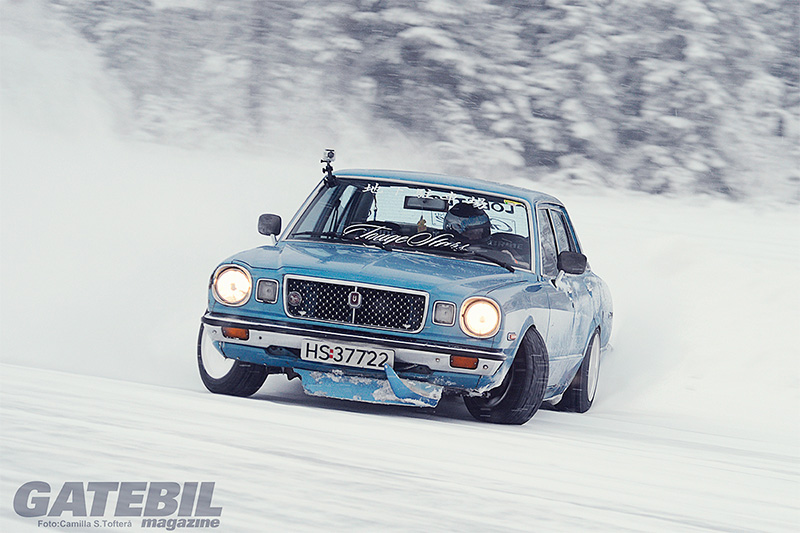 VIDEO:
TougeStars: Fun on a frozen lake
The first event of the summer was a small event on the last night of april. Traditionally this is a night of partying in Norway due to May 1st being a national holiday. In that spirit the organizers went for a compact "Drift Shifters" style event at night with disco lights and a packed grandstand. It was great fun, and I actually did really well. In competition with 20 of the top pro drifters, I finished third overall with the only street legal car of the event.
VIDEO:
Underground Garage Cressida: Drift Shifters, Skien 30.04.2013
The second event was Gatebil at Vålerbanen in May. It was a great event with perfect weather and lots of track time. The car was ok for a while, but on friday evening we developed some issues with the brakes overheating and causing the pistons in the caliper to seize. We had to spend saturday working on the car and getting some replacement parts, but we finally got them working again. However, I was not happy with the brake pads and didn't not feel as confident that I would have liked. I still managed to get some milage and have some fun, but in the final minutes of the last day, the bottom end started knocking pretty bad. Shit!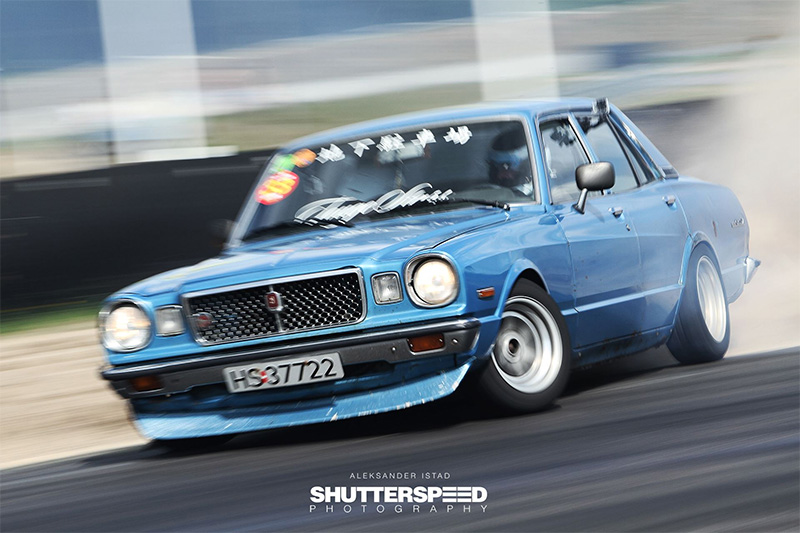 As I am not a wealthy man, I figured I'd have to cancel the Gatebil event in Sweden to afford a new engine. However, just days later, Julian Smith from Garage-D in the UK offered me a free engine! And as luck would have it, my mate Fredric Aasbø and our mechanic, David, were in the UK at the time on the Speedhunters tour. So a plan formed. They brought the engine back to Denmark, where I met with Mad Mike, Fredric Aasbø and David at Motorimport.dk, where the owner Egon let us use his amazing workshop to prepare for Gatebil. On wednesday we swapped the engine, and on thursday we headed to Sweden. Now, I still didn't have any money, but thanks to massive donations from my friends and fans, money started coming in and by the time I got to sweden, I had recieved more than $2000! I can't thank everyone enough, and it still makes me emotional thinking about it!
However, I still had not addressed the brake issue, and to be honest I blamed it on my bad choice of regular road pads from Mintex. I just could not afford a new set of the EBC Yellow stuff I ran in 2012. So the only thing I could do before heading to the track in Sweden was to try a different brand of cheap road pads and change the brake fluid. And behold, the cheap ATE pads combined with ATE blue racing fluid completely eliminated any brake issue I'd had! To keep it short, I only just changed them the other week, and even then they were only half worn. Brakes have been awesome all summer and didn't fade once, not even after doing 30 minutes sessions of grip in the middle of the summer!
Again, the event at Mantorp was awesome with lots of tracktime and a great atmosphere, just as we have come to expect from Gatebil. The weather was good, and the forecasted rain only stopped by for a few minutes now and then to cool everybody down. For me, the highlight of this event was to be included in the Speedhunters family. There I was in my old, beat up Cressida, sharing the limelight with Mad Mike and Fredric. Two of the greatest guys I've ever met. I also finally got to meet the rest of the crew, as well as take Mr. Kei Miura of TRA Kyoto for a ride that he seemed to enjoy. I must say I really like the way he and Speedhunters are approaching the media coverage of the scene. Dino even shot a feature on my car that will be published on Speedhunters any day now.
As for the car, this is where I really started to figure it out, and felt I could start to push the limits a little bit. Allthough being purpose buildt, saying it's easy to drive would be a lie. The front suspension geometry is still not where we want it to be. It works in terms of performance, but the steering is insanely heavy, the wheels hit the chassis on full lock and I got more bumpsteer than I like. And the lack of power is of course a big challenge. However, my approach has always been to perfect my driving to get the most out of the car. I see so many drivers with awesome cars that just float on a cloud of power, not really pushing the limits or having to work. Sure, it may still look and sound spectacular, but it doesn't make me feel anything. Coming from a racing background, I've never been happy unless I mange to squeeze out every little bit of performance from a car. Drifting is no different to me. I was not quite there yet, but I was getting close.
Bring on the main event, Gatebil Rudskogen in July! For the first time I was actually properly prepared and all set for what looked to be the most epic Gatebil event ever. Not a cloud on the sky, 50 000 people, and drivers from all over the world, including Vaughn Gittin Jr. (who confirmed that he's kind of a dick), Ryan Tuerck (who is not a dick), RallyX ace Liam Doran and of course Mike and Fredric (who are as far from dicks as one can be. Actually, Mad Mike, his wife Toni and his son Lincoln are some of the sweetest and coolest people I have ever met!). I also got to bring a lot of cool people with me onto the track, among them the lovely Taryn Croucher who documented the experience in
this article on Speedhunters
.
The event was truly an experience for life. The atmosphere was intense and the track was more or less covered in smoke for four days straight! Even at night, hours after the track was closed there tire smoke was just hovering over the track like some mystical fog. Surreal!
This event was also a game changer for me. From the second I hit the track, everything just clicked. It was like I'd cracked a code. Suddenly I felt more confident than ever, smoking the tires on full lock without lifting for a second. It was as if the harder I drove the car, the less it complained. Luckily I had a bunch of brand new Falken tires from Poleposition.no, as I went through way more tires than I have ever done before. Awesome!
VIDEO:
The Underground Garage Cressida smoking tires at Gatebil
The highlight for me was probably the World Powerslide Championship. More than 75 hand picked contestants from at least 14 different nations competed to see who could do the best powerslide. It's basically a drift competition, but with less strict rules. Now, remember, I have less than half the power of ANY of the other contestants. I was happy just to be picked to try and qualify. To my surprise, I qualified 12th, beating the 2011 Formula Drift champion, Vaughn Gittin Jr. in his Monster Mustang! How awesome is that? Only six made it through to the final, but hey, I'd allready won.
VIDEO:
World Powerslide Championship 2013: Fredrik Sørlie's qualifying run
After this insane weekend of hanging out with great people doing what we love, it was actually nice to have a few weeks to chill out and enjoy the summer before the final Gatebil event at Rudskogen in September. Or so I thought. But suddenly I got involved in another project that would take up much of my time. I was hired as a stunt driver alongside Fredric Aasbø for a new feature film where his GT86X is driven by one of the main characters. The villain, actually. So I packed my bag and went on road trip for three weeks, racing to the North Cape in awesome cars, even doing some twin drifting up a mountain with Fredric in his car and myself in a 620bhp BMW E92 M3. The movie will be in theaters (in Norway at least) August 2014, and the Cressida might even have a small part in it.
The final Gatebil event was just a few days after returning from the wery northern parts of Norway, a 2200km road trip that took three full days in a Toyota Hiace with Fredrics GT86X on a trailer. Let's just say I won't be going long distances in a Hiace for a while!
Unlike Mantorp and the July event, the Speedhunters guys were off doing other stuff, but thanks to the great publicity and attention at the previous events I was now on the list of Gatebil's invited guests and Fredric made sure that I was welcome to stay with him and Toyota Norway. The September event is a bit more low key than the other events, with more focus on track time and racing. For Fredric an myself, this was a four day event, as Toyota had their own trackday on the thursday before the actual Gatebil event. This was a great opportunity to get some practice and produce some media. However, I got too exited and actually ended up in the wall, smashing my left rear pretty bad.
But thanks to great friends, it was ready to go again the same day. Allthough banged up I still got a photoshoot with Banzai Magazine.
So, that's about it. The car is still running strong, and I use it almost daily. Apart from some broken axles I've had a more or less trouble free season. David Riiber from Underground Garage has done an amazing job of building me a car that can take a beating. No wonder his now in charge of Fredric Aasbø's GT86X! He is simply awesome!
The final project of the season was a video production that some of you might have seen allready. After working the feature film I mentioned earlier, the company that provided much of the equipment used in the production mentioned that they were interested in getting some practice with the Russian arm camera vehicle. So we started talking, and decided to find a cool piece of road and shoot some drifting. It was not really very well planned, nor did we know exactly what we wanted to make. We knew we wanted some behind the scenes footage of their chase vehicles for promotion purposes, and we had an idea of a storyline involving a large breasted model. Due to lack of planning and time, it turned out a bit different, but considering we had very limited footage, we couldn't ask for more. The response has been amazing and the feedback overwhelming. In less than a week we had well over 200k views on YouTube alone! If you are not yet one of them, feel free to check out the video by clicking the image.
Plans for the winter includes swapping the rear axle from my newly acquired MA46 Celica Supra, and finish the front suspension. I would also like to do some work on the engine, such as header, cams, valve springs, ITB's and an engine management system. But that requires money I don't yet have, so we'll see. If anyone care to give me money, don't think twice.