UPDATE:
Alright so today I did a couple things to the corolla... I took off the carb last week to try and fix the super rich condition... I adjusted the float tang and now the bowl level is right on center... I attempted to install the lowering blocks but the u-bolts were too wide and the bolt size was much bigger than the stock one... So I have to pay a visit to a spring shop down the street maybe on Tuesday to see if they have any smaller u bolts... After that I decided to finally strip the car of the air pump and a/c...
I took apart the a/c and air pump... Took off the condenser and stuff and all the lines and hoses for the air pump...
I also installed that MSD blaster coil too... And did some carb adjusting... While taking off the ac I noticed the oil pressure switch was unplugged... No biggie.. Plugged it back in no problem.
Also since the rear end was on jack stands for the lowering block install I decided to flush the brake fluid..
Here it is without the air pump and a/c... (I know I need to clean the engine )
Here's what the brake fluid looks like... 2nd pic I flushed the rear wheels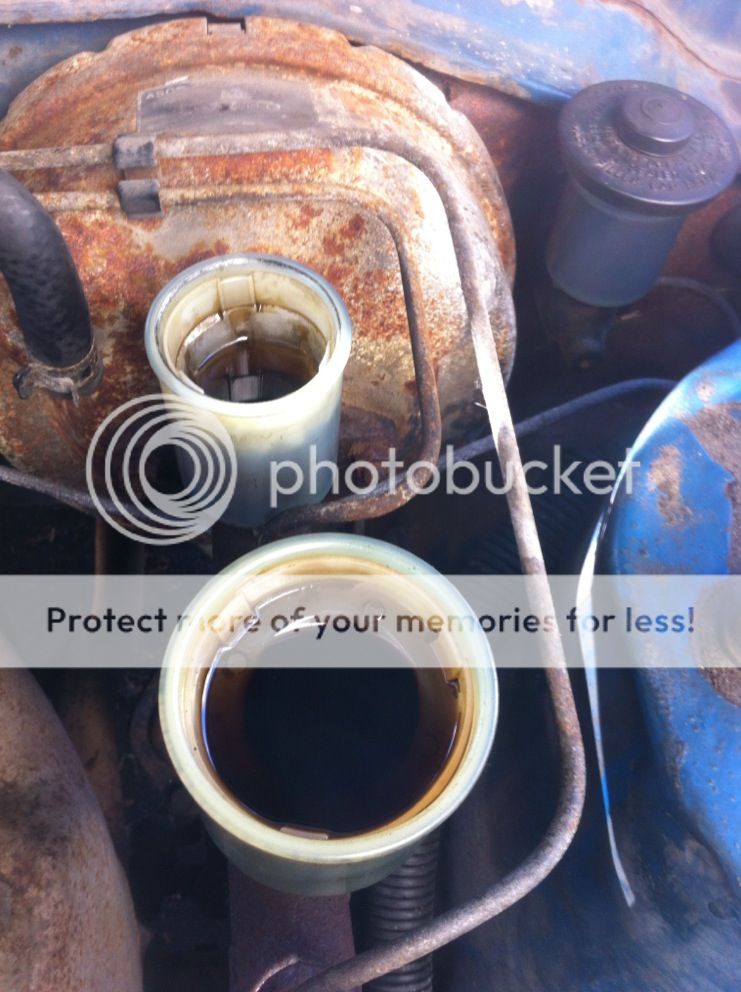 Lastly here's all the parts going to storage...... The a/c compressor alone was like 25lbs... Brackets and stuff were like another 25lbs... Plus the condenser and other crap ...
So did I notice any difference? Hell yea I did... RPM's climbed faster... Better throttle response... And I probably gained 2-3 horses... Not much but better than nothing...
I also have to figure out if I want to take the rest of the air pump stuff off or not... I think I'm going to leave it for now until I get headers
That's it for now... I'm going to replace the thermostat tomorrow and flush the front brakes... Oh and after working on the corolla today I took it for a spin around the neighborhood for a drifting session hehe