I have slowly started to sand to sand down the paint for a better and cleaner paint job. But I have put that aside in efforts to just get the Corona leak free and reliable for the winter with a working heater. I want to stop pouring money into the Corona so I can get to completing
the new motor for my Eclipse. It's all one big money headache. And I have to start saving up for college next year which is crazy to think of... I love my cars and im not giving either of em up to pay for college, i just need reliablity first, and education is also a must. But whatever, Im figuring it out.
Heres some progress of the Corona. I don't expect to paint it til after the Eclipse is alive again Hopefully sometime after winter-break.
7/20/13 (before I began sanding down the paint) Just wanted to do a day one transfoation (5/26/2012) 14 months later.
From 8/30/13 to 9/09/13 i started to do: New radiator, water pump, timing chain cover gasket, oil pan gasket, oil pump seal, front crank seal and some engine paint.
9/10/13. This is where I work. I'm a pizza delivery driver and yeah I use this beast haha.
9/20/13 - 9/21 Got some new wheels and tires, decided to test fit em. I got tires for the 16x8 XXR's in the back and 2 for the Black 15x8 Ultra's. I was told they were 16x10 but after i got em they turned out to be 15x8 so i need to get two more tires. Currently im running 195/50/15 which i hope to run in the back after i cut the fenders out and fit the flares. For now im running them on the front with no fenders since my front tires turned into slicks and are showing wires now. And i NEED grip since its started to rain already in Seattle. Hopefully i'll have the flares on by next week. still taking down measurements and test fitting for best spot.
They constantly rubbed in the back, so i had to throw em up front.
I was forced the hammer and flatten down the edges of the rear wheel well since the tire would hit on full turn. I also had to cut the inner plastic guard due to rubbing. I did a full stud conversion to fit the 4x114 to 5x114 nissan adapters.
Test fitting (pre- 15x8s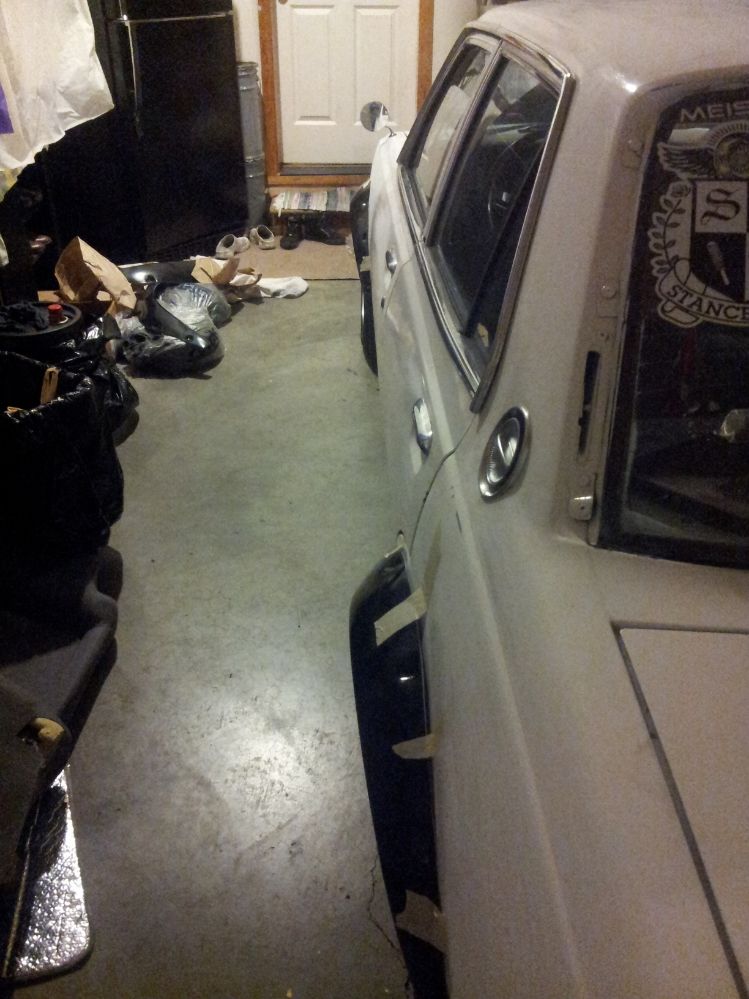 That should keep yall satisfied.