I want to push the bodyworks a bit so i try to get the bodyshop guy coming here and check the cars soon so i got a glimpse of what is possible and how i can prepare it the best. still don't know which chassis makes more sense to save etc. so here's a list i prepared with all the work that needs to be done so i can discuss it with the bodyshop-guy. TONS of work:
Both cars:
- Remove old paint
- Remove mirror holes in doors
- Add new fender mirrors (got the installation drawings)
- remove rust on doors etc (if needed)
- repair rear spoiler (Studs broken)
- Add Overfenders (and neatly cut and weld original (inner-)Fenders)
- Spotweld Original chassis for added safety and rigidity (??)
- Fit the Saito rollcage (screwed, not welded)
- Add and fit front air dam
- Replace frame rails
- Replace floor pans (Still need the seat console bases, probably reuse some original)
- remove dents and scratches if there are some
- Remove broken screws at a few points i wasn't able to get them out
Chassis A (White):
- replace front end (from black car)
- Replace rear panel (from black car)
- Remove welding signs from the roof window which was closed once.
Chassis B (Black):
- Remove rust in rear inner wheel arches and tool storages.
- replace roof (from white chassis?)
- replace spare wheel mould (from white chassis?)
When done / Paintshop
- Fit and adjust hood, doors, fenders, hatch, wing,...
- Protect from rust in hollow parts
- Underfloor coating
- Preserve hollow pieces with special treatment
- Completetly primer and paint the car in
"Datsun 904, Kilimanjaro White":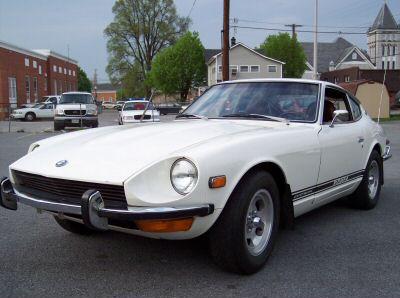 Now i'll have to discuss these points with the bodyshop and check time and money needed, as well as how i have to pay the work (monthly rate, pre-payment,...) i have no clue how they do payment on a job this big usually
And then i have to figure out where the hell i get so much money to pay this
_________________
My real JDM RHD EK9 & S30Z Project build Blog