So, when I last left off, I was still going through the motions of applying putty and sanding that putty smooth on my front fenders. That was slowly progressing while I was trying to accumulate everything for paint. Step 1 was to get a compressor.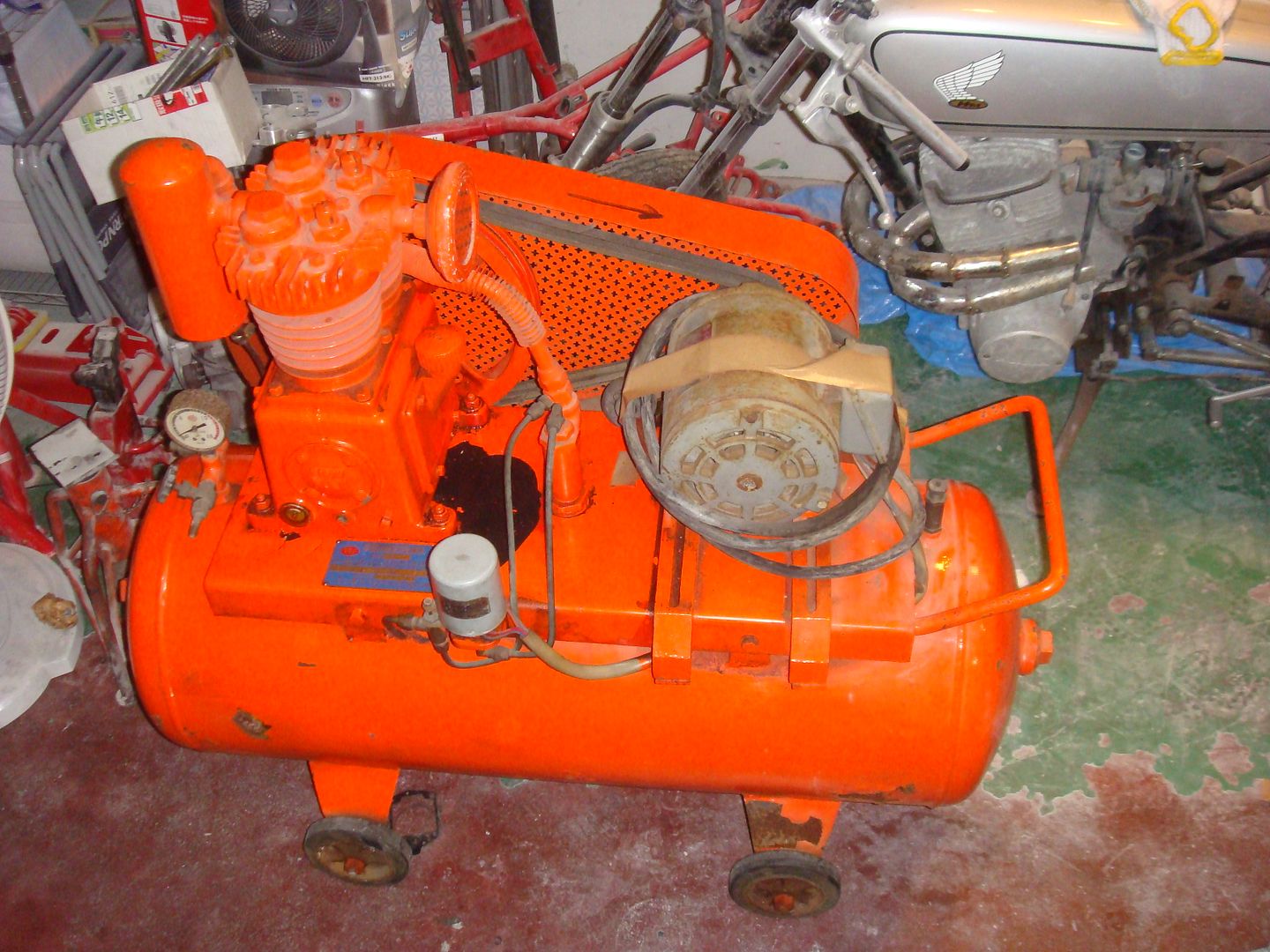 I actually picked this up from the guy I bought my Honda Life from. A nice 200 volt unit that should be enough to do about 1 cup of paint at a time. Plus, it's old school cool. Just look at this awesome label on it!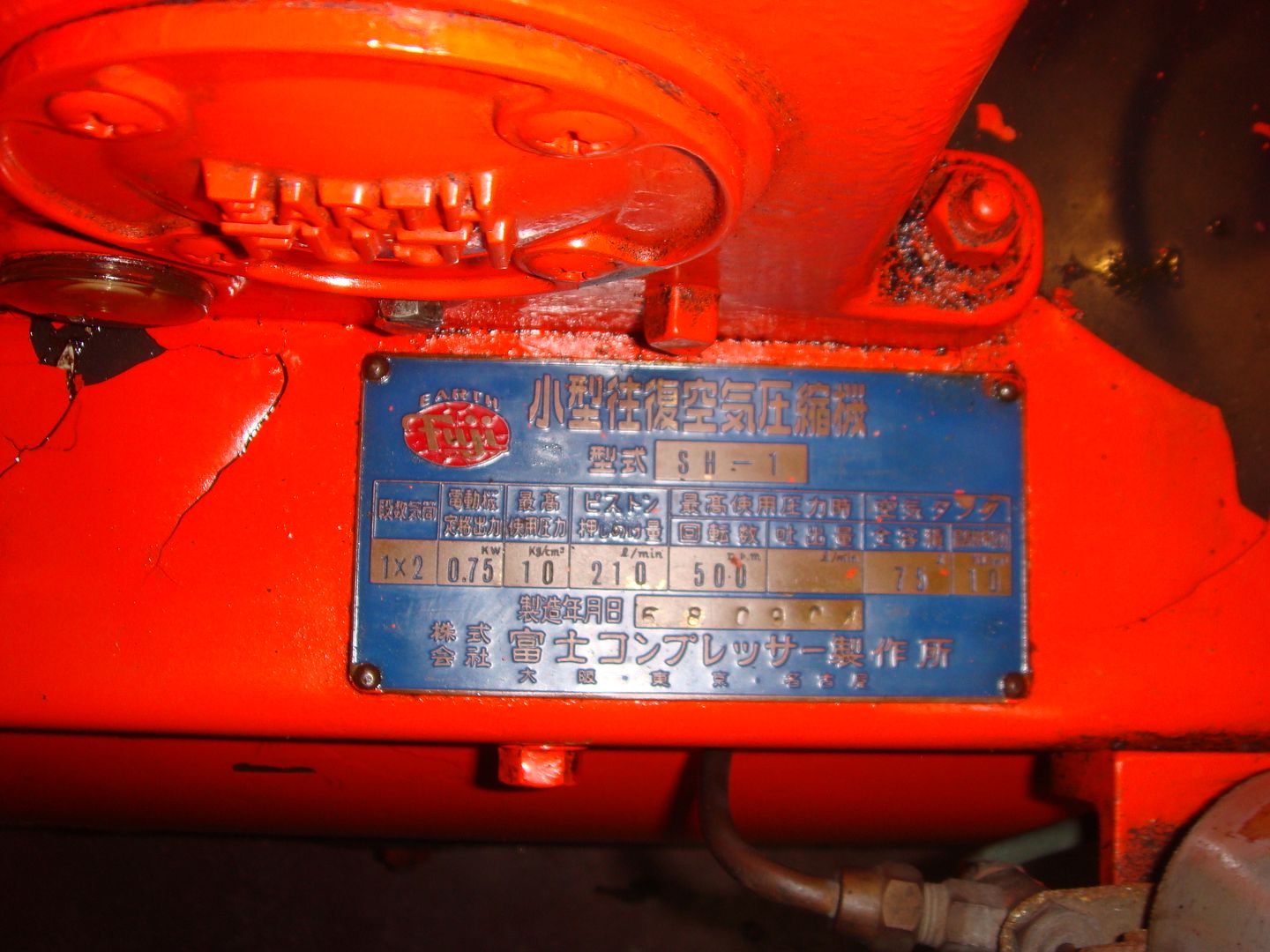 Here's the fender after countless hours of smoothing. I put quite a lot of putty back on, although about half as much as was on their originally. Honestly, I'm not super happy with the amount of putty on the entire car, but given the limited tools, space and time I have for the car, I reckon I've done alright.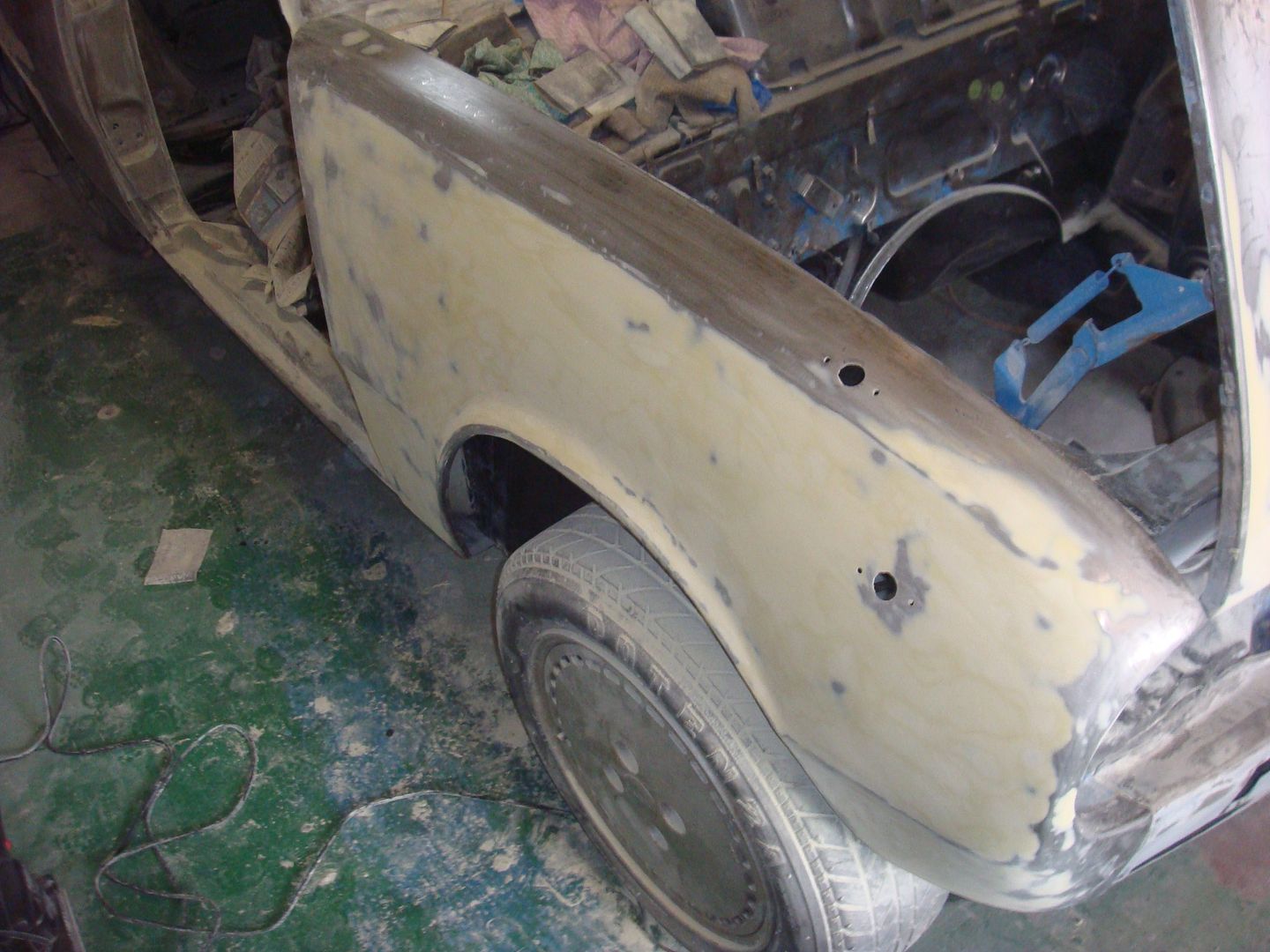 Fortunately, I had help in making sure everything was perfectly smooth. She kept me from going insane, that's for sure!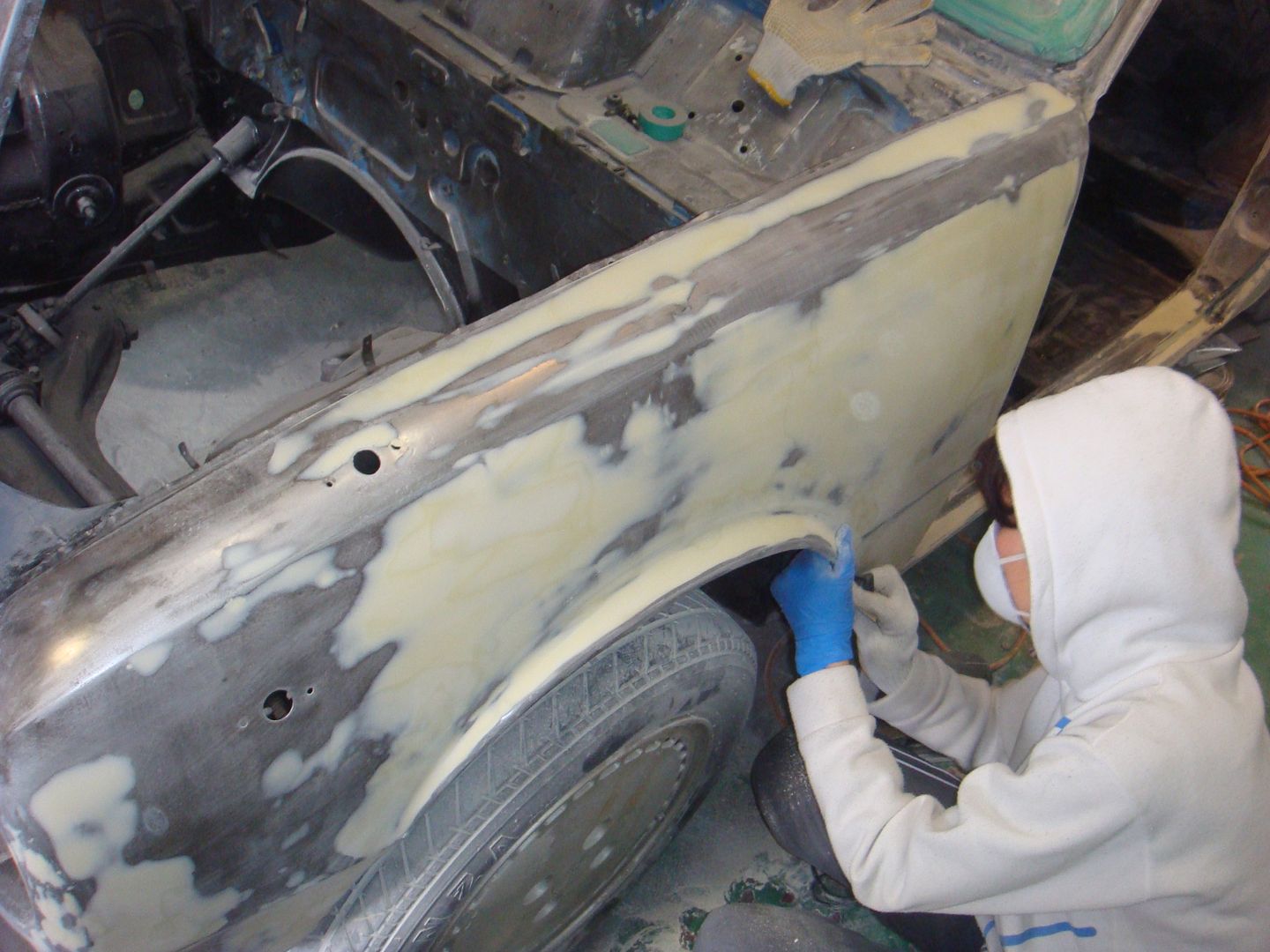 We were just about finished and happy with the fenders on Tuesday night. It just so happened that we had a national holiday on the next day (Wednesday). So, feeling oh so smart, I decided to take the following Thursday and Friday off as well, giving me 5 days to get some serious painting done. I had this amazing plan in my mind about how everything would work perfectly and I'd have a beautiful looking car at the end.
Unfortunately, things rarely play out as beautifully smooth as they happen in my mind.
Day1:
This day started off on the wrong foot with the carbs on my Honda Life giving me some serious grief. The car would not idle and everytime I touched it, things only got worse until I got to the point that I just pulled them out altogether. After setting them aside for later, we hopped in a different car and made a quick trip to the store to get some much needed supplies. First and most important was some nice plastic sheets to hang from the ceiling to create some plastic walls.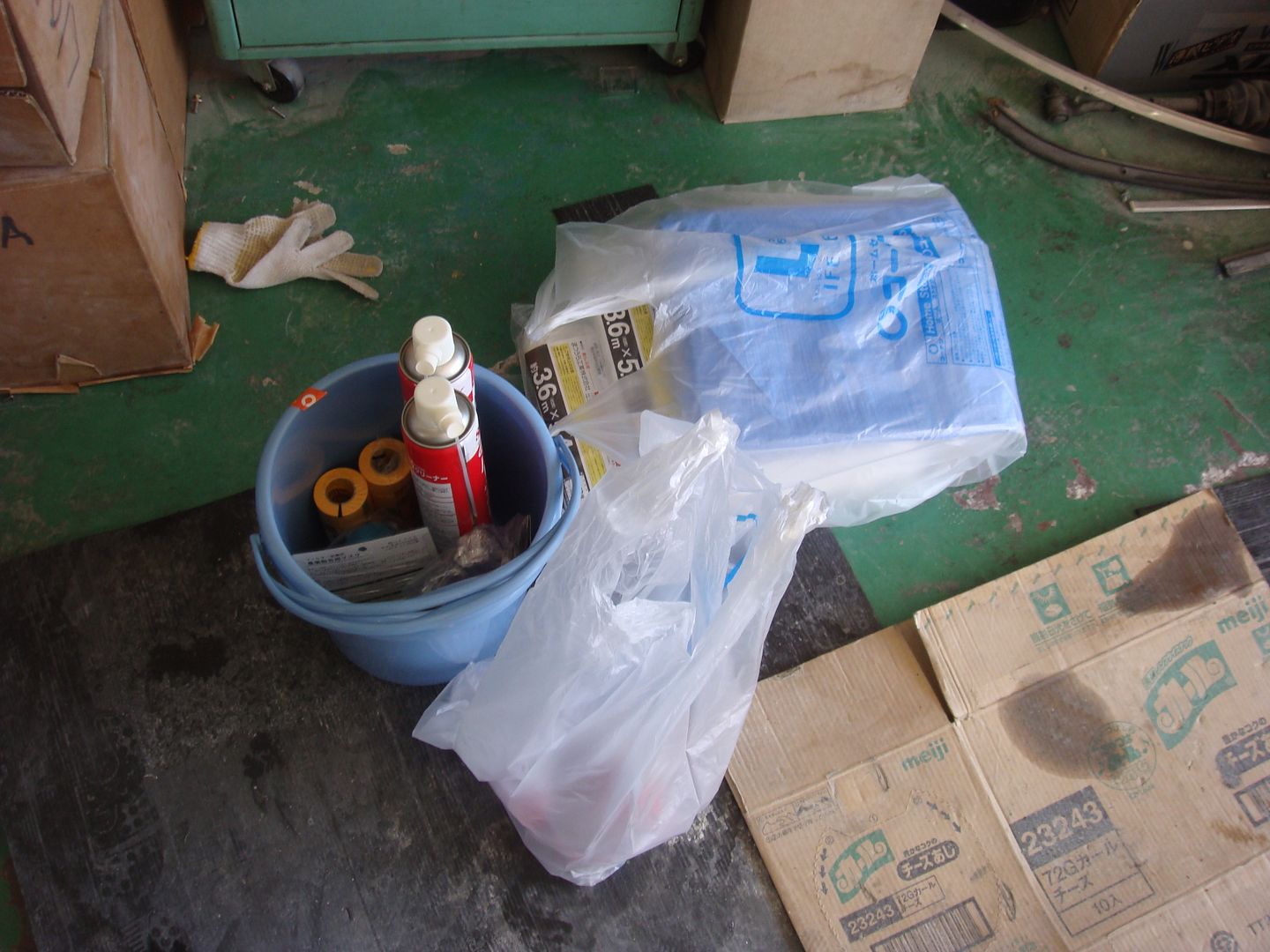 Now before I could get started on hanging the plastic, I had to clean the garage and give the car a nice bath. So, out she came and got two complete spray downs to get as much of the bondo dust out as humanly possible.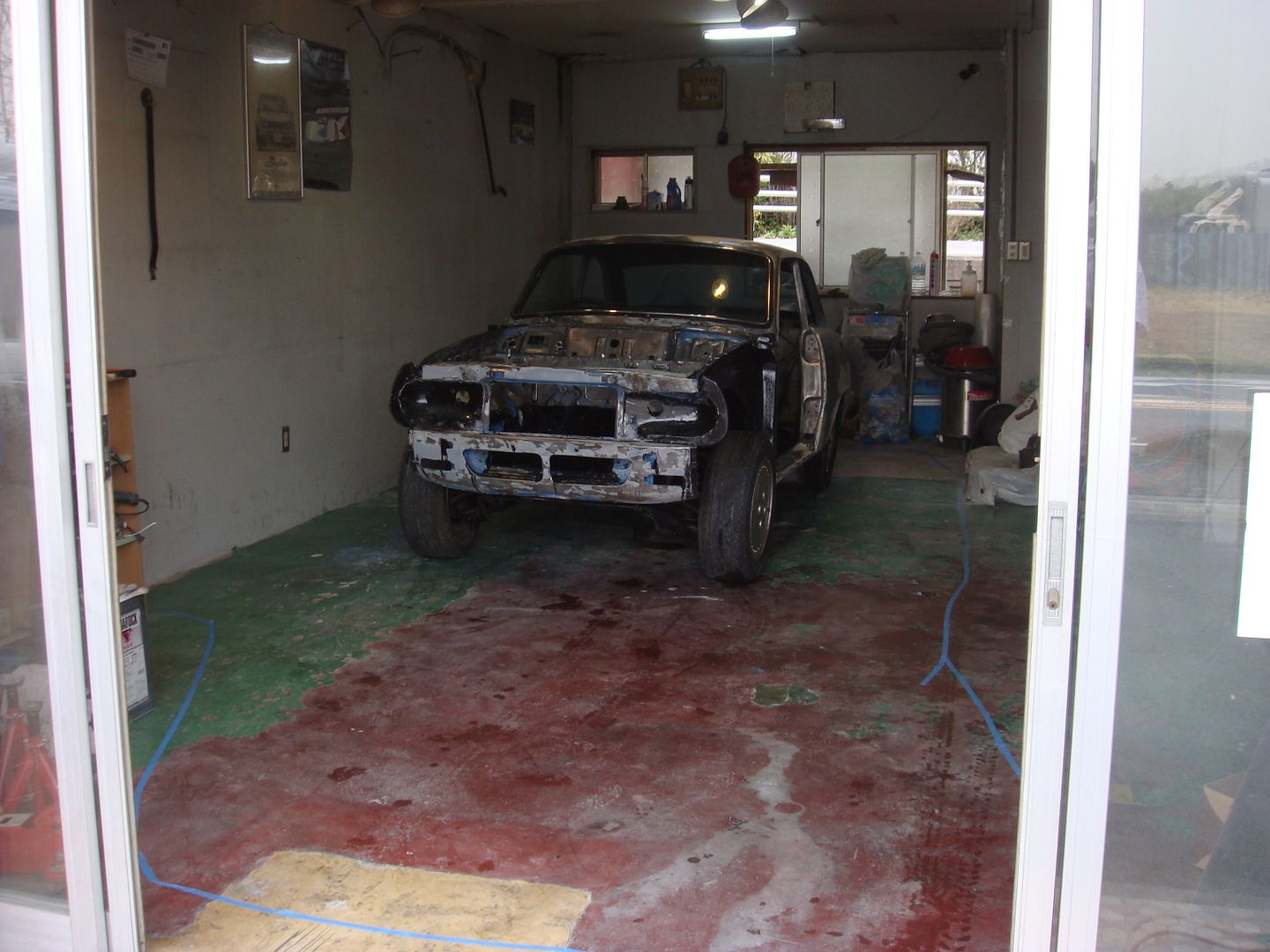 That's the cleanest it's been in a long time!
Not a fantastic picture, but here are the walls hung and the car hiding inside!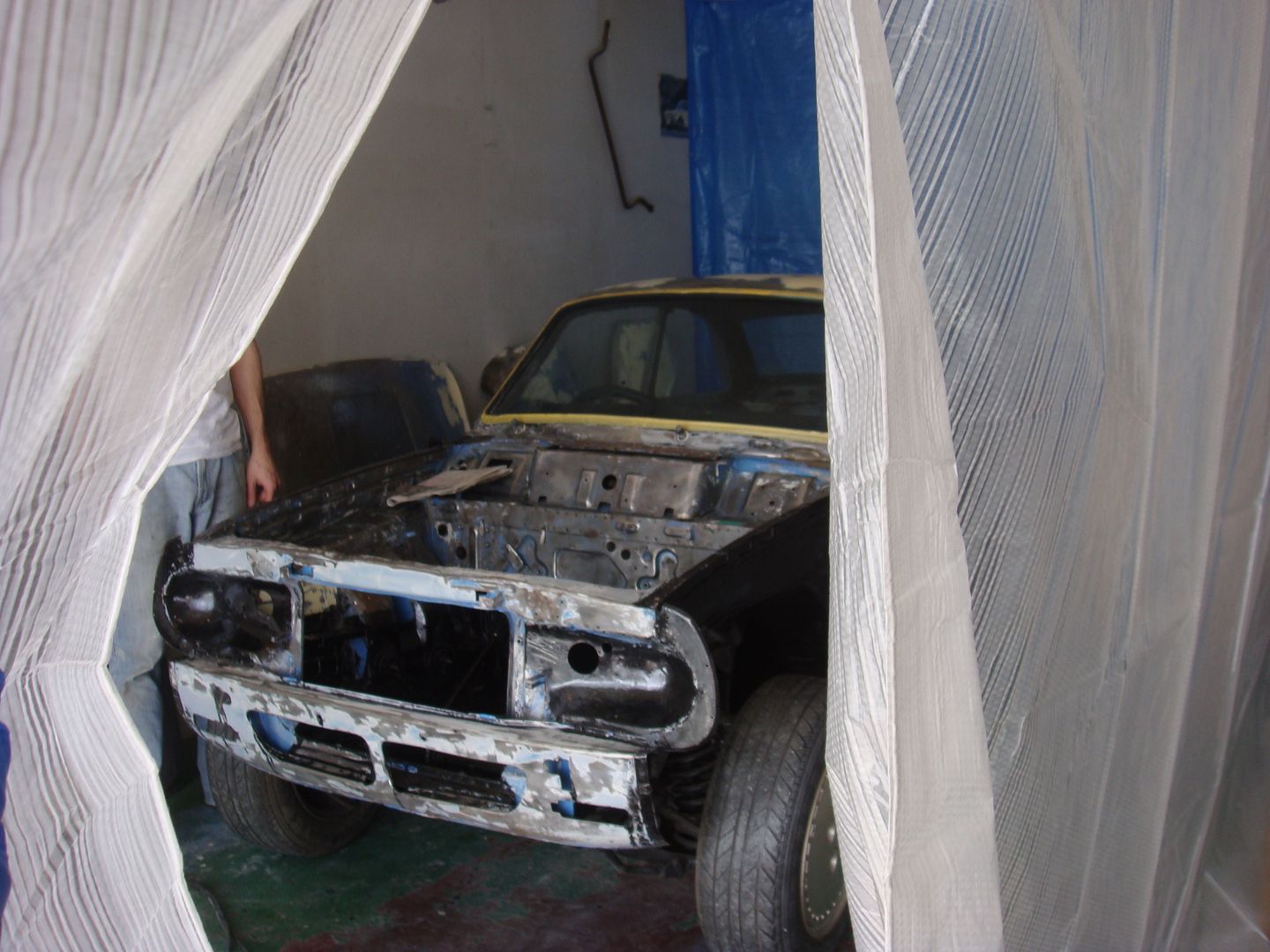 Then, that same funk that was in the air in the morning when my carbs were acting up, came back with a vengeance. The skies opened up and it started dumping rain, which is terrible for paint. That didn't matter though, because my air compressor absolutely refused to turn on. This was entirely my fault for two reasons. One, I didn't give it a test when I first received it a week or so ago like I should have to suss out problems like this and, two, turns out I should have read the label on the electric motor. The motor was a nice three-phase 200 volt motor. Unfortunately, I only have single-phase. After some reading, I found out that you can sometimes run a three-phase motor on single-phase if you give it a few spins to jump start it. I did so and voila, the motor kicks on and starts filling my tank full of air. At this time though, it was far too late at night to do anything, so we called it a day having accomplished very little.
Day 2:
I set out early to get some paint down with my now kind of working air compressor. I jump start my compressor again and get plenty of pressure built up in the tank. There's till one problem with the thing though in that the pressure switch does not kick off... at all. Still, I soldier on! I get plenty of pressure built up, kick the compressor off and then get to spraying.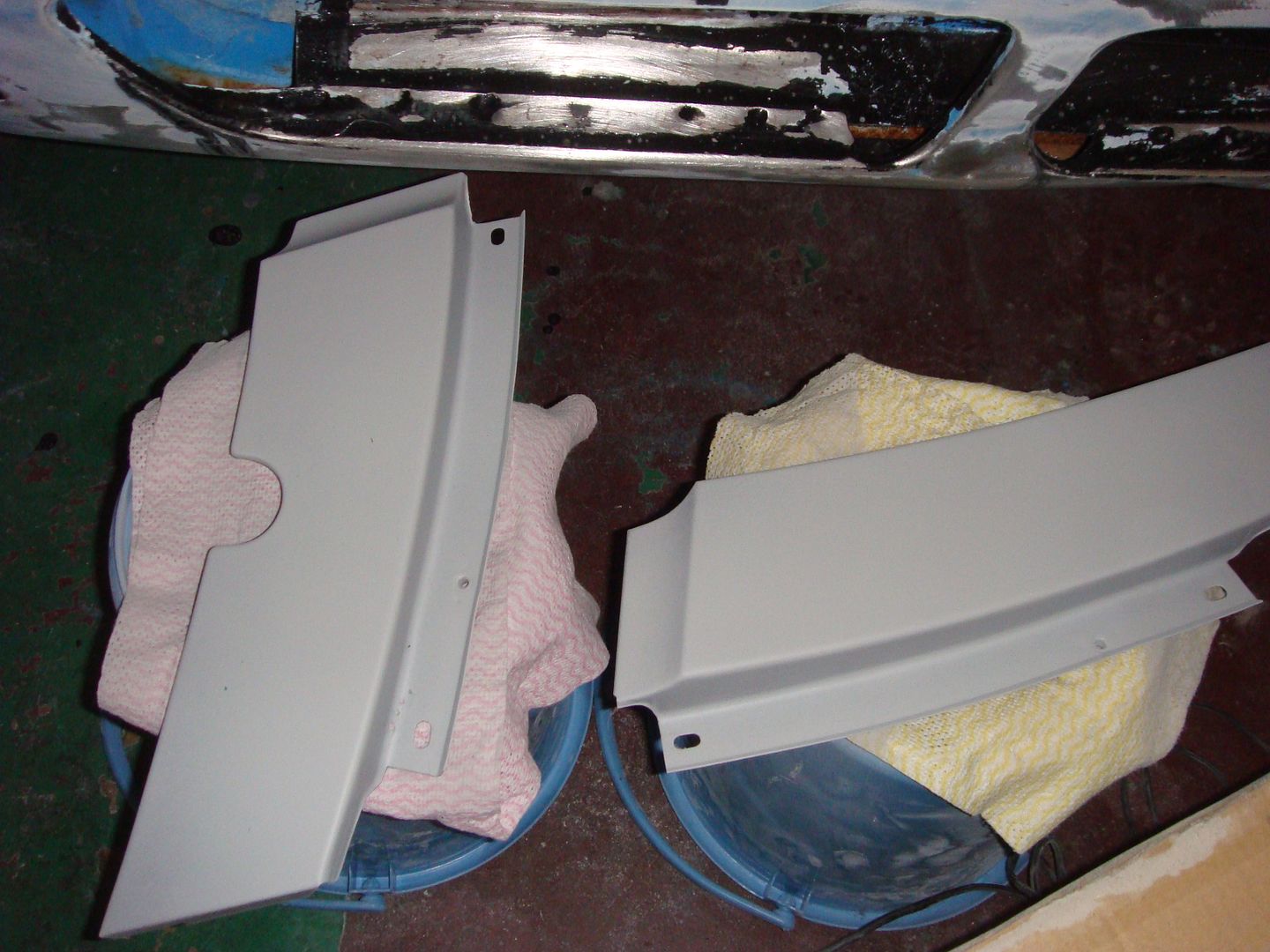 Those two pieces were my test pieces. After that went well, I started in on the trunk. I finished off my cup of paint right as my compressor tank was running low on air. It seemed that this was going to work alright!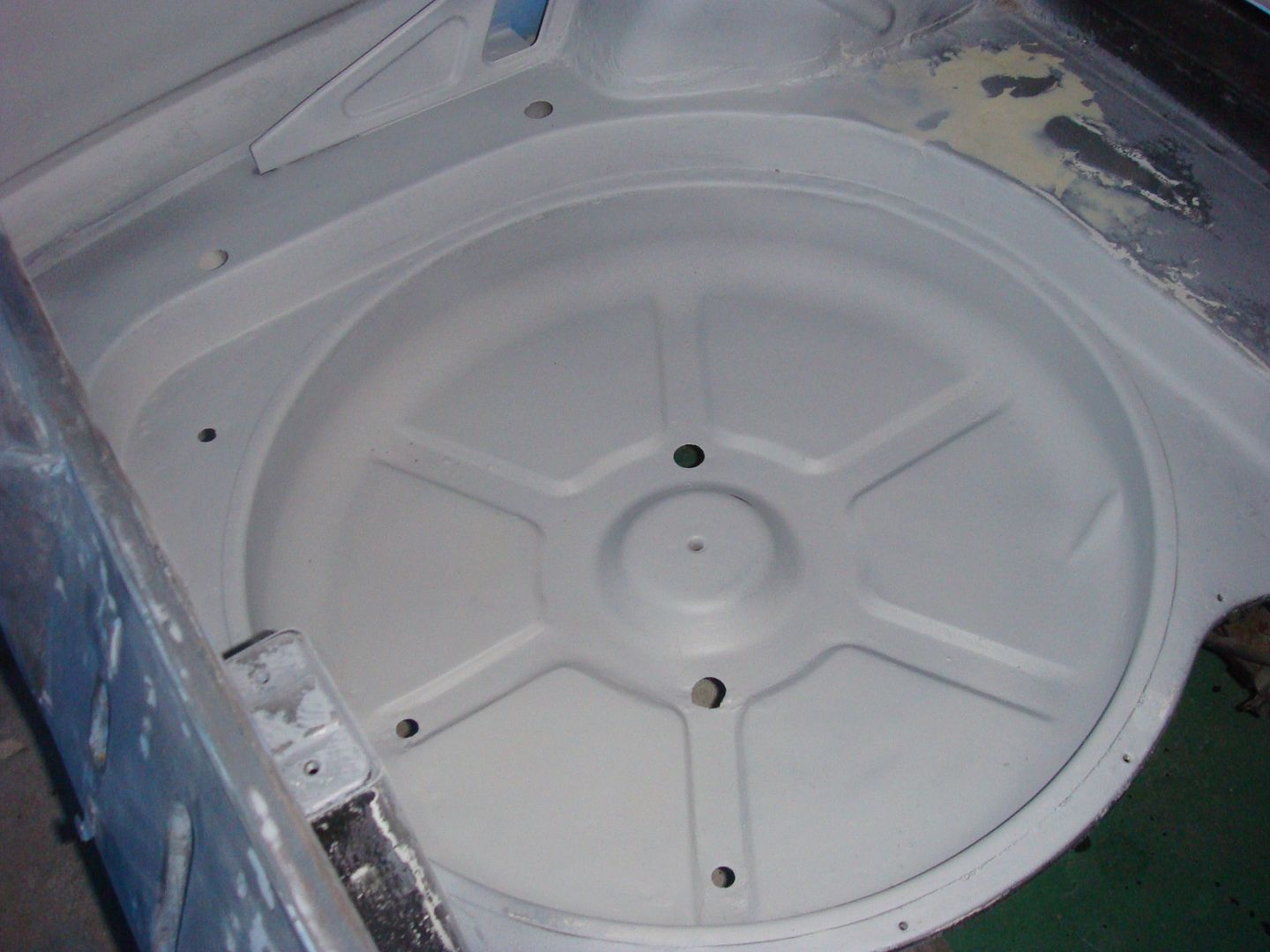 That is, everything seemed like it would work alright until my compressor wouldn't jump start again. I knew I was taking a chance running a three phase motor on single phase and I wasn't sure how long the motor would make it, so it wasn't entirely unexpected, but the fact remained that I was dead in the water again. So, I scrambled onto the internet and got to searching, hoping to find a replacement that could make it here in time. A stroke of luck and I pulled the trigger on this guy.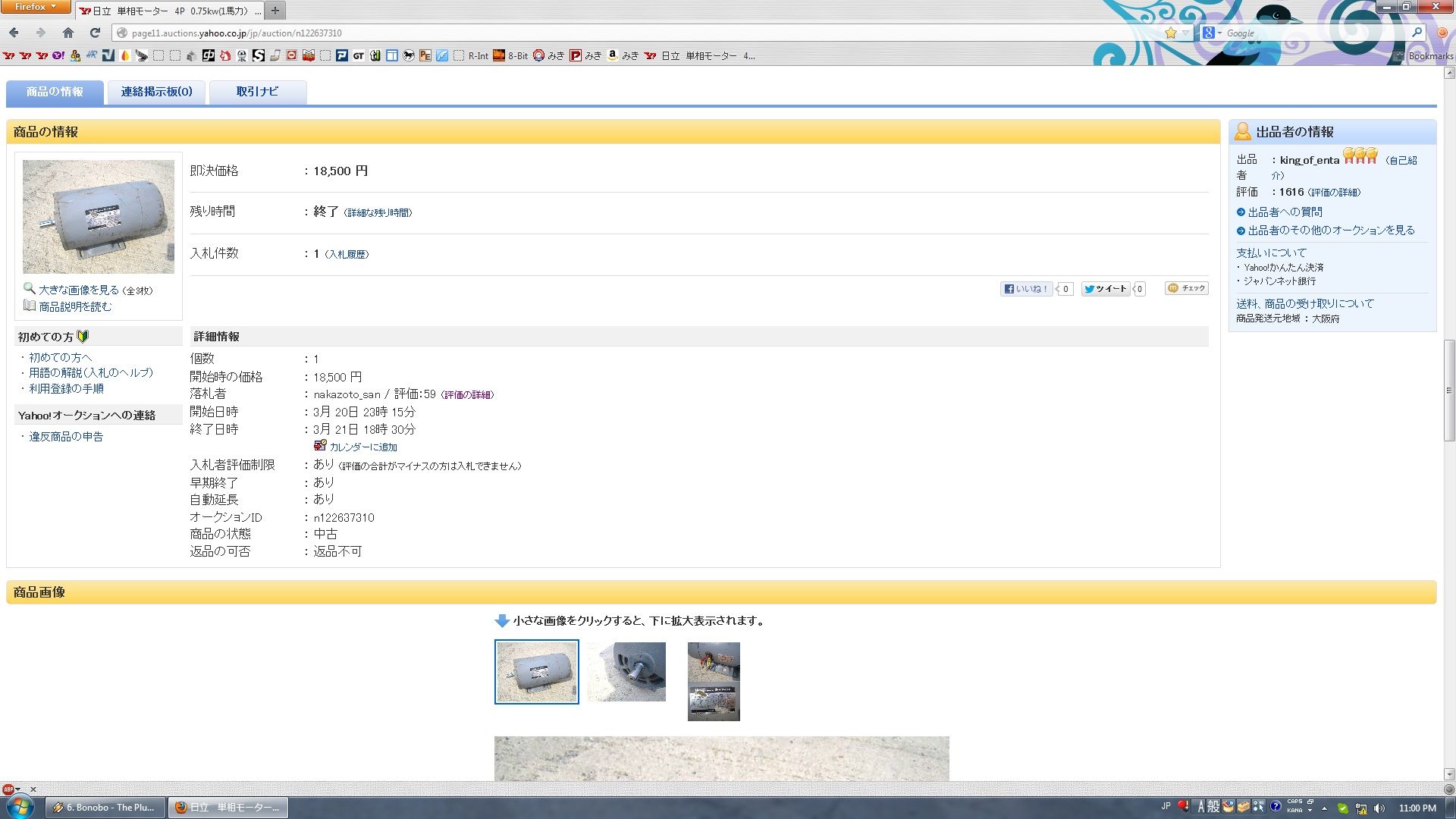 Unfortunately, because it was Yahoo Auctions and it was already Thursday night, the earliest I could hope for it was Saturday.
Day 3:
With no air compressor and just three more days off from work, I knew I had to do something productive or I'd be going insane. So, as luck would have it, Hide-san at Classic Car Nagoya was putting color on an R30 that day and he invited my awesome girlfriend and me to come get some pointers. Absolutely!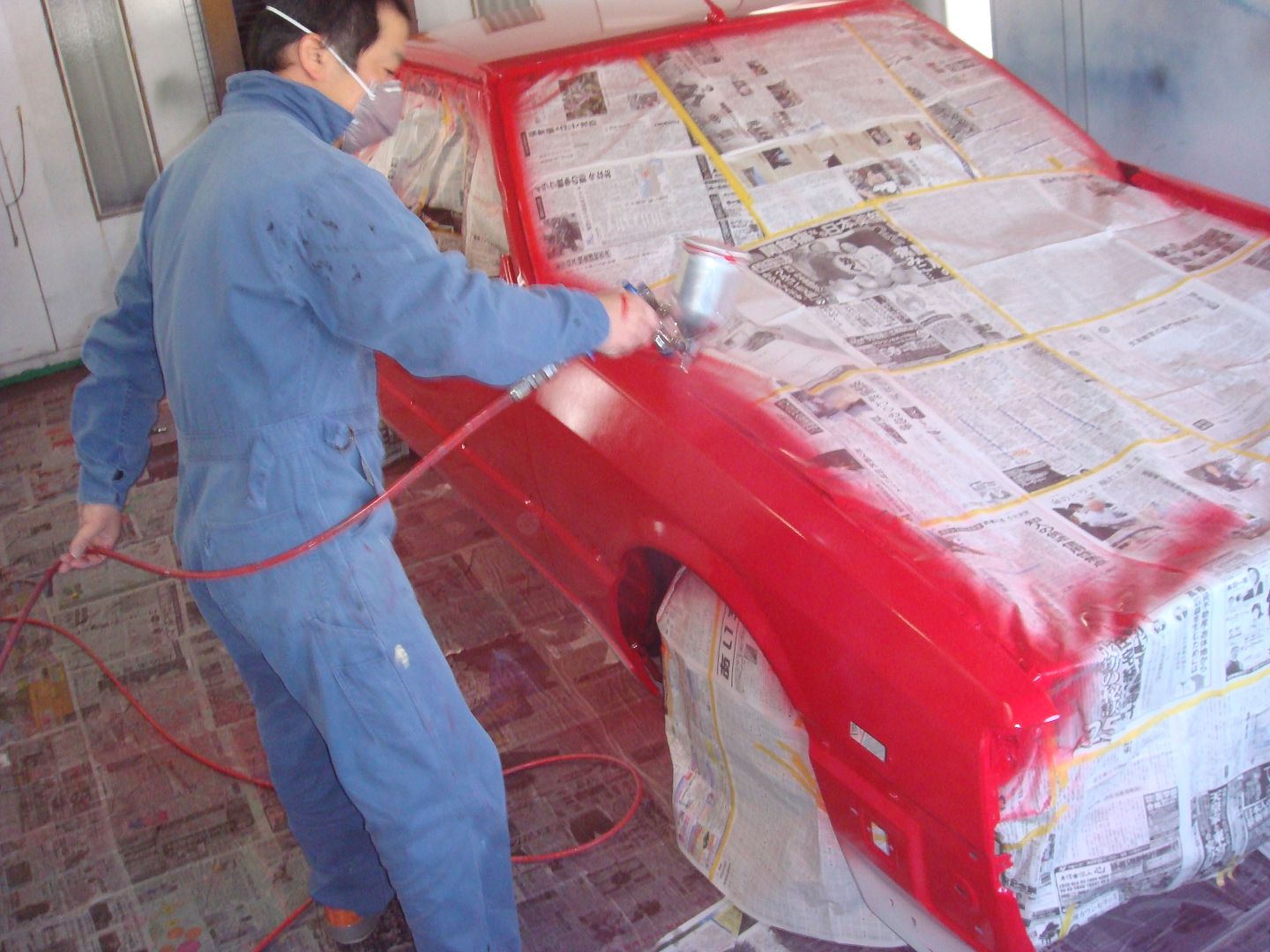 He started off with a nice red coat that was mixed from something like 10 different shades of red.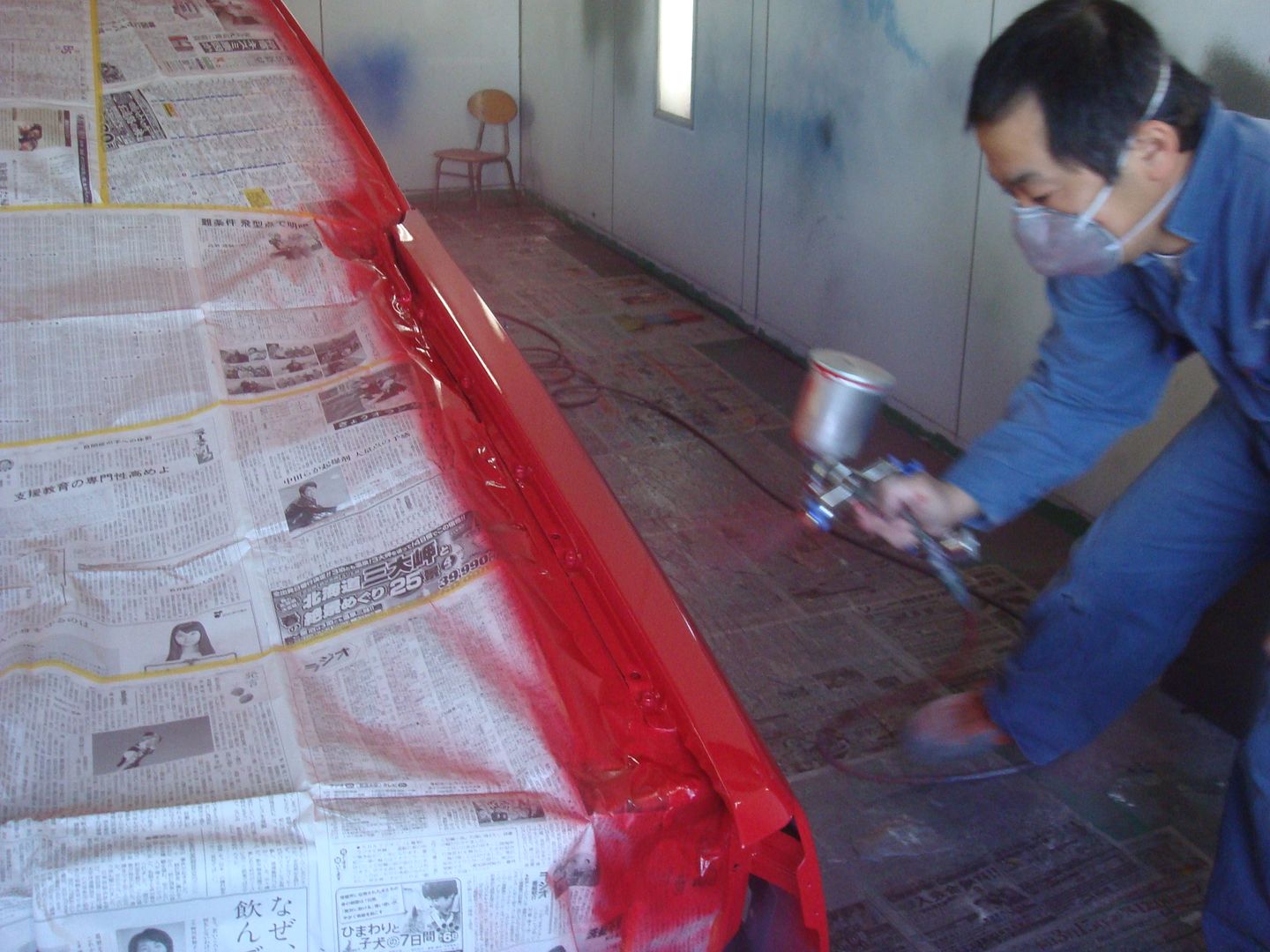 I learned some very important things about gun settings and spray method, but the most important thing I learned was that proper equipment and a paint booth is paramount! The 500,000 yen plus compressor he uses is just about as good a compressor as you can get and when coupled with the 50,000 yen plus gun he's rocking (imported from America), the results are spectacular.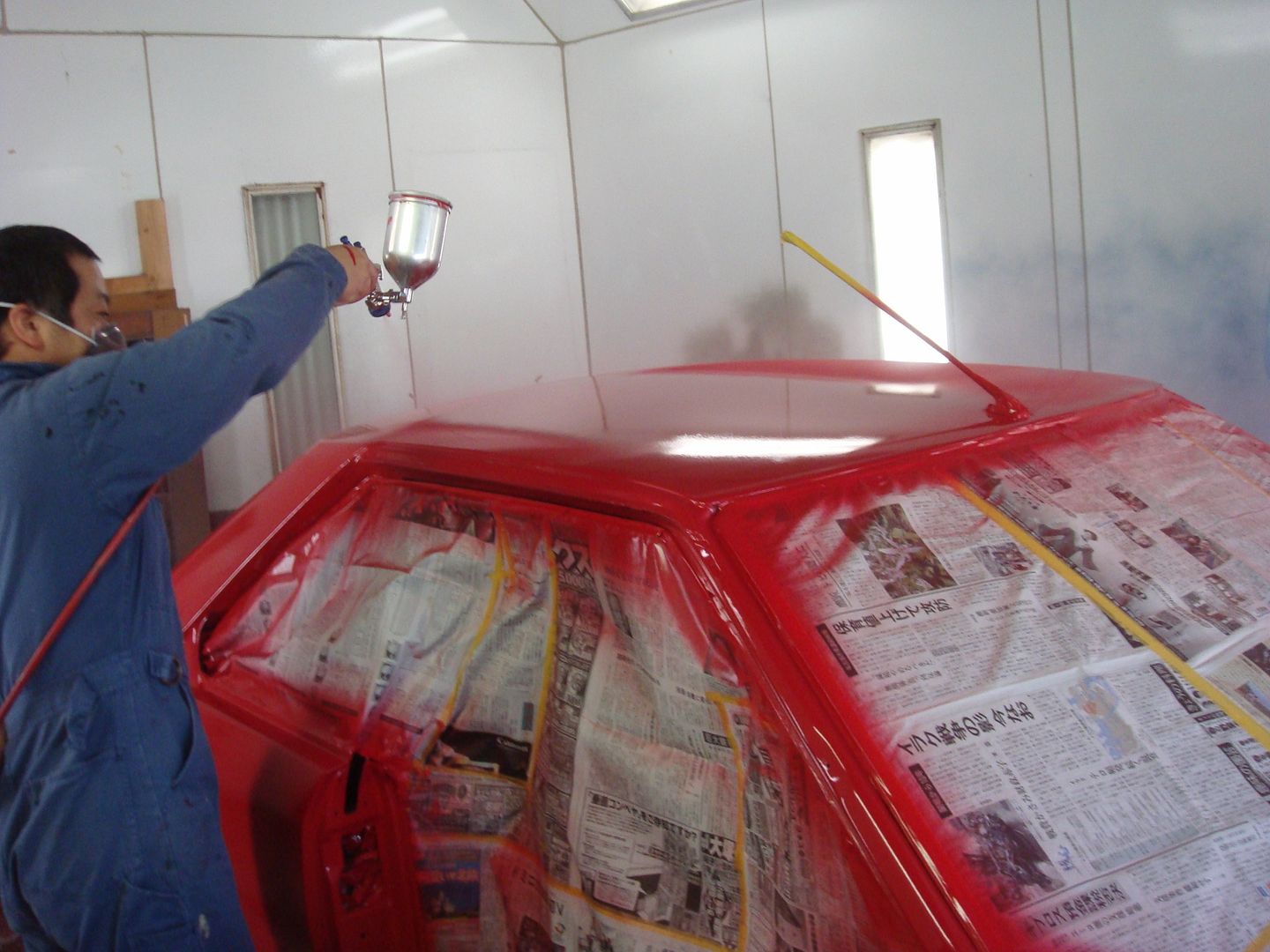 I also learned some interesting things in how he goes about spraying certain parts of the car. For example, when he paints the roof, he does the front 1/4, then the rear 1/4 and then finishes off painting the middle.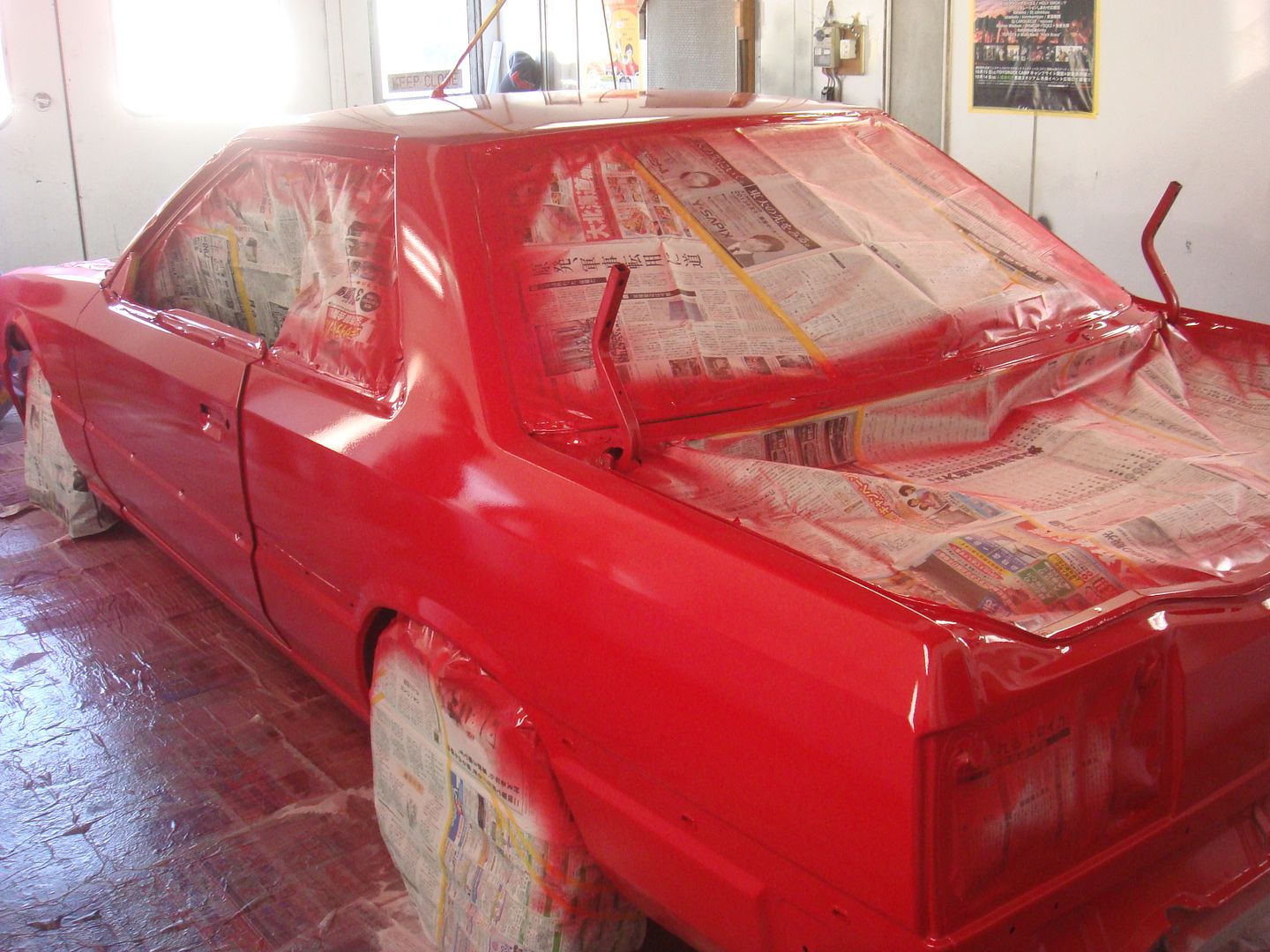 There she is with three nice coats of the vibrant red. Next up was putting some candy on it.
The candy was a very deep metallic color that really popped to the naked eye but looked far less interesting through the lens of my point and shoot. Still, it was an amazing color.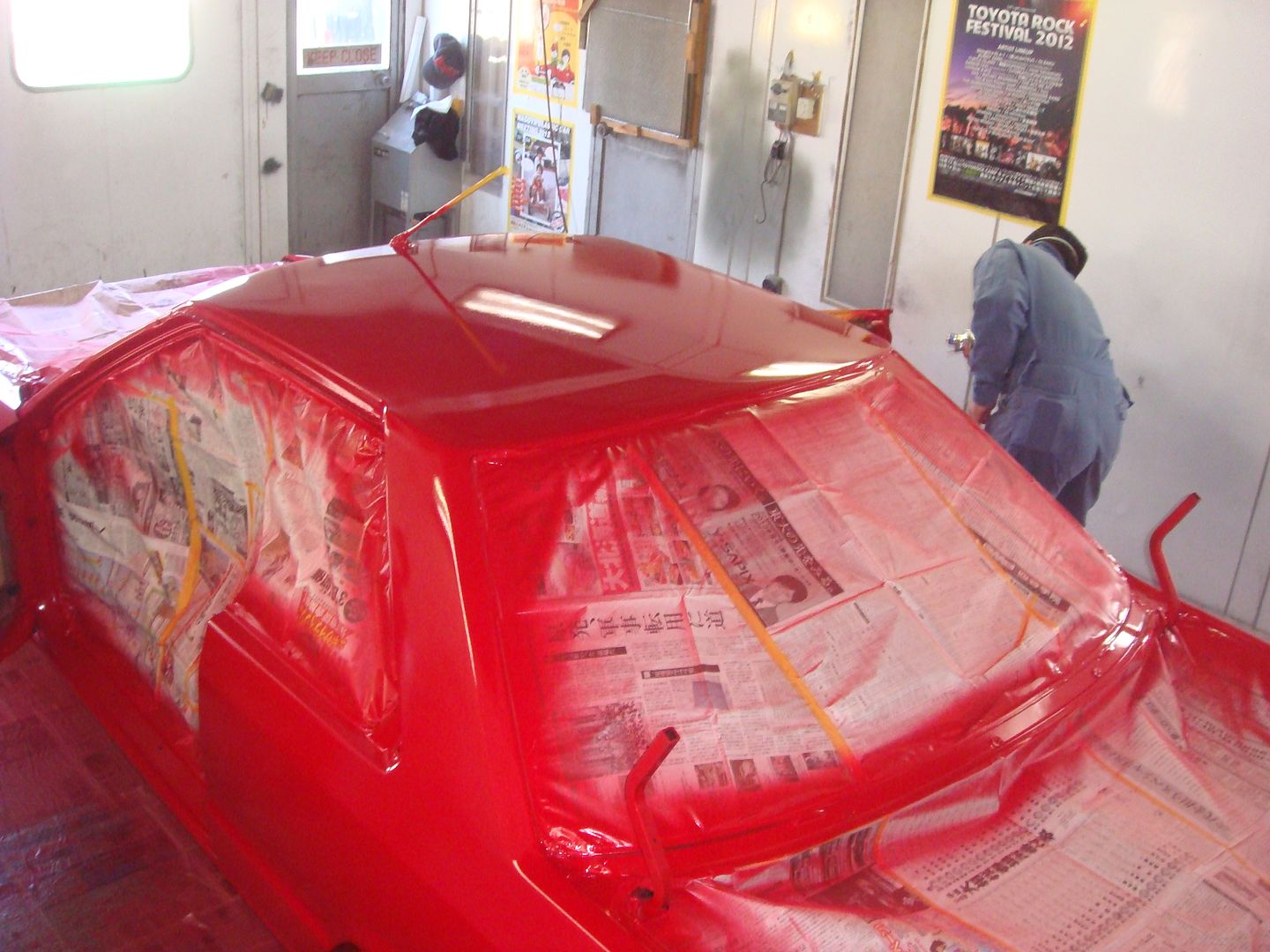 After two coats of candy, it was lunch time. You could tell that Hide-san was a professional in that he finished his two coats and finished cleaning his gun at precisely 11:59! After lunch, it was time for clear.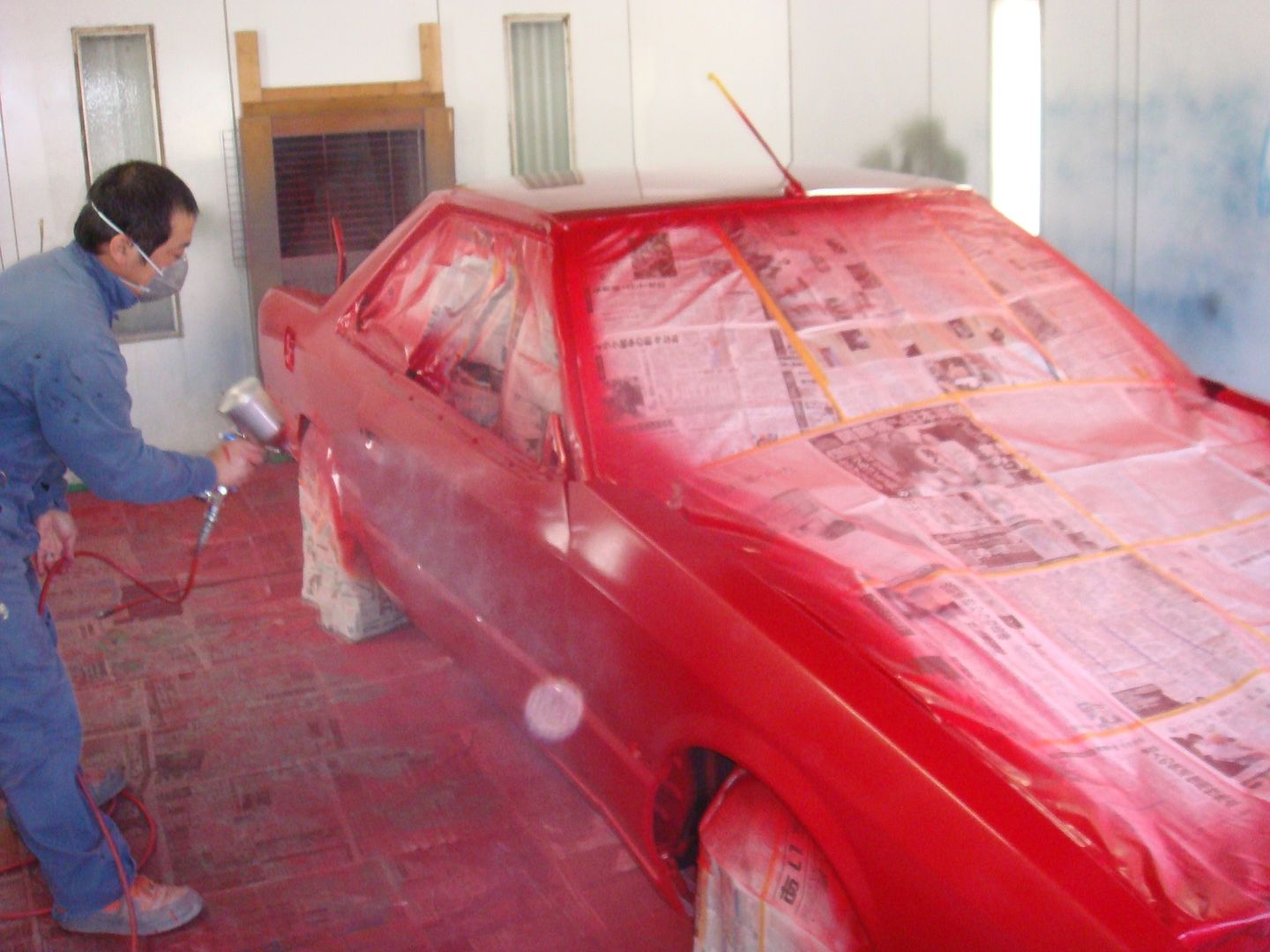 The clear is still wet here, but you can see the difference in shine it makes from the door to the rear quarter.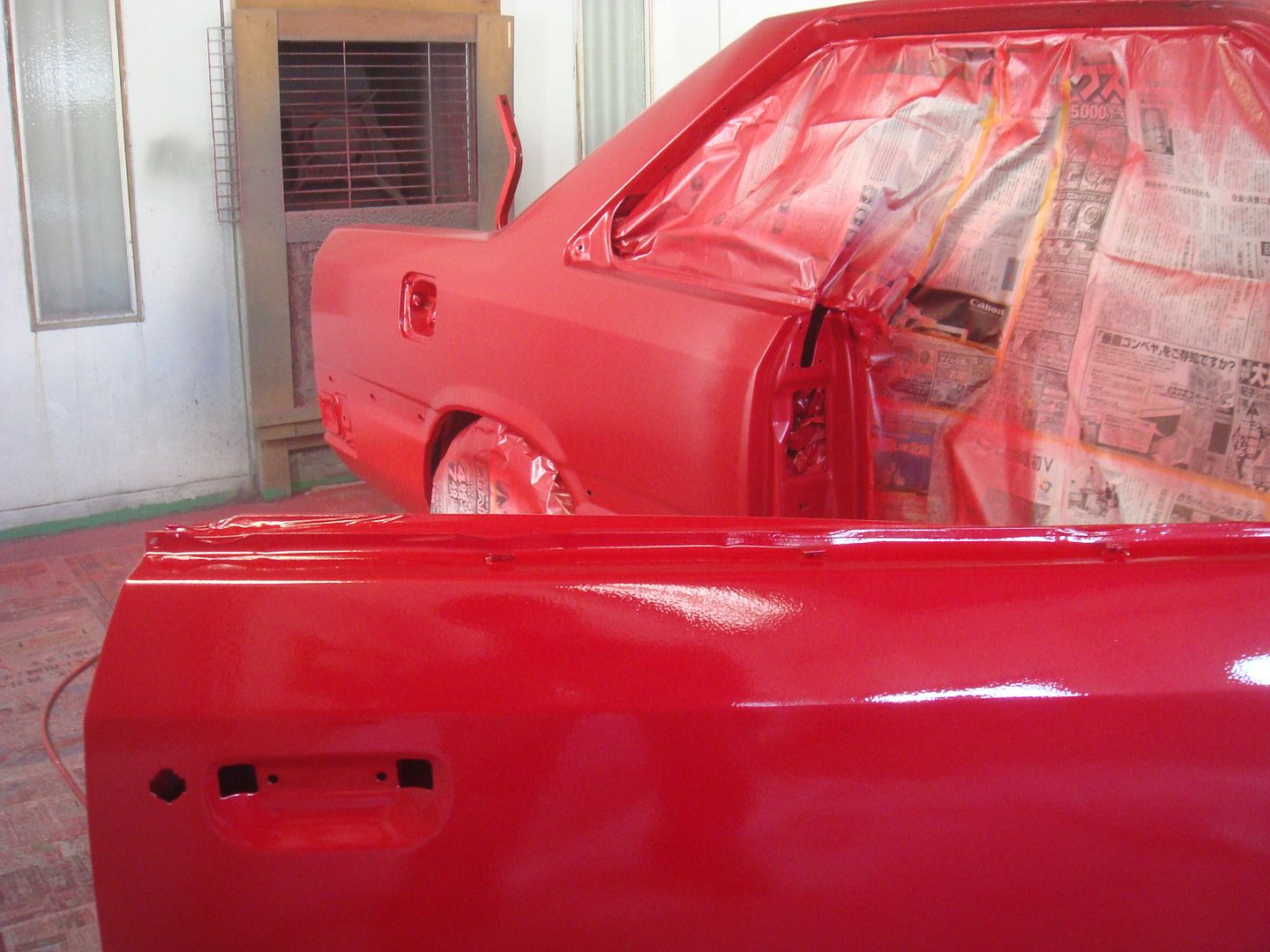 A very nice, clean, deep red!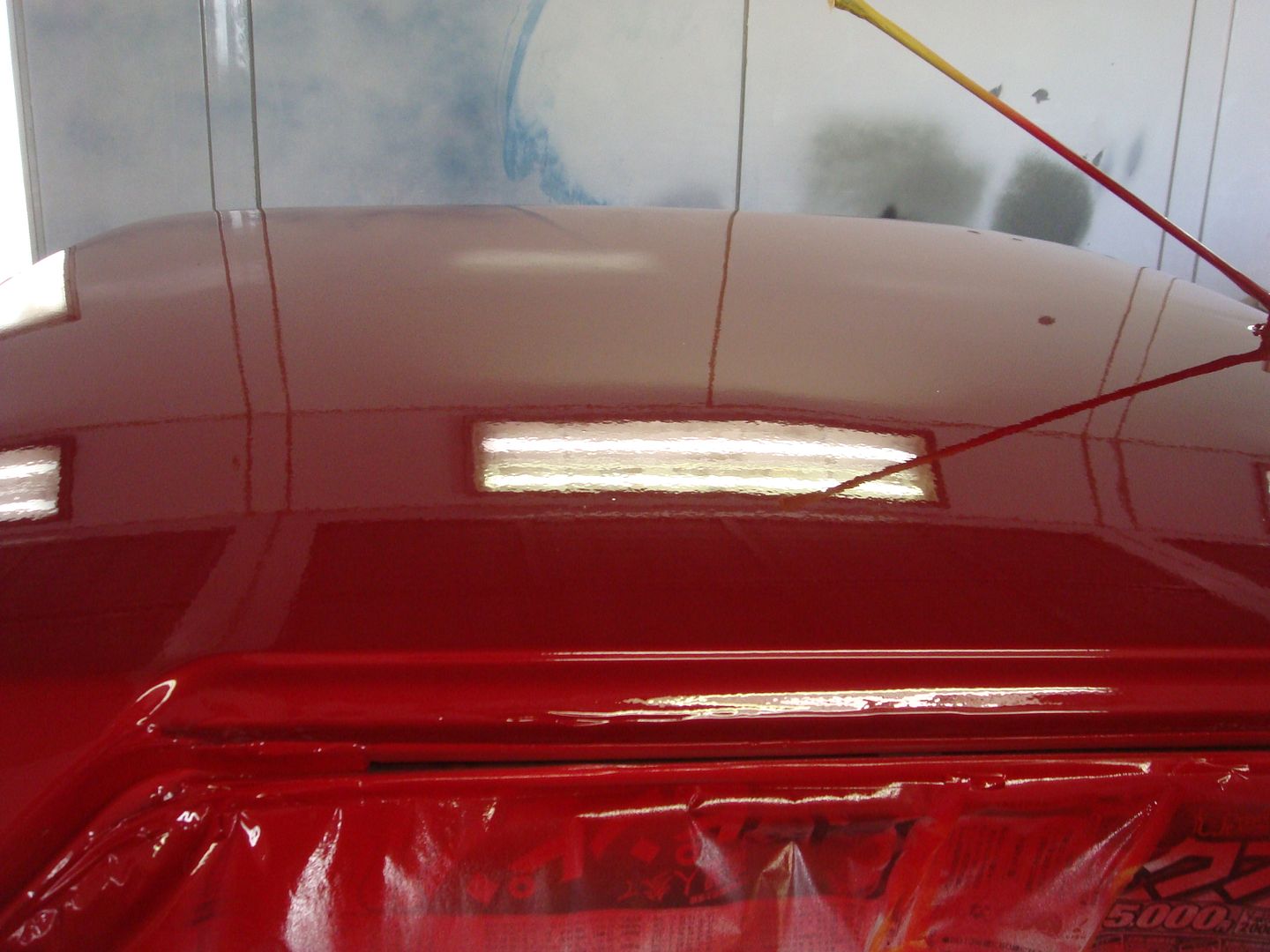 After our quick lesson, we had a short chat about paint. Turns out the maroon I wanted is one of the more difficult paints to get right. I also run the problem of the paint showing flaws in my bodywork (which there are bound to be quite a few of). Hide-san suggested running a nice, dark, solid blue. I'll get close to the same look that maroon will give, but it'll be about 9 million times easier to paint. Had I not seen how difficult it was to get the red on the R30 right, I would have stuck to my guns on the maroon, but given my current painting situation and equipment, I'm more than ready to go for anything that will make it easier on me.
At any rate, after having learned quite a bit about painting, we decided to take the rest of the day easy and go watch Die Hard 5 in the theater since it was the last week it'd be playing. Everything exploded. It was awesome.
Day 4:
Kudos to the Yahoo Auctions guy. He was on the ball and got my compressor motor shipped first thing Friday morning. That meant it arrived at noon on Saturday! There are a couple reasons why I was so keen on getting this specific motor. Here's the tag on the motor for my old motor.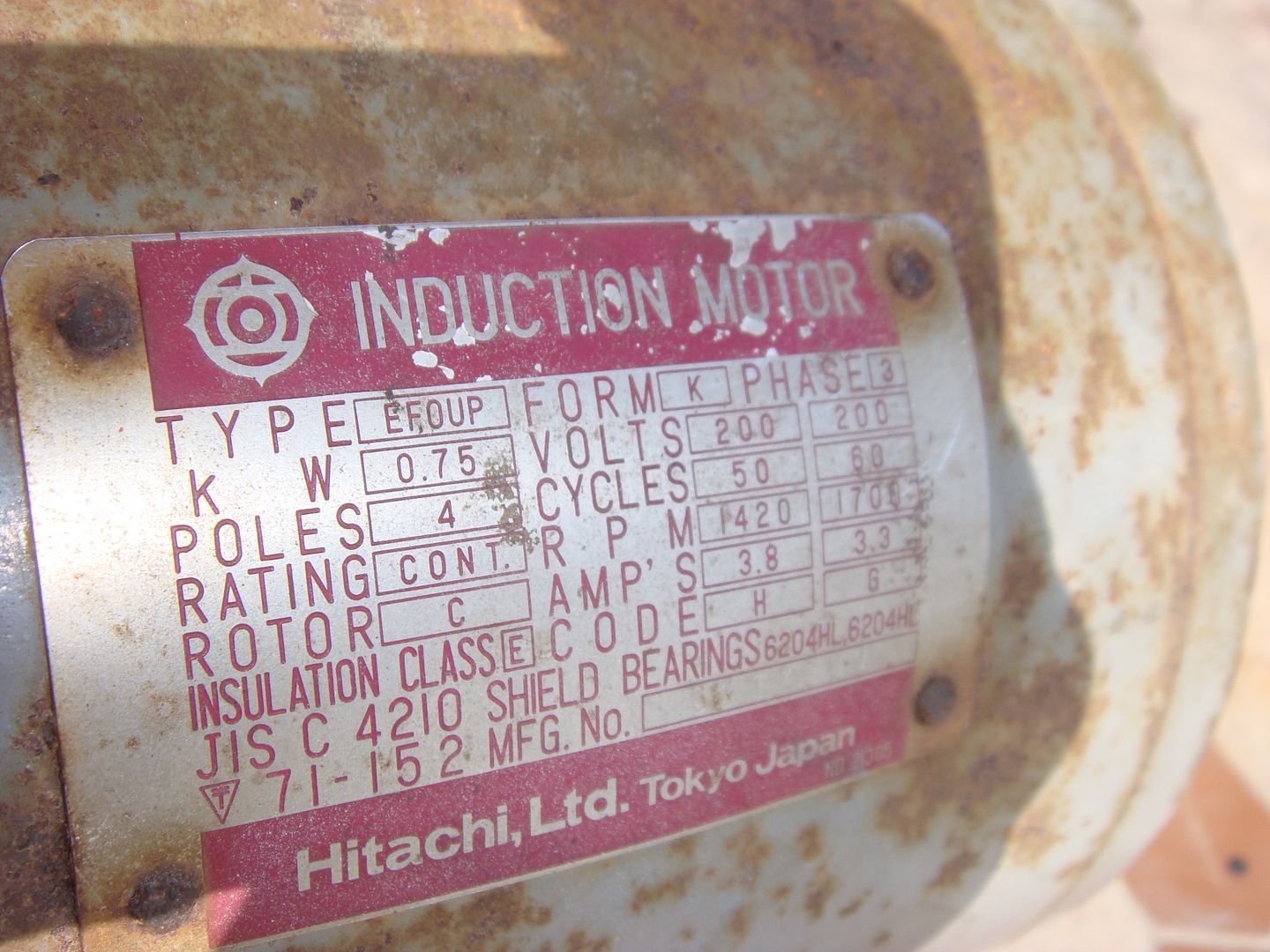 If you look, you'll notice its 0.75 kw and spins at 1,700 rpm. If you look at the new motor though...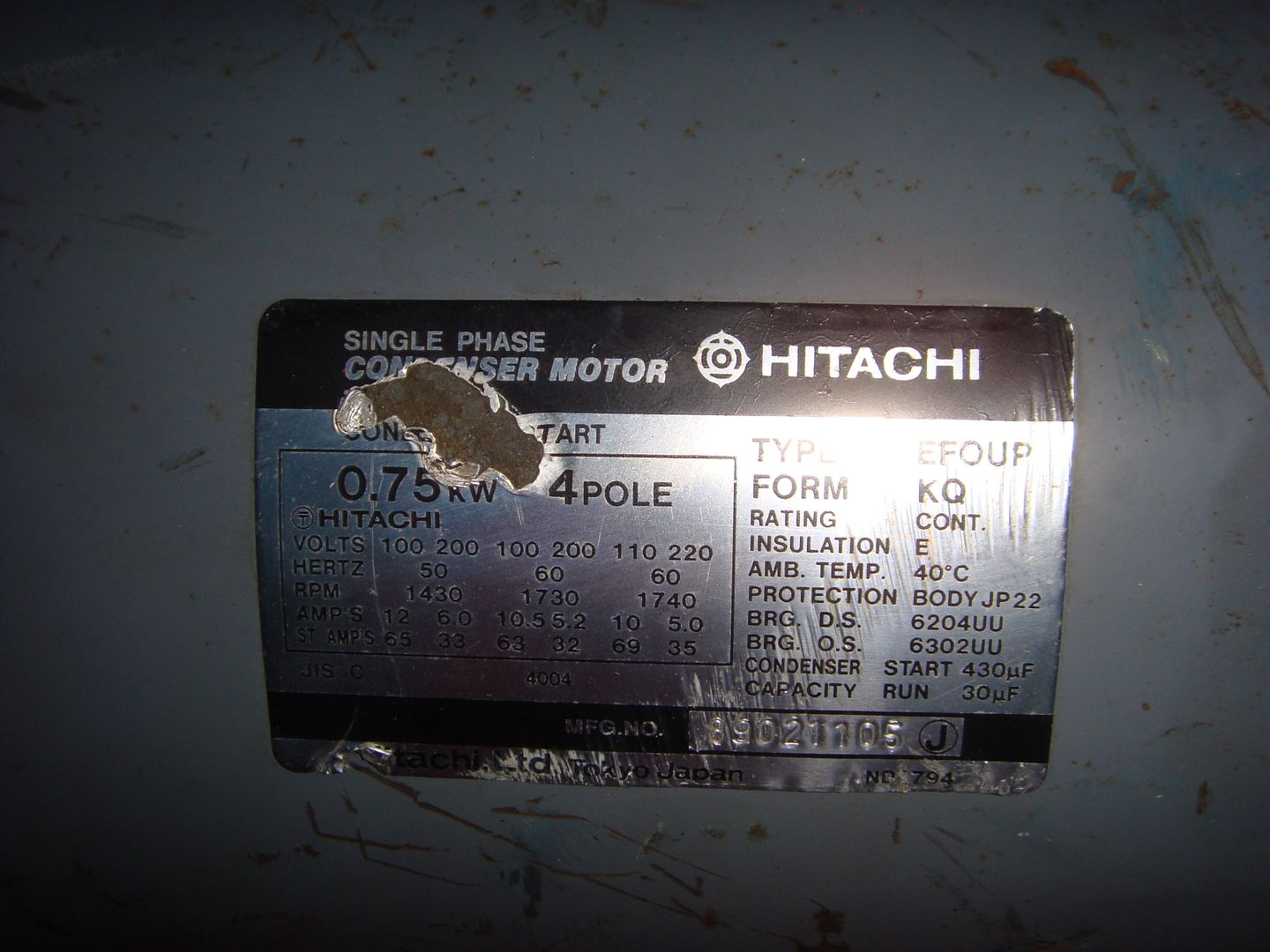 ... you'll notice that it's also 0.75 kw and spins at near 1,700 rpm. So, aside from it being single phase, it's nearly identical to the old motor. Which means no obvious problems running the compressor off of this motor. However, this motor has one added benefit. It can run on 220 volts, which means if I pack the whole compressor into a container when it's time to move home, I can continue to use it!
At any rate, the old motor had to come off!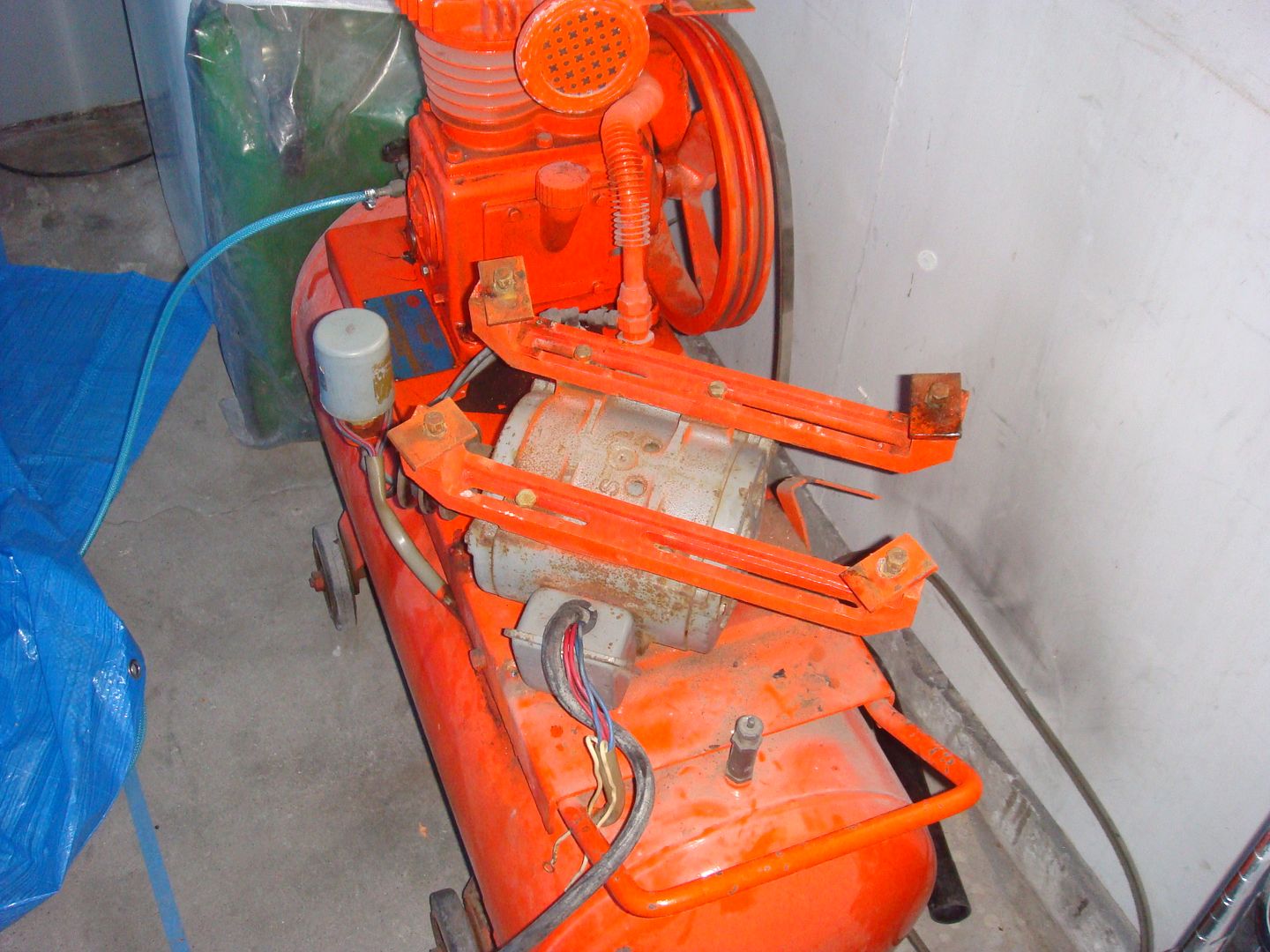 And the new motor had to go on!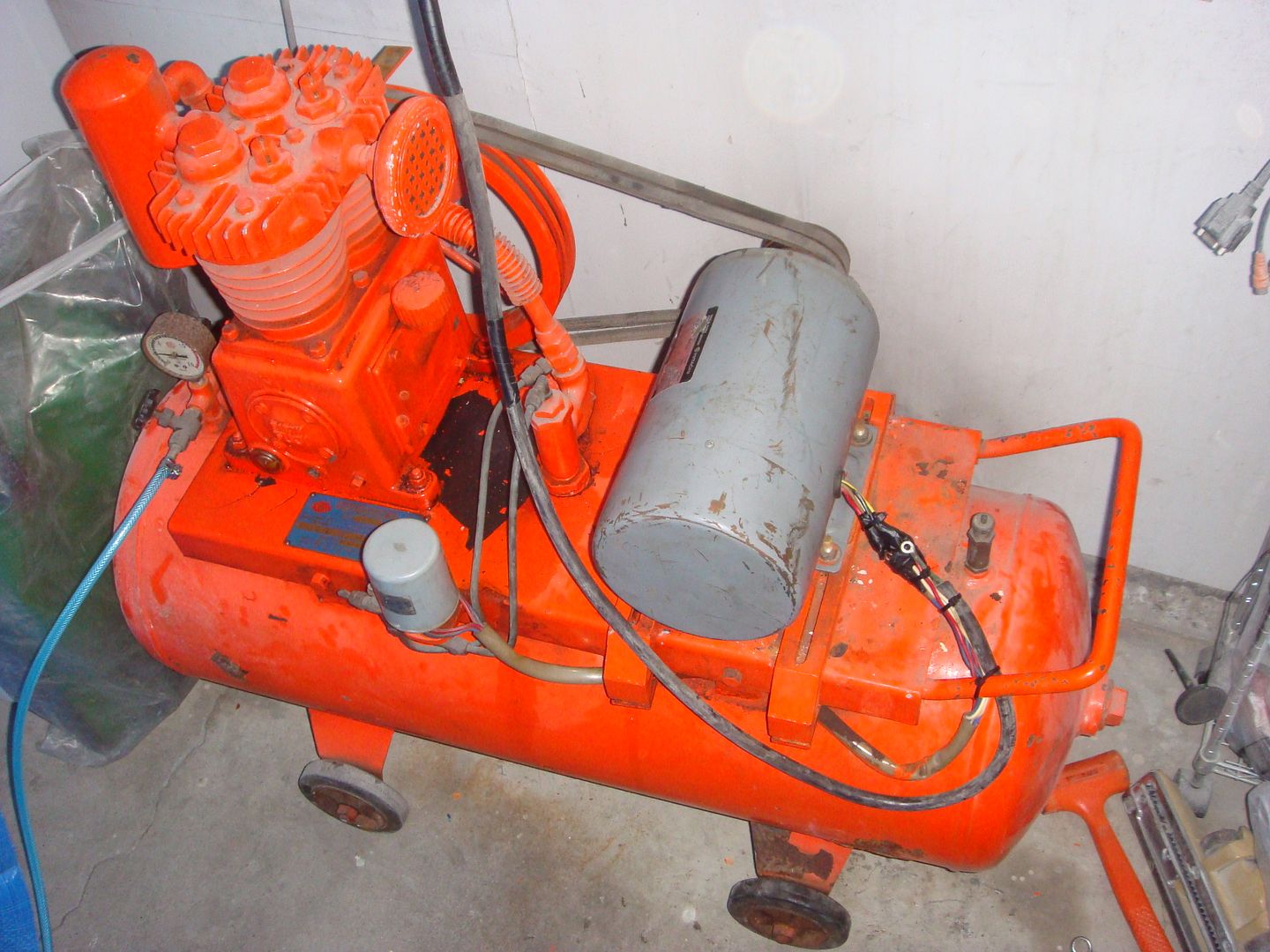 Now that I had air, it was time to get painting!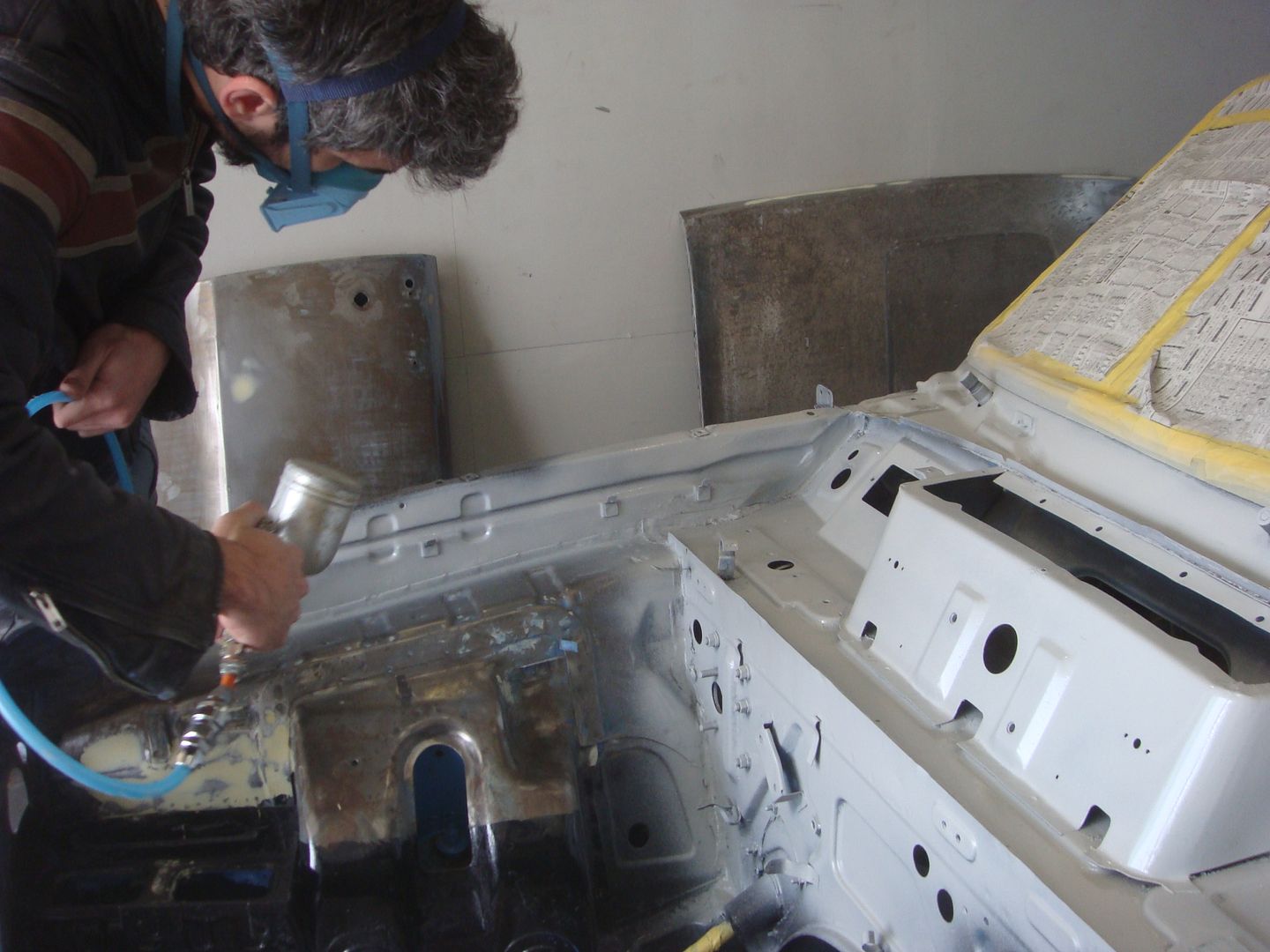 It should be noted that the gun I'm using is an old hand me down from my lovely girlfriend's father. It's a nice gun, but it's not the nicest in the world. Still, it works well and gets the job done.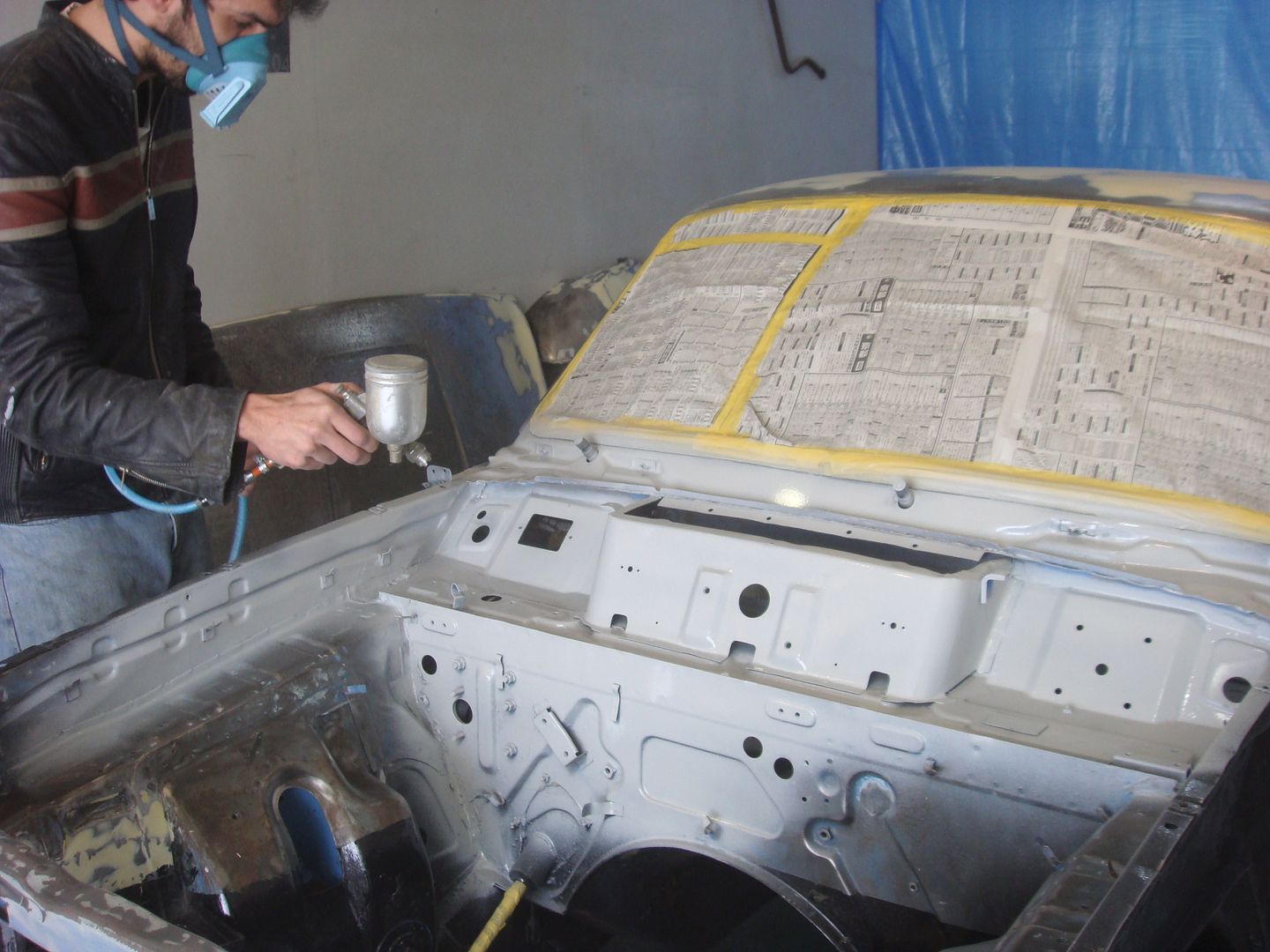 My, that doesn't look too bad!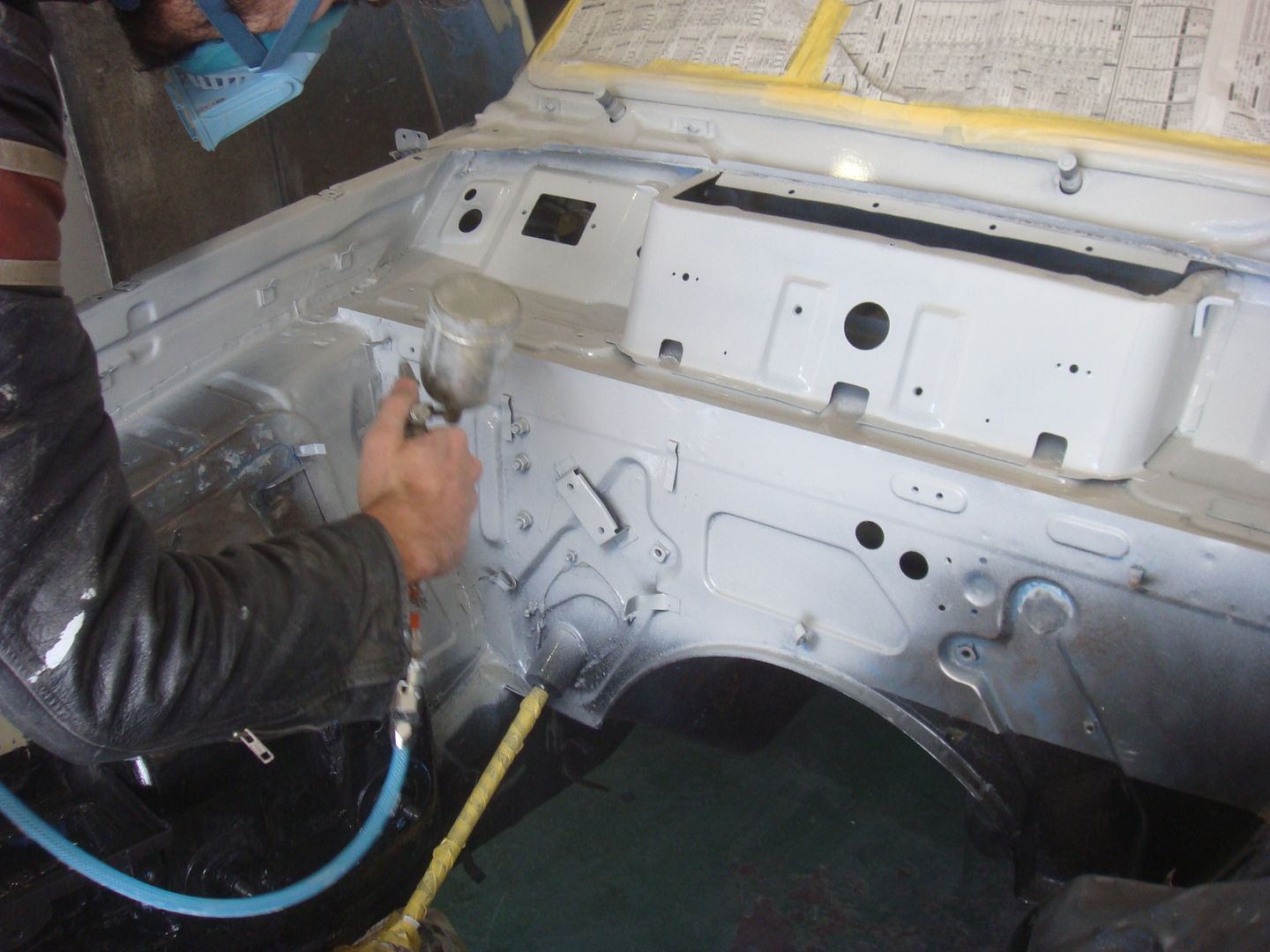 The pressure switch still didn't work on my air compressor, so I'd run it in between cups and then actively adjust the spray pressure at the gun as the pressure in the tank dropped. It seemed to be working alright so far. We were still trying to get into the groove of things when darkness fell and it was time to pack it up for the night. I managed to get a single coat of primer on the entire interior, engine bay, roof, pillars, trunk and one rear fender.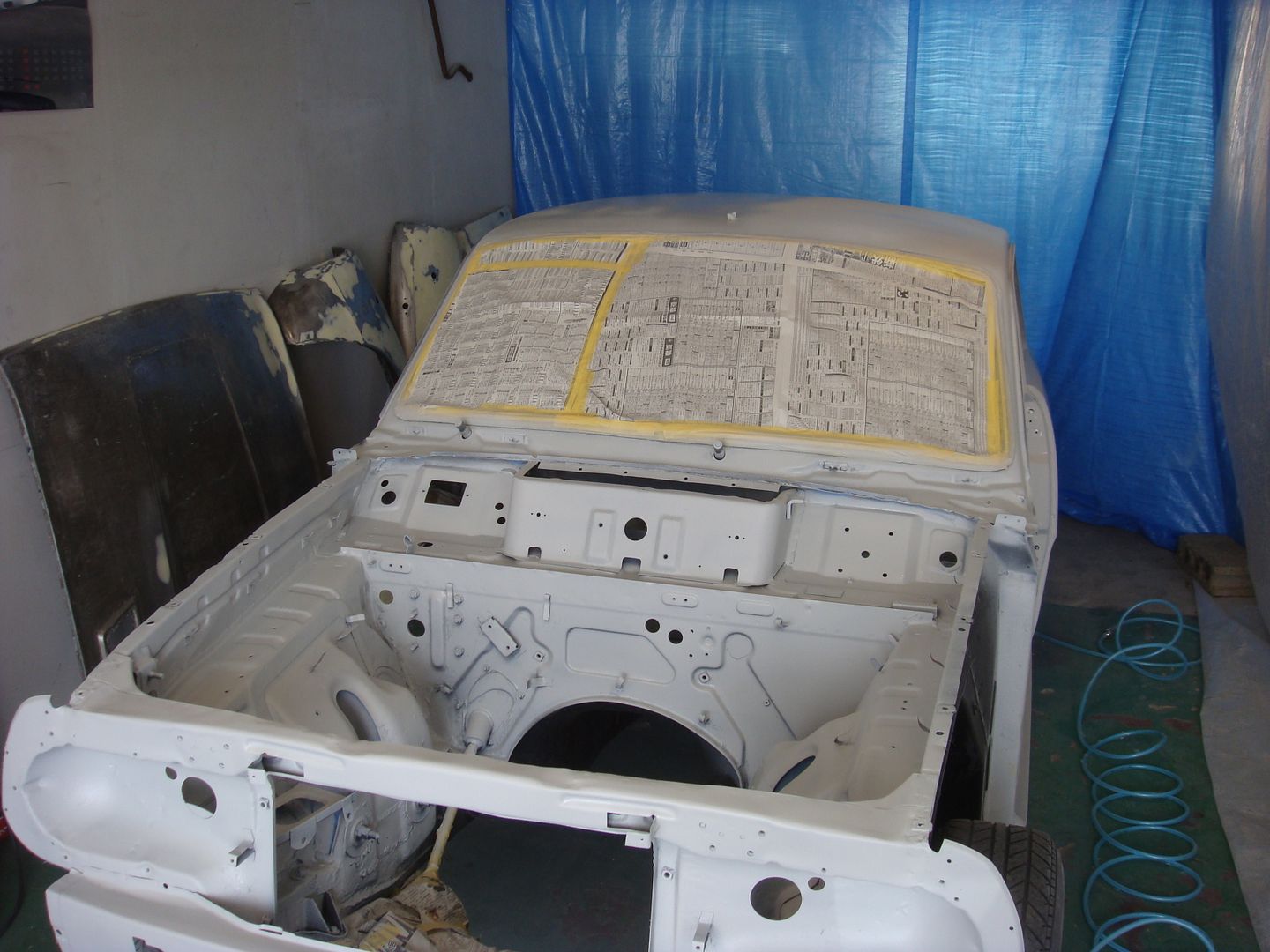 It was still pretty thin in some spots with some of the body work still visible beneath the paint, but it was already looking like a transformed car!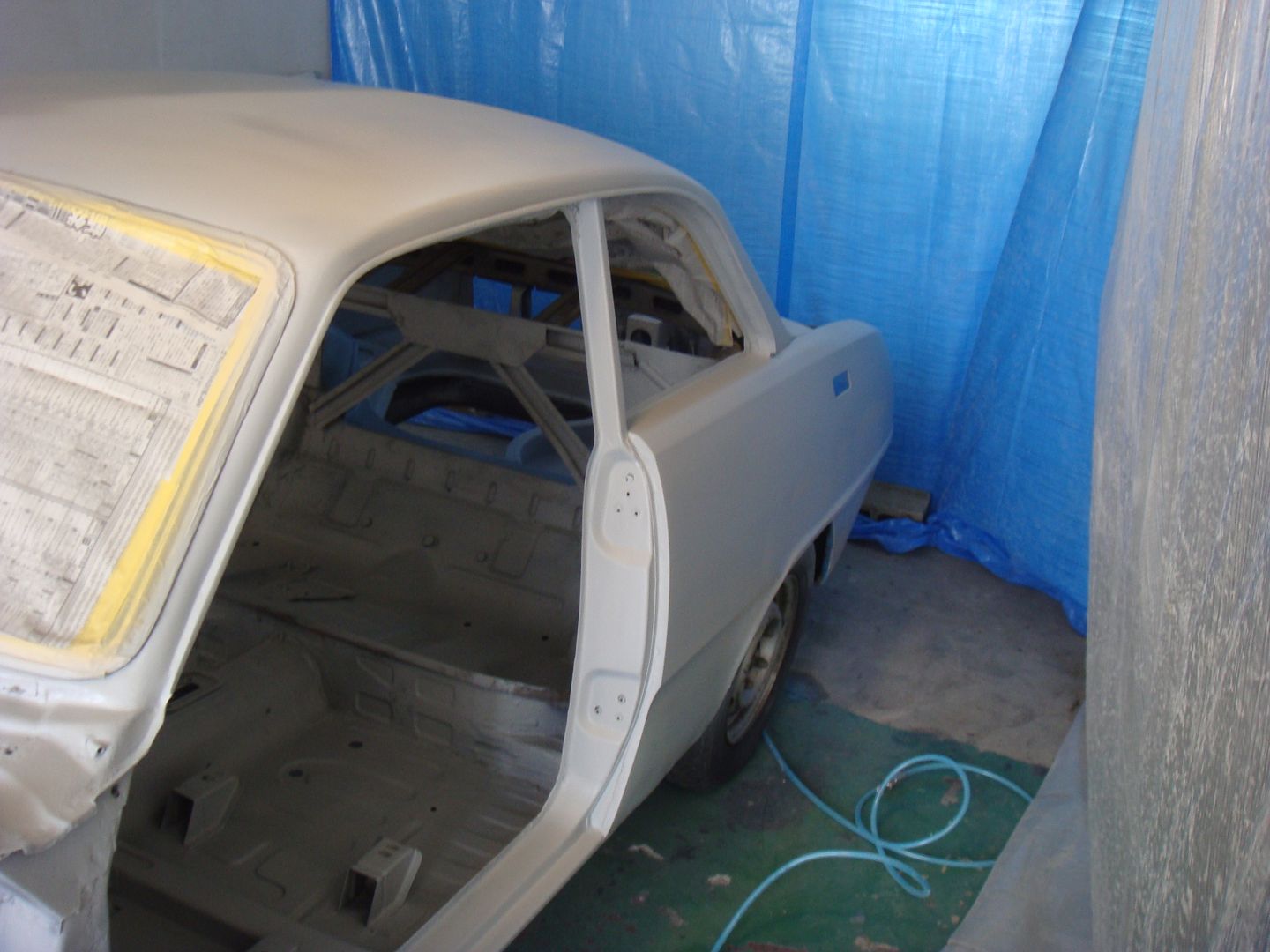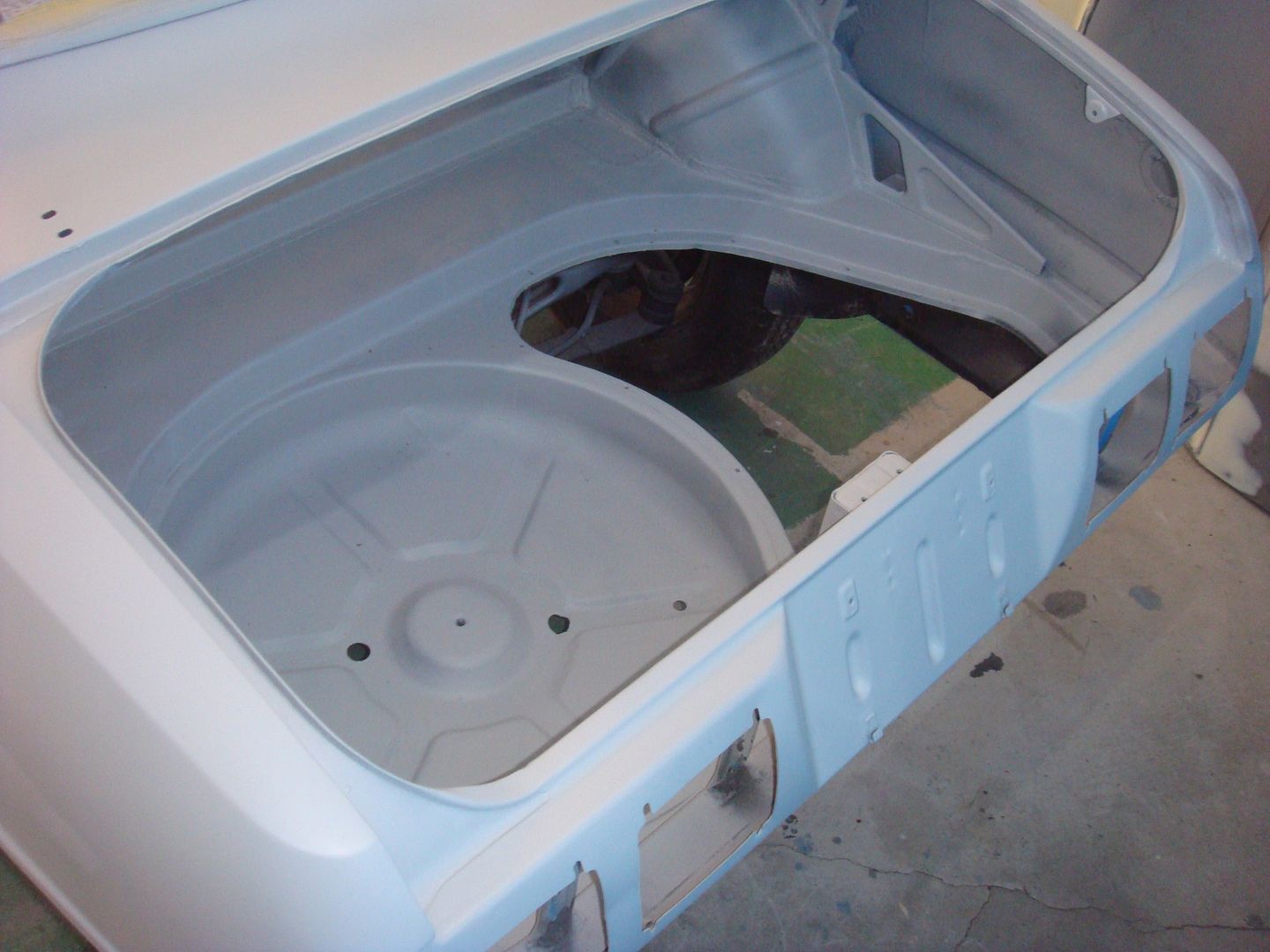 There were some problems that presented themselves pretty quickly, such as these pinholes in the putty we used on one spot of the roof.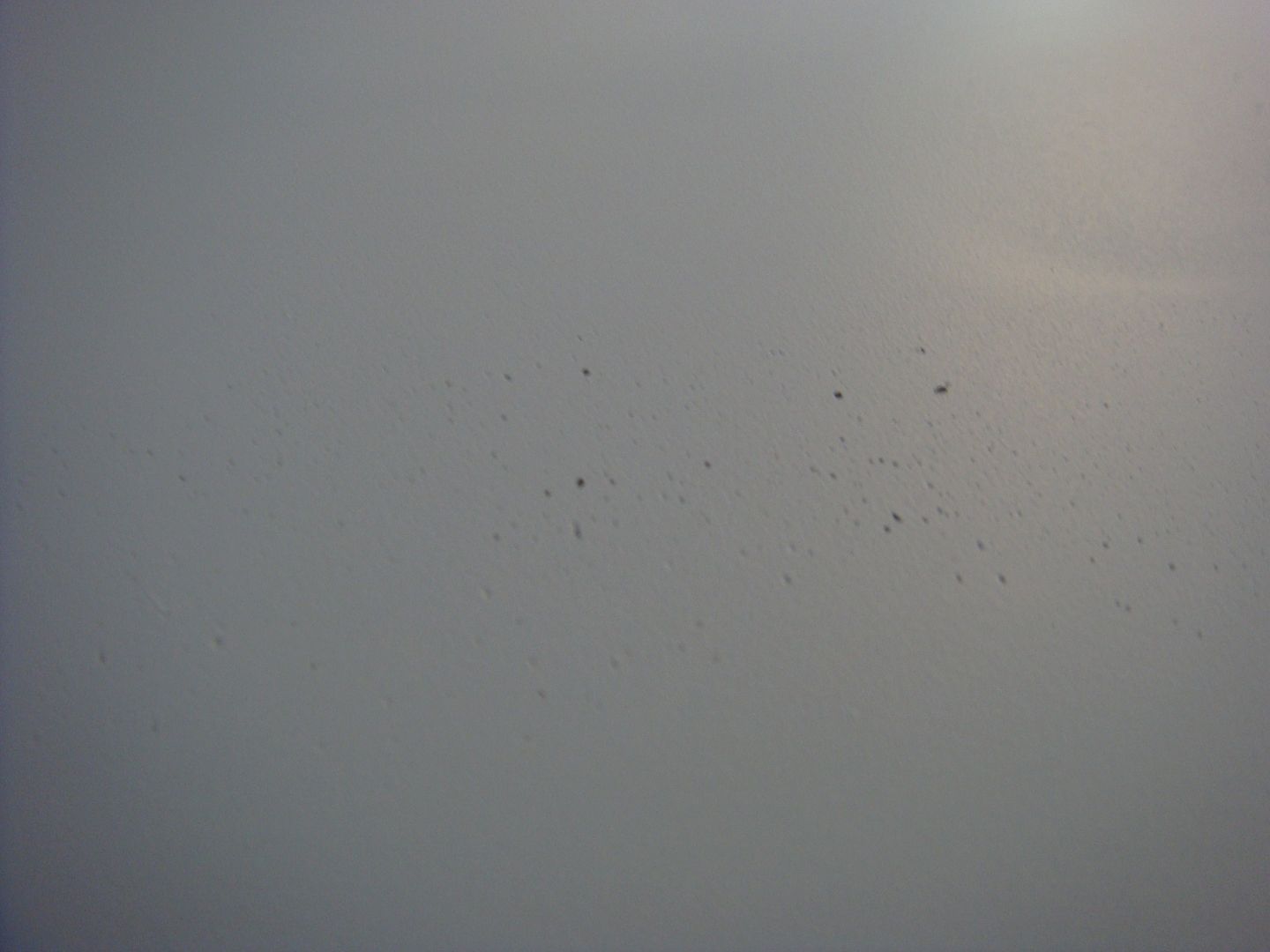 Still, I'm pretty stoked!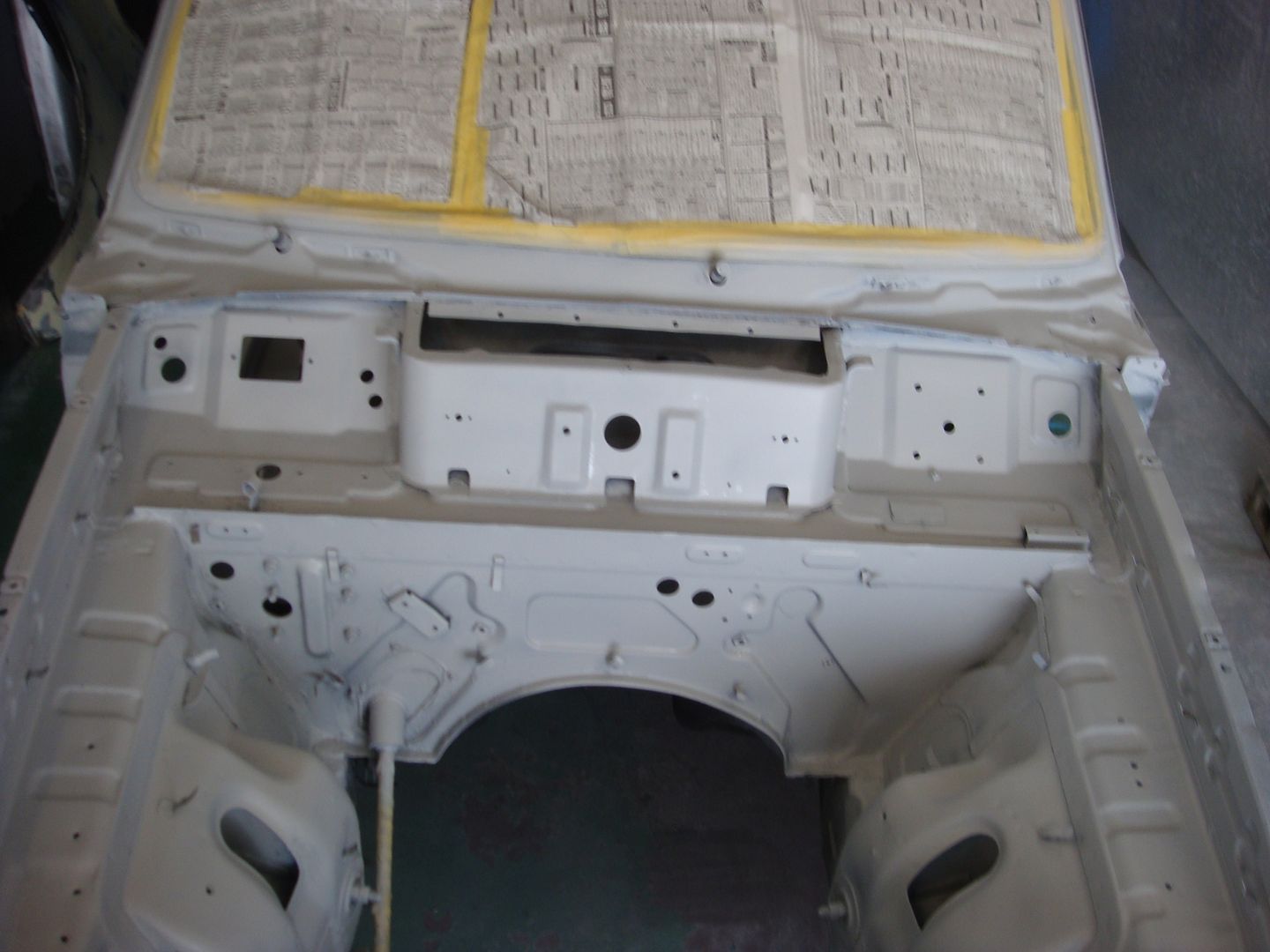 Day 5:
We hit the ground running finally. We had good momentum, we worked out a good system and paint was flowing freely! That is until a mixture of improper cleaning the night before and a cup of too thick paint thoroughly clogged the whole gun. After dismantling it and letting it soak in some thinner for about an hour, we were back in business! Consider that was the only major setback of the day, it was refreshing to have a day go smoothly to say the least!
At the end of the day, I had managed to get three coats on the entire body!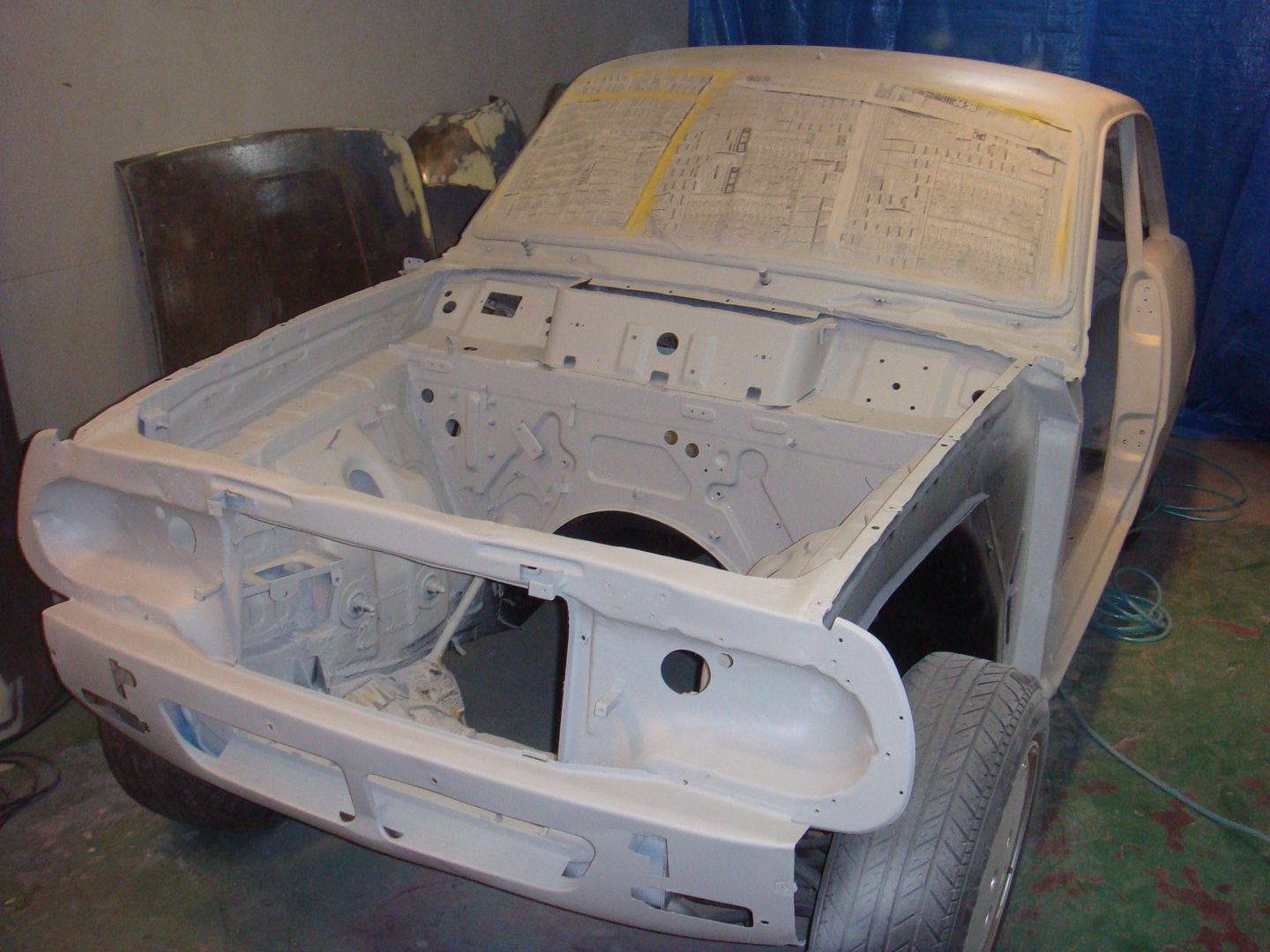 Now that's not bad looking at all!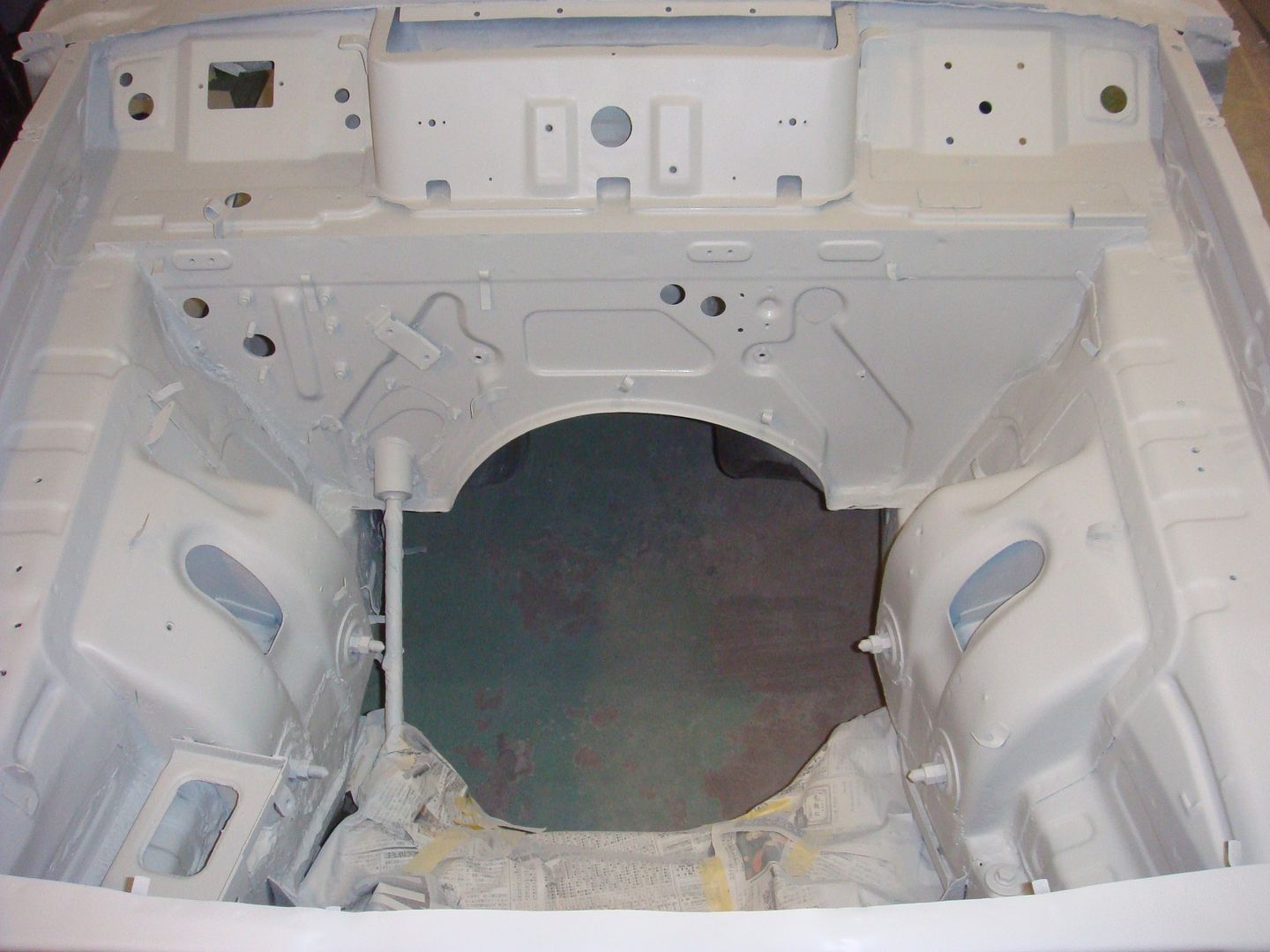 Even the fenders look alright!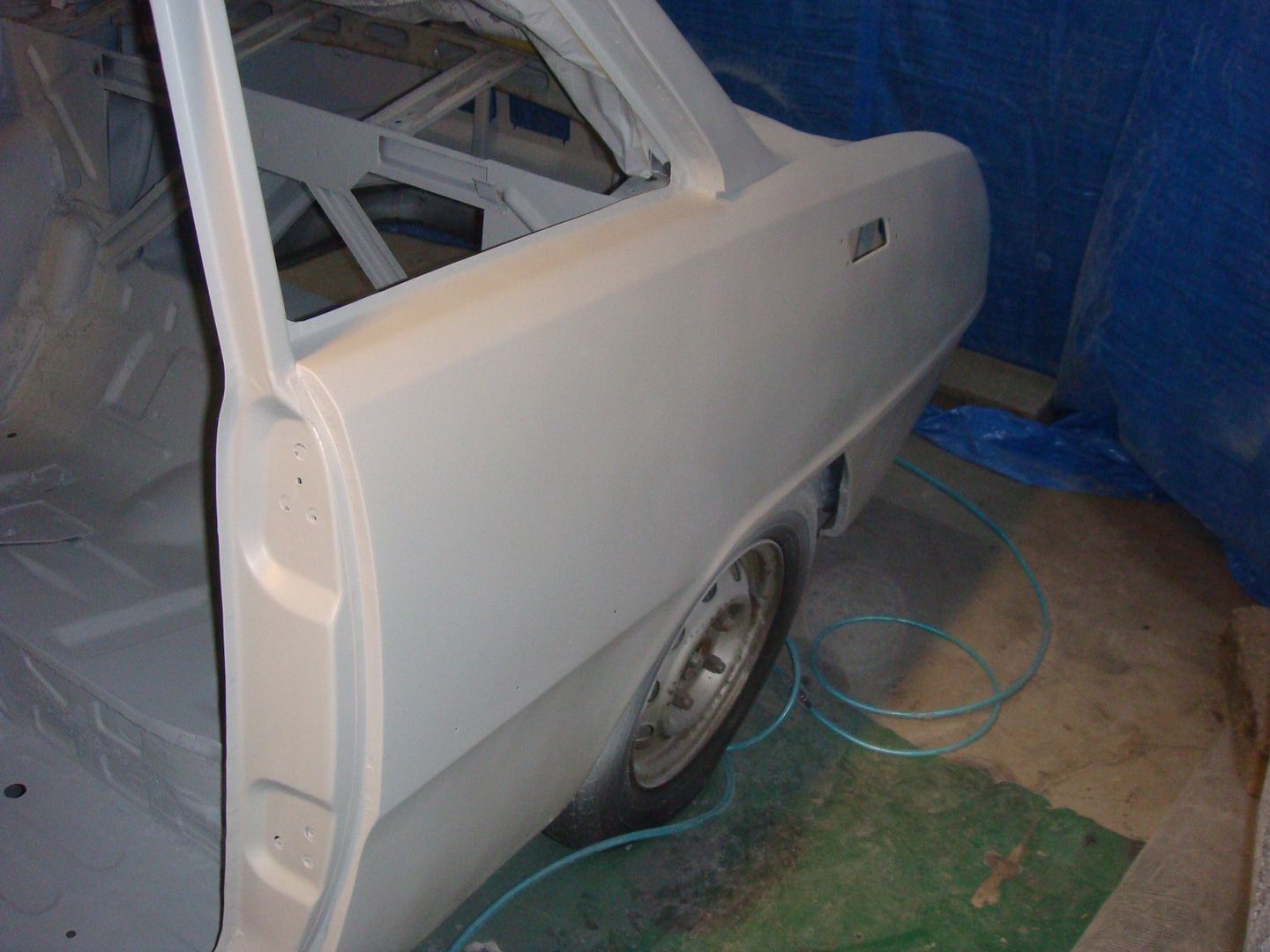 The roof, which was mega wavy before we started body work on it, looks decently smooth now!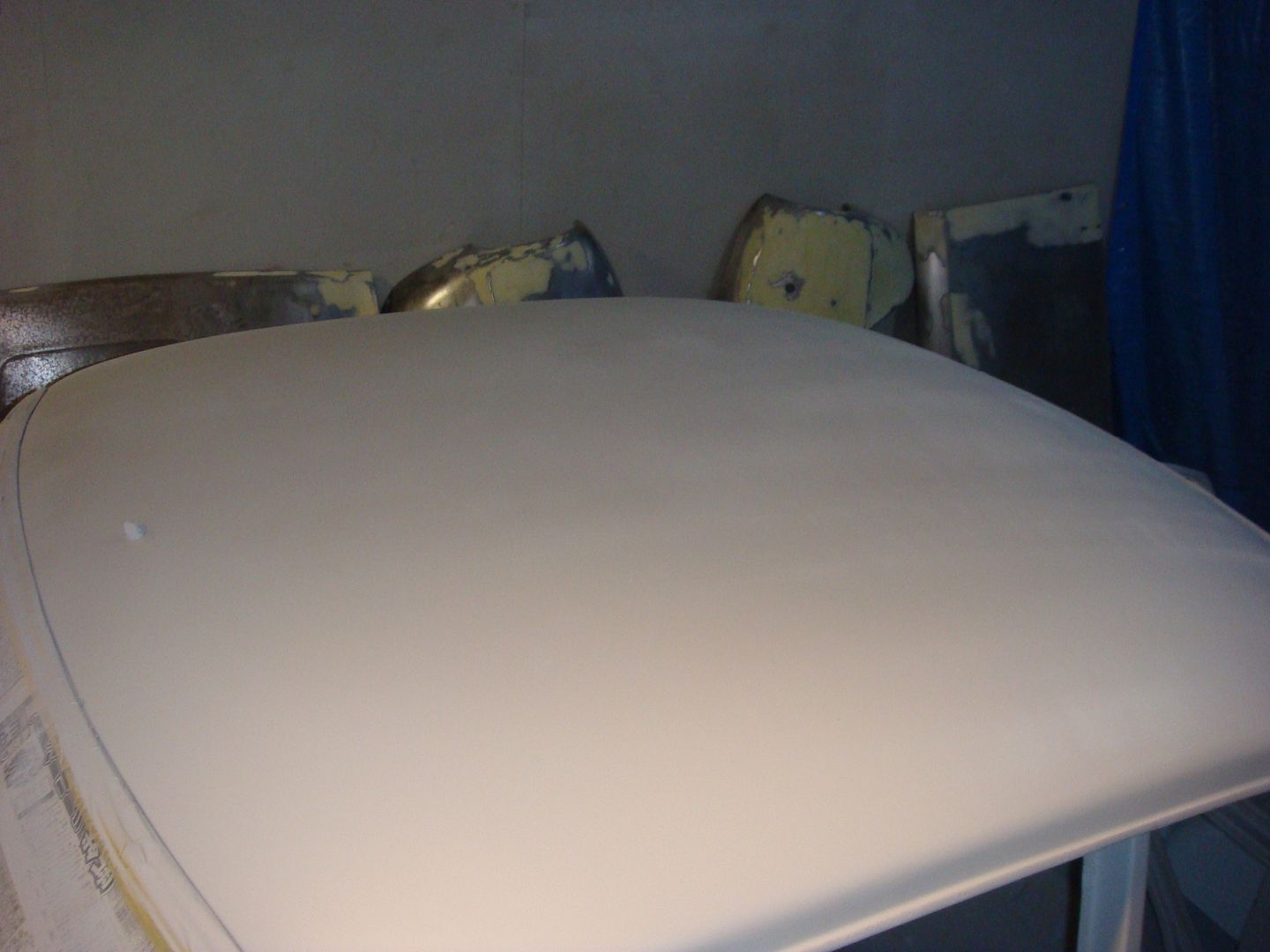 Man, I'm excited to see this thing as one solid color.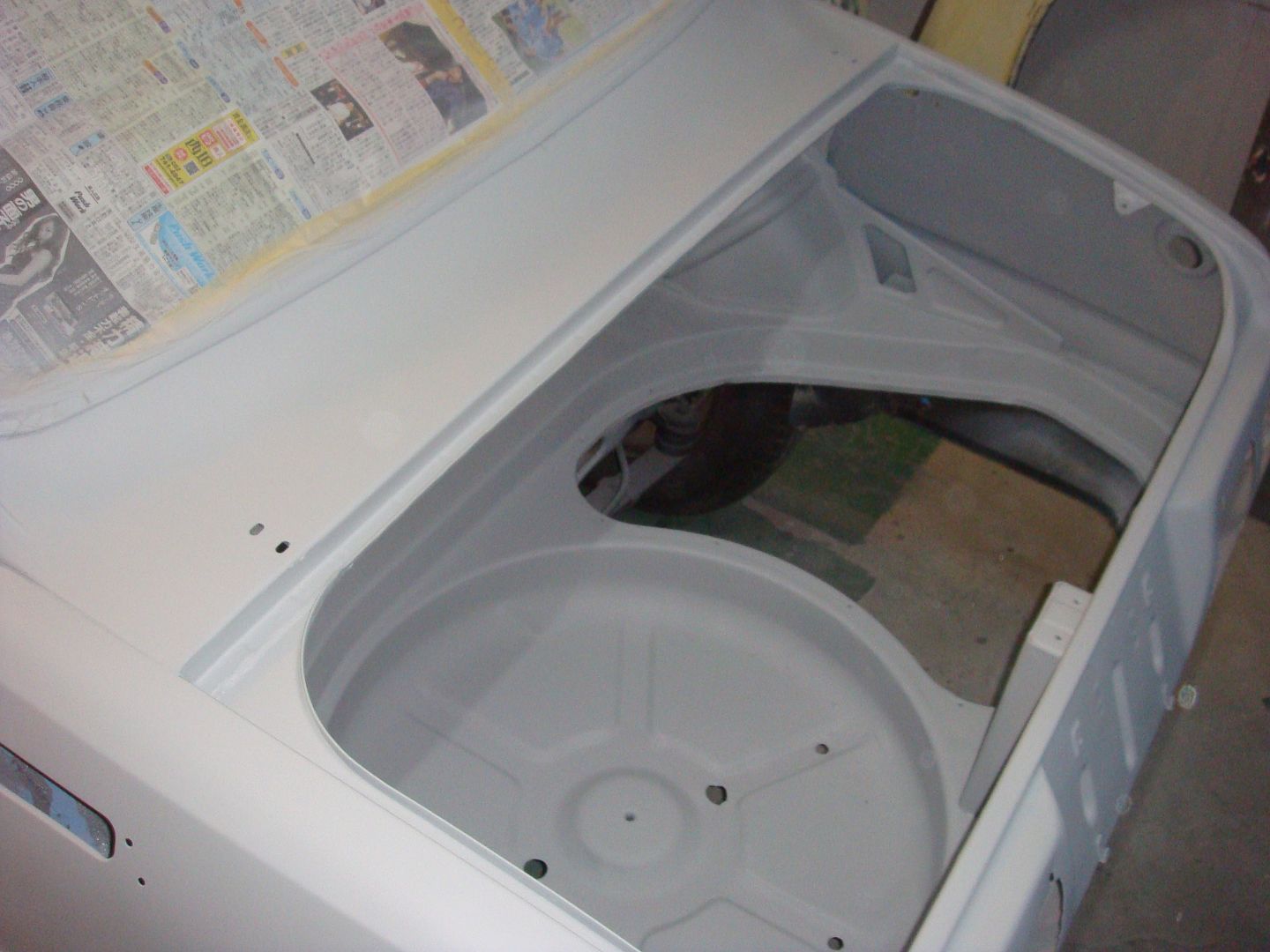 Three coats really makes a difference in getting a completely uniform and even paint surface.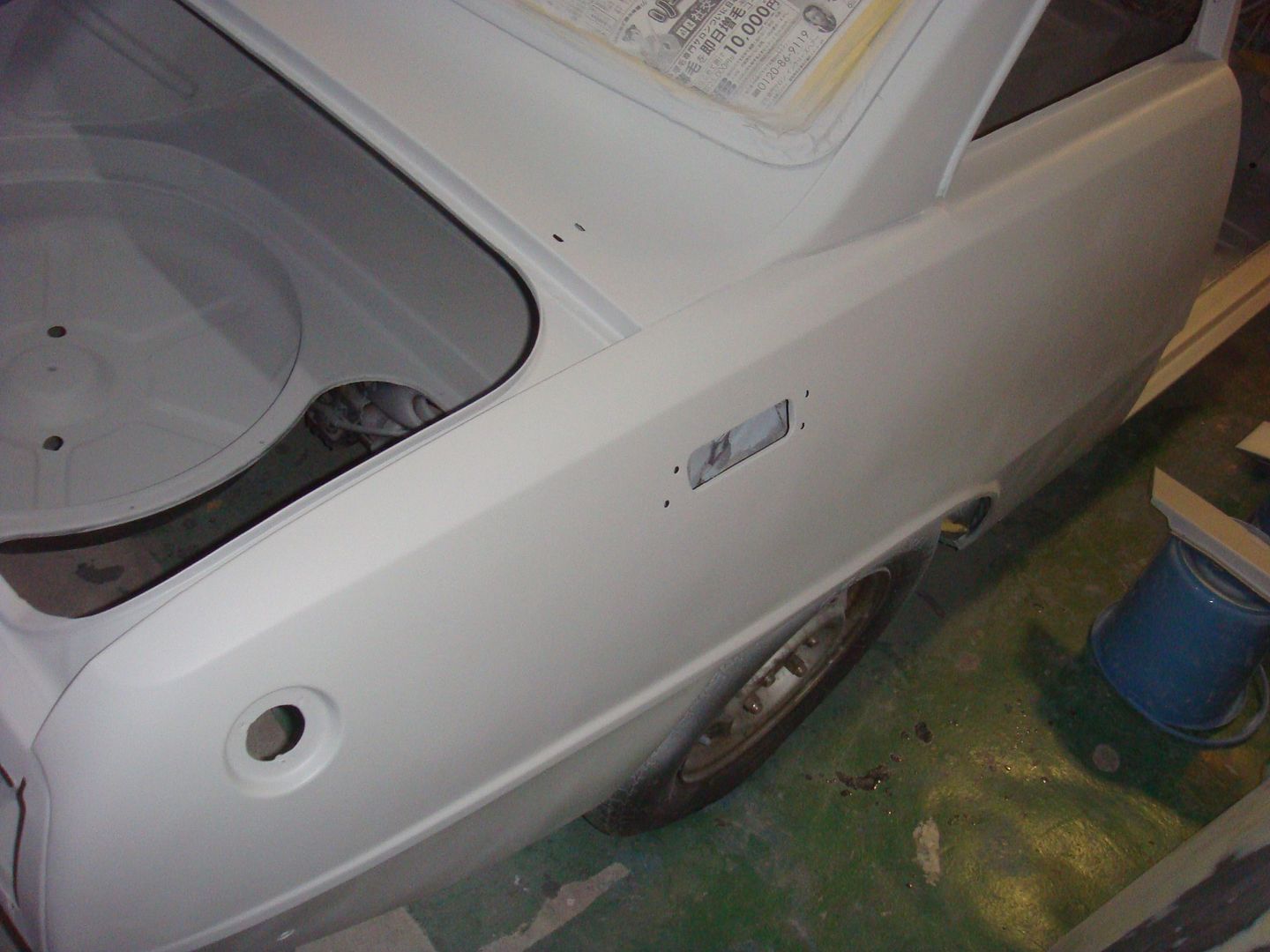 I even sprayed a few coats on some smaller parts.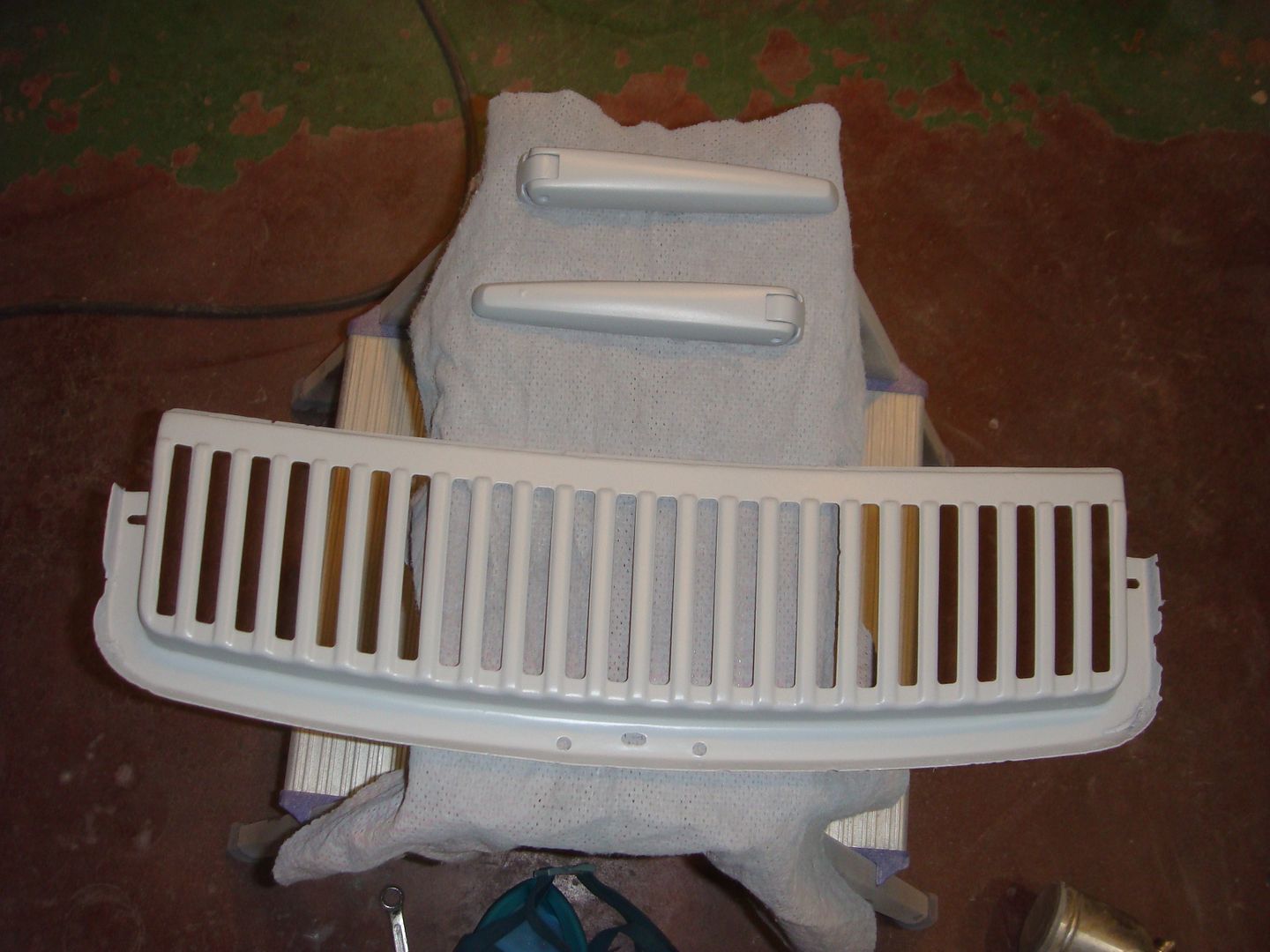 Next I gotta spray the doors, fenders, hood and trunk, which I should be able to knock out in a good weekend. Then I wetsand everything, fill in any problem spots (such as the pinholes), do a final prep for color and finally start spraying real paint onto the girl!
I'm excited to say the least!
Thanks for reading guys!
Cheers,
David