Thanks for the comments everyone! The Cosmo is right up there with the 2000GT, 432Z, and Hako GT-R in my book (although they don't command nearly as much money as those three). I guess that means I need to buy the 432Z that Classic has sitting in there next, huh.
Too bad I don't have a spare 60 grand laying about...
Back to the Cosmo, I got to drive an L10B a while back and it was one of the best driving classics I've ever had the pleasure of being behind the wheel of! Here's the one I got to cruise around: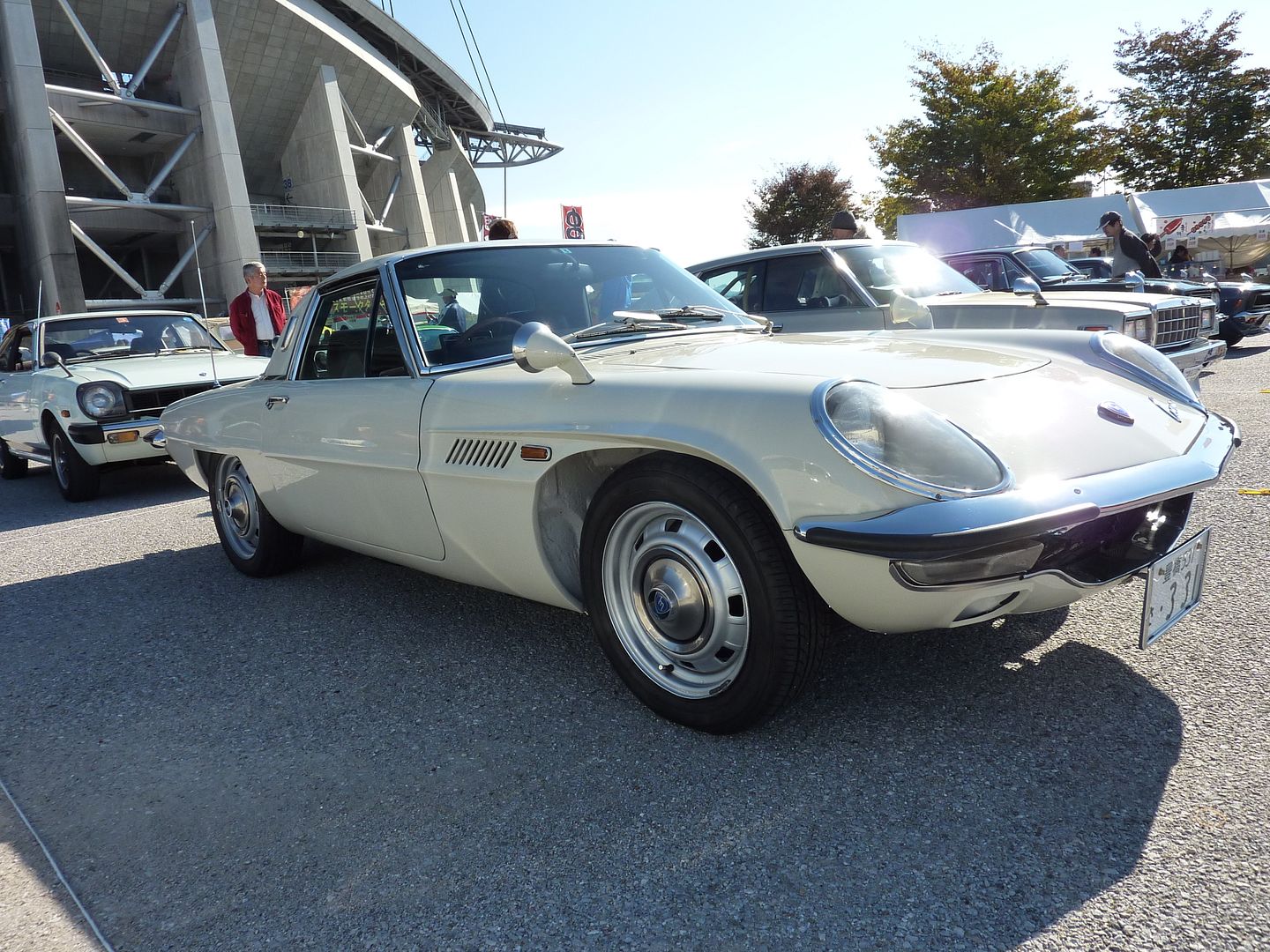 I'm really excited to see how this thing evolves. I will have a bit of a hard time putting it back together as I'm not the one who took it apart, so I'm not intimately familiar with how everything should go back together. I'm also going to have to rebuild the engine, so I may need to lean on some of you rotary experts on here for help with that!
The more I dig into the differences between the L10A and L10B the deeper the story gets. For example, my instrument cluster has a tachometer that is x1000 instead of x100, which is an L10B tacho. Same for the speedometer, it's an L10B speedo. The seats also have headrests, which means they are L10B seats. I found a really excellent site that lists all the differences between the two here:
http://cosmosport.net/cosmo9.htm
My quick and dirty translation of the differences:
The front grille on the later model is larger, although there are a lot of L10As with the L10B grille on it.
Item - L10A - L10B
Length - 4140mm - 4130mm
Width - 1595mm - 1595mm
Height - 1165mm - 1165mm
Wheelbase - 2200mm - 2350mm
Tread F/R - 1250/1240mm - 1260/1250mm
Weight - 940kg - 960 kg
HP - 110ps/7000rpm - 128ps/7000rpm
Torque - 13.3kg/3500rpm - 14.2kg/5000rpm
Max Speed - 185kmh - 200kmh
1/4 Time - 16.3s - 15.8s
Front Grille - Vertical slits - Large opening with brake cooling
Bumper - Long rear bumper - Bumper rubber on front and rear
Fender Mirror - Chrome - Body Color ('68/'69 available with chrome)
Side Marker - Round - Oval ('68/'69 available in round)
Speedometer - 200kmh - 240kmh
Tachometer - x100rpm - x1000rpm
Hand brake - On passenger side - On driver side
Hazard flasher - Not equipped - Equipped
Parking lamps - Not equipped - Equipped
A/C - Not available - Available as an option
Seat headrest - Not equipped - Equipped ('68/'69 not equipped)
Assist grip - Not equipped - Equipped
Battery - Located in trunk - Located behind passenger seat
Brakes - No brake booster - Brake booster
Tires - 14 inch - 15 inch
As you can see from the pictures, this Cosmo has several things that peg it as an L10B, so this weekend I'm definitely writing down the VIN number and checking it! The story goes that Classic Car Nagoya received two Cosmos at the same time, an L10A and an L10B and the L10B was sold as a parts car. So, if I were to venture a guess, I would say that someone had an L10A that needed some work, so they bought an L10B parts car and sacrificed a large majority of the parts to bring the L10A back to life.
At any rate, I will definitely know more by this weekend!
Thanks again everyone for the comments!
Cheers
David