So, I took last Thursday off and Friday was the Japanese version of Thanksgiving. This resulted in a nice 4-day long weekend which really let me get to work. Since finding quality Turkey in Japan is like finding the lost city of Atlantis, I decided to keep myself busy in the garage with my
Bellett
and the CB!
My first step was to get the reservoir for the brake master mounted, which meant welding a nut to a tab. This piece of steel was cut the size and shape I needed and then I ran a stainless bolt through it with a non-stainless nut on the other end.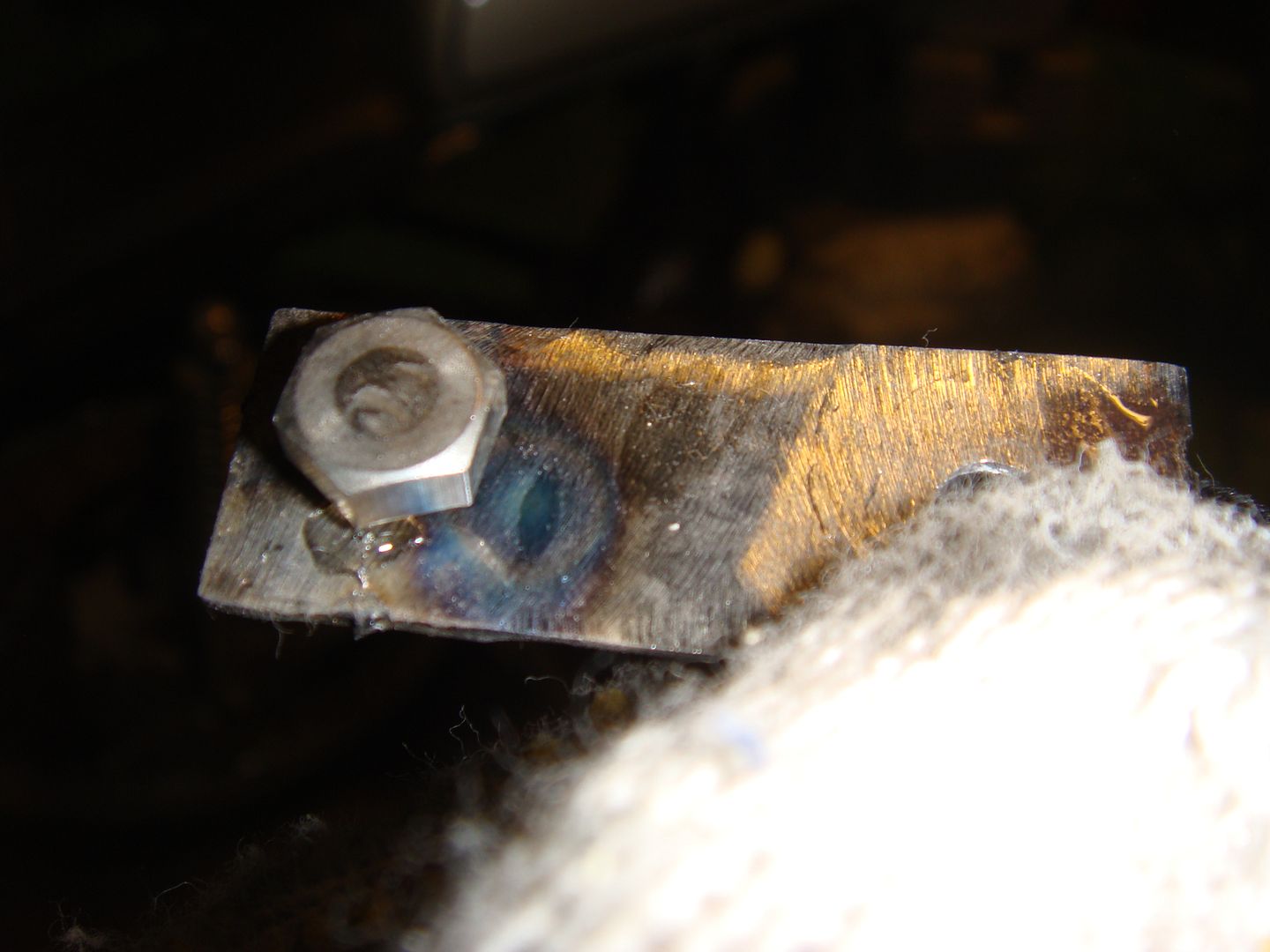 I then pulled out the welder and welded that nut right in place!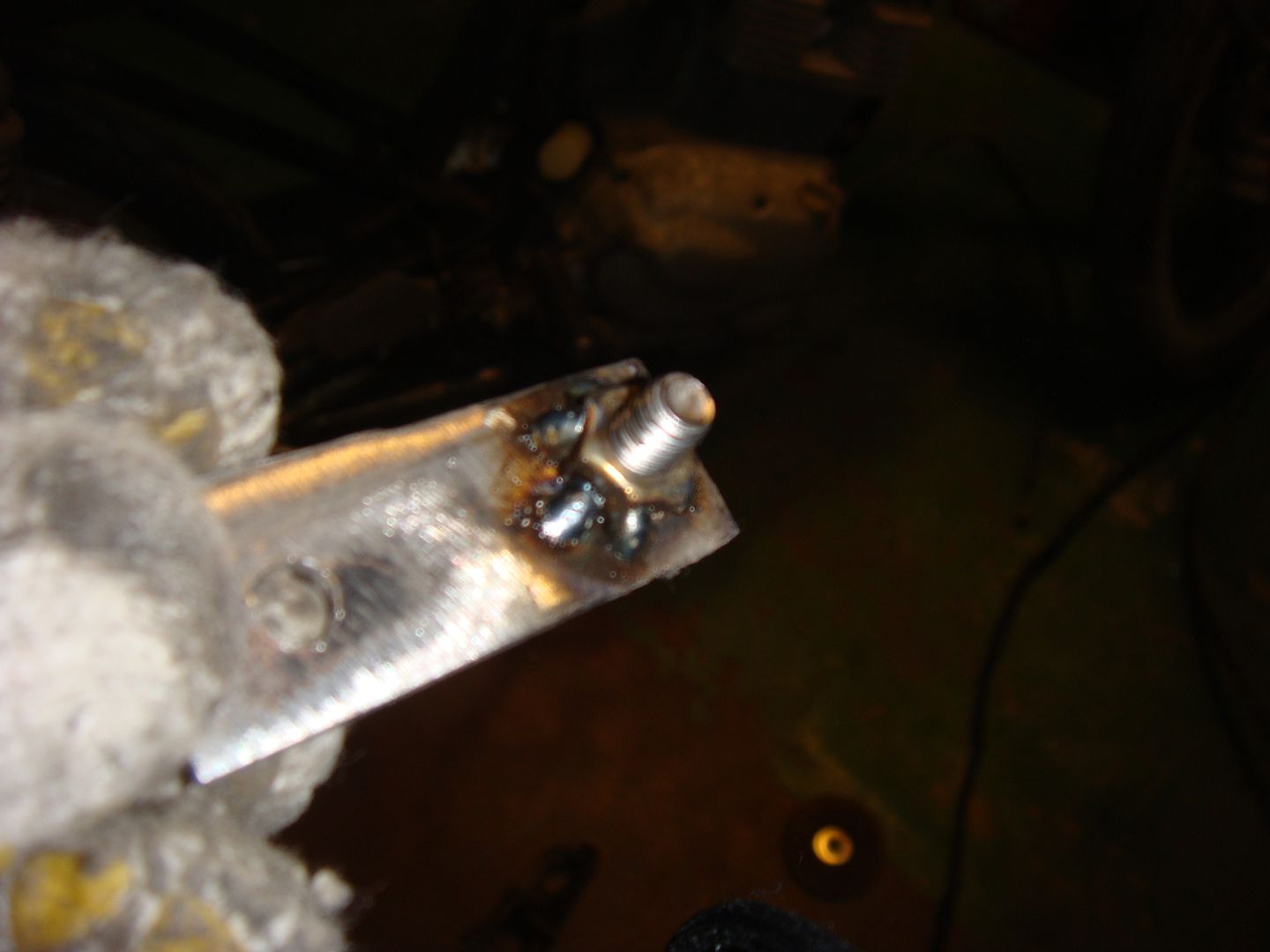 Here it is welded and mounted into place.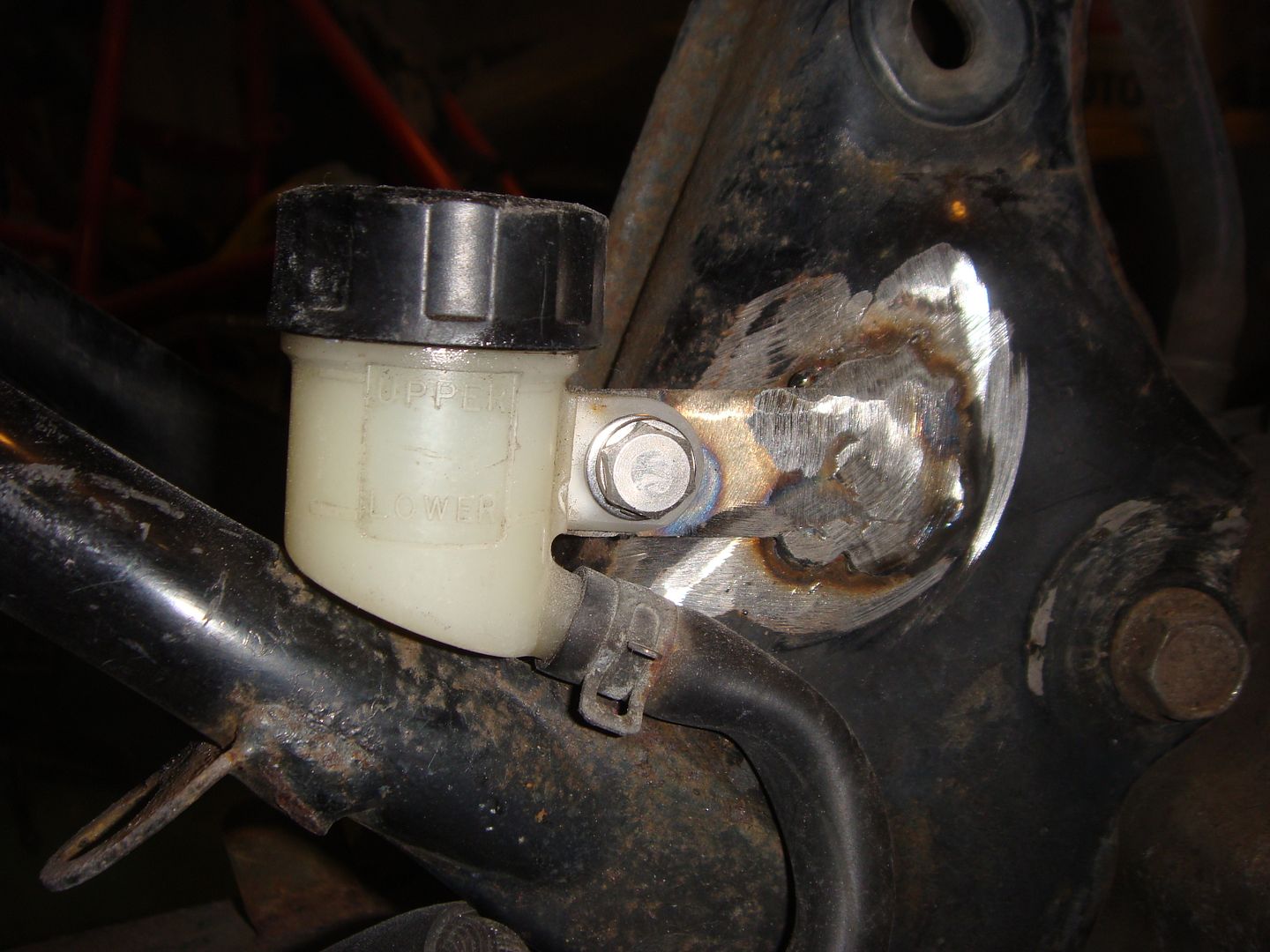 And a shot from a little further back. The hose has a slight kink in it which will get fixed with a longer piece of hose during final installation.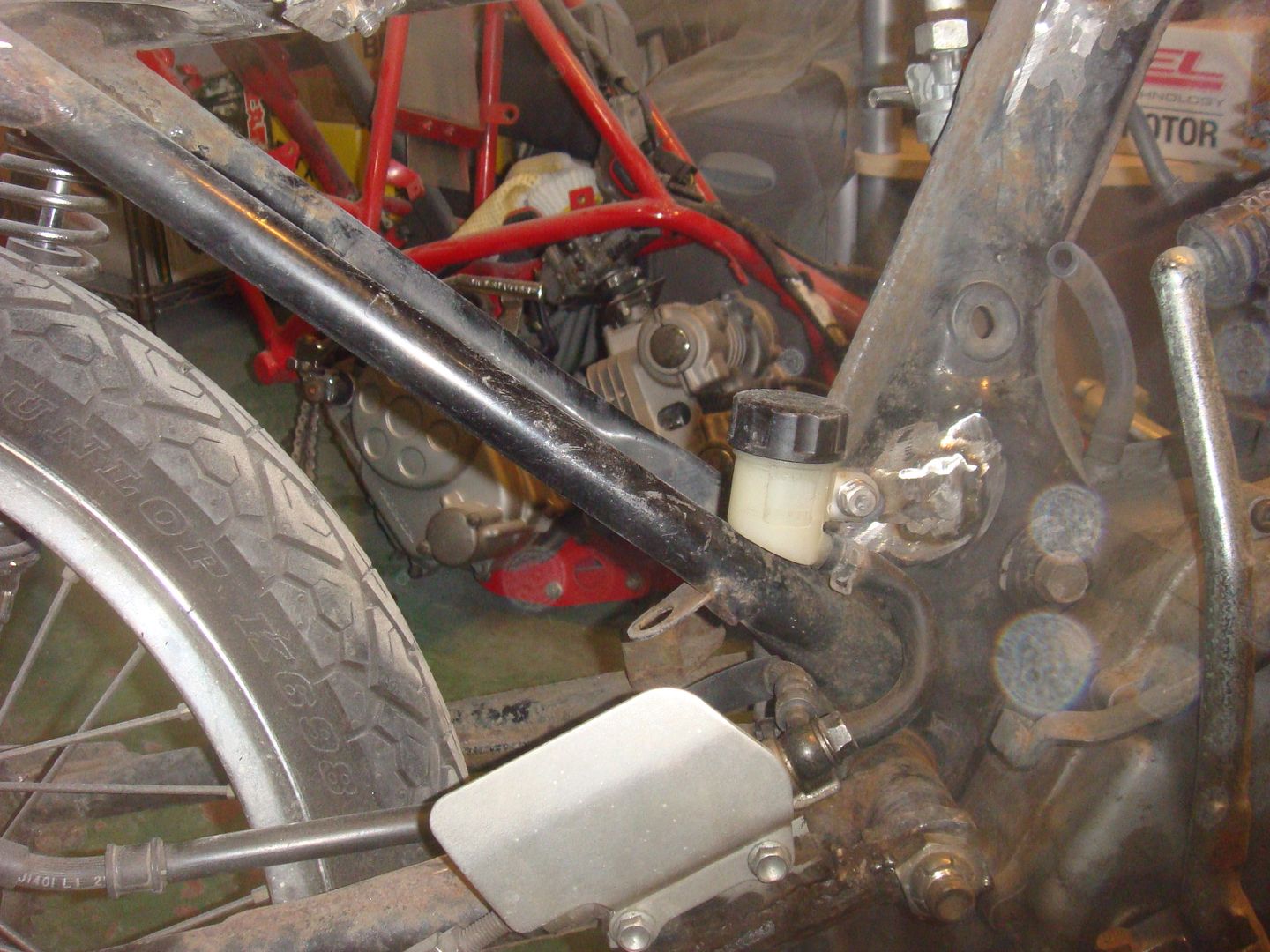 With the rear brake mostly sorted (I still have a little more welding to do to be completely done) I started in on the front brake. My first problem is that I'm broke, I've got zero yen. So instead of finding an appropriate piece of thick aluminum for my front caliper mounting bracket I was left digging through my scrap pile looking for something suitable. The only piece of metal I found thick enough to do the job was the old brake rotor from the CB. Since it was pretty pooched already, I didn't feel bad about tearing into it.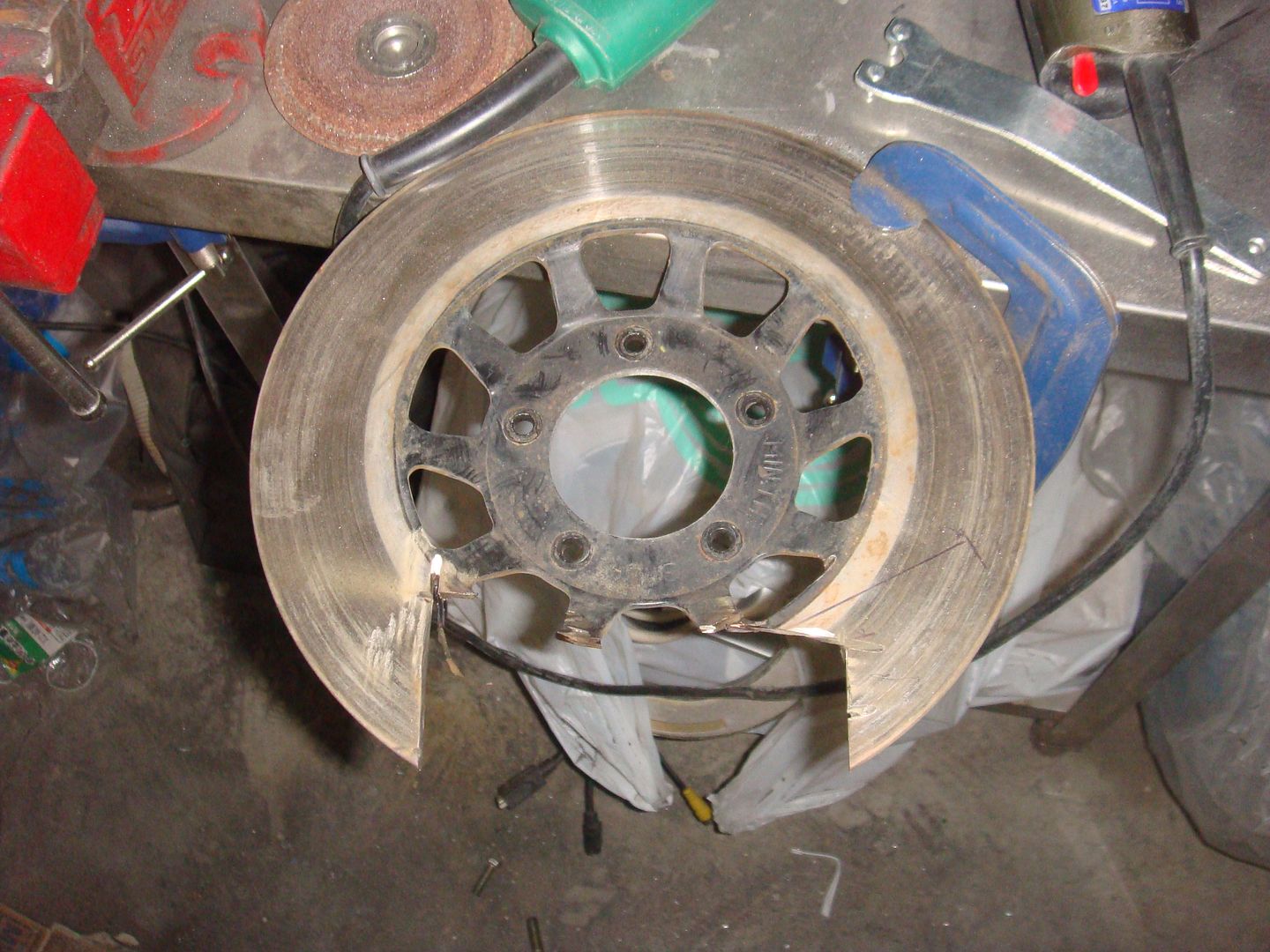 That took four cut off wheels. I had no idea that brake disc steel was so insanely tough! Here's the piece I ended up with.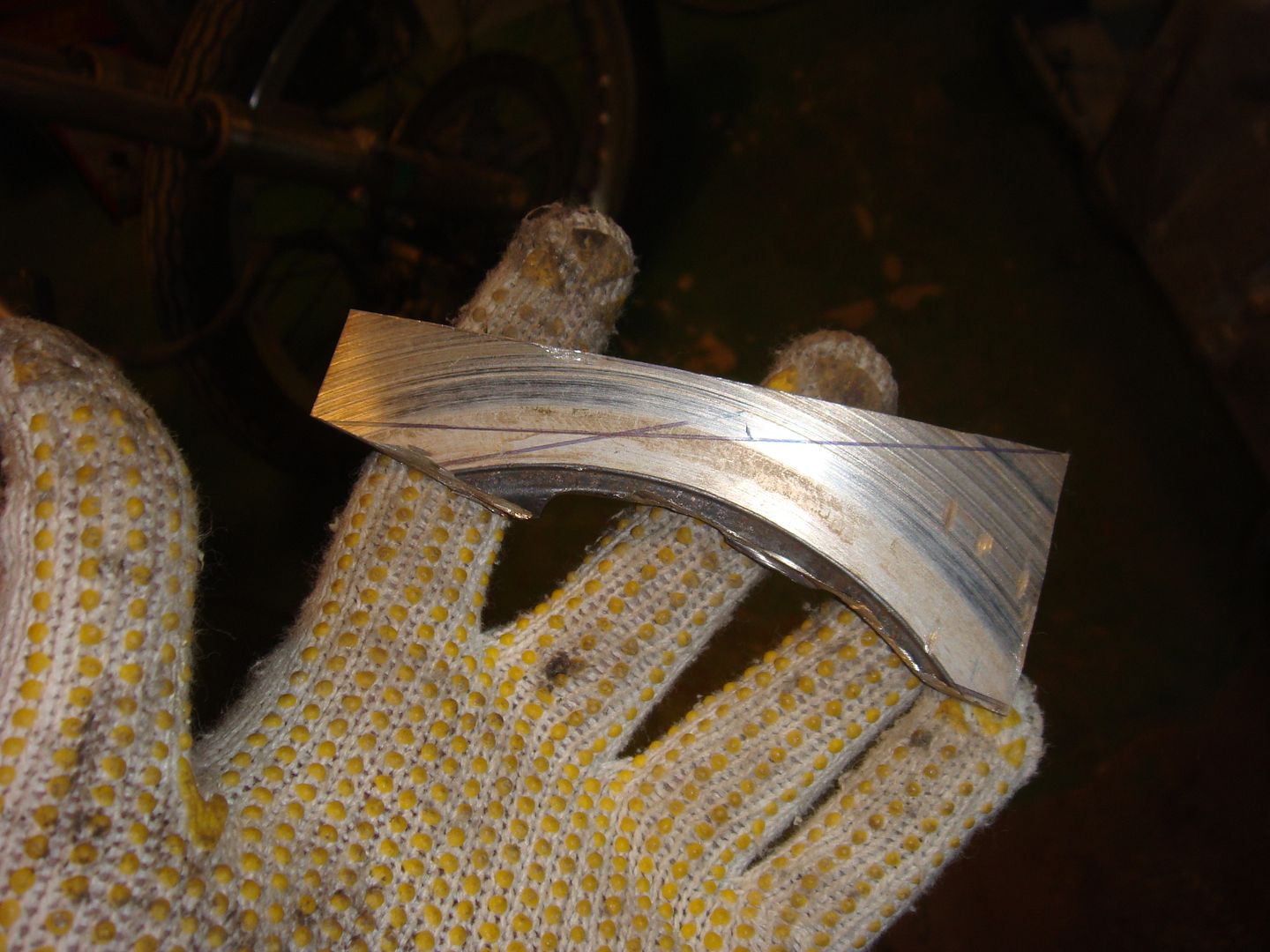 And roughly where it will sit.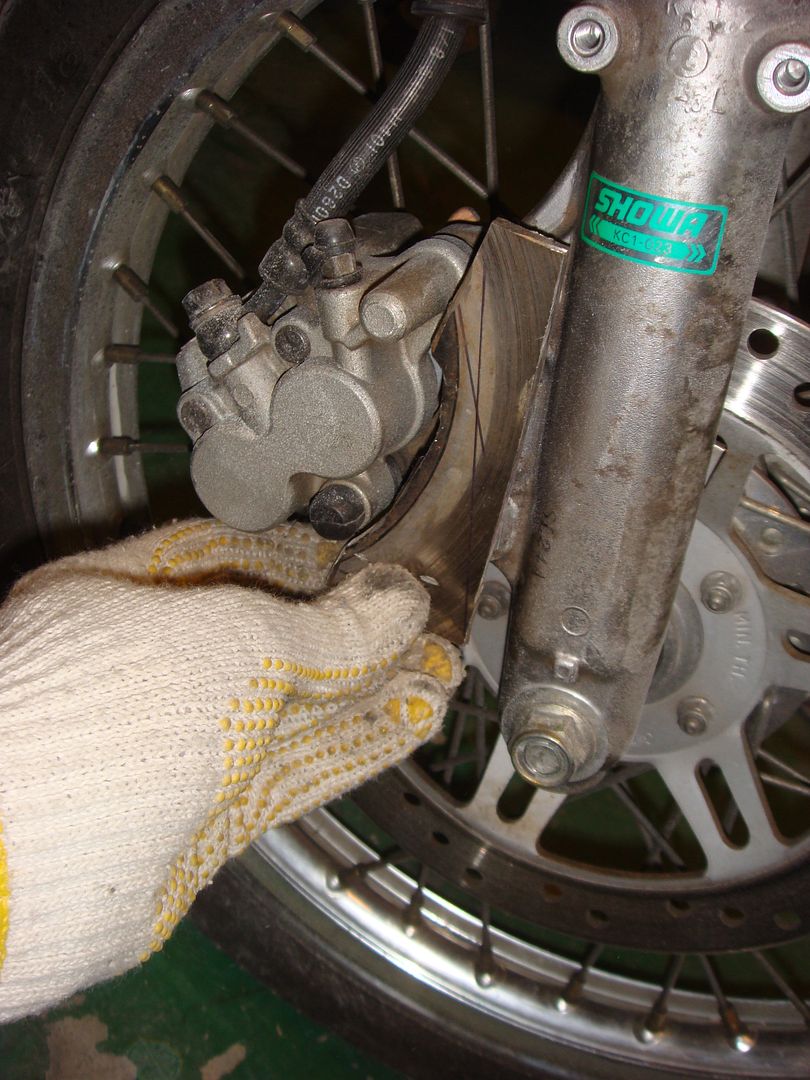 I needed to put three 8mm holes in it, so I pulled out my cheap Chinese drill bit and watched the brake rotor laugh at it.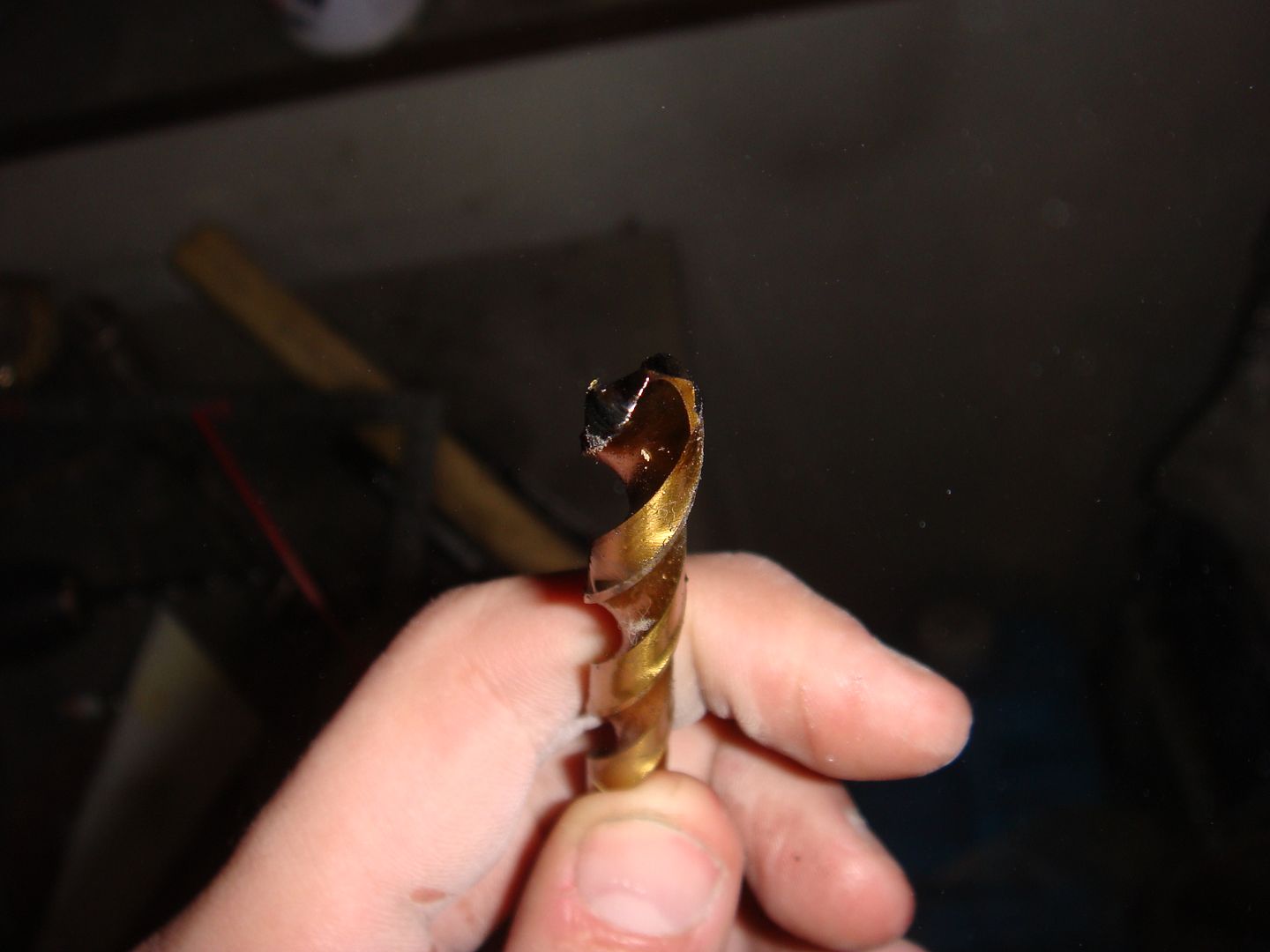 After a trip to the hardware store and a couple of good bits later, I finally had my holes. I then cut off all the excess steel and cleaned the whole bracket up a bit.
Turned out alright if I do say so myself!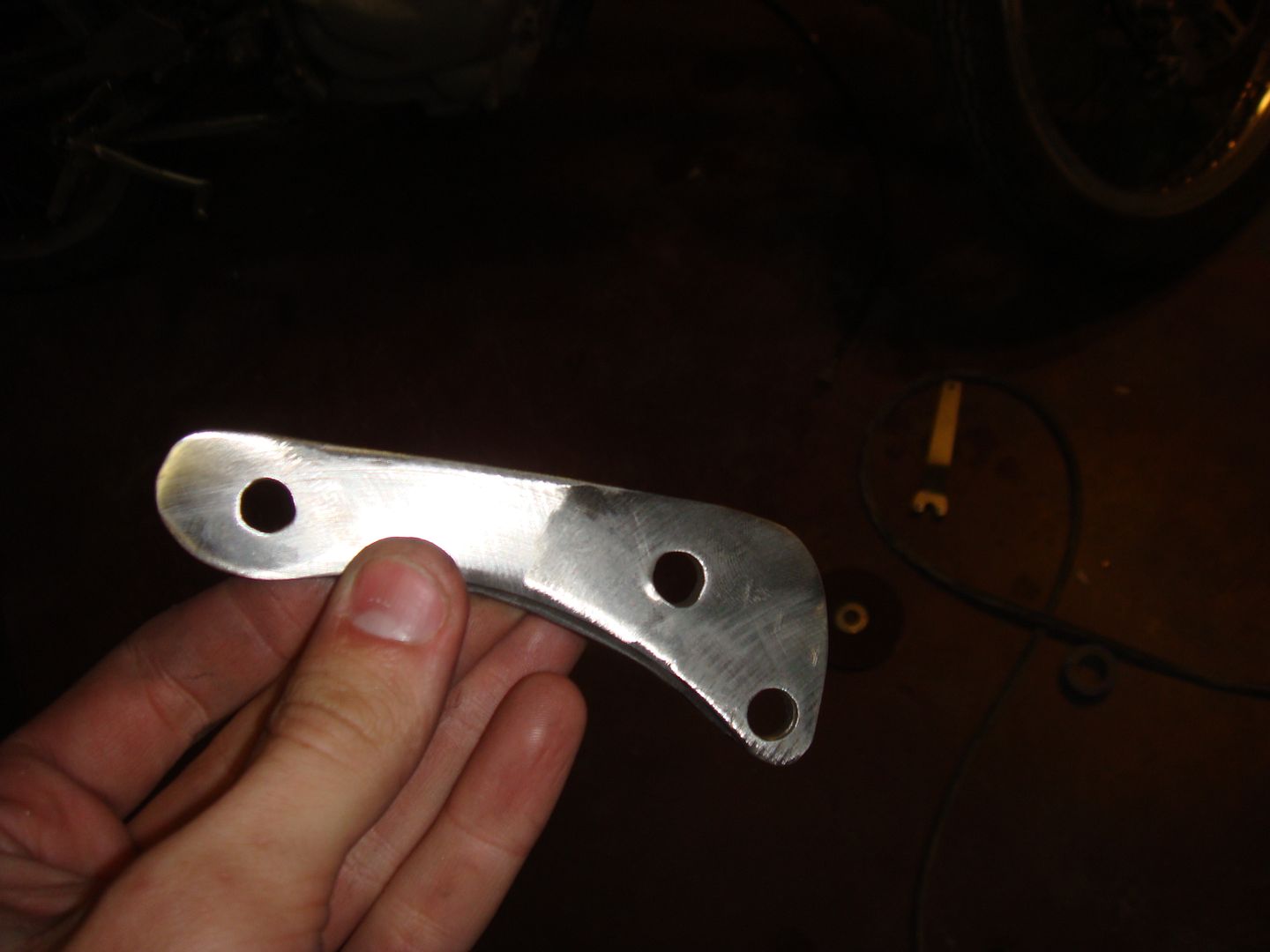 Here it is holding the caliper in place.
Now the problem with this is that the top of the caliper sits just a bit too close to the rotor. 95% of the pad is exactly where I want it to be so my plan was to just not worry about it (since moving the top of the caliper out is a hugely difficult task). The problem was the clearance between the caliper and the rotor itself. Clearance was tight here to begin with, but moving the top of the rotor in caused it to be too tight for my comfort.
So, I worked on it a bit and ended up with this, giving me the clearance I need. I figure I'll do some test rides like this (on a nice long straight where I can stop using the rear brake if I have to) and if it bothers me then I'll go through the trouble of making a new bracket again.
The next thing that was bothering me was the gas tank. The front of it was sitting a little too low for my liking. So, I sliced off the old mounts, filled in the holes, drilled new holes and welded in a new bolt.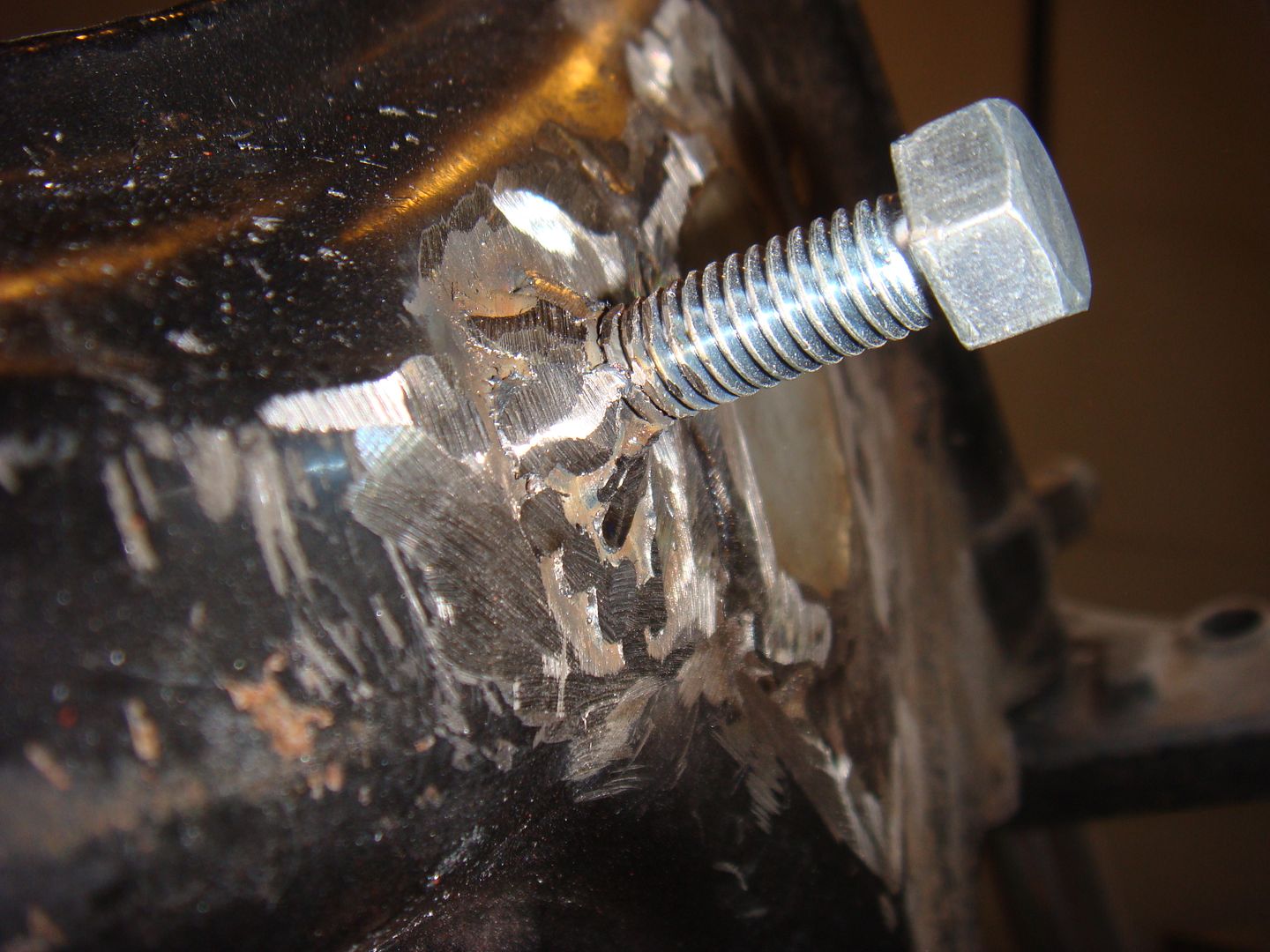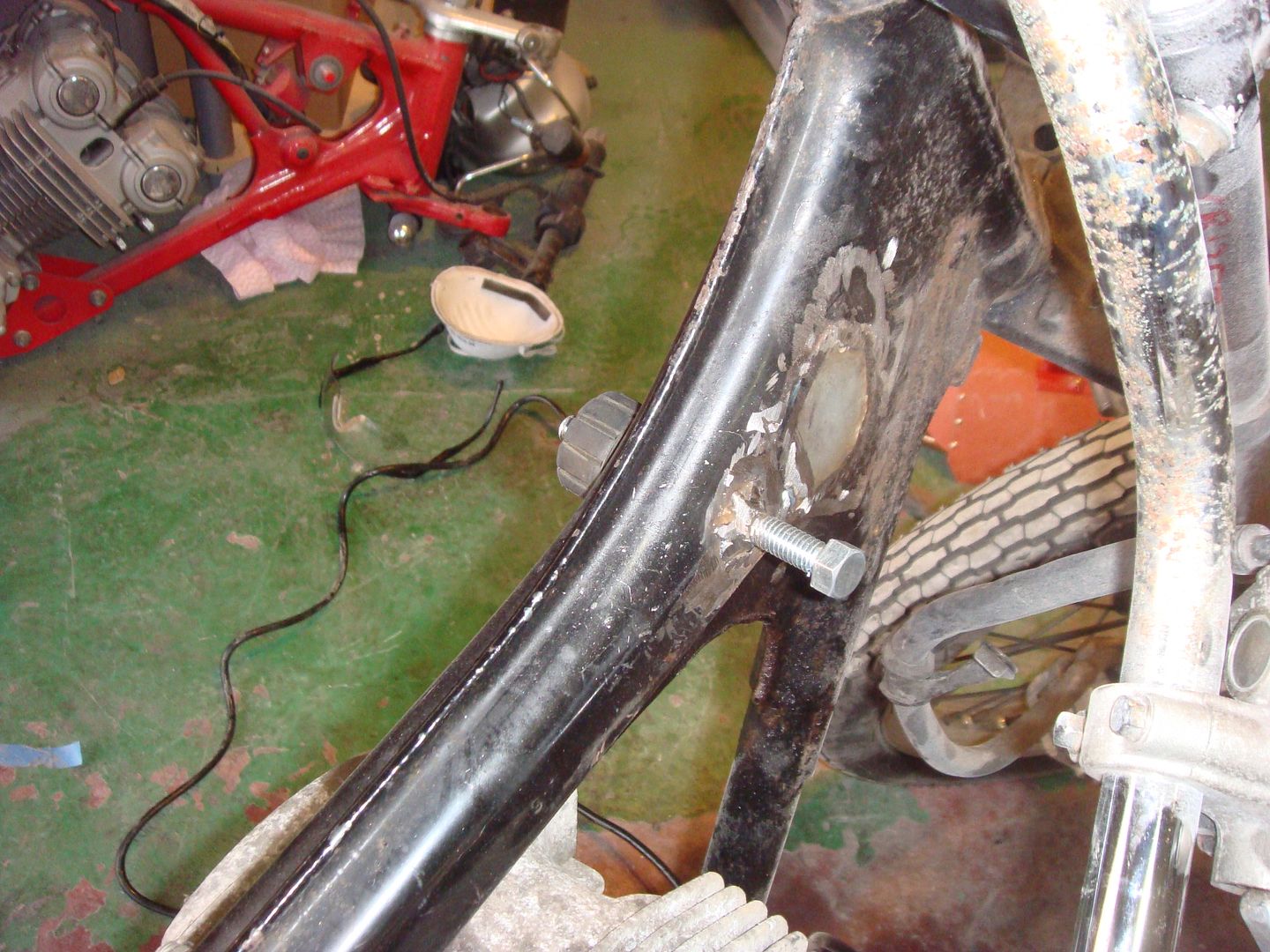 The result was instantly noticeable. I think it looks much, much better!
And a shot from a little further away.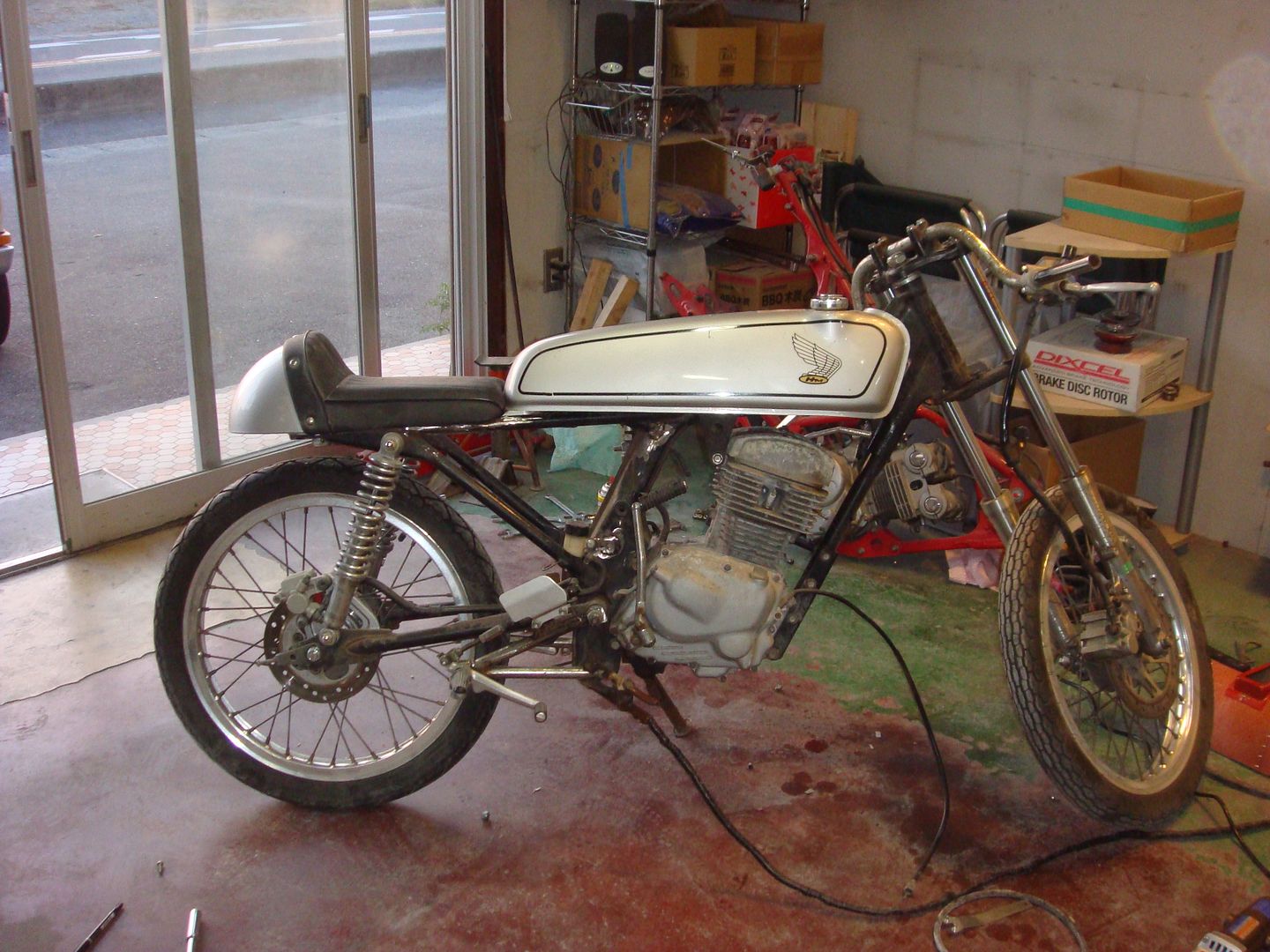 And that's where it sits at the moment. The next goal is to sort the exhaust, which is going to be interesting. Since my new rear sets sit much lower than the originals, space for an exhaust is tight. Space on the left side of the bike with the side stand and shift linkage is nearly non-existent. This is pushing me towards running a scrambler style exhaust (well, that and the fact that I love scrambler style exhausts). It all depends on what I can get my hands on for cheap. There's a decent used scrambler style exhaust on Yahoo Auctions at the moment for 2,000 yen, which is about the same as three beers, so I may take a chance on it.
At any rate, thanks for reading guys and I'll be back with more progress as it happens!
Cheers,
David