Conor,
I will try to give you some insight as well… I was fortunate enough to be able to search for a car while living Japan, so I had ample time and a much larger pallet to chose from and see the different levels that a C10 can be finished off. However, from my point view the options are endless. I've seen a complete GT-R w/ Watanabe wheels makeover done to a C10 that still has a bone stock single carb L20 with a 4 speed(!) tranny. On the other end of the spectrum I've seen complete stock GT-X makeovers (all chrome trim, badges, standard height, hubcaps, factory fog lights, mud flaps, A/C, power windows and a single turbo RB26 under the hood! So it's a blessing and a curse. The variety is so endless but it all depends really on you, time, and money.
In general (unlike the U.S.) the more that has been done to a vehicle means added value. This is due to the incredible second hand market in Japan. Places like UpGarage, Parts Off, Autobacs 2nd Hand, etc. etc. make it a reality there. It is very easy to barter the price of a car in Japan because most sellers are willing to take something off if it will produce a sale. They can easily sell the item later on. Obviously though this normally cannot be applied to labor intensive/irreversible items such as rust removal, repainting, engine swapping/overhauling, rewiring etc.
So for my dollar (Yen) I would want my money to go towards what I can't handle personally. I can't paint and I'm not a tear down an engine guy. So I chose a car (within my budget) that had a full chassis restore and had at least an L28 dropped in that had triple carbs, idled well and had no issues. Details I can handle, it may be hard to find certain items, but it's what I KNOW I can do.
So really you should base your decision on your capabilities or what your willing to deal with.
As for data, specifically for building a GT-R "clone" keep in mind that a base GT is an easier chassis to start from as they share many of the same aesthetic components. The GT-X model has many extra chrome bits, power windows, different door panels, etc. So trying to achieve "the look" will be easier with a GT as there will be less need to replace parts. These days however it is quite hard to find Skylines that have maintained there "factory" look as many owners of GT's and GT-X's were already modding the Skylines to look like GT-R's as early as the came out!
I'm only going to go over aesthetics, mechanical parts I always feel it is better to replace with something more modern to keep up with the times (brake components, tranny parts, engine parts, lines, battery, bushings, etc. etc.)
Common parts specific for the GT-R "look" are as follows:
GT-R spec headlight trim, 2nd hand only/expensive
Front grill with mesh, 2nd hand only/expensive
Red "N" center badge for grill (I hear contradictions if this is true however I have seen an example of a red "N" that was a clear red plastic)
Dual "box" taillight bezel, you can use the bezel from the GT and GT-X models
Tailight bezel end cap, repro now available(!), I had to hunt for mine
"GT-R" badges front and rear, repro available
Red "GT" badges, repro available
Red "Skyline" trunk badge repro available/expensive
Matt black wing mirrors, 2nd hand however chrome versions are the same shape and can be repainted
And most importantly modified rear fenders that cut into the "Surf" line, rear tubs modded and sealed and of course the unmistakable "rear only" over fenders. Front over fenders are aftermarket. Contrary to popular belief the front lip and rear wing were optional, but was almost always purchased, very rare examples of GT-R without addition "Aero" however do exist.
Uncommon little known bits are as follows:
Front glass with graduated blue tint line, repro available/expensive
No rear defogger lines, Clear glass is available/expensive
100L gas tank, repro available/expensive
Rain gutter should be the same thickness from front to rear(!):
Ironic that the owner of this car had this done considering the low quality of his paint job (quite common in Japan) If you look carefully in the picture you can see where the gutter thickness reduces just after the tip of the vent window and increases back to the original thickness of the roof as it goes down the A-pillar. I would have never know about the gutter if it were not for a fellow Skyline owner in Japan that pointed it out to me. He went out of his way to have it done to his car, the process of simply adding new metal to the exhausting rain gutter prior to painting.
As for the interior, that's a whole other project in itself:
Non-reclining front bucket seats with tilting seat rail for the passenger side, no repro, rare, and very expensive!
Leather split 3 spoke steering wheel, no repro/very rare, 2nd hand very expensive, up to $1000 or more for NOS (New Old Stock)
This example, AS IS, could easily go for $400-$500!!!
Red "Prince" logo inspired "N" horn button (repro available)
Wide rear view mirror, repro available/expensive
Red "2000GT" emblem for center console, no repro available, however easily modded, 2nd hand can be found at JNC meets
Red capped wood shift knob with "OD" (bottom knob) for 5th gear (I have heard contradicting stories on this as well, some have and actual number "5", however I think it may be based on year), repro available/expensive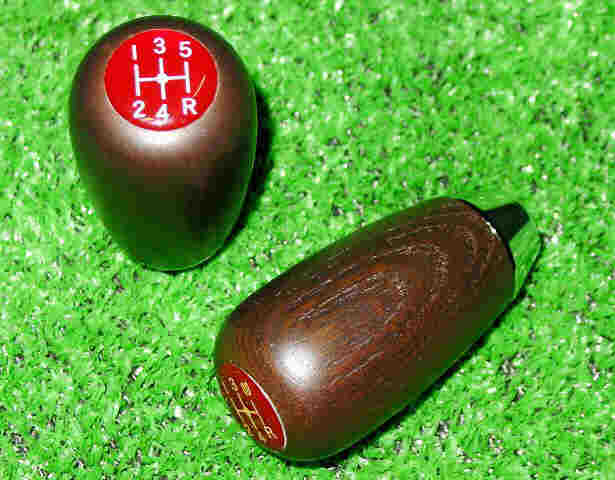 "RD" switch delete, repro available/expensive
"F" switch delete, repro available/expensive
Radio delete panel, repro available, this is not necessary though as a radio was one of the few options for a GT-R
"Free box" (storage box with wood grain door for center console just forward of shift boot) no repro, quite rare, very expensive
Cigarette lighter delete, no repro however could be easily duplicated from other older Nissan NOS, again the lighter was an option for the GT-R
Black rubberized plastic floor coverings, no carpet, repro available
GT and GT-R share the same door panels and door release latches, GT-X's have chrome handles and different door panel/pulls
This list is not inclusive, It's everything that I believe to be true from personal experiences in Japan with owners, shops and friends. I'm sure someone will point out I missed something
But that's okay the more info out there the better!
Many other parts are reproduced like door lock pulls, door lock pull bases, dashboards, seat material etc. The C10 is very popular in Japan so many parts are even reproduced by Nissan. Many parts are also reproduced by independent shops like Rubber Soul, RS Start and Victory50. Of course JNC swap meets at the New Year Meeting in Odaiba and the NISMO Festival and Time Machine Festival at Fuji Speedway will have abundant "mom and pop" booths with hoarded junkyard and NOS parts (I've seen a NOS center console in the box go for $1000!!!), if aesthetics really mean something to you, I would want a good condition center console. I had to replace mine, but was very very lucky thanks to another Skyline owner…thanks Leroy…
Another critical interior part is the center stack under the dashboard. It houses the radio, parking light switch, fan controls ash tray and lighter. In many examples I've seen this is almost always cut for aftermarket gauges. This item is very rare as one piece, even rarer if the original Hitachi radio is in it (mad bonus if it still works!)
…And of course there's also Yahoo Auctions Japan! for parts as well.
So happy hunting! I hope this helps out for you to decide what route you want to take!